The act of swinging a leg over a mates bike and actually riding it are two completely different experiences. This is going to be a different write up compared my usual "…and then he put clip ons on and a single seat" type of tale. Not only did I get to shoot this lovely bit of kit, I got to ride it around town for hours.
It was with equal parts trepidation and excitement that I plonked my behind on Andy's stunning CB350/4 cafe racer and thumbed the horn button…hang on, what? Andy you did say horn button right? Ok, so horn button is the start button. Good to know…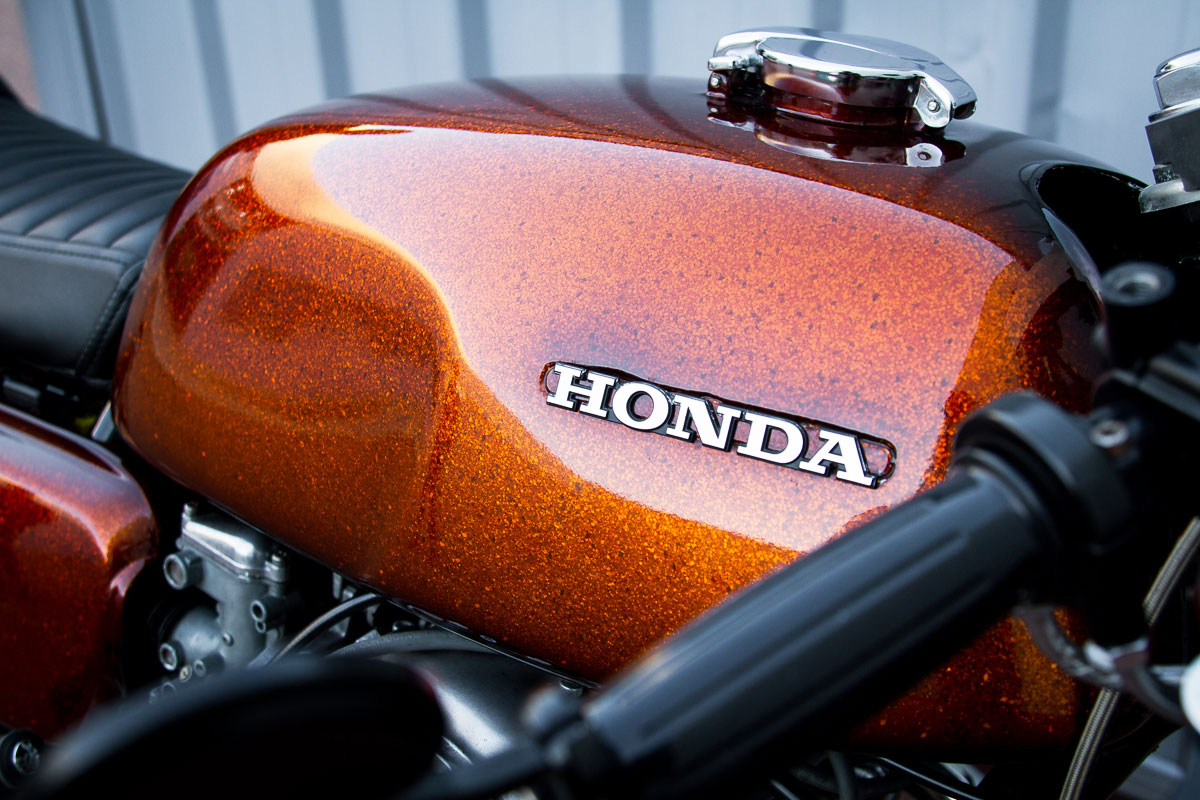 Anyway, I thumbed the start button with a little bit of choke and the Honda sprang to life with as much enthusiasm as a puppy whose owner just walked through the door. I've only ridden a four-cylinder bike once before and the smoothness of the idle on this one is amazing. There's a faint vibration coming through the seat and bars but compared to my Guzzi it's like going from a 90s Toyota Hiace to the latest Rolls Royce.
I have a real soft spot for this bike. It was built many moons ago by another mate of mine, Calum Sonnenberg. Calum is no stranger to custom bikes – his Bonneville T140 Desert Sled was featured in Tank Moto Issue 13. However, before the Bonnie, his beloved Moto Guzzi Le Mans and a long list of other projects was this very same CB350.
Here's a prelude to the CB from Calum…
"The Japanese café racer scene was taking off big time and the trend was beginning to flourish. After customizing a Yamaha RX125 and mildly customizing my '78 CB750 I was dying to get my hands on a CB350 twin to build "the ultimate Japanese café racer". Unfortunately, I wasn't alone in this quest and these bikes were becoming very hard to get your hands on. When they did come up on Gumtree they were snapped up, literally in minutes, and sometimes for more than their asking price.
Working long hours and weekends it was impossible to stay on top of things. In 2013 I saw a CB350/4 pop-up and I went for it. It wasn't quite what I wanted but in the end, I was very pleased with a 350/4 over the twin as by that time the latter had been done to death. I purchased the bike as a half-finished project and 'freshly rebuilt motor' which always ends in tears (spoiler alert – it did)."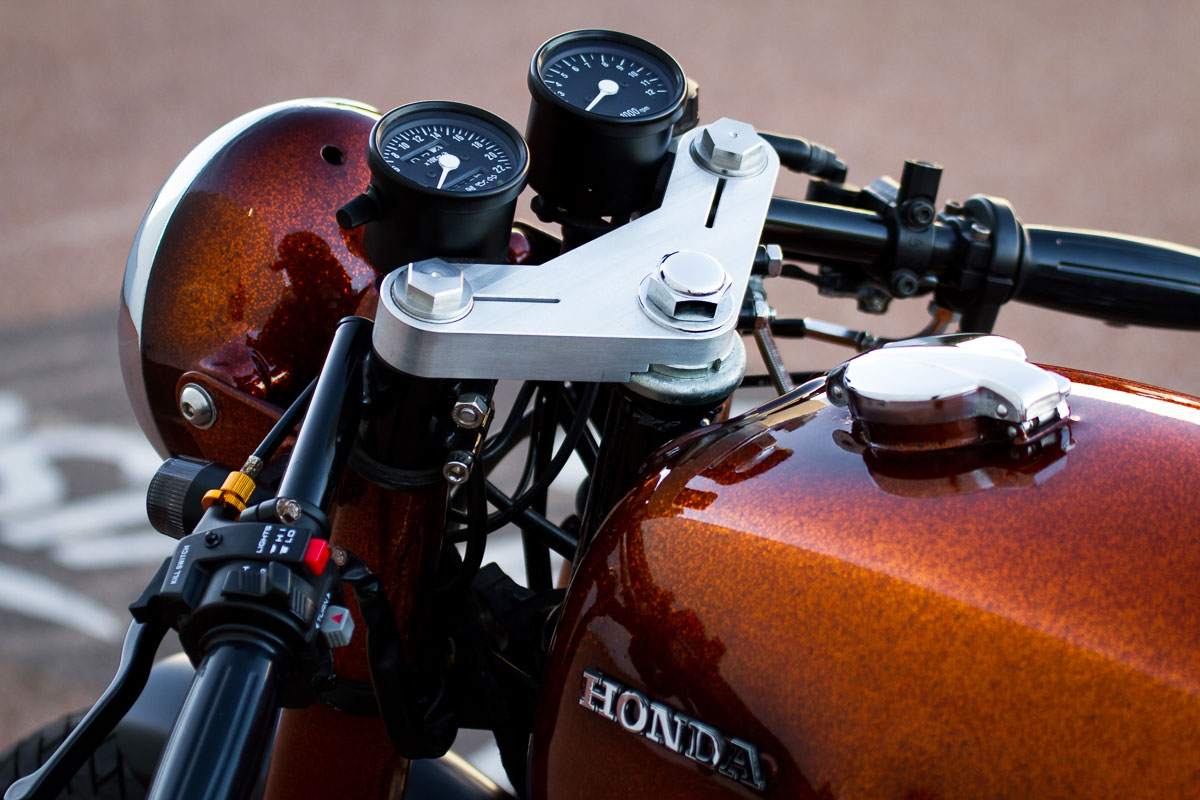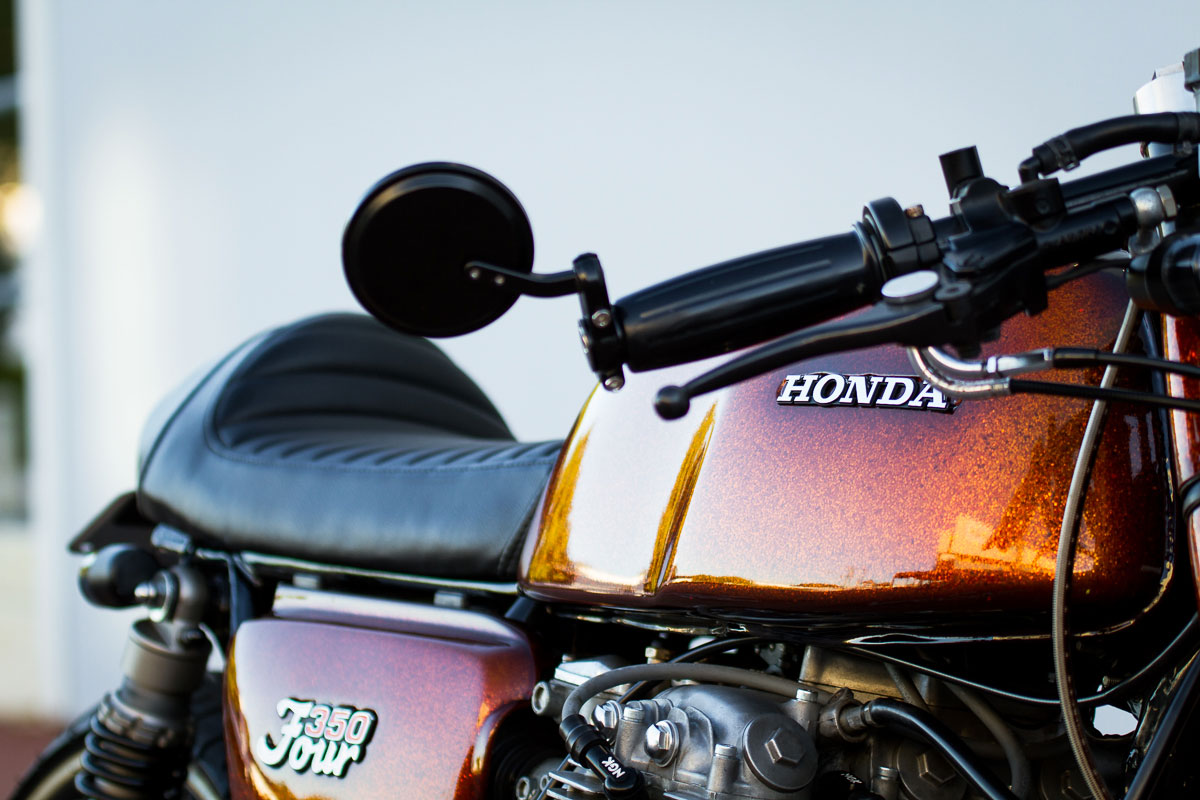 Spoiler alert indeed. As I think I outlined in the Tank Moto article on Cal's Trumpy if there is one thing in this world that he is good at it is blowing up old motorcycle engines. I digress, more on that drama later…
With a clear direction for the project firmly implanted in his mind, Cal set about building his bike. Back in those days, aftermarket parts were a bit hard to come by in Perth but the exchange rate at the time of the build was very good indeed. After an enormous order was put through at Dime City Cycles in the USA the build was set to commence.
"…what arrived was a parcel that weighed a ton. From stainless spokes, gauges, sprockets, clip ons, rear sets, switchgear, brake parts, suspension, bearing kits, indicators, an aluminum top clamp, a full Dyna ignition system and everything in between – the bike got spoilt with everything required to build a flawless custom motorcycle.
The bike came together in my garage over about six months. I farmed the wheel rebuilding out to Paul at 66 motorcycles (now called Retro Moto Co. in Fremantle) who is the Honda guru. The frame was chopped and a Dime City SR400 seat mounted up by another Fremantle legend Tom from Sideshow Cycles. Then Dave Williams created absolute magic with the face-melting flake paintwork (which in my biased opinion is easily one of the best flake paint jobs I have ever seen!). After I had the bike together and ready for its first voyage it went back to Paul at 66 to rebuild the carbs and tune it. I'll say it again, he is the Honda guru and he got it running beautifully."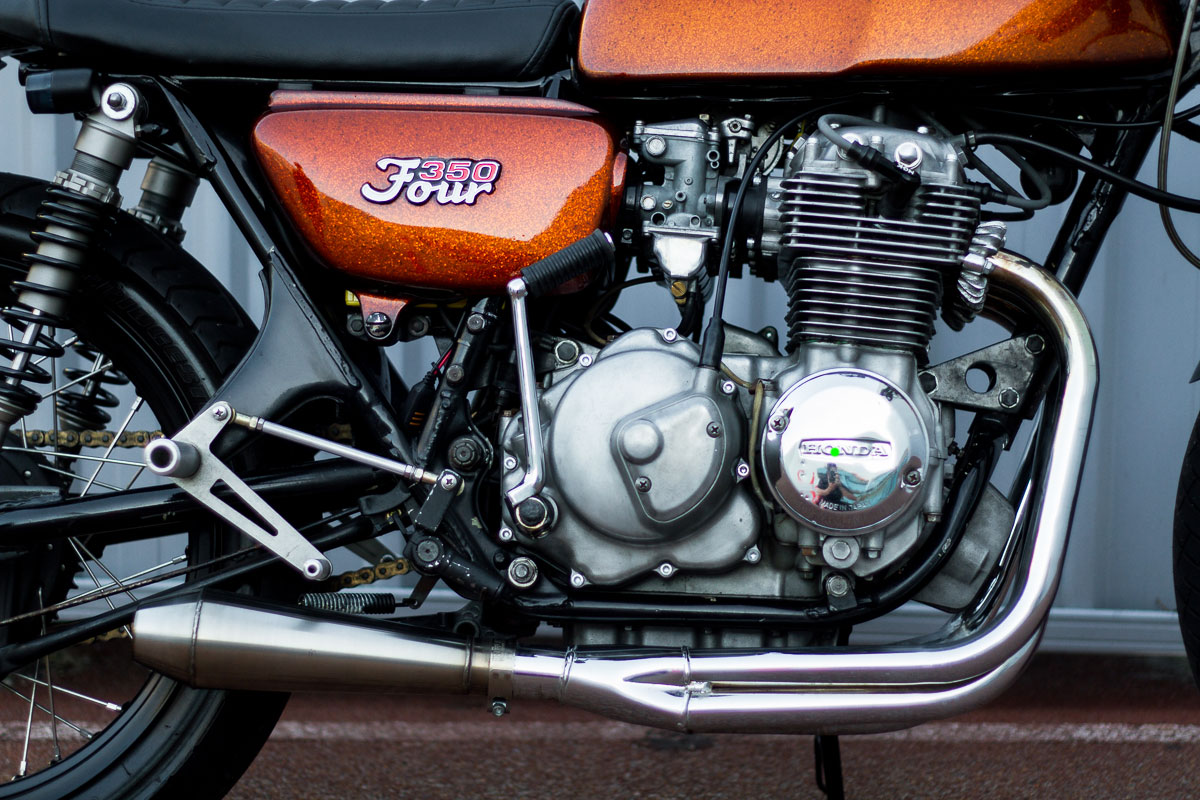 Now, back to the "freshly rebuilt" motor. The story goes that after a while the old girl started to blow smoke and use quite a lot of oil. Low oil pressure was the last issue Cal didn't want to deal with so he shoehorned an old 400/4 motor into the 350 frame. It's got a 6th gear and a bit more power on tap so it seems like a good decision.
"I thought I would throw the 400/4 motor in, see how it ran and try my luck. Well, soon afterward when I was trying to crack the Ton down the freeway my luck ran out…"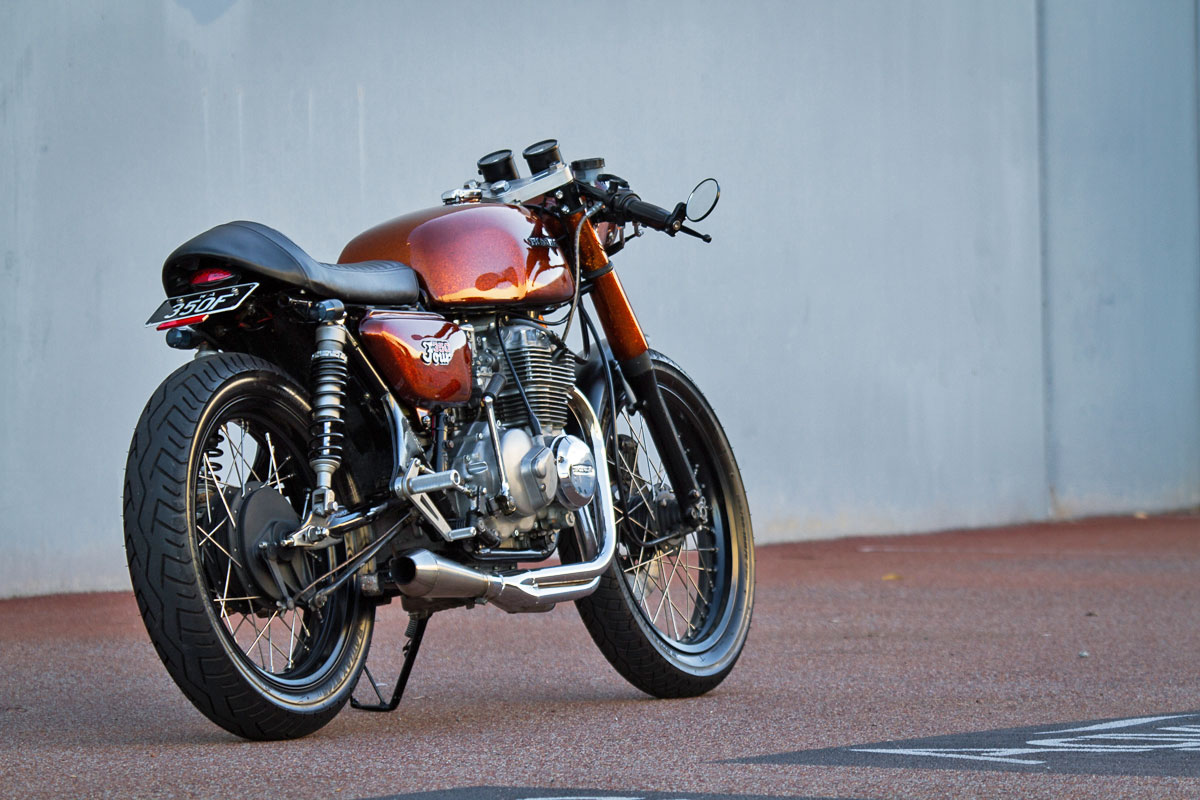 Cal is a man of action so the bike was hauled back into his garage, the engine removed and all its components bagged, tagged and stored. Unfortunately, due to his new found love of old English and Italian motorcycles that's how the Honda remained for the next three and a half years. When the time came to purchase his Le Man the Honda ended up on the chopping block and was bought by our good mate, Andy. Lucky for Andy the sale included a spare 400/4 engine, a few other spares and a Japanese made 466 big bore piston kit.
"…it pains me to think about it, but sometimes you just don't get the choice, " says Cal. "A great buddy of mine purchased the bike so at least I know where it is for when he wants to move it on. Although it looks like the only way I'll be getting it back is when he is no longer breathing – I'm in the will aren't I Andy?"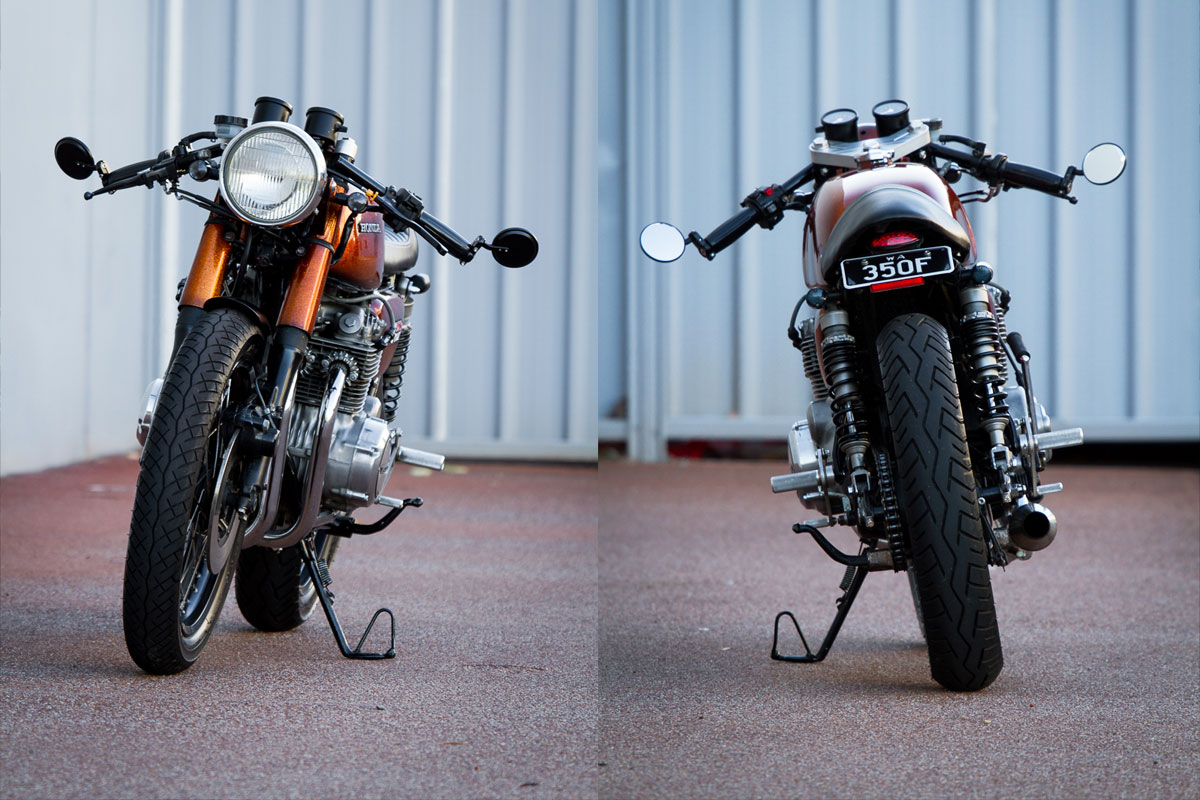 The next person to get involved in this multi-year, multi-owner cafe racer build goes by the name of Brendon Anthony. He is another mate in the Perth custom bike scene and is a mad professor when it comes to motorcycles. All his bikes are heavily modified in some way, shape or form so he was the perfect guy to rebuild the 400/4. I can confirm that he has done a cracking job with this big bore, howling banshee of a bike. It idles like a Swiss watch, pulls great from a standstill, stops well, handles with intuition and genuinely had me grinning and laughing inside my helmet like a complete idiot.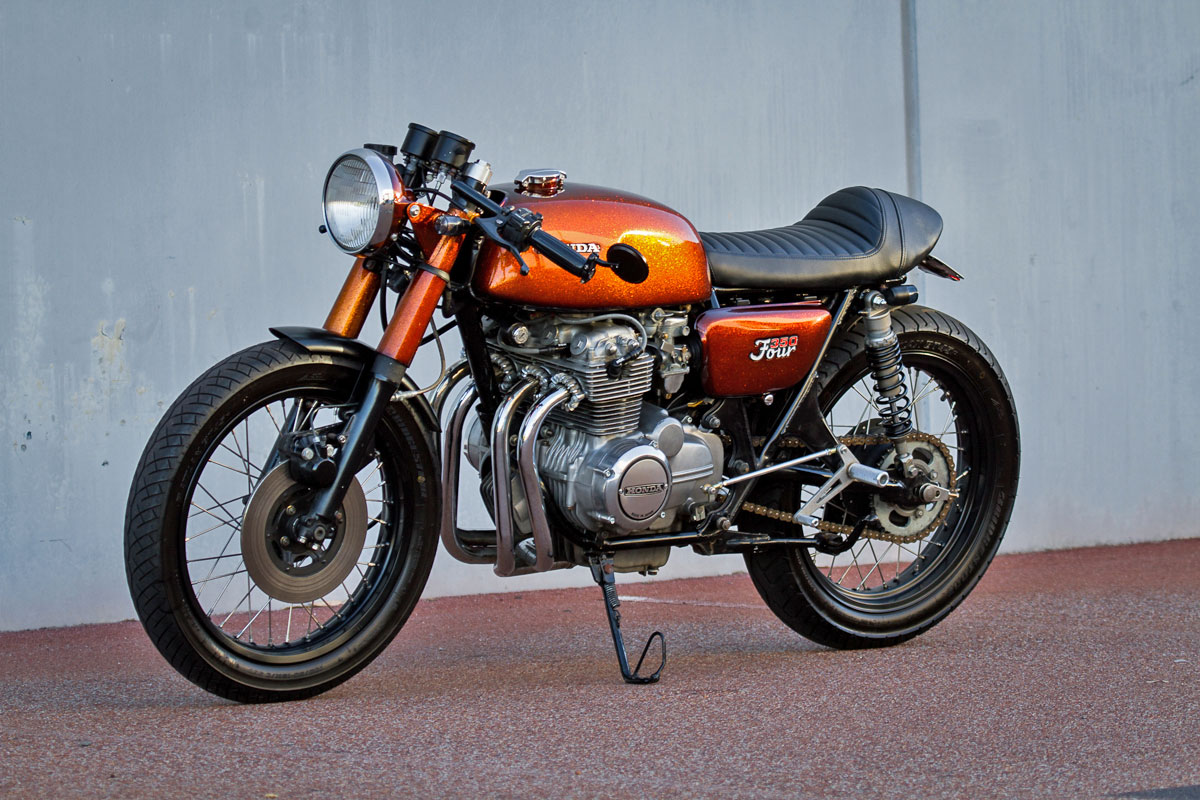 First time I heard Andy talk about the Honda I understood how enamored he was with the thing. For him to loan me the bike for an afternoon so we could shoot it really means the world to me. He is a true friend and a generous one at that. I wish him nothing but good fortune with this bike after its troubled and misspent days. Calum still waxes lyrical about it so it's great that he gets to see it rolling again.
Story and photography by Ben Pilatti