When I was a kid I thought being a game designer would be just as cool, and perhaps even cooler, than being an astronaut. During my childhood, I witnessed the release of the Atari 2600, Sega Megadrive, Super Nintendo and the first Sony Playstation. I spent countless hours with friends mashing buttons and staring at pixelated screens playing whatever latest release games we'd managed to get our hands on. I bought magazines that teased new releases and shared hints on how to complete challenging stages and I would draw game characters on my notepad in class when I should have been learning. Eventually, the idea of designing games gave way to my obsession with riding, building and writing about motorcycles.
Despite no longer being obsessed with gaming, I was rather enamoured by the life of our latest featured builder, Shawn from Taiwan. This is because Shawn has managed to combine a career as a concept artist in the gaming industry with his love of custom motorcycles. And the result of this amalgamation is a very clean, well-executed Honda cafe racer.
"I am a 2D digital concept artist and I love anything related to retro motorcycles," says Shawn. "I don't have any experience with building motorcycles, but the most interesting thing is that the experience of designing vehicles in games has greatly helped me to design my own bike."
Shawn's bike is a late-model Honda CB350. Honda coined this retro re-release the H'ness (Highness) as a reference to the model's royal breeding (yes, it's that lame). Honda released the H'ness CB350 in 2020 to limited international markets where small-capacity motorcycles outnumber bigger ones. The new CB350 is powered by a 348cc parallel twin that puts out 20.7hp. The chassis uses a double cradle design and the bike is available in a range of classic CB-inspired paint schemes. The little CB also benefits from modern components like ABS, disc brakes, LED lighting and Bluetooth connectivity.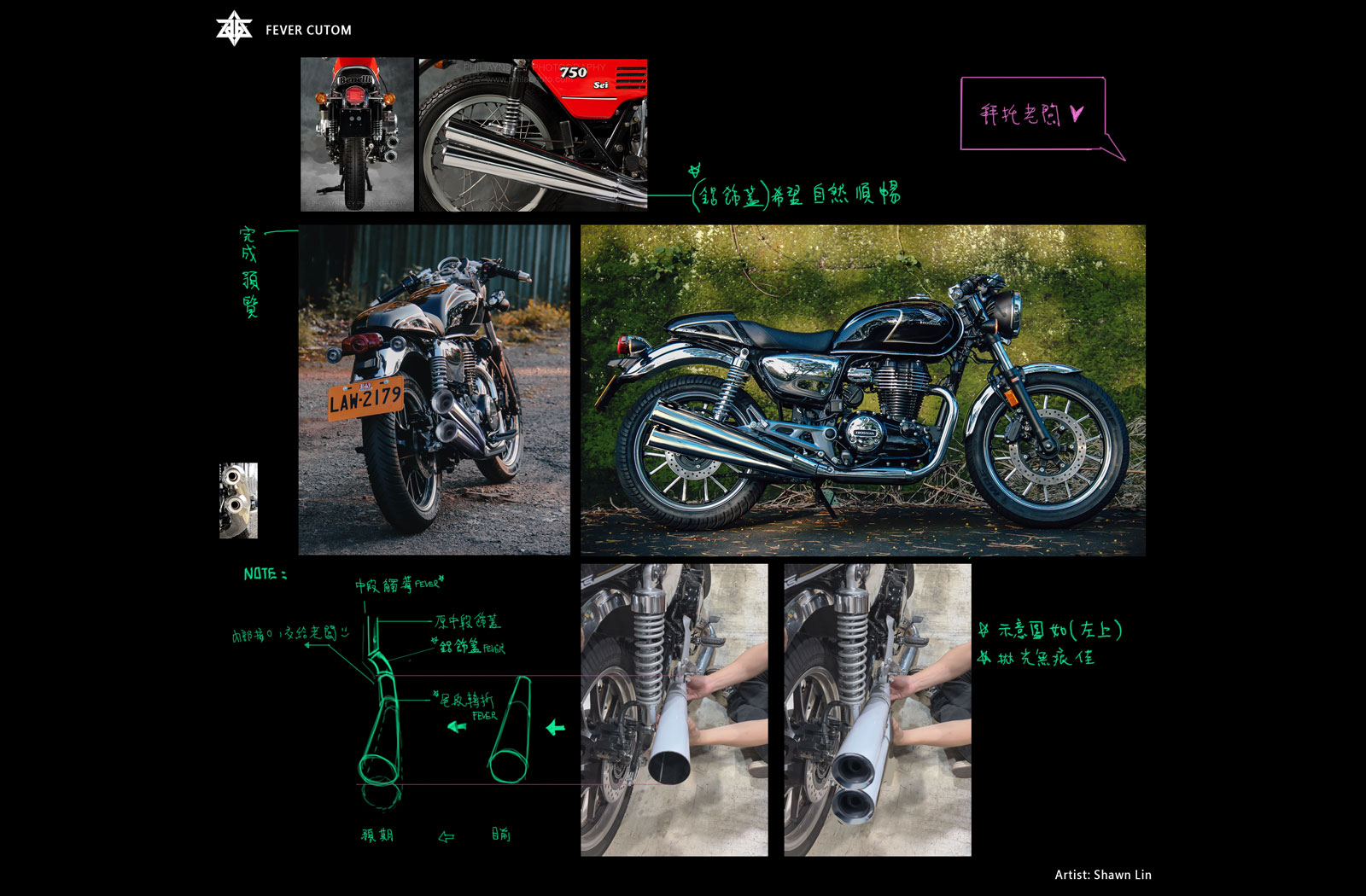 The styling of the H'ness CB350 is undeniably retro but some have complained that it bares a closer resemblance to later model CBs than the original early seventies design. Shawn shared that sentiment so using his design skills, he decided to do something about it.
"I owned the stock CB350 for about 1 year and the project has been progressive from the beginning," he says. "I began by 'photobashing' to test out various design ideas I had prior to working on the bike. This was to make sure that the new parts fit perfectly."
Shawn's concept was to merge elements from the British cafe racer scene with vintage Japanese motorcycle style. Starting with the fuel tank it's been resprayed black and finished with Norton Commando-styled white and gold pinstripes. He then replaced the stock badges with classic Honda winged emblems. For a sportier demeanour, he's added a wasps tail hump that covers the rear half of the stock seat. It's been finished using a matching paint scheme to tie everything together and can be easily removed for 2-up riding.
The large chrome fenders and retro-look shocks come standard on the H'ness CB350. To add a bit more bling, Shawn had the side covers chromed and partially stripped the wheels back to bare aluminium. That trick LED headlight, retro LED turn signals and brake light are all stock too. Shawn opted to leave them untouched but to amp up the cafe racer vibe, he's swapped the stock handlebars for a set of clip-ons.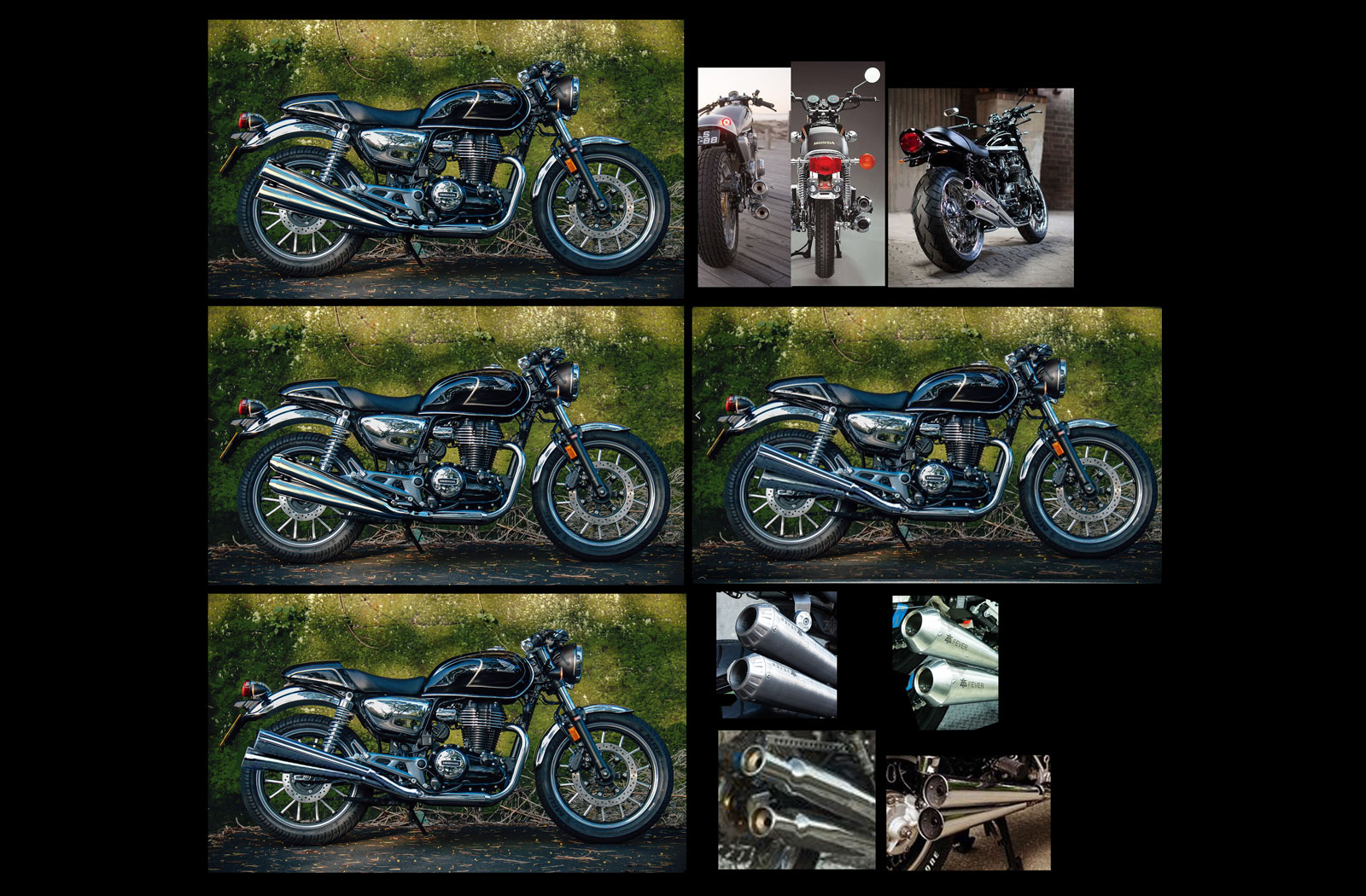 "I designed 4 types of different exhaust systems and used them to communicate the concept with my fabricator. It was very helpful to visualize the design of the exhaust pipe instead of just imagining it."
Shawn's design for the new exhaust was based loosely on the original CB750 4-into-4 system. The task of installing it proved to be the most challenging modification to date since the custom-made mufflers had to fit onto the double-walled stock header pipe. With the help of his fabricator, the 1-into-2 system was built to factory levels of fit and finish and both pipes are fully functional.
In regard to performance, the exhaust is the only change Shawn's made so far. However, aesthetically the engine now wears ribbed clutch and inspection covers to further customise the bike's appearance. He also plans to hop things up in the handling department soon with his heart set on upgrading the rear shocks and brakes.
Shawn tells us that his custom H'ness CB350 will continue to evolve over time. He may be a noob when it comes to building motorcycles, but if the work he's done so far is any indication of how the bike will look finished we're confident it'll be top-shelf.