Kristy Nadine is a busy lady. When she's not hunched over a customer tattooing their skin you'll find her sketching ideas, making jewellery for her Earth & Bone store or managing her businesses. Somewhere amongst all that she occasionally finds the time to let loose. One of her preferred ways to do so is cruising the streets of San Diego on two wheels.
"I have been riding motorcycles on and off for about 10 years now. Mostly vintage and cafe style bikes. My parents are somewhat bikers so I've always been around motorcycles." she says. "I've had this bike for 9 years. It was in alright condition when I got it, but it wasn't running. The issue was originally something electrical. When a few friends and I figured that out an oil change and a carb clean saw it start right up."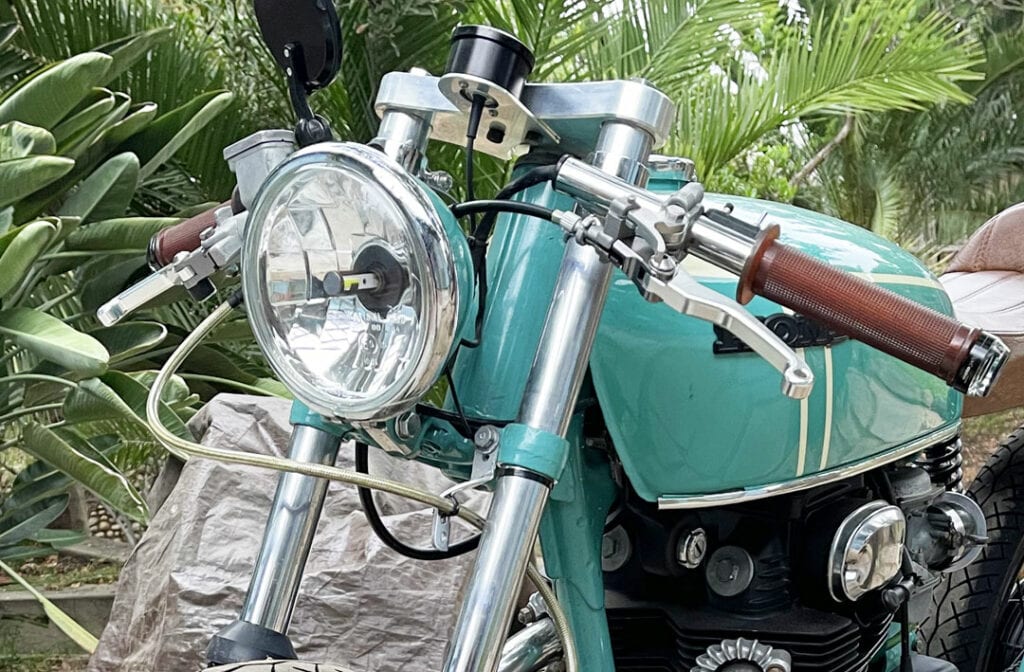 With a strong design aesthetic, it comes as no surprise Kristy's bike has been heavily customised. When the time came to change things up though, she didn't take the decision to do so lightly.
"I was originally told the bike was a 1970 Honda CB350, but the title says 1972. It turns out it's a bit of a Frankin-bike!" she says. "The front end was different again and the engine may have not been original – but it was all similar years. That's why, when it came to modding it I didn't feel guilty because it wasn't stock."
With her conscience clear, Kristy set out to build her dream bike.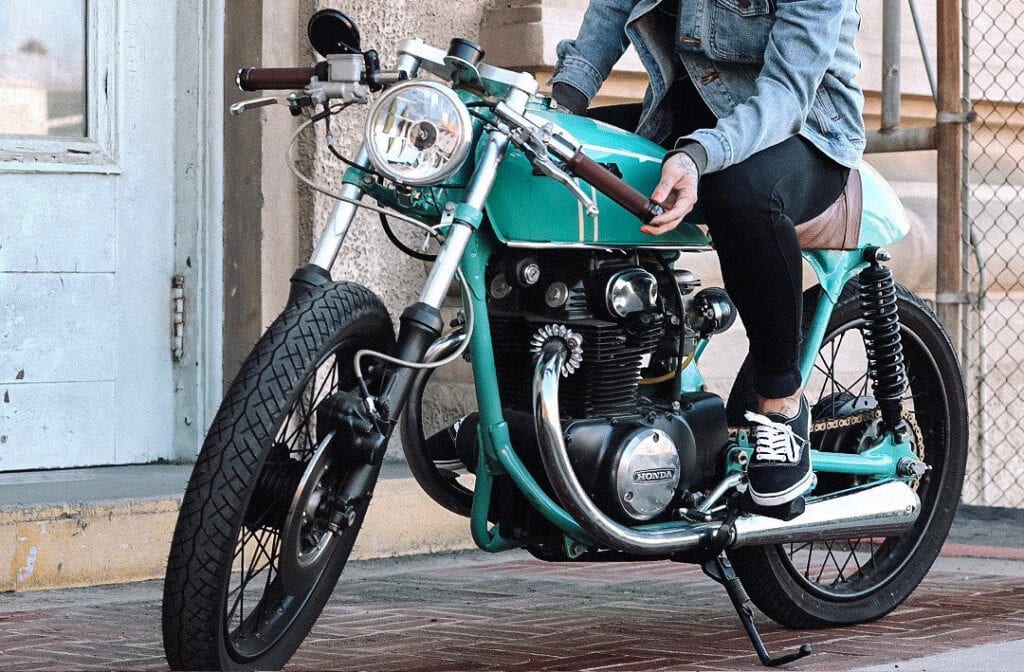 "I wanted a cafe racer, always wanted a cafe racer," Kristy confesses. "I watched youtube videos of people cruising around on them and I thought to myself one day I'll own a real nice cafe. I like minimalism with machines and design. I am a fan of track bicycles and their geometry and so naturally when it came to a bike with an engine, cafe racers had an appeal to me."
After scheduling time off to rebuild the Honda herself things soon snowballed and time inevitably ran out. With her businesses needing her attention and client work piling up fast Kristy made the hard decision to pass the project on to a pro. After asking around town a friend suggested she visit the Californian workshop of Alchemy Motorcycles. Thanks to Alchemy's appealing portfolio and their close proximity she reached out to Michel Valle at Alchemy to get things underway.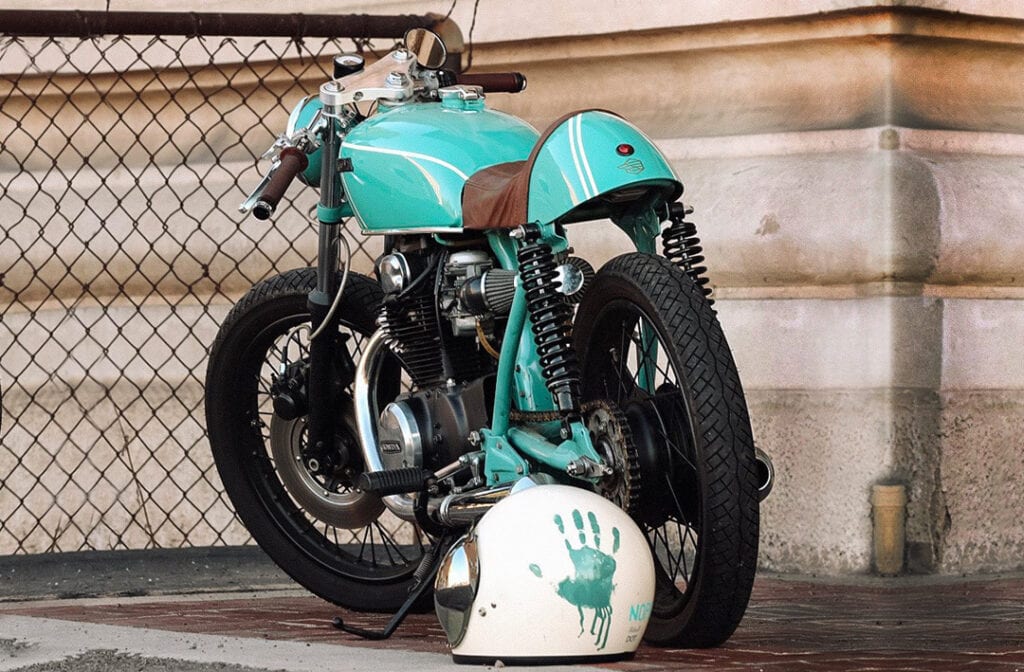 Kristy had already sourced a cafe style rear cowl and tan leather seat so with this Alchemy mocked up how the bike would look in its finished state. Decisions were also made on which parts were essential and which were expendable. Then with Kristy's approval to proceed, they then stripped the CB bare so it could receive the full Alchemy treatment.
"After the initial set-up, we stripped the frame of any unnecessary tabs and parts," says Michel. Then along with the rear cowl, fuel tank headlight bowl and lower triple clamp it went into the paint booth for a coat of turquoise. While the paint was drying the wheels, fork lowers and engine were all cleaned up too and shot in satin black paint. The time then came to pick out a few aftermarket additions to spec things up a notch.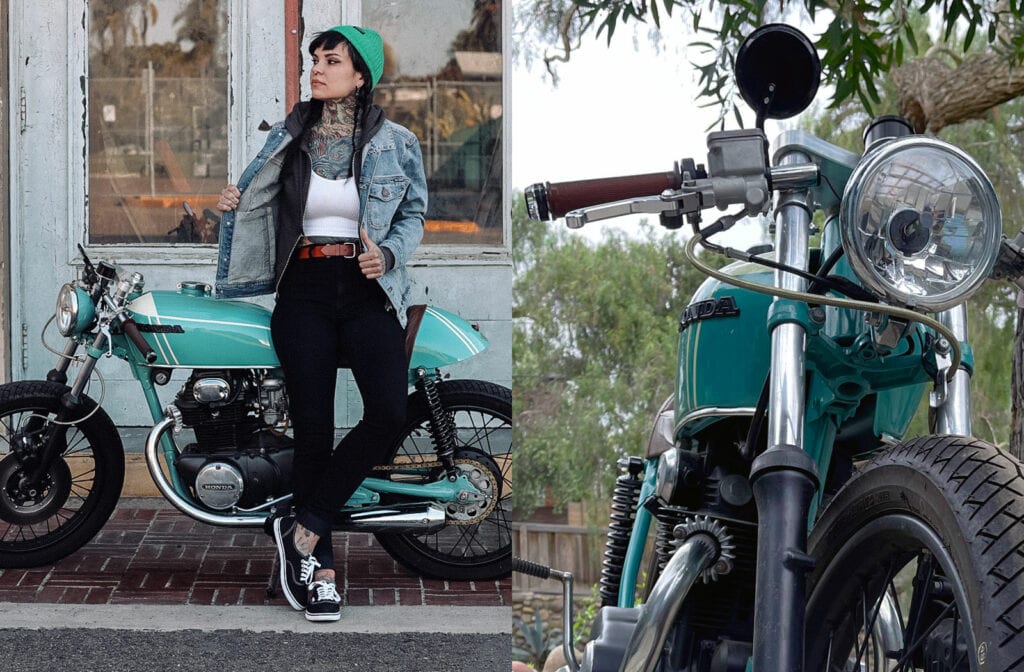 At the pointy end of the CB Alchemy installed a classic headlight with LED internals. A tiny Motogadget gauge replaces the oversized original setup. Alchemy has mounted the new gauge on a slick no-frills alloy plate bolted directly to a brushed CNC milled alloy top clamp. Clip-on handlebars set up the ideal cafe racer stance and they wear Motogadget bar-end turn signals, tan gum grips to match the saddle and aftermarket levers.
When Kristy's CB350 arrived at Alchemy HQ it hadn't been running for some time and concerns were raised once again about its ability to do so. "We ran a few tests and determined it had great compression and luckily the bike fired right up after we assembled it," says Michel. So the little CB350 once again proved itself a reliable runner. In terms of actual performance, the parallel-twin now breathes freely via a pair of cone filters and exhales through aftermarket mufflers. Adjustments to the carb jets keep things running smoothly and help to liven the bike up a little.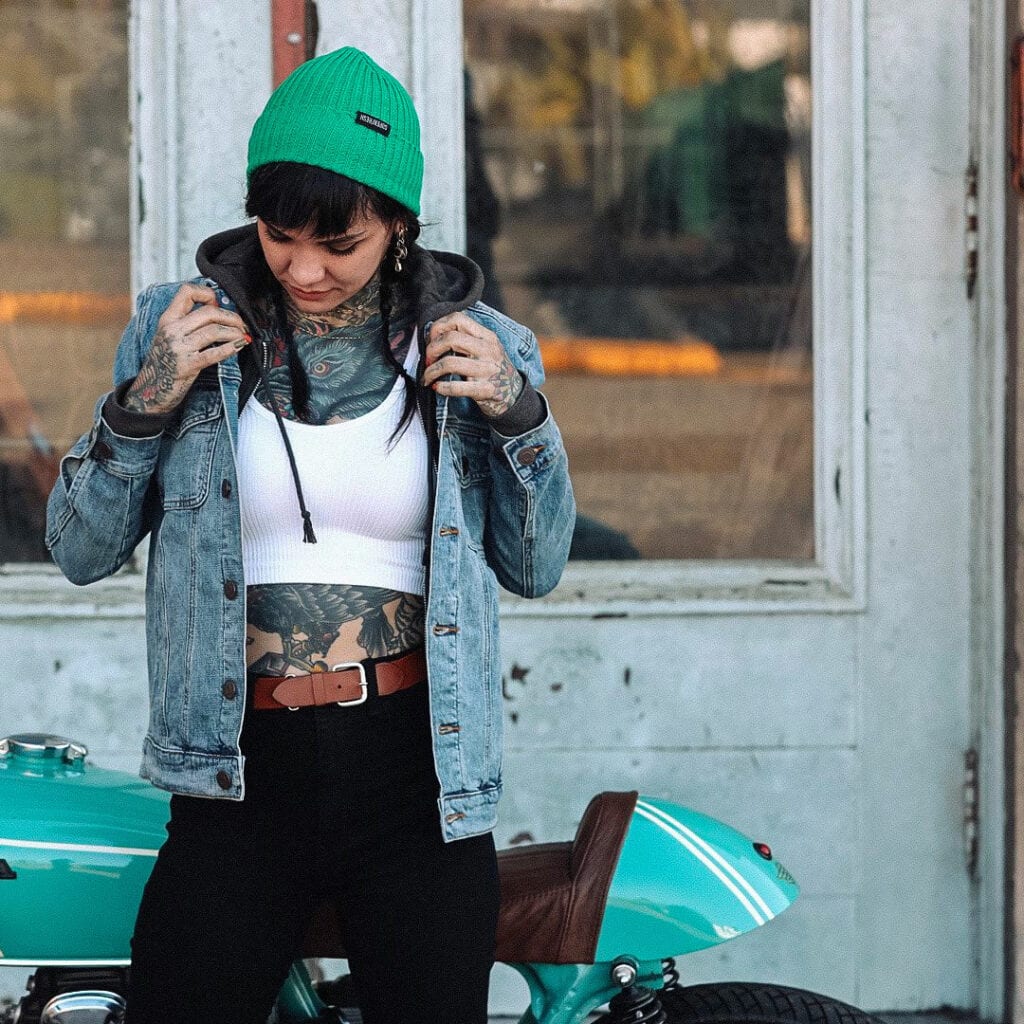 "We had a great time working with Kristy. The best builds we get are when a customer gives us some freedom to do what we do." Michel explains. "She had two ideas of either going super clean with the build or leave it a bit dark. We married the two ideas and came up with the scheme that suited her taste. We were honoured to have built her dream bike."
Kristy openly admits her old Honda CB350 still has its quirks, but that's par for the course with old bikes like these. And besides, with the bike now looking this good, we're confident she's happy to overlook them.
Kristy Nadine aka Feral Witchery  / Photography by Laron Lindsey