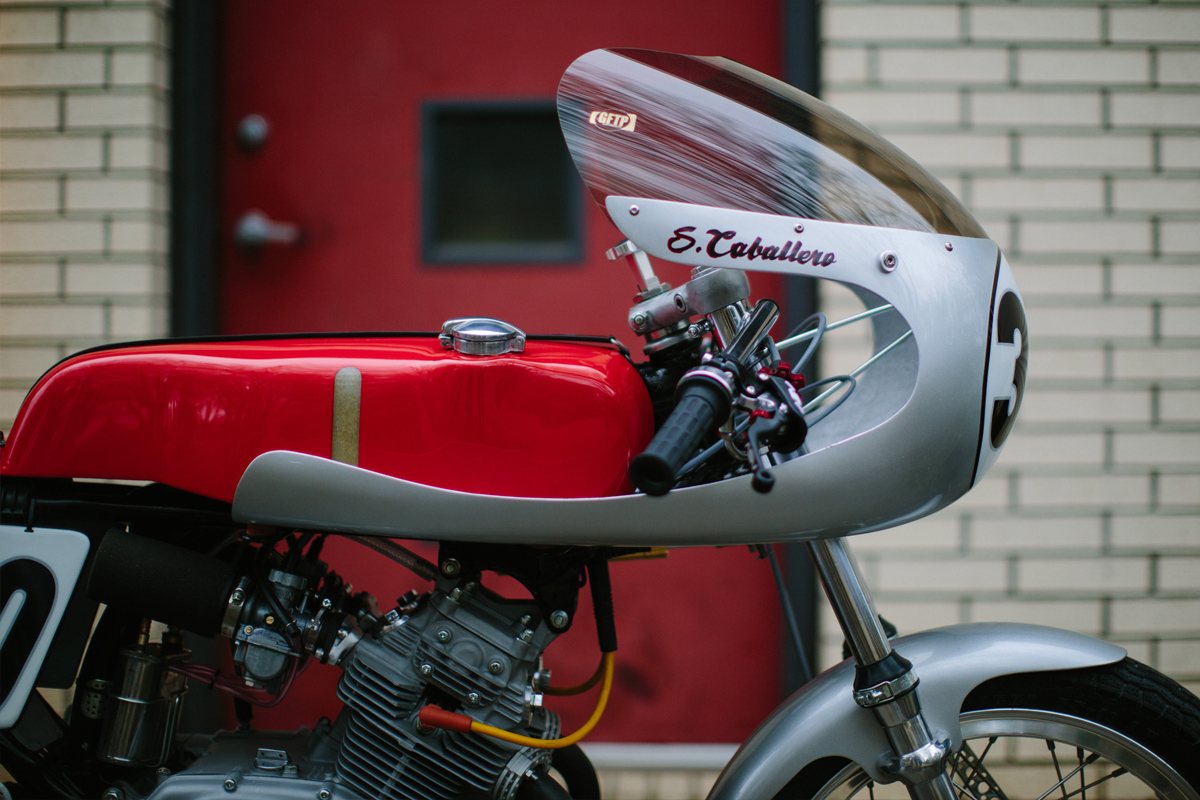 Skateboarding and motorcycles go hand in hand in the United States. Many pro-skaters like Caballero ride motorcycles and some, including Steve have tried their hand at customizing them. When he's not making guest appearances at skate events or rolling around inside drained swimming pools Caballero gets his kicks racing vintage motorcycles. He actively takes part in events like The Race of Gentlemen with his ex-wall of death 1944 Harley Flathead and has recently been enjoying flat track racing alongside Roland Sands. In Steve's home garage you'll also find a 1952 Pre-unit Triumph he built with Bryan Thompson as an invited builder at the 9th annual Born Free Show.
In the late 80's Steve's obsession with two-wheeled machines began with sports-bikes, but he soon realized it was older motorcycles that really appealed to him. From there it was pretty much British classics with motorcycles such as a BSA Lightning, Norton Commando, and Ariel Square Four all appearing on his "I once owned" list. Classic dirt bikes and hot rods now also vie for floor space in Steve's garage so it's fair to say when it comes to vehicles this pro-skater knows his stuff.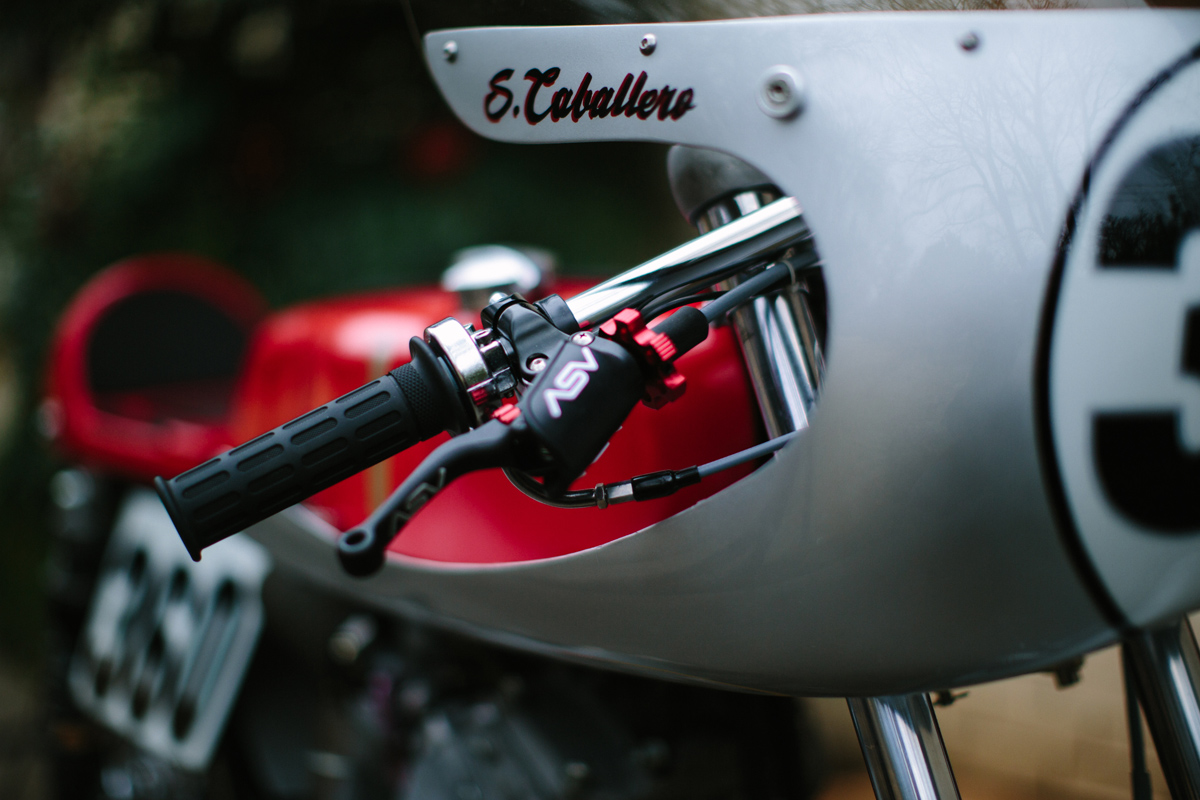 As you can imagine building a motorcycle for the 'Skater of the Century' who also happens to be a classic motorcycle nut would be a rather daunting task, but when Fabian and David heard he was on the lookout for a bike they jumped at the opportunity. "In early 2017, we found out Steve Caballero was looking for a specific bike, a somewhat rare 1969 Honda CL175 which he wanted to build into an AHRMA race bike," recalls David. "Since we already had that very bike in the DentonMoto stable, and had recently completed a 1966 CB160 racer, we approached him about the job." To their delight, Steve warmly accepted the offer.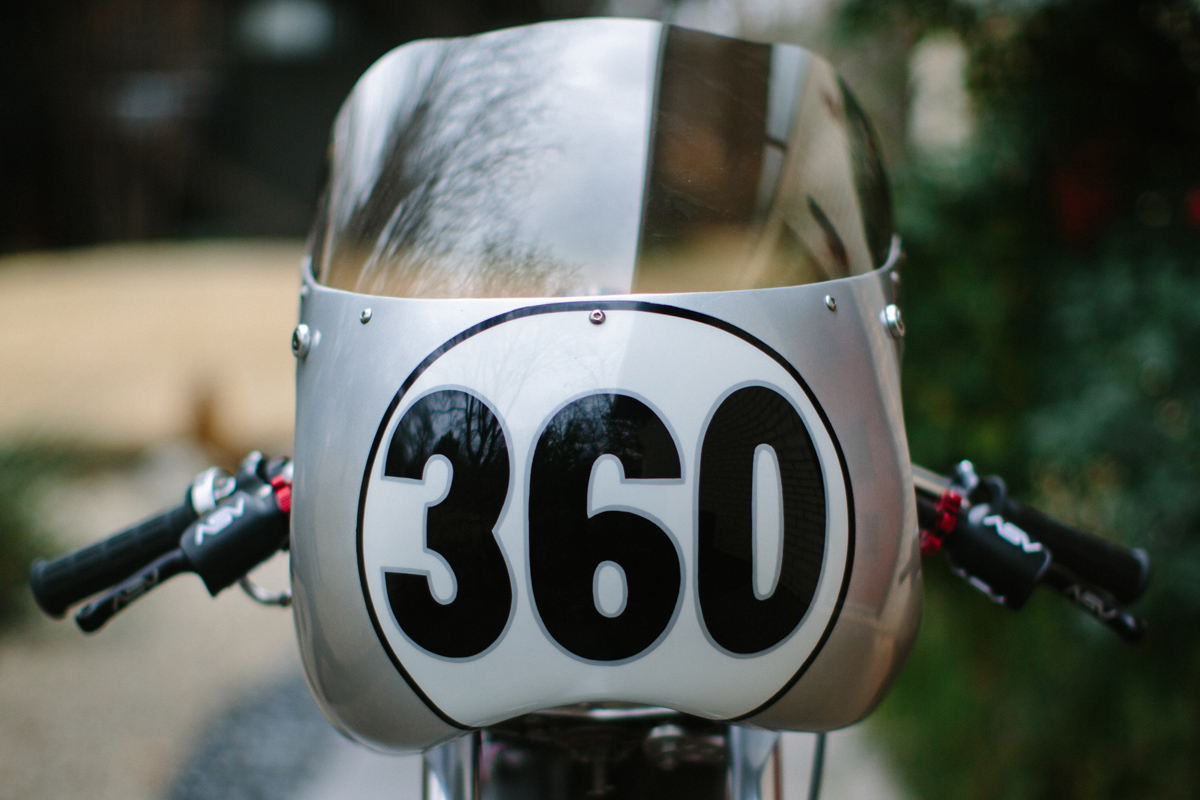 "With us all the way down in Denton, Texas, and Steve up in California we were not expecting too much," says David. "But Steve was involved in all aspects of the build. From picking out body parts to requesting specific engine modifications, components, and coming up with the final color scheme and graphics." With Steve riding shotgun from up in California, David Morales steered the build from start to finish. The project which was nicknamed 'Cabracer360' started with the 1969 CL175 Silvertag being stripped down to its frame and engine.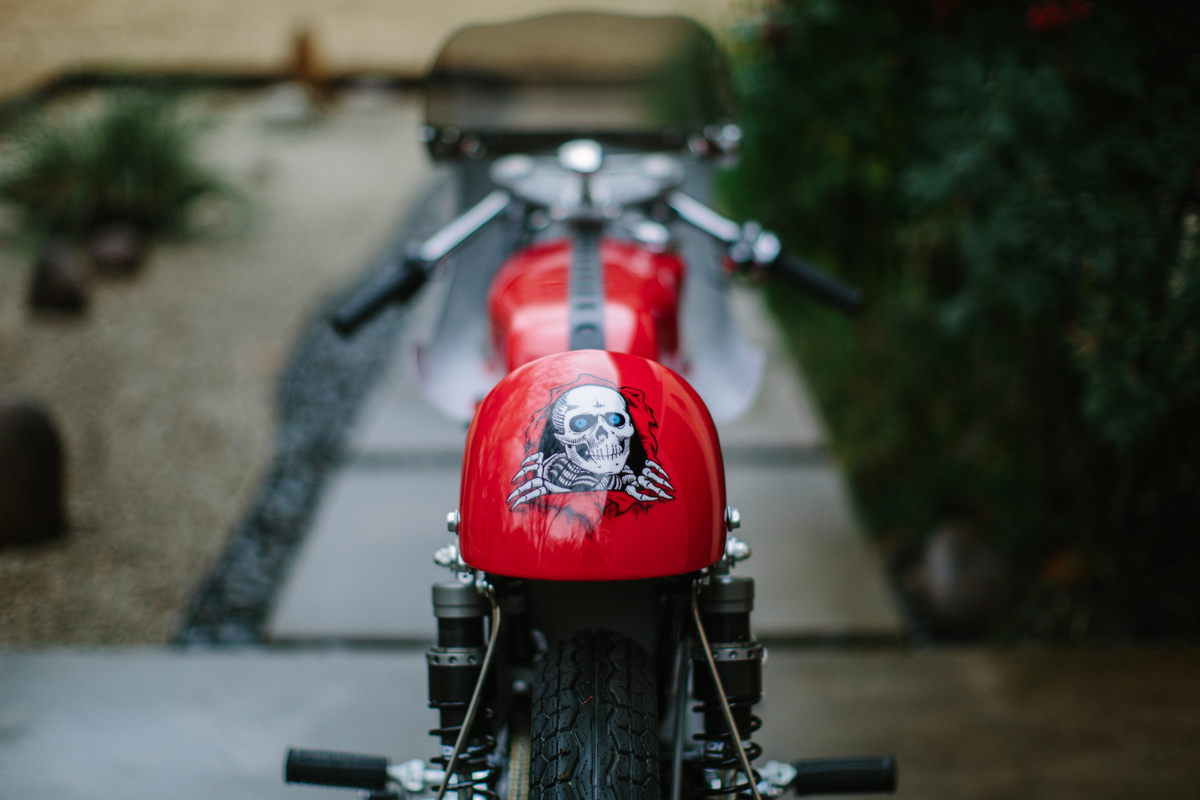 Under Steve's instruction, the engine was bored, sleeved and fit with Arias pistons to increase capacity up to 209cc. Fuel delivery was also boosted with the fitment of a pair of PE22 Keihin carbs wearing foam breathers and short intake manifolds. Italian Honda race component company Cappellini supplied a high-volume chain driven oil pump to keep everything well lubricated as well as a race spec cam tensioner and sprocket. The Honda's clutch has been bulletproofed with kevlar plates and the gold chain is a kart racing component. For a strong reliable spark, the ignition system utilizes a Dyna coil and RDL racing components. And that exhaust is, of course, a Denton Moto custom creation.
The Honda has also been given steadfast steering improvements thanks to the fitment of a set of Ceriani 35mm forks running gold-valve emulators and springs. At the rear, David has mounted a pair of RaceTech G3-S shocks and there's a Takegawa steering damper up front to avoid any unwanted wobbles at the track. Honda CB77 rear sets position Steve's feet well for low lean cornering and the bike's clip-on handlebars wear ASV clutch and brake levers and a MotionPro throttle. The recipe for the Cabracer360 wheels consists of a Honda CL77 front hub, CB160 rear, Buchanan spokes and vintage styled shouldered rims that have been wrapped in IRC rubber.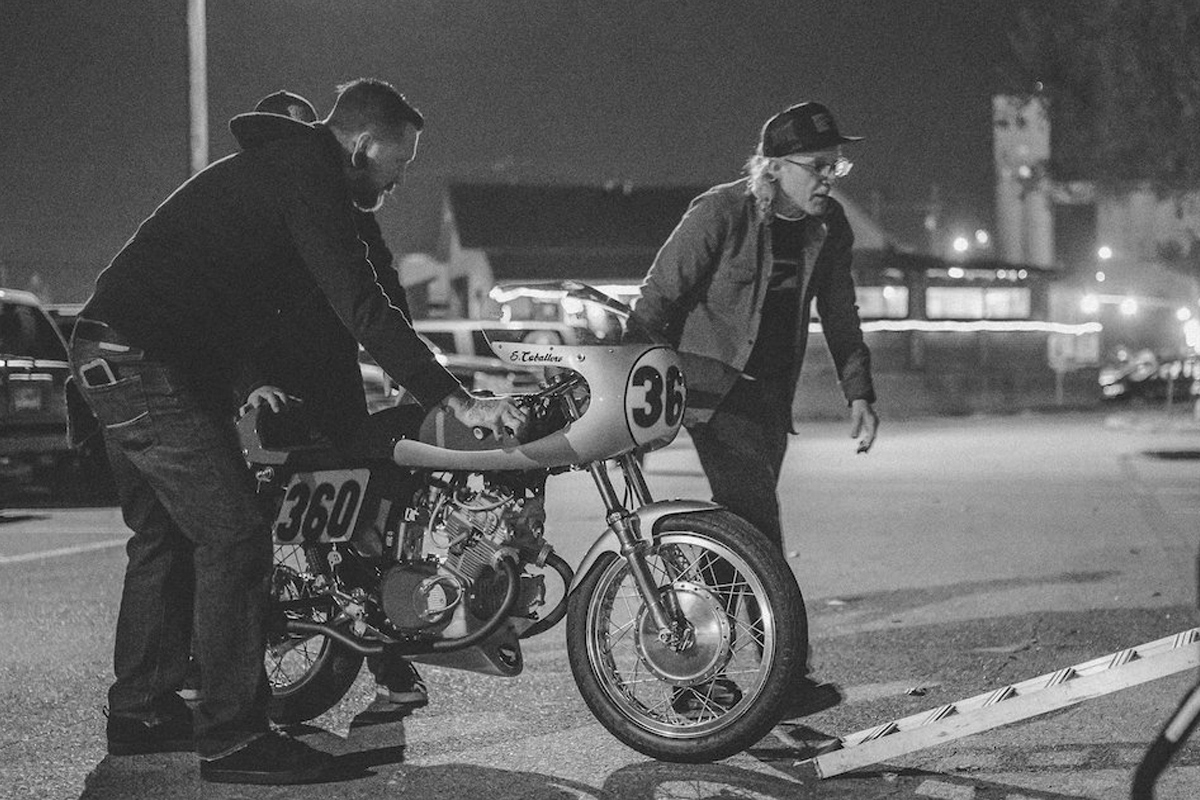 For the bodywork, the main goal was keeping weight down so the seat pan was shaped from aluminum. Composite bodywork pro Matt Tanner aka Tannermatic provided the fiberglass fuel tank and front fender while vintage race fairing experts 'Glass from the Past' supplied the front fairing and belly pan. Holding the tank in place is a repurposed Honda CB50 tank strap and David even built a custom paddock stand for while the bike is awaiting its next track session.
Along with all the other work done on the Honda, David laid the paintwork with pinstriper Wade O Wilson applying Steve's name and the iconic Bones Ripper skeleton graphics to the tail. Steve and the DM boys have just unveiled the Cabracer360 at the Outlier's Guild Moto Show in Los Angeles and from there it will head to California where it will be getting its fair share of track time.
Fabian Campos and David Morales of the Denton Moto Collective are all about helping people realize their two-wheeled dreams. At their shared workshop space in Texas, they've amassed an impressive portfolio of custom motorcycle builds for their customers, but their latest project could be a pivotal one. Not only has this 1969 Honda CL175 been built to meet AHRMA race specifications it was also created for Thrasher Magazine's 'Skater of the Century' and pioneer of the 'fakie 360 aerial', Steve Caballero.