Pour yourself a stiff drink and sit down. I've got news for you. This neo cafe racer by Turin's Officine GP Design dubbed the X-Mutant C5 was once a scooter. In 2016 Honda released a dirt-oriented scooter dubbed the X-ADV. That's right. A scoot with an off-road focus. If you're not one of the ten people into the, er, enduro scooter scene, the Honda X-ADV does need a bit of an introduction. It's based on their NC platform and features long-travel suspension, a 700cc parallel-twin, automatic gearbox and a sense of shame.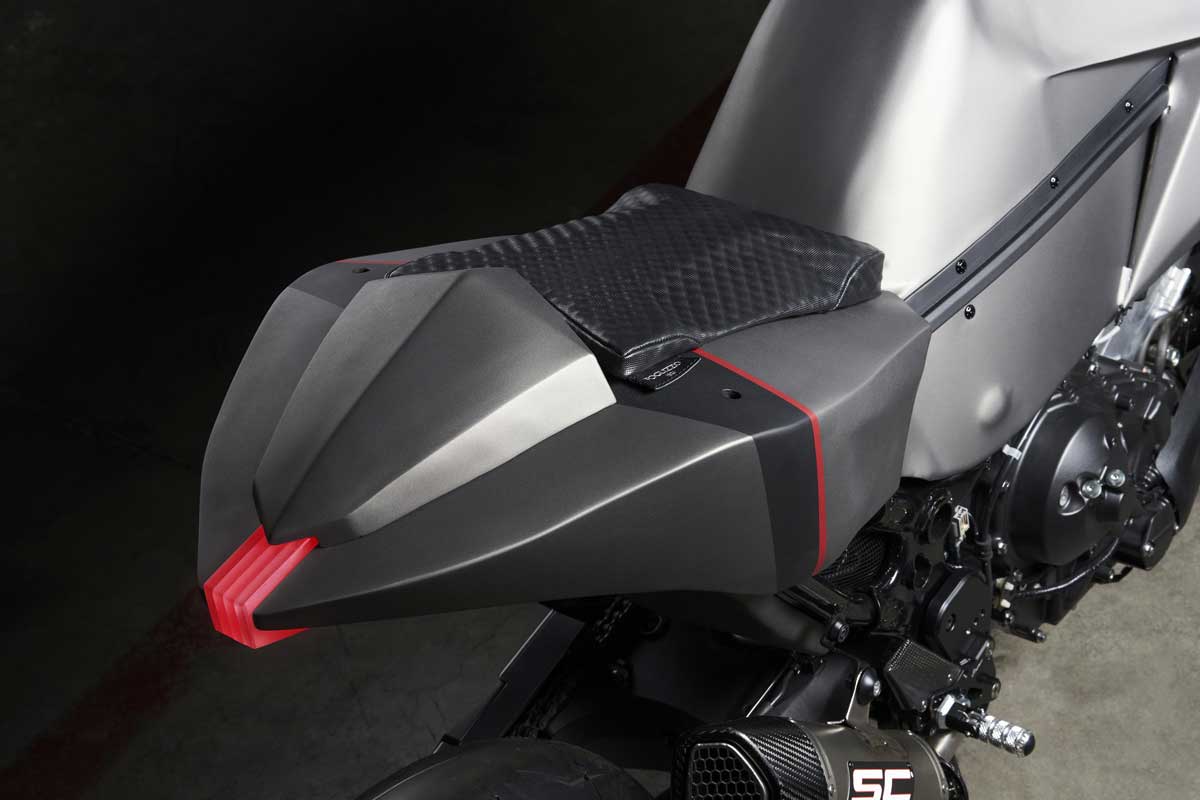 I kid, I kid. Because when you kick your prejudices aside a scooter has a few things going for it when you start to muscle it off-road. It's got a low centre of gravity. Plenty of storage space. And that CVT system isn't such a bad thing when the going gets tough. Just point the scoot and turn the throttle.
But why did the team at Officine GP Design decide to turn a scooter-cum-dirtbike into a pukka cafe machine? "We wanted to reconnect with that desire to break the mould that Honda has always shown," Luca says, "sometimes presenting futuristic concepts which later dictated market trends".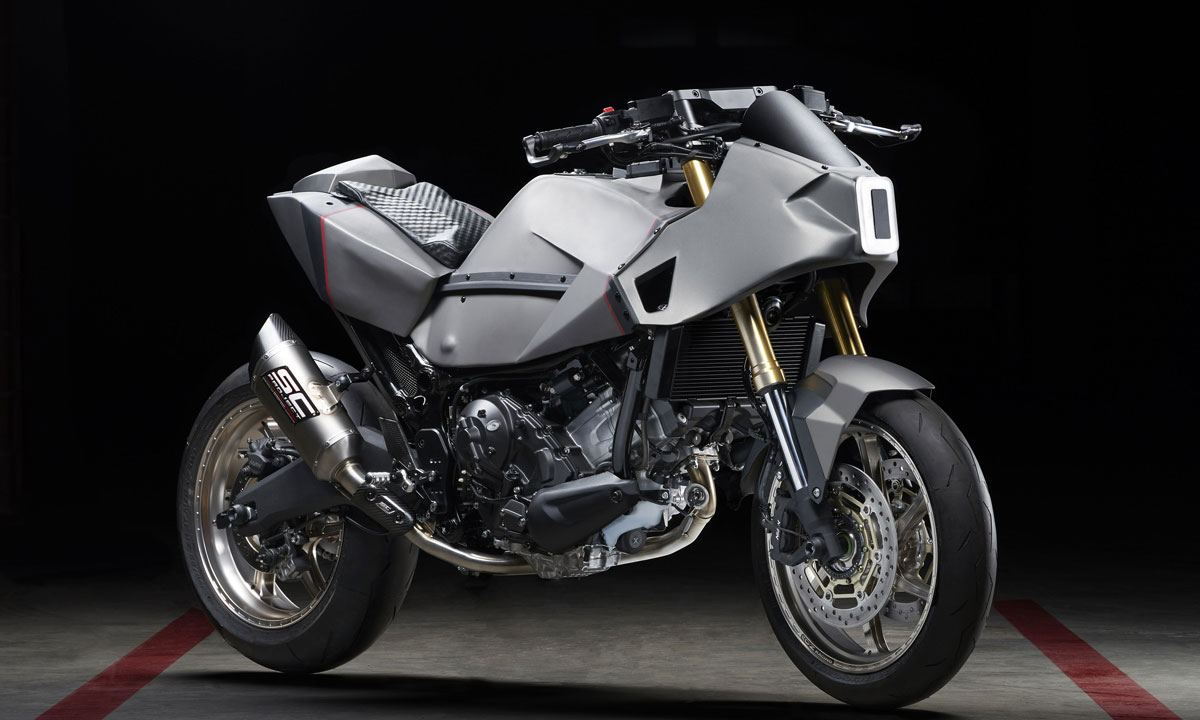 The team are clearly fans of the brand. And it shows with their Honda X-ADV project, which is littered with references to Honda's current motorcycle lineup. And nowhere is it more apparent than in the bodywork. Entirely constructed from hand-beaten aluminium, the geometric body shape features more hard lines than a Tory social policy proposal.
The front wings on the mutant are a riff on the tiny winglets that you'll find on the latest MotoGP bike, while the angles, intakes and lines are also inspired by Honda's world-beating RC213V. The Officine team decided to keep the colour scheme muted. Flat grey dominates with only a few black and red highlights to draw attention to details.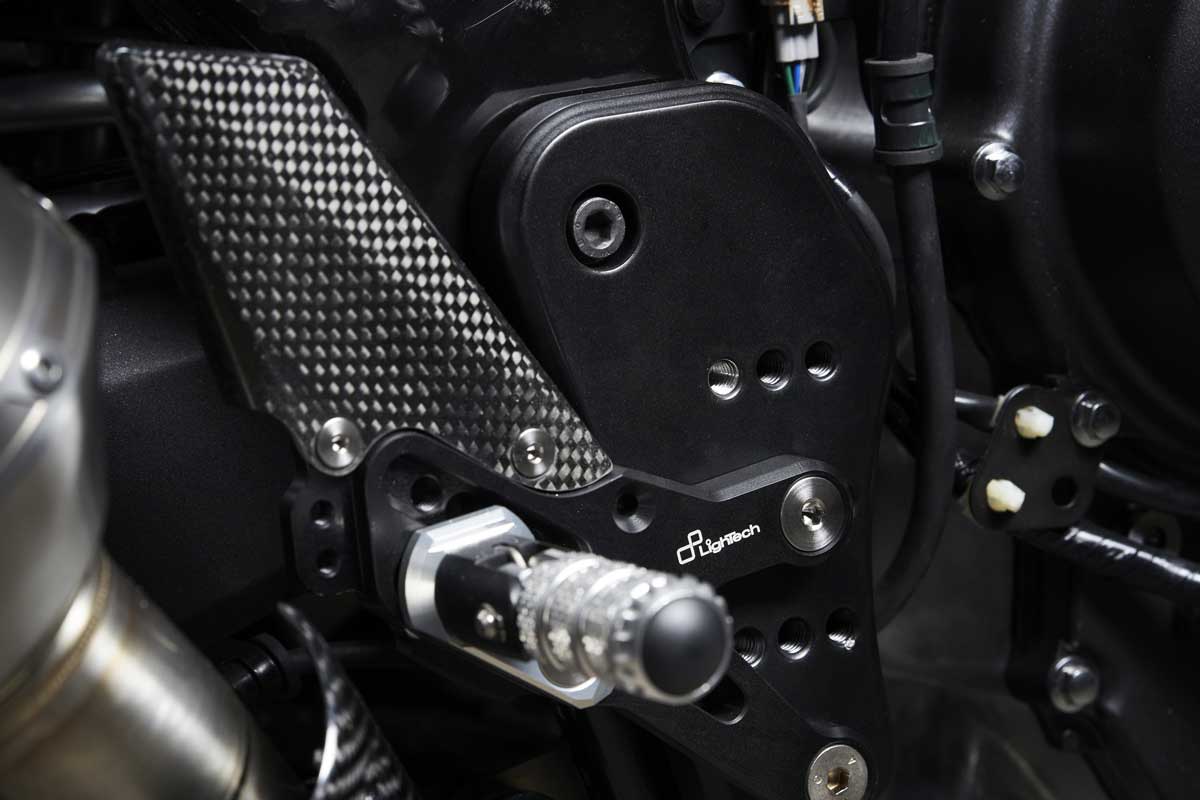 And there are a couple more touches that are worth noting. The front headlight is the squared-off 'O' from the Officine GP Design logo. The entire rear section of the bike runs a massive combined LED brake and indicator set. And Italian firm LightTech provided the footrests, mirrors, chain tensioner and chain guard. Rounding off the transformation of the Honda X-ADV is a Foglizzo Leather seat, Leo Vince exhaust system and a pair of 17" alloy rims specifically made for the X-Mutant C5 by wheel experts OZ. Each change was carefully considered and somehow… it all works.
The name X-Mutant C5 is a reference to the Marvel comic universe, where the 'C5' class is the highest, most mutant-est of mutants. The team at Officine GP Design have truly created a silk purse out of a sow's ear. And it's all done with incredible attention to detail and craftsmanship. Some of us might turn our nose up at a scooter and all that it implies but I challenge anyone of you to swing a leg over this and not have a huge grin on your face. The damn thing makes us smile just looking at it.
Story by Marlon Slack