If ever I've seen a bike that looks like it could literally tear chunks out of the road this is it! Inspired by the motorcycles of Mad Max Fury Road this is the Officine GP Design "Untameable" MV Agusta Rivale. Last time we heard from the Pozatto brothers they'd just completed their Bomboogie GSX Scrambler and with this latest build their unique style is evolving beautifully…or should I say brutally? Matte finishes, extreme bodywork and battle-ready aesthetics seem to be the GP Design par for the course and I'm loving it!
Taking some 180 days to complete the bike was a customer project handed to Luca of GP Design as an open canvas. Excited by the upcoming release of Fury Road and inspired by its theme a post-apocalyptic approach was decided upon. The 3 cylinders, 800cc MV Agusta Rivale leant itself to the theme perfectly with its Supermoto/Naked Superbike styling, big power and brutish stance, but the plastic bodywork had to go.
Luca sculpted the bikes new tank, tail, headlight surround, front fender and belly pan from aluminium in the Officine GP Design workshop. Once the body parts were finished an anodised finish was applied using gold tones to add attention to details such as the raised strap across the tank and the stripe down the centre of the bikes insect-like tail end.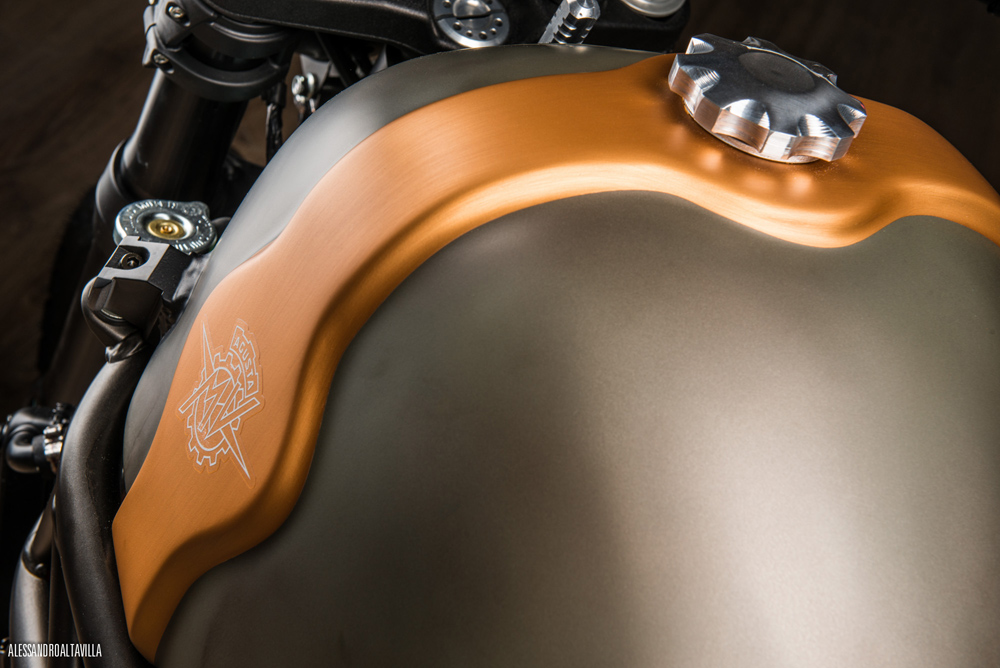 One of my favourite features of the Rivale is it's awesome 3 pipe muffler, but Luca wanted something more industrial so he constructed a catch can with mesh vents to replace it. The whole system was has been finished in hi-temp satin black powdercoat and mounted low to fill the space a stock swing arm would normally inhabit. The factory wheels have been replaced by Kineo spoked rims wrapped in some seriously chunky rubber, capable of handling any surface you'd be likely to tackle with this beast. And to finish his creation he invited aviation and automotive leather experts Foglizzo Leather to stitch together the green eel skin seat, yes that's right, eel skin! Now that's a first.