Verona based workshop Fabbris Motorcycles has been in operation for an impressive 42 years. Started by Luciano Fabbris in 1979 and then handed down to his sons Luciano and Marco it is the epitome of a family-owned and run business. Since taking the reins of the business in 2007 the Fabbris brothers expanded workshop duties to include custom builds. Last time we heard from Fabbris Moto they'd just pieced together their first Honda CB750 Cafe Racer and today they're back with round 2.
With this bike, their second Honda CB750 cafe racer, Fabbris have taken a similar approach to the first. But for the sake of keeping things interesting, rather than a straight carbon copy of the previous bike they've added a few design twists. As with the first bike, the Fabbris Moto CB750 2.0 features Ohlins suspension. In the front, you'll find right side up Ohlins 43mm Classic Superbike Forks mounted using a CNC machined triple clamp. Things have also been improved in the rear using a pair of premium Ohlins piggyback shocks.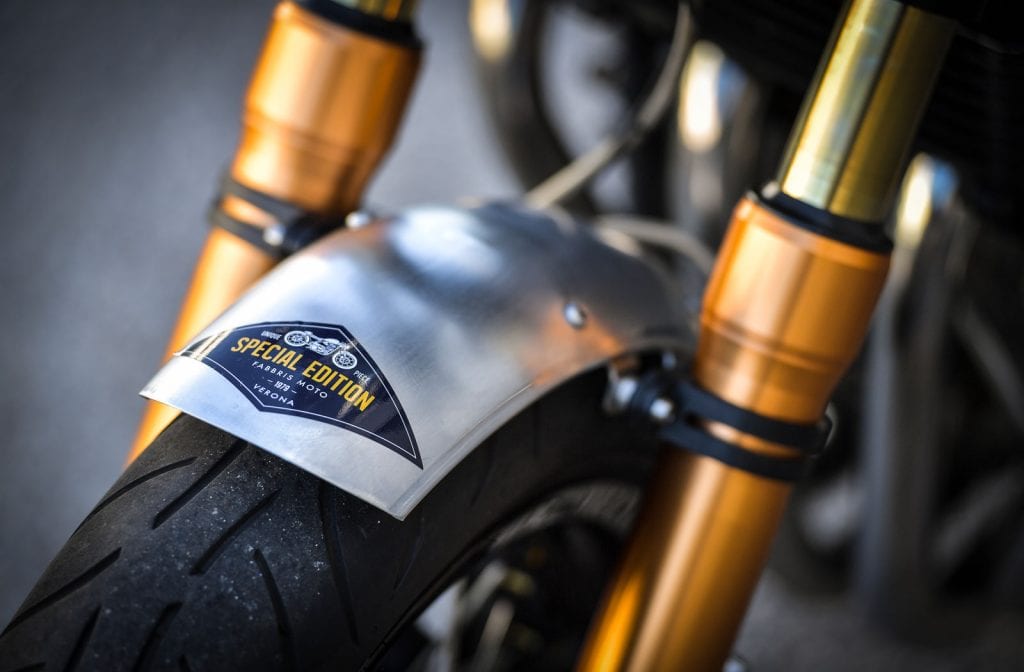 For a comprehensive handling upgrade, Fabbris has also reduced unsprung weight by replacing the stock Comstar rims with lighter, spoked alternatives from Kineo Wheels. Then, to ensure these improvements can be fully utilised, Fabbris fit the wheels with Metzler's Sportec M7 RR road racing rubber.
It's one thing having the ability to go fast but the fun won't last long without dependable brakes. Fabbris have, of course, addressed this issue too. The new brake package consists of Suzuki GSXR 1100 components front and rear and larger front discs. To fit everything to the CB Fabbris used CNC technology again to fabricate a set of bespoke brake calliper supports.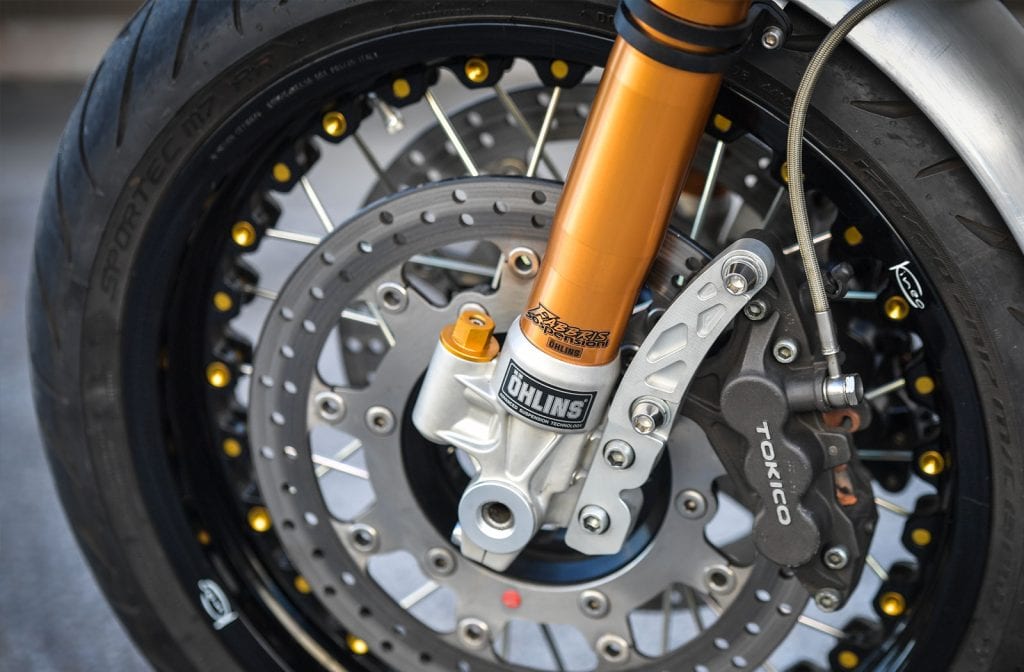 Just like their first CB750 cafe racer this bikes frame has been opened up to lighten the visual load. With the airbox and side panels gone the re-tuned carburettors now inhale through a set of conical filters. At the noisy end of the engine sits a Adaptec 4-into-2 set of headers and megaphone style mufflers. Fabbris has also chopped and closed the subframe using a new hoop to tighten the Honda's proportions.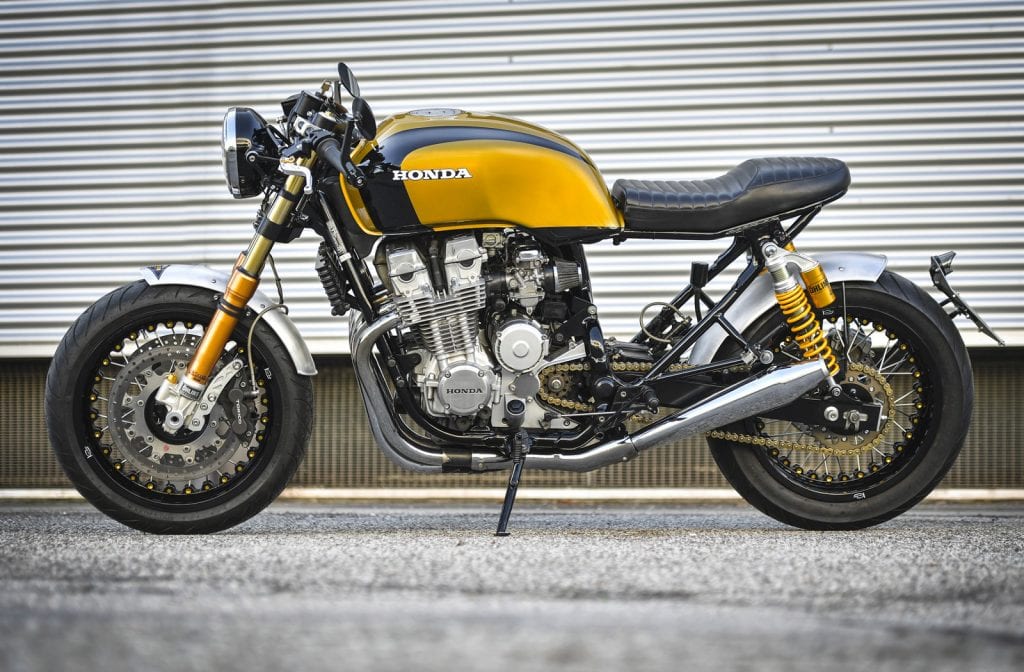 To give this classic UJM its quintessential cafe racer look Fabbris has adapted a series of German-made aftermarket components. From the LSL catalogue, they've fitted the bike with aftermarket levers, clip-on handlebars, rear-set footpegs and Clubman bar-end mirrors. For further reductions in weight, the steel fenders were swapped out with trimmed LSL alloy units. Fabbris then leant on Motogadget for a set of handlebar controls and a small speedometer.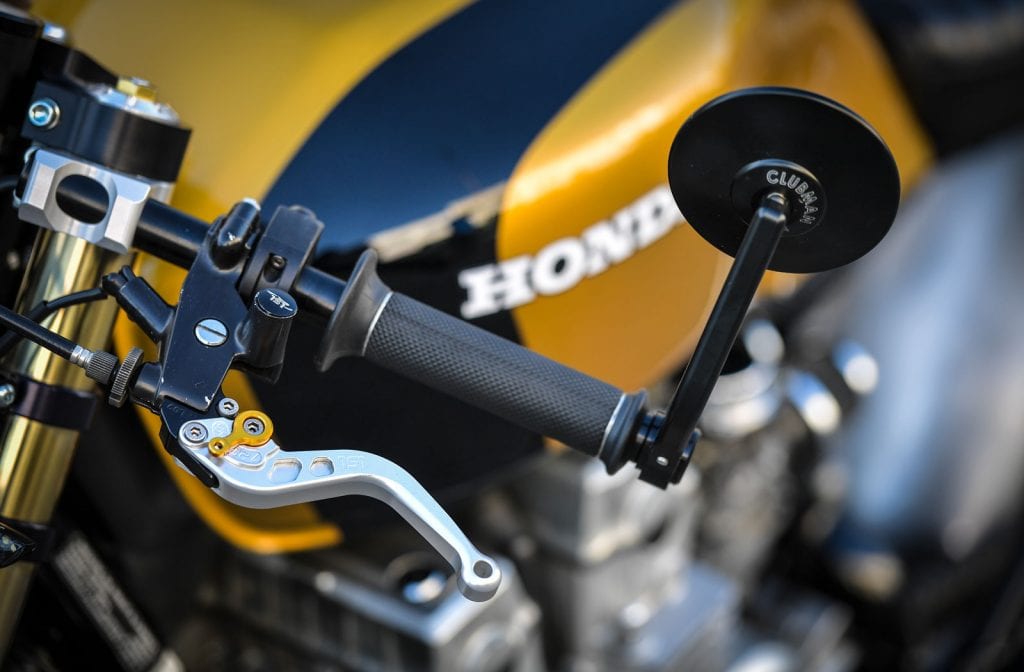 Other visual modifications of note include mounting the original headlight and license plate using bespoke CNC machined supports. The stock fuel tank has been tweaked to level its stance and Fabbris have installed a custom wasps tail style saddle. Look closely and you may also spot some well-hidden LED turn signals by Lightech.
As for the paintwork of their latest CB750 cafe racer, Fabbris has moved away from the all-black theme used on the previous build. Instead, they opted for a classic Honda CB750 Four gold and black scheme that ties everything together nicely. Bring on round 3!