Remember that time you went to see your friend perform in 'that show'. You went along willingly but their performance ended up being so out there, so off the wall, so not what you expected that all you could say to them afterwards was "Hey – look at you".
Well "Hey – look at this!". Lionel Duke owns and operates Duke Motorcycles, a workshop located at Tourrettes Sur Loup, France. With this Honda CB500 project, Lionel set out to build a custom bike "deliberately different from what we see". Well, he has certainly achieved that.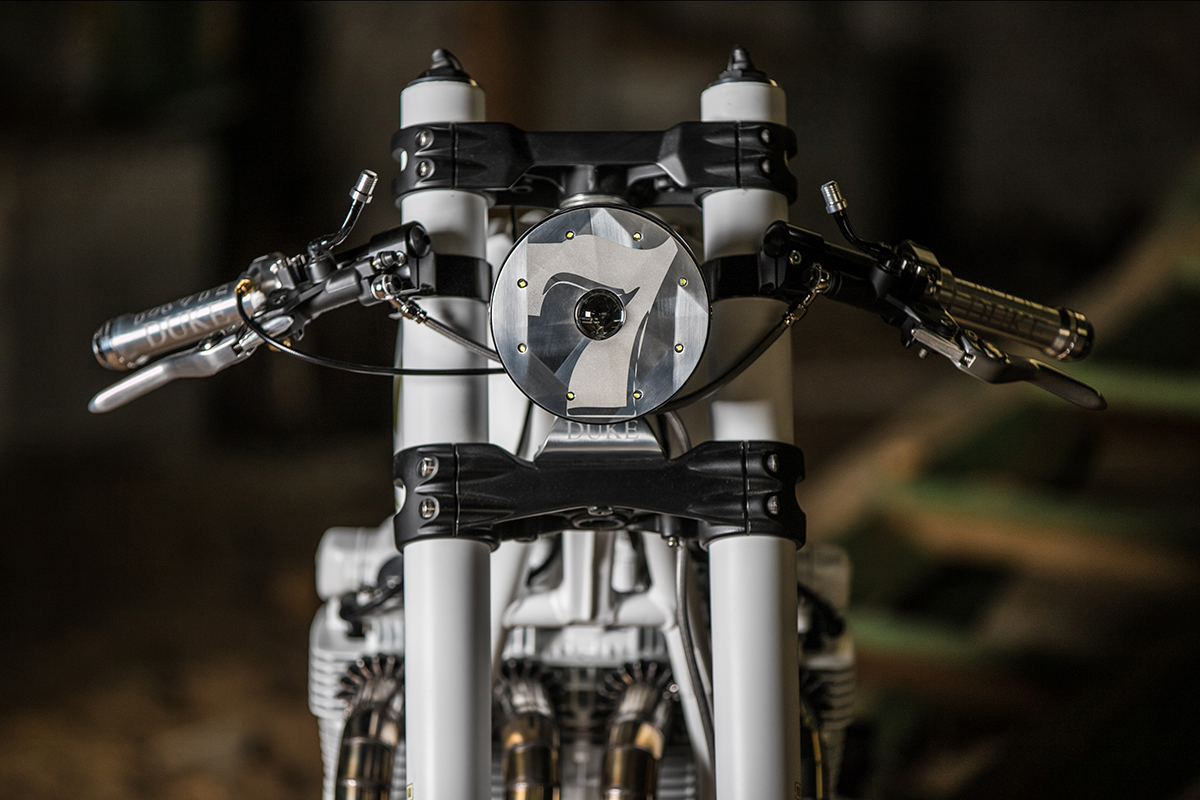 This was once an ordinary little '70s Honda CB500, but Lionel has dragged it kicking and screaming into the 21st century. The result is his personal take on a neo-retro café racer. Look hard and you'll see the classic inline four tucked into what's left of the original frame. You had to look hard because it's obscured by the massive modern Ducati suspension surrounding it. Yes, it is massive. That rear swing arm looks poised to mutate the bike into the latest Transformer Decepticon. And I'm sure Michael Bay would be delighted to see those fat front forks serving as laser cannons. It is a lot to take in, but if we all just calm down and take a deep breath – it is actually a rather neat job of automotive Frankensteining.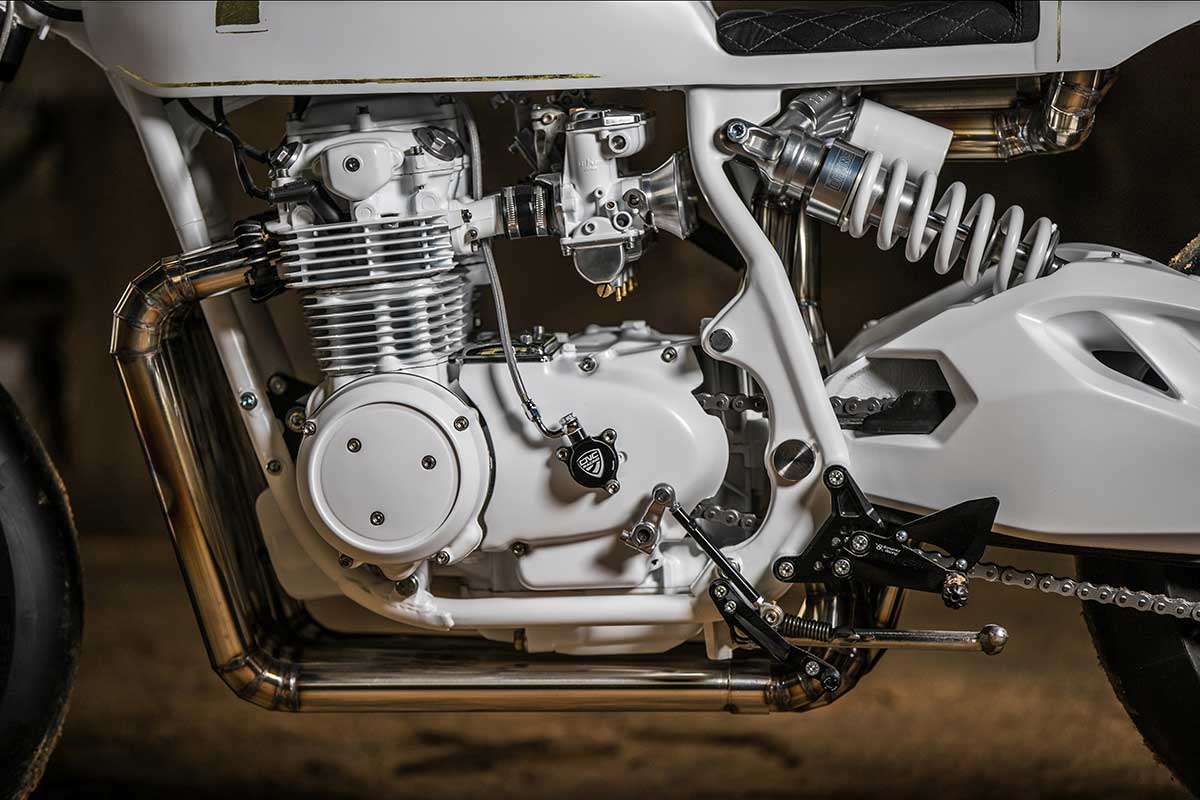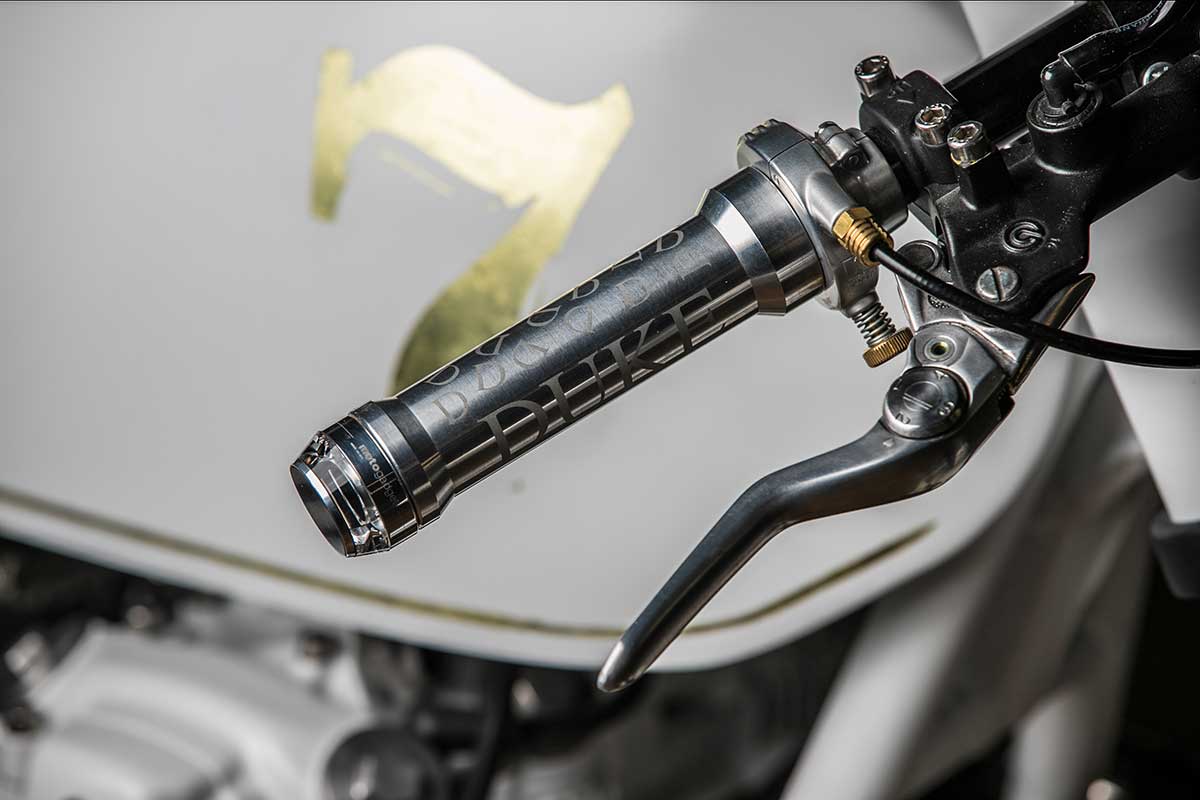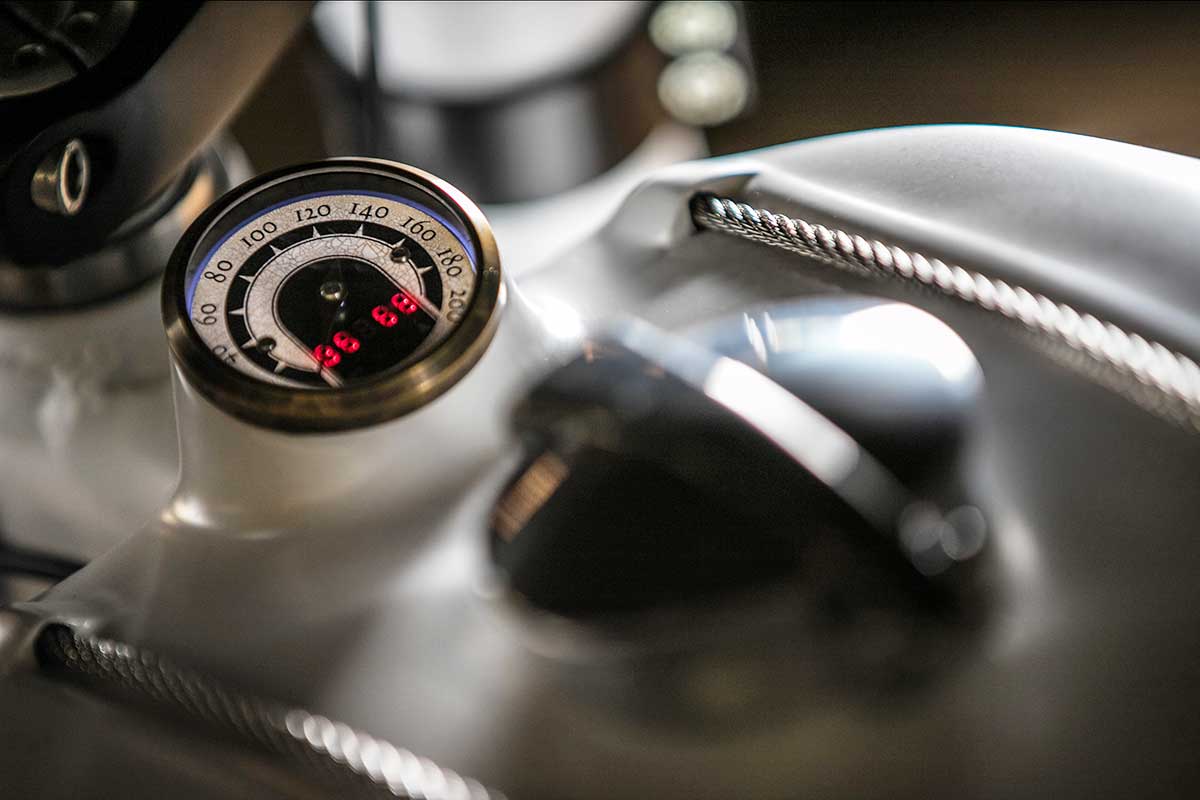 With this kind of build, it's the workmanship that makes it special. A whole lot of careful thought has gone into making the stock tube frame look unchopped. The single-sided Ducati swingarm has been artfully nudged into position and is mated to the frame by a big mono-shock. The rear set mounts on the frame look stock too with no sign of a makeshift weld or bracket to hold things in place.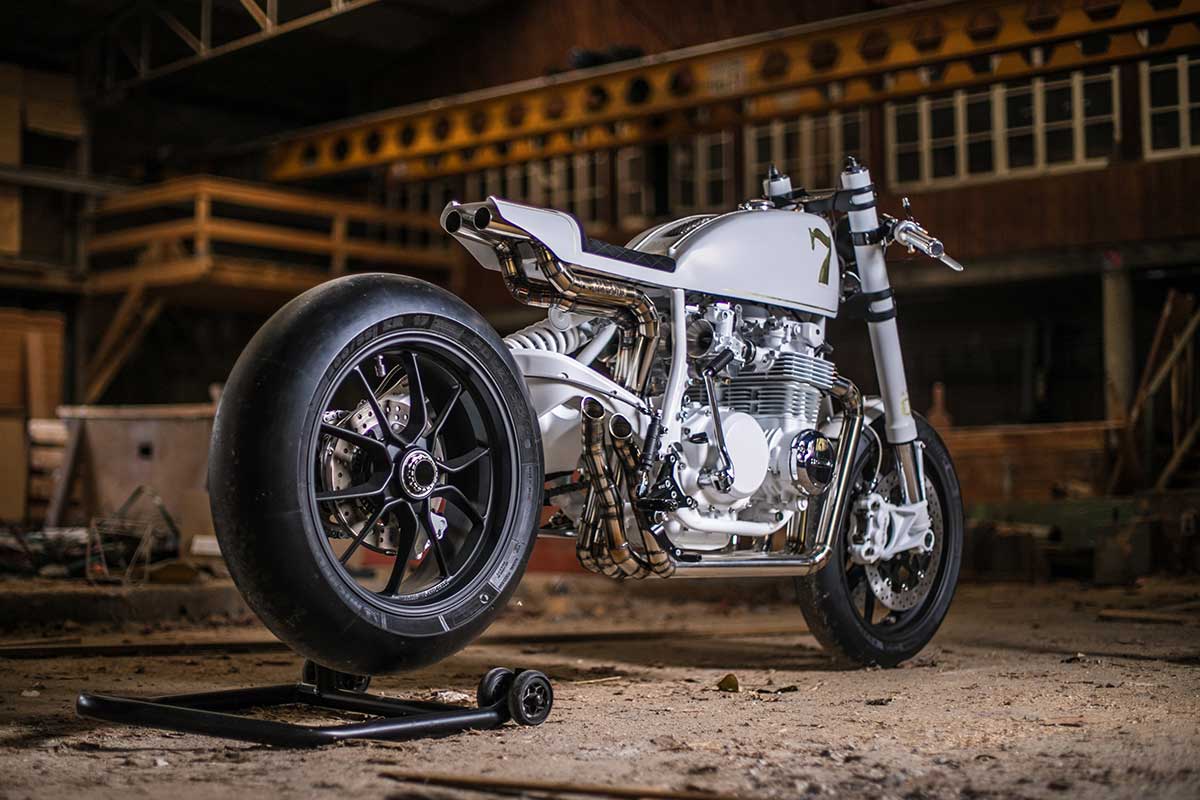 The first sight the tank looks stock, but closer inspection reveals that Lionel chose to make an entirely new one. His revised fuel call mimics the classic lines of the Honda CB500 but also incorporates the seat pan and tail. So now the entire body sits on the frame as a single piece of monocoque metal work. From above the detail in the tank and seat really stands out. With clever inset steel cable trim and an integrated Motogadget gauge, this is seriously fine work.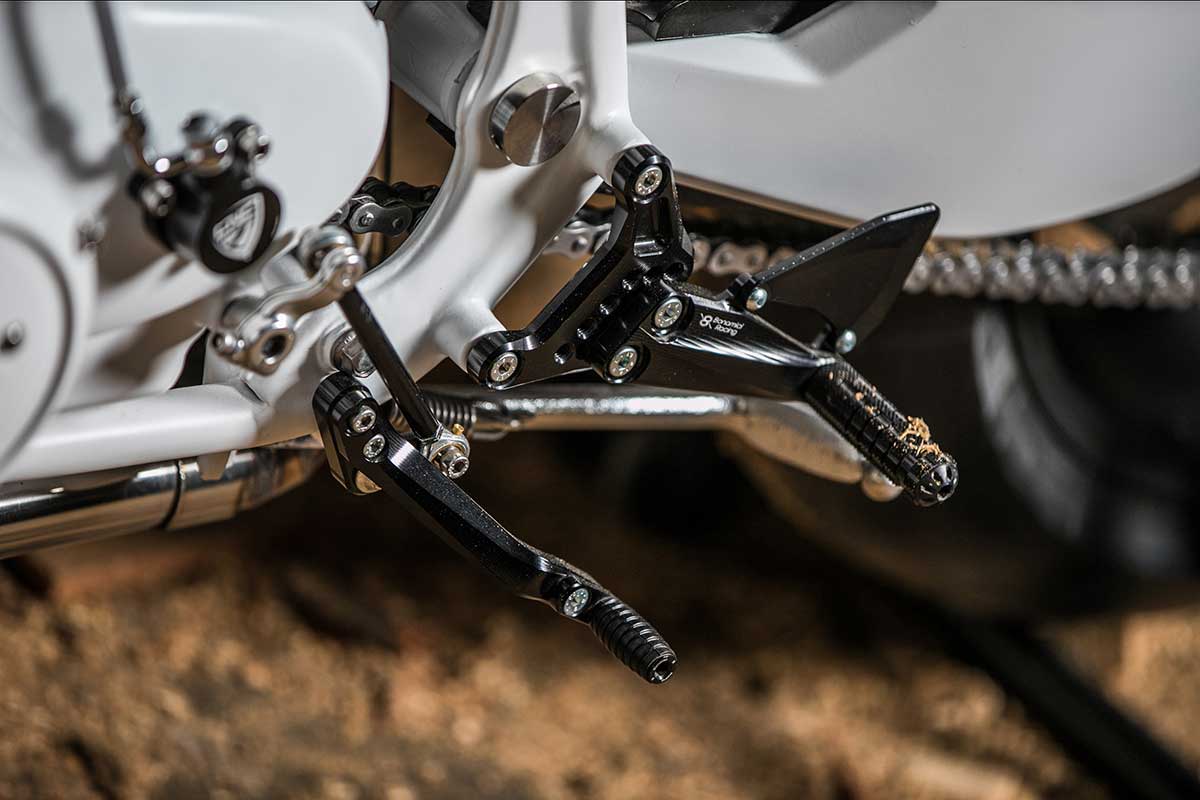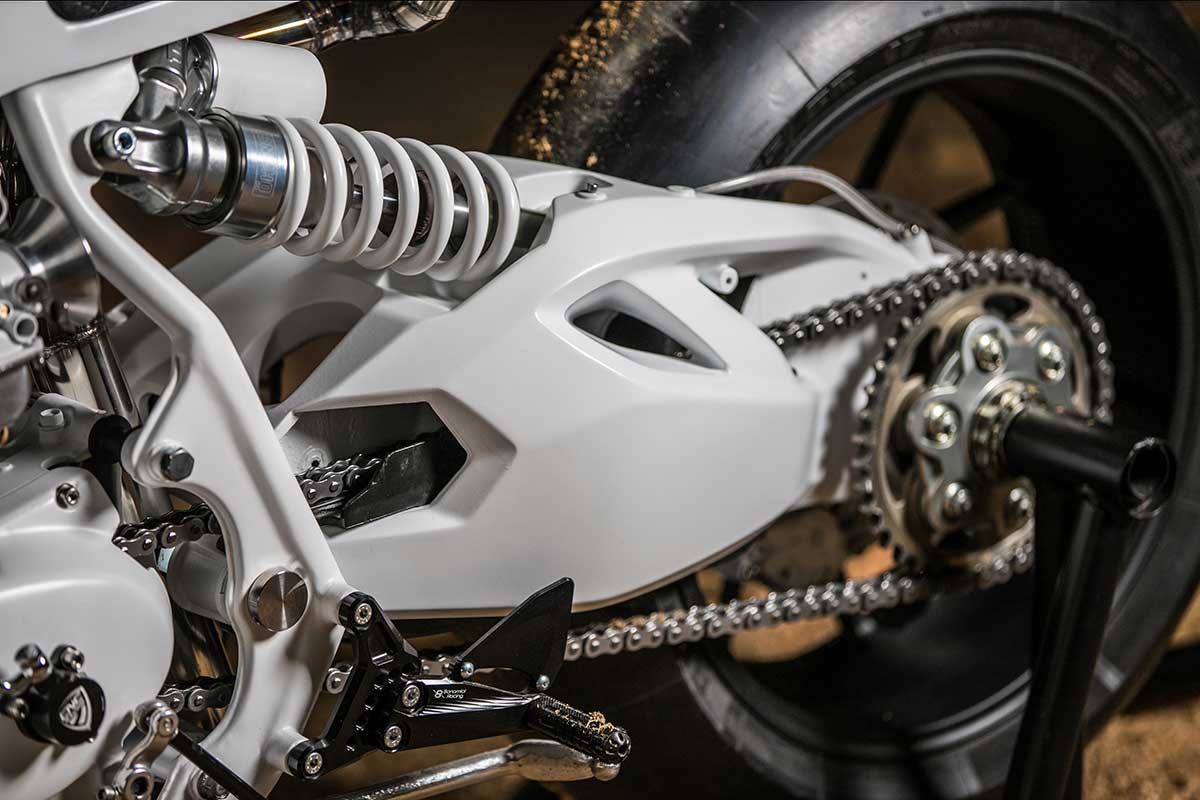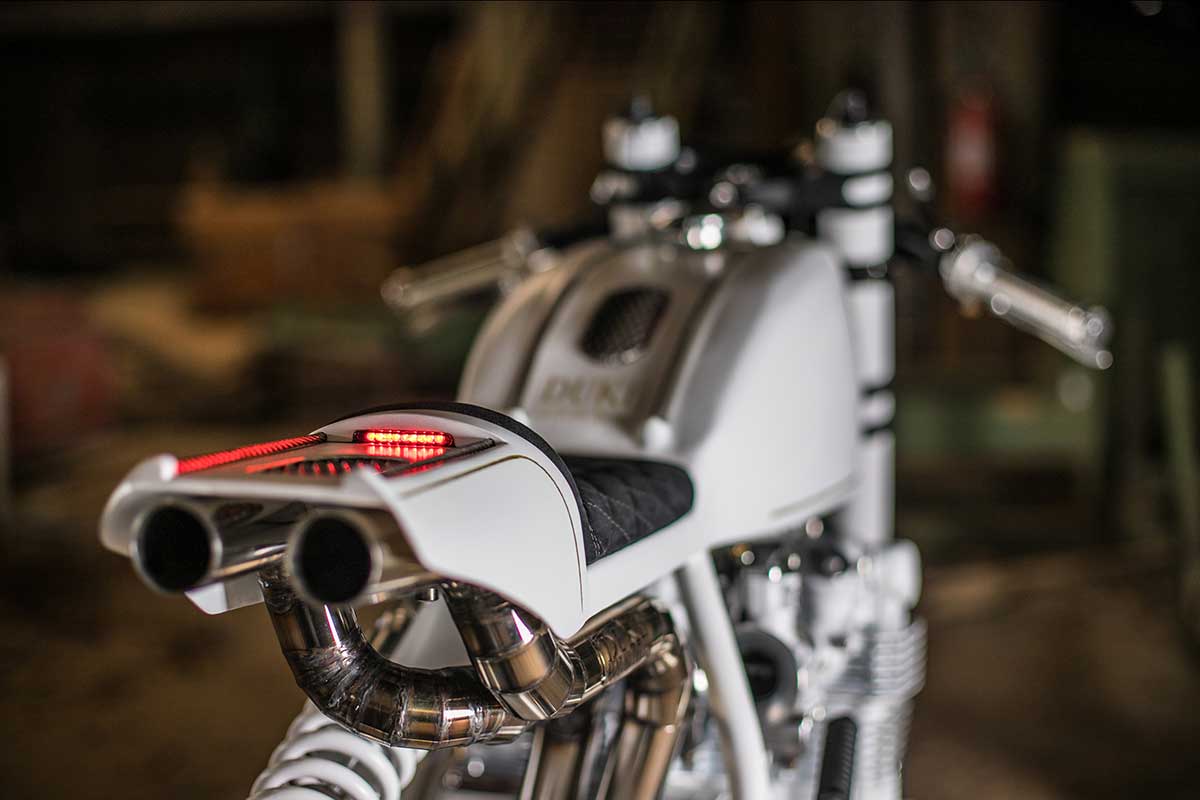 While Lionel was busy fitting a hydraulic clutch, fabricating stainless pipes that exit under the seat and hand engraving a 7 on the headlamp he sent the seat off for upholstery by NMB Design. It's the only part of this project he could not do himself. Although we're sure he could if he tried! And just to prove he's not afraid of others seeing his work in detail, Lionel chose to paint the whole project white. Not "hide my mistakes black" – but "look at every part of me white".
The end result may not be to your personal taste but look carefully at the work here. I would expect every one of you to go away with at least one new idea for your own project thanks to Lionel's skills. And that's what this is all about – isn't it?
Story by Cliff Overton