Their name may conjure up images of a suspect automotive salesman, but rest assured Crooked Motorcycles is anything but dodgy. Run by two German mates who share a passion for building bikes Crooked MC are now in their second-year business and things are going great guns. For their latest project, the pair decided it was time to tackle a cafe racer styled ride. As fate would have it a friend had the perfect donor for the project, a '72 Honda CB450 twin, and the rest, as they say, is history.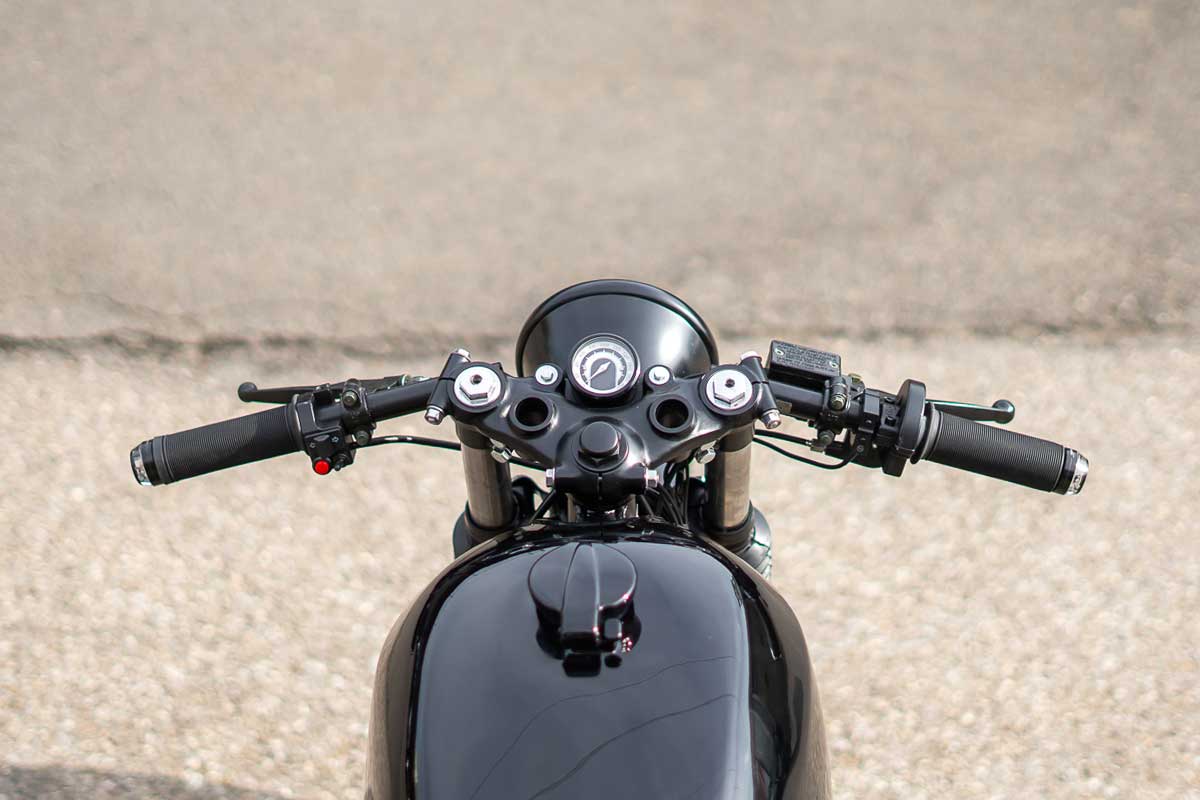 "We have found the donor bike one day at a friends house," recalls Crooked MC's Dominikus Braun. "The Honda was in the back corner of his garage where it had sat forgotten for over 8 years. For us it was clear. This beauty needs a new life!" Knowing a CB450 would make a worthy base upon which to build their first cafe racer the Honda was quickly relocated to Crooked HQ.
The entire bike showed signs of corrosion due to the previous owners work with chemicals in his garage. The paint was beyond repair and most of the bike was covered in a greenish oxidisation. Knowing this could lead to issues down the track they kicked the build off by completely restoring the frame and engine.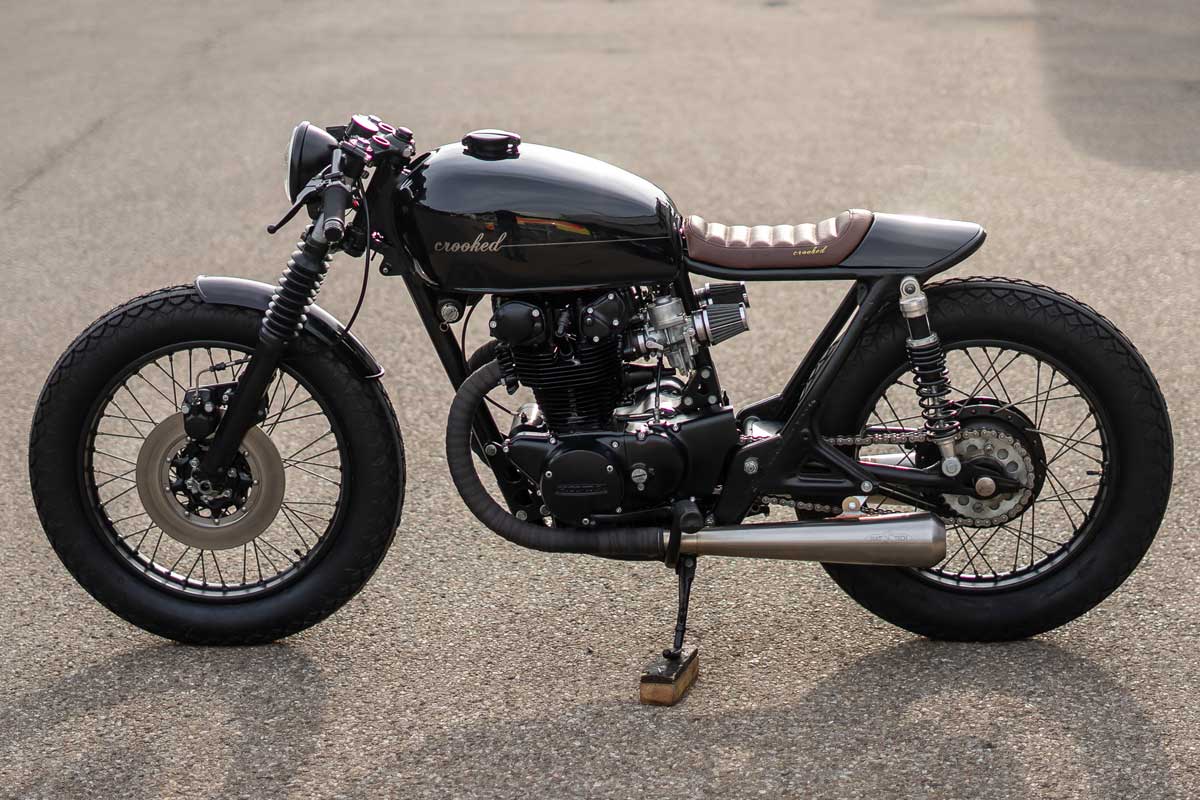 After installing a new battery and some fresh fluids, the CB450 twin miraculously fired back to life. Spurred on by their first win they thoroughly cleaned and tuned the engine. It was then painted black and put together using new fasteners. Next, the carbs were rebuilt and pod filters installed to open up the rear of the frame. To add a bit of bite and plenty of bark a wrapped Hattech exhaust system was then also installed.
"We built a completely custom tail section with an integrated LED taillight in the frame loop," says Dominikus. "The rest of the frame was then stripped, de-tabbed and shortened before being coated black." With the chassis and engine work completed, it was time to overhaul haul the Honda's outdated electrics. For this, they turned to fellow German company Motogadget for a solution. The CB450s electronic accessories are now managed by a Motogadget M.Unit which they paired with a Motoscope Tiny speedometer and M.Blaze bar-end indicators.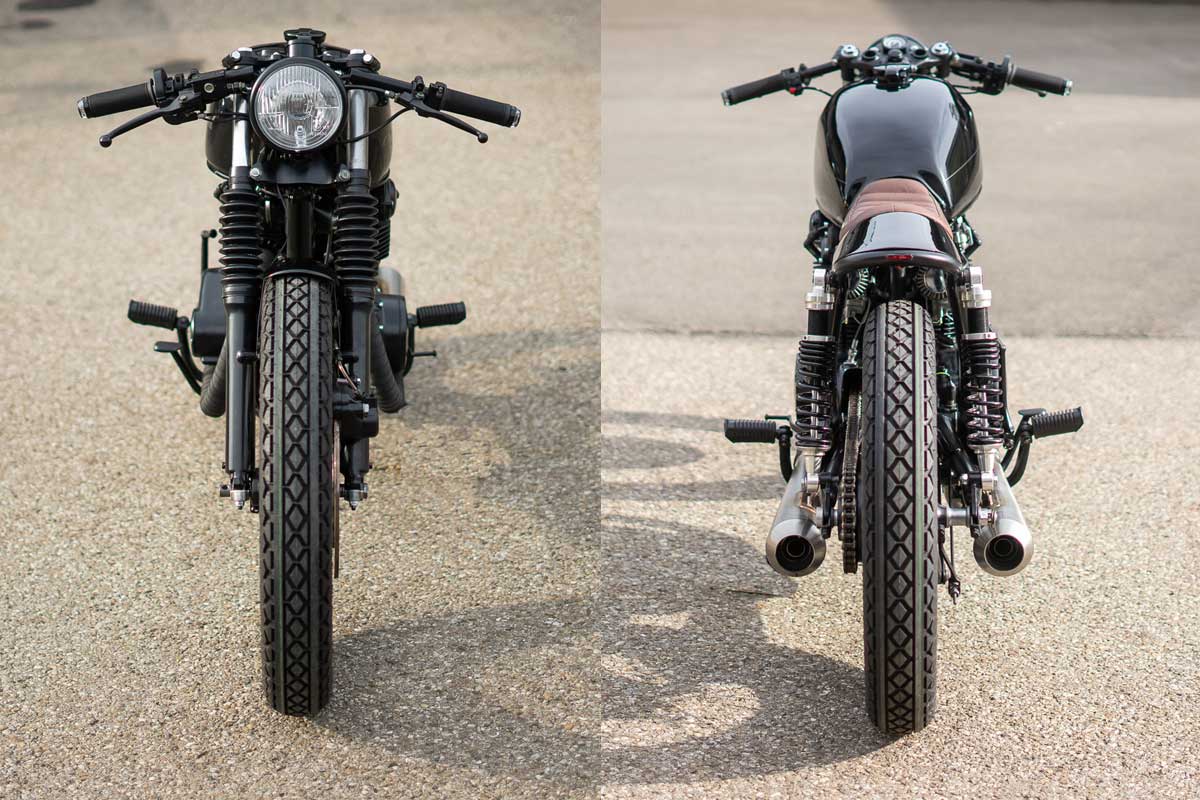 Chasing the cleanest lines possible meant keeping the frame open so a lithium battery was hidden within the custom tail hump. YSS Eco-Line shocks improve the ride while Coker Diamond rubber adds to the bikes old school styling. Clip-on bars wearing Biltwell grips frame a Bates 5″ headlight and a tiny fender sits snug between classic rubber fork gaiters.
When working with engines of this size, weight reduction is the key and Crooked Motorcycles have removed every ounce of fluff from their Honda CB450. With 45bhp it's not going to be winning any GP races, but it's sure to be a blast through the twisties.