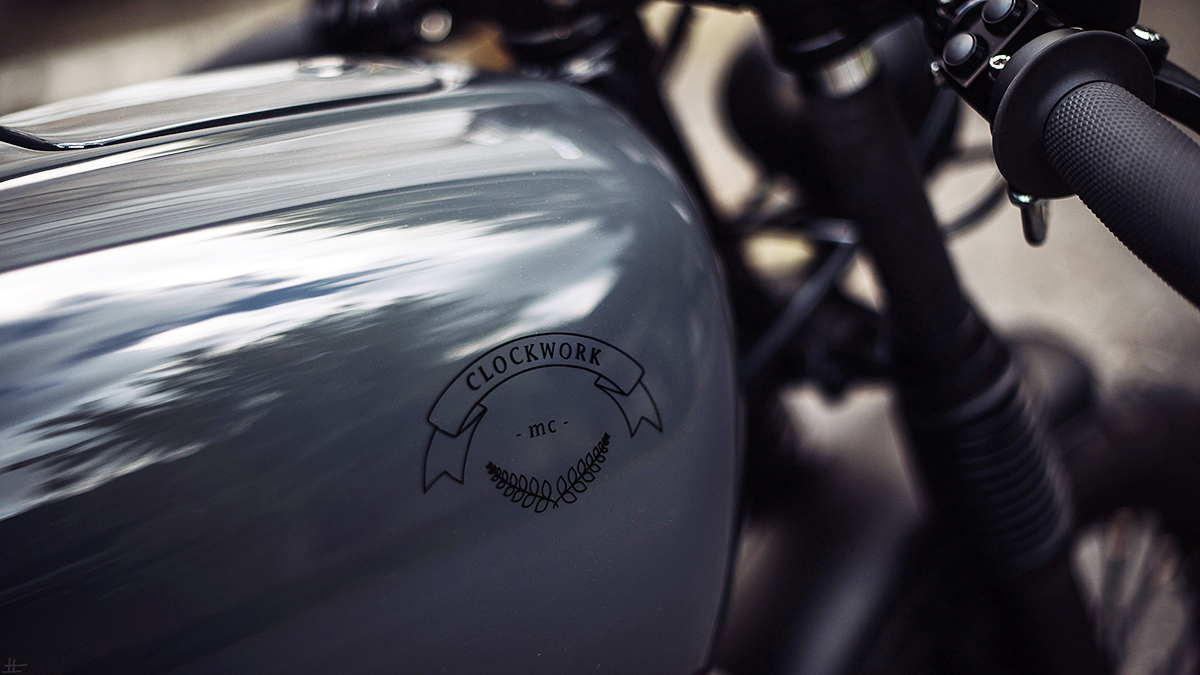 "The customer brought me a donor bike that most would've considered a 'lost cause'. The engine was far beyond running, the tank was full of holes and almost every nut and bolt was cross threaded or rusted." Not one to be deterred, Samuel decided to move forward and give this neglected machine a second life. "We tore the bike down completely and began work. The engine had to be completely rebuilt with new oversized pistons and rings, a head overhaul and machined valve seats."
With the engine rebuild completed, attention was turned to the frame and body. According to Samuel, "The rear section was trimmed and all unnecessary tabs and brackets cut off and smoothed. For the bodywork, a lot of time went into bringing the rusty old tank back to new." Once it was ready the fuel tank was sent off to the painters along with the oil tank for a coating of classic slate gray. "I then decided to fabricate a custom side panel for the left to balance with the stock oil tank on the right. This panel complements the stitching of the one off, black leather seat that we handmade for this project. " says Samuel
Some powder coating later, and the completed motor and frame were ready to be reunited. Breathing duties were given to a set of rebuilt, rejetted carburettors matched to Uni-filter pods. While at the other end a Cycle X 4-into-1 header andCone engineering stainless muffler make short work of the exhaust. High output coils and an electronic ignition system round off the package and make the most of Samuel's sensible upgrades.
"I wanted to keep a low profile" says Samuel, "so the standard front forks were shortened 3 inches and upgraded with a set of progressive springs. Progressive shocks take care of the rear as well, with a set of Continental Classic Attack tyres fitted to the freshly powdercoated wheels."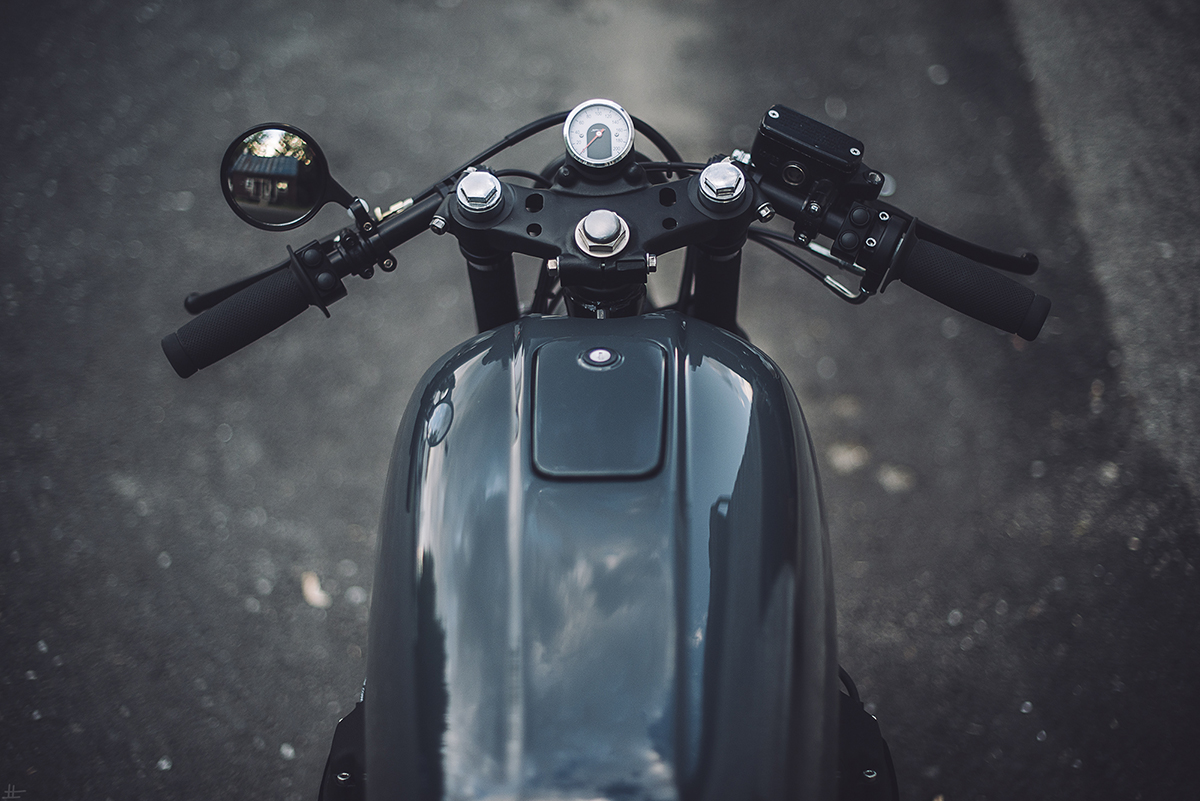 Keeping a bike like this svelte requires applying some careful thought to wiring and electrics. On this bike Samuel has used a Motogadget M-Unit which sends power out via a custom wiring loom to where it needs to be; while Motogadget's analog Motoscope tiny speedo and subtle M-switch manage everything at the cockpit. "This is not a hardcore transformation like others I've done," says Samuel, "but it's a good example of what sort of well-proportioned café build can be achieved with a limited budget."
As for what's next from Clockwork Motorcycles? Only time will tell.
Born from a desire to return to a more basic, simple way of living. Where things were made with passion and dedication, made to work and last. Clockwork is about turning vintage motorcycles into simple minimalist machines made to be ridden.
Photography by Cimon B
Words by Mik.
There's an elegant beauty to Clockwork.  Dozens of handcrafted components working together with micrometer precision, in a movement that is more than the sum of its parts. Gazing at the motorcycles painstakingly pieced together by Samuel Guertin it's little wonder he adopted the name of "Clockwork Motorcycles" for his Montreal based workshop.
We've <a href="https://www.returnofthecaferacers.com/2015/04/fury-honda-cb750-cafe-racer.html" target="_blank" rel="noopener">featured the work of Clockwork Motorcycles</a> before and once again it's another of Samuel's timeless <a href="https://www.returnofthecaferacers.com/category/honda-cafe-racer">Honda</a> CB750s that have caught our attention. Simple, uncluttered, and exceptionally pretty. As Samuel explains it, this end result is a long way from its origins…