The Honda CB400 Super Four is a run of the mill naked UJM which first hit the streets back in '92. It was the baby brother to the CB1000SF and was initially created for Asian markets where smaller capacity machines were in higher demand. Despite pushing out a respectable 53bhp and offering well-rounded performance, the Super Four styling is somewhat staid. Fortunately, the little four hundred four lends itself well to customisation. Take for example this cafe'd '98 version CB400 Super Four built by Indonesia's Papnmam Modified garage.
Hendra Cahyono of Papnmam Modified took delivery of the CB400 Super Four along with strict instructions on how it should be modified. Heru, the bike's fastidious owner demanded Hendra build a motorcycle that above all else performed as a cafe racer should. Less concerned about having a polished showpiece he insisted Hendra follow his instructions to the letter. Lucky Hendra prides himself on building motorcycles that are highly functional and easy to maintain and he does it without scrimping on style.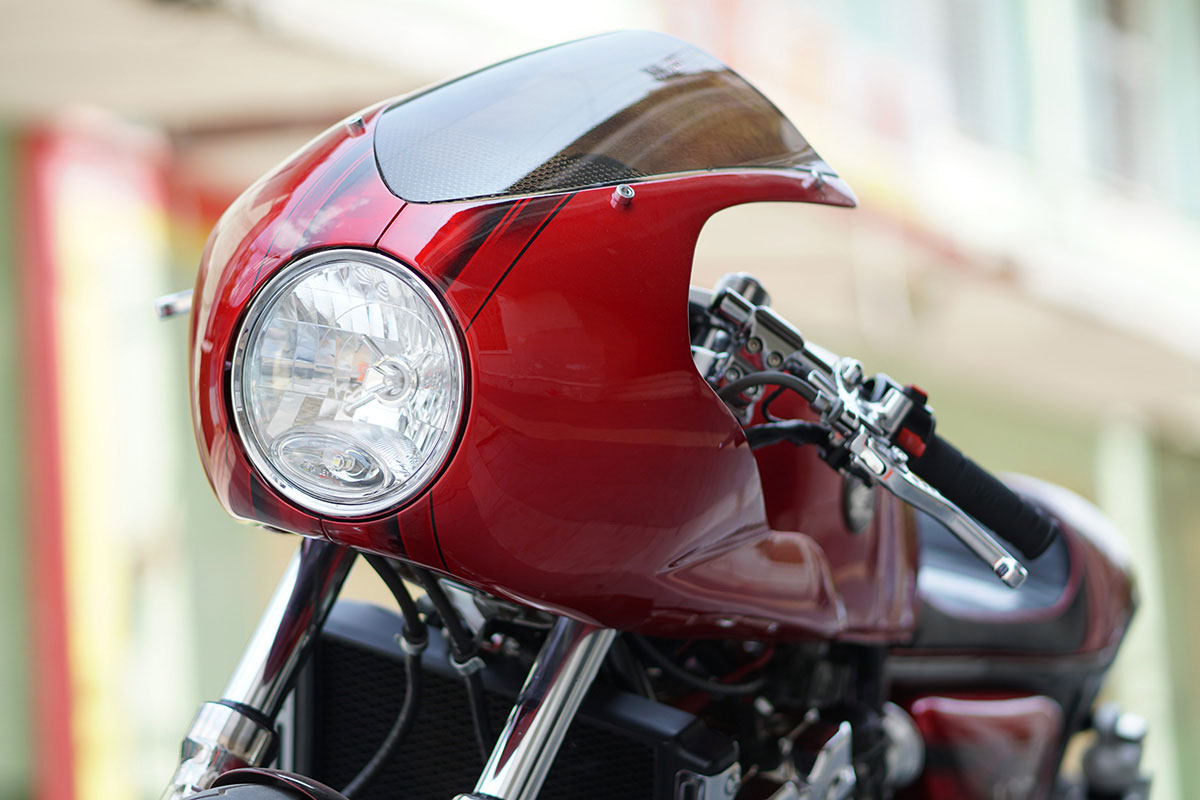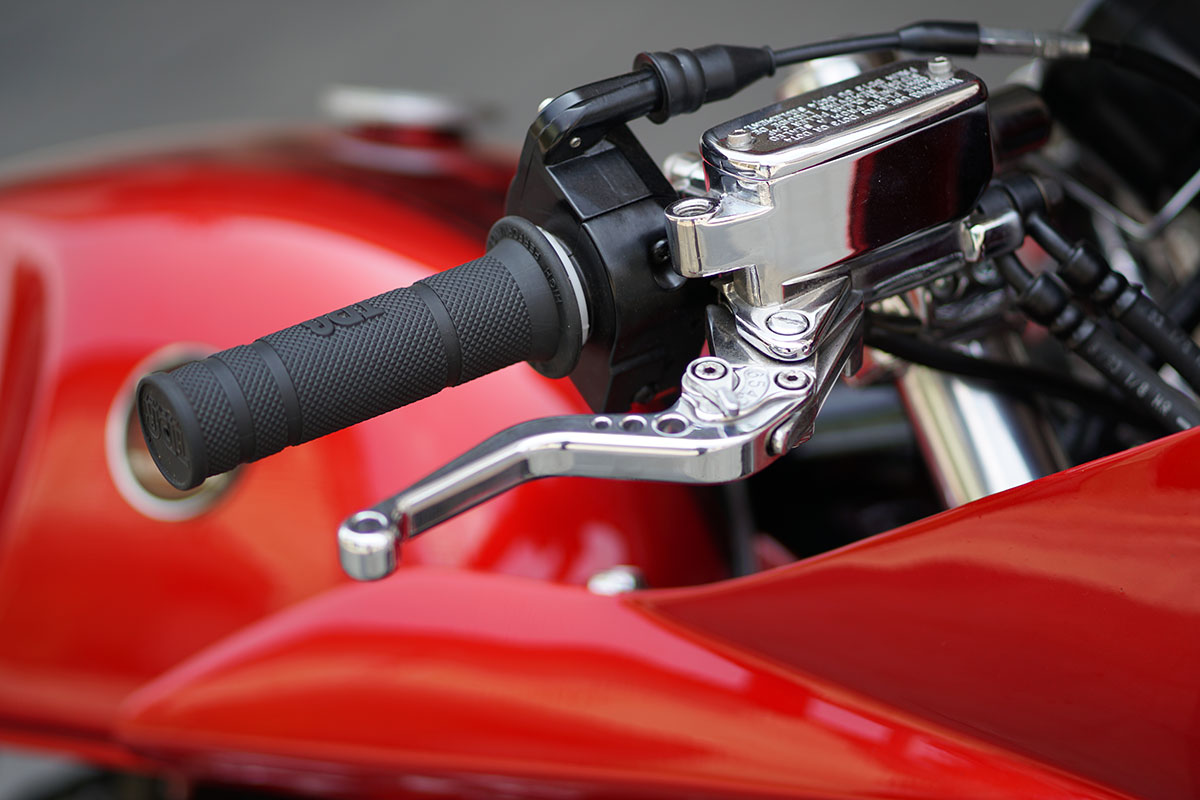 To ensure his modifications wouldn't adversely affect the Honda's performance Hendra refrained from messing with the bikes geometry. Instead, he nipped and tucked the frame to allow the fitment of all new bodywork. In the rear, he welded in a new hoop with a slight kick for plenty of wheel clearance. He then shaped a custom seat pan and wasp's tail cowl to sit flush on the new frame rails and installed a classic tuck and roll leather saddle. For legal requirements, there's a custom made alloy number plate bracket out the back and an LED taillight assembly that's integrated into the hoop.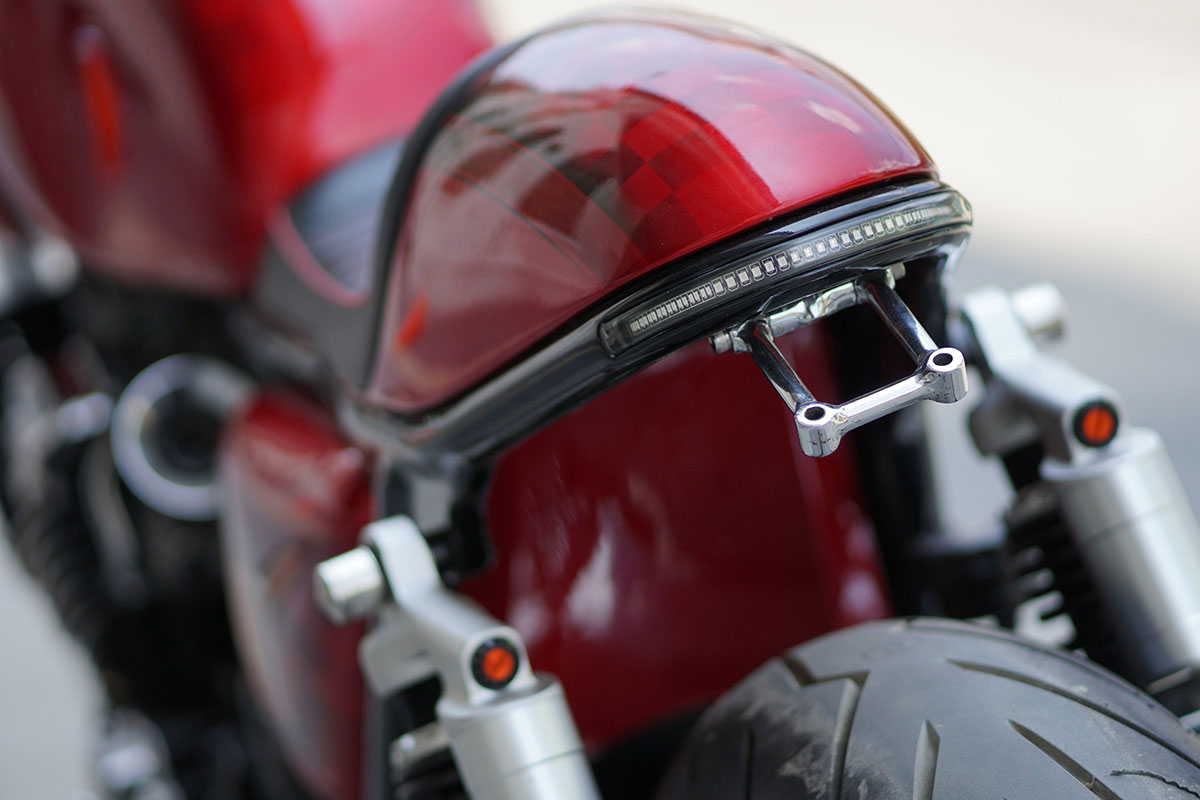 Although the airbox has been eliminated Hendra chose to keep the rear of the frame enclosed. Behind his custom made side covers are the bikes electrical components and standard battery. The Benelli Mojave style fuel tank slims down the Honda's midsection as well as with giving it a textbook cafe racer look. For the front fairing, Hendra opted for a more modern aesthetic. Constructed from 3 components the custom fairing can be removed in sections for easier access and it houses a single gauge that's more focused in monitoring RPM than outright speed.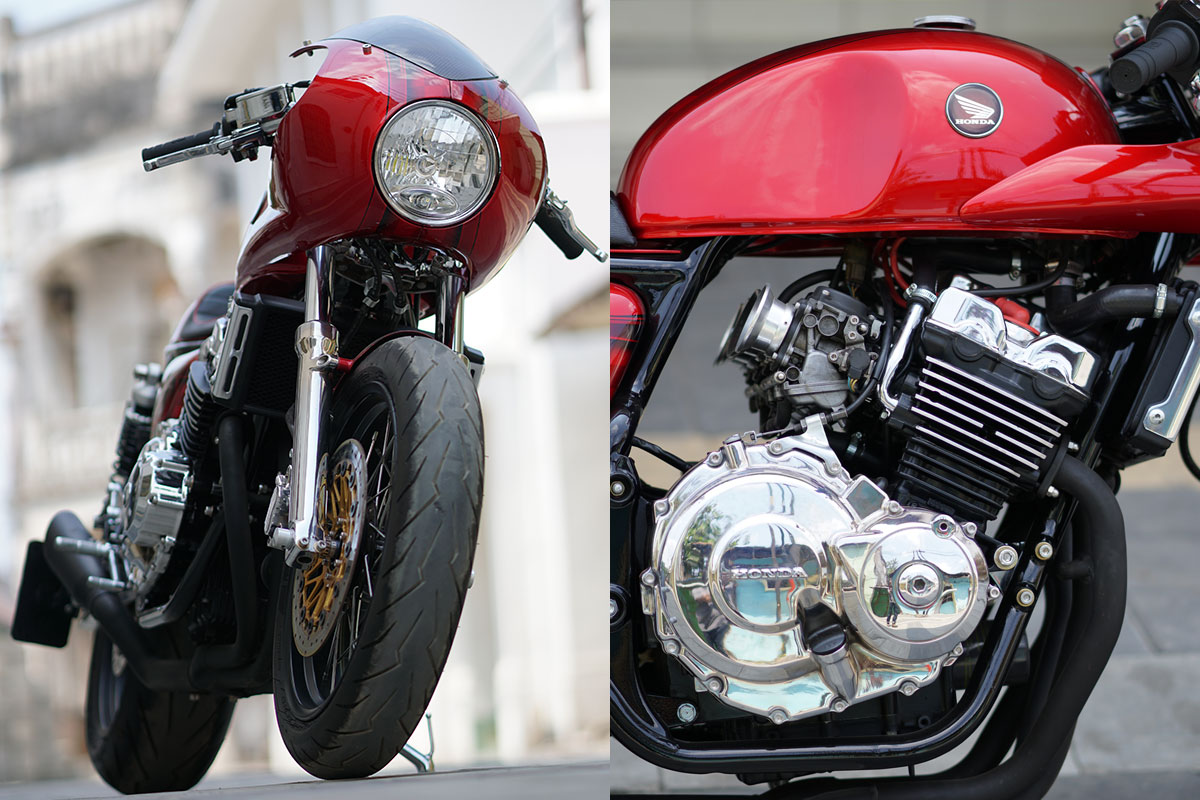 Clip-on handlebars and custom made rear set footpegs set Heru up for more spirited riding than Honda ever intended. Hendra's also given the Super Four a little more oomph by fitting oversized pistons, tuning the carbs to suit wide-mouthed velocity stacks and installed a free-flowing 4-into-2 exhaust system. The suspension has also been overhauled using adjustable rear shocks and a complete front end rebuild. As for the wheels, Honda's 3 spoked units were never going to cut the mustard on this retro ride. In their place are spoked TK alloy rims that wear Pirelli Diablo Rosso for a balanced mix of classic style and modern performance.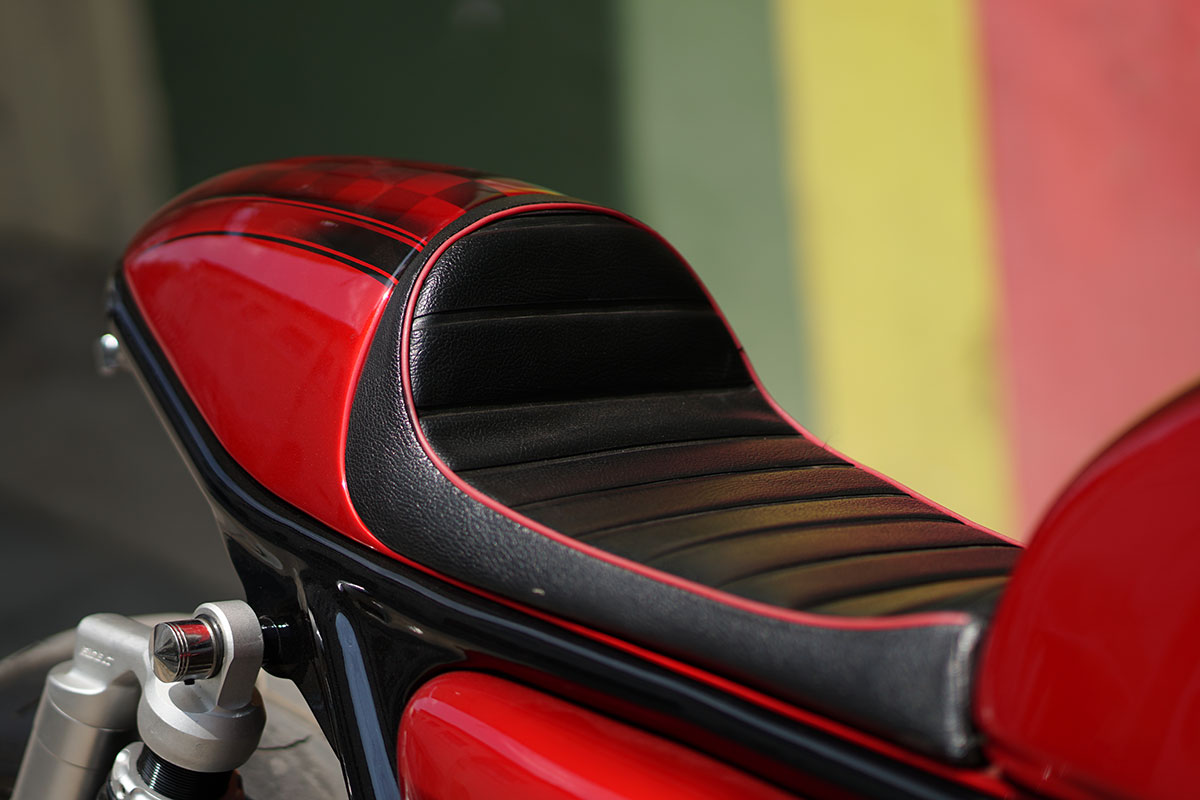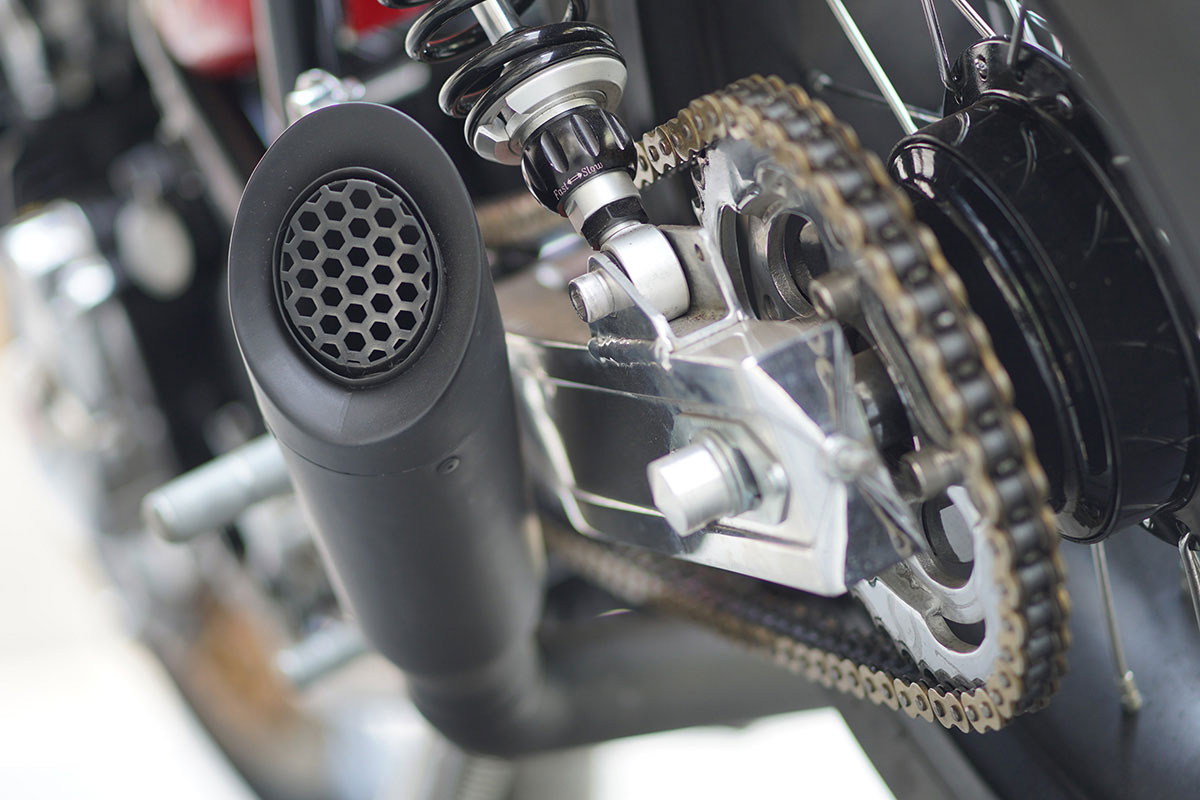 When the time came to lay some paint Hendra convinced Heru that red was the only option for this Honda Super Four. After getting the thumbs up he mixed a deep candy red and laid it over the panels along with ghosted checkered panels and pinstripes. It's an approach that can look cliched if overdone, but in this instance, it's subtle and stylish.
CB400 Super Fours are run of the mill? In this case, I most certainly think not.
Story and photography courtesy of Gastank Magazine