"Simplicity is the ultimate sophistication". I have no doubt Mr. Da Vinci would be repeating those words if he was here to see this Honda CB750 by Spanish workshop Bolt Motor Co.
I receive a regular stream of CBs through my inbox and it takes something unique to capture my attention. Usually, it's the seventies CBs that garner my interest, but every now and then a nineties model, such as this one, gets a look in. Simply named 008 to signify its place in Bolt's build portfolio, this Honda was built for a friend who wanted a café racer that contained equal parts of style and comfort.
Bolt Motor Co. is run by Adrián Campos, a backyard builder turned pro in Valencia. After piecing together his first cafe racer, Bolt 001, he was swamped with requests from friends to modify their bikes. A few builds later he'd set up shop and enlisted the help of a professional mechanic to complement his own skills. Bolt is now building motorcycles for customers throughout Europe, but 008 will remain close to home.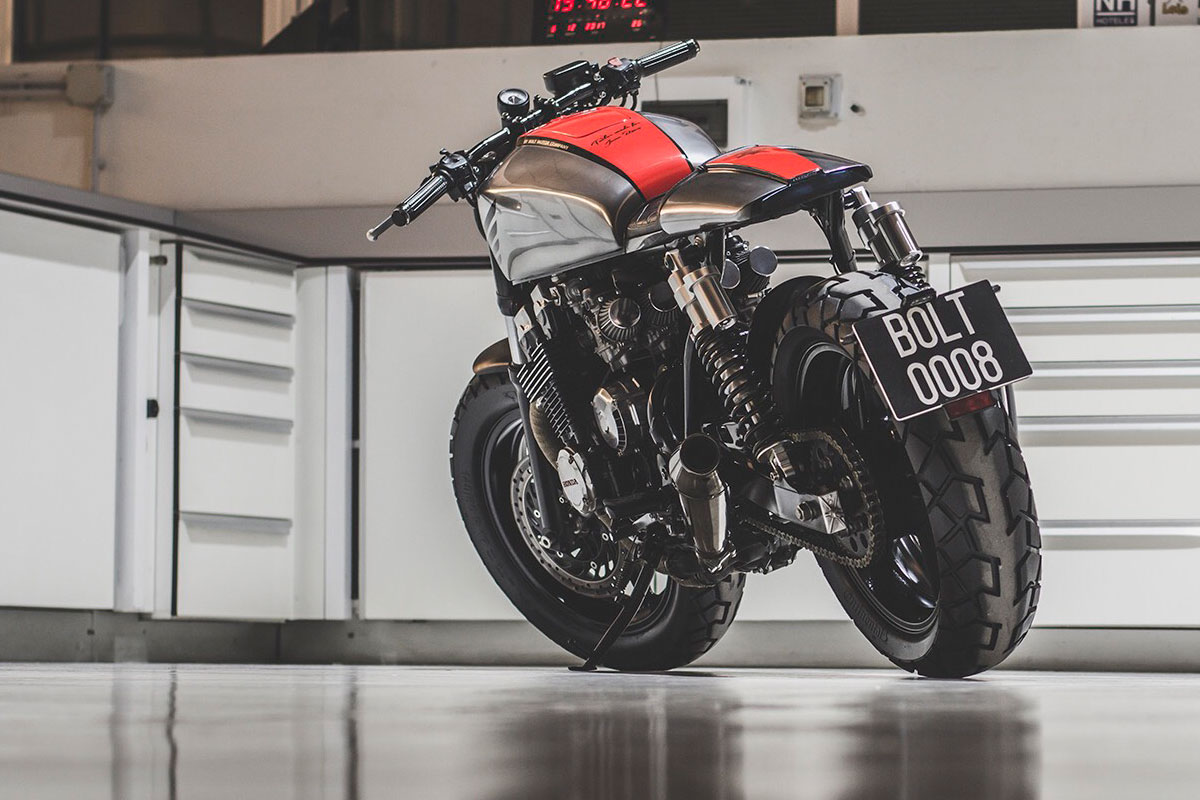 Adrián designed and built 008 over a period of about 3 months for his good friend, Juan Roses. Juan already owned the bike so all it took to get the project underway was delivering it to the Bolt workshop. "We wanted a clean cafe racer with straight lines while being comfortable to ride at the same time," says Adrián. Looking at the finished bike it's clear that their vision has translated well. Once an overweight and uninspiring mid-nineties Honda CB750 the Bolt 008 is now a sleek street machine set to carve up the Spanish coastline. Getting it this stage wasn't simply a matter of stripping away unwanted parts though.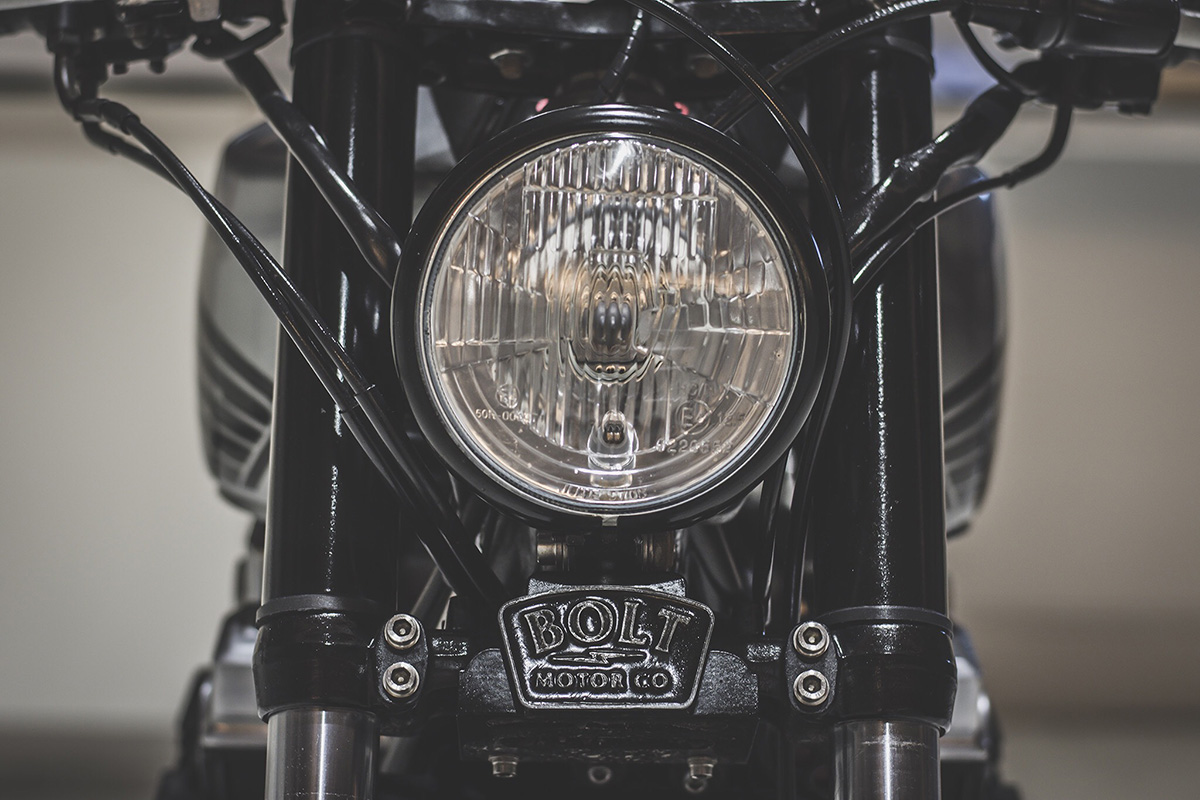 Adrián was quick to point out that the only original elements on the '94 CB750 that remain are its chassis, engine, wheels, and forks. Starting with the bodywork you'll find a fuel tank that was taken from an earlier model CB750. The tanks channel has been modified to fit over the frame and so that it would sit low and level. The rear cowl is a Bolt one-off that forced the team to pick up some new skills. To replicate the central ridge of the fuel tank and follow the curve of its profile, Bolt developed a design digitally before 3D printing and fitting it to the bike.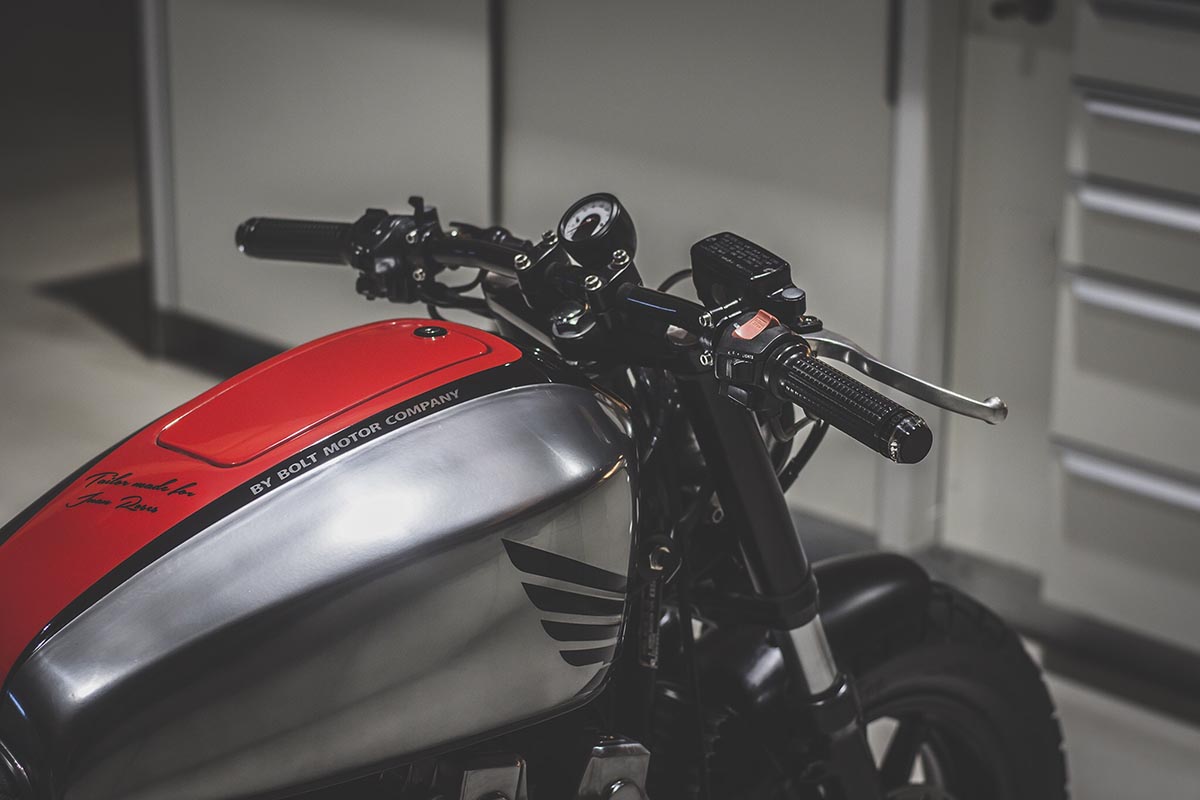 To accomodate the bulk of the new fuel tank a set of CNC triple clamps were also machined. Then Hagon shocks 40mm taller than the factory units were installed to level the bikes bone line. Adrián has balanced the bulk of Honda's inline four by opening up negative space in the rear of the frame. After the removal of the airbox, the electrics and a tiny lithium battery were stashed inside the tail unit and pod filters fit to each carb. The lighting is made up of components from Motogadget and the dash minimized to a single Motoscope Tiny speedometer. When the time came to fit handlebars the customary cafe clip ons lost out to a flat bar that offered superior riding comfort, something that Juan stipulated at the start of the build.
As for performance modifications they are limited to a new set of pipes, re-tuned carbs, and a thorough service. Reliability was Juan's top priority with the engine work he ordered, but Adrián says that 008 is no slouch. Thanks to the big drop in weight the bike now gets off the line fast and turns in quick. This Honda CB750 may not be a café racer in the traditional sense, but if "adding lightness" is a cafe ingredient this one has gained a double dose of it.
Photography by Mario Rodrigo