When it comes to motorcycles, there are certain makes and models that can work their way under your skin. Be it personal preference, blind devotion, or even familial ties, when someone decides they need two of the same motorcycle, a clear commitment has been made.
For Jan de Lange of Perth, Western Australia, it's his beloved Honda CB750. My initial contact with Jan was some years ago when I helped a group of friends throw a custom motorcycle show. Jan showed up on a beautifully restored, orange 1973 Honda CB750. Fast forward a few years and he is the proud owner of the creation you see here. However, this isn't his orange CB750. This is another CB750 that he bought from a guy named Chris, another Perth local who is somewhat of a CB750 guru.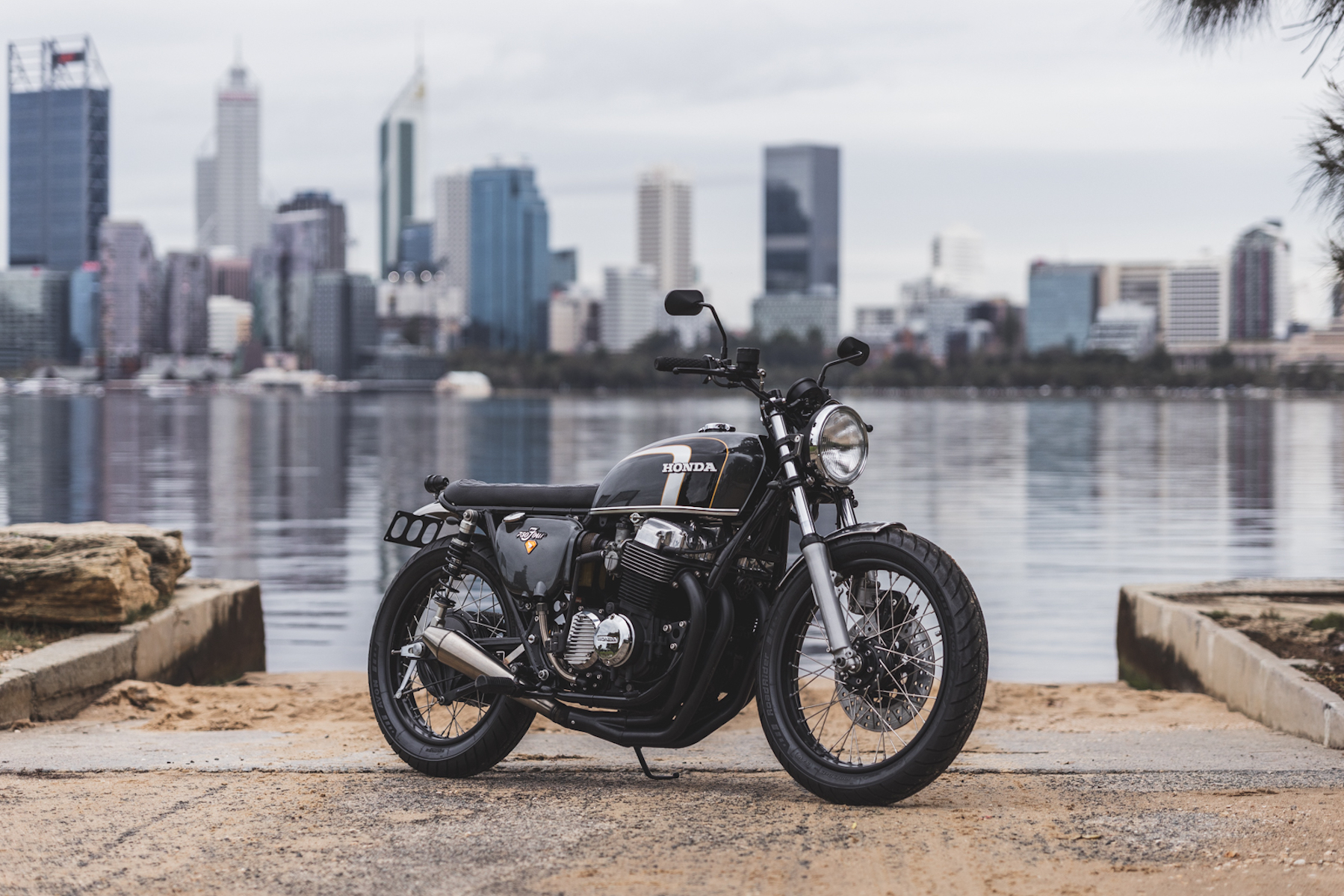 Standing forlorn and neglected in Chris' shed for years, Jan took pity and offered to buy the bike. The deal was done and Jan wheeled his new 1972 model CB750 home, much to his very understanding wife's dismay, I'm sure.
Starting with a rolling chassis, an engine, and a tank, Jan promptly got to work. Early on in the build, Jan roped in Billy and crew at Rogue Motorcycles. Wanting to keep the bike as original as possible, Jan started by having Billy weld up the seat loop after shortening the rear subframe. Next, alloy fenders from the Rogue shelves were bolted in place.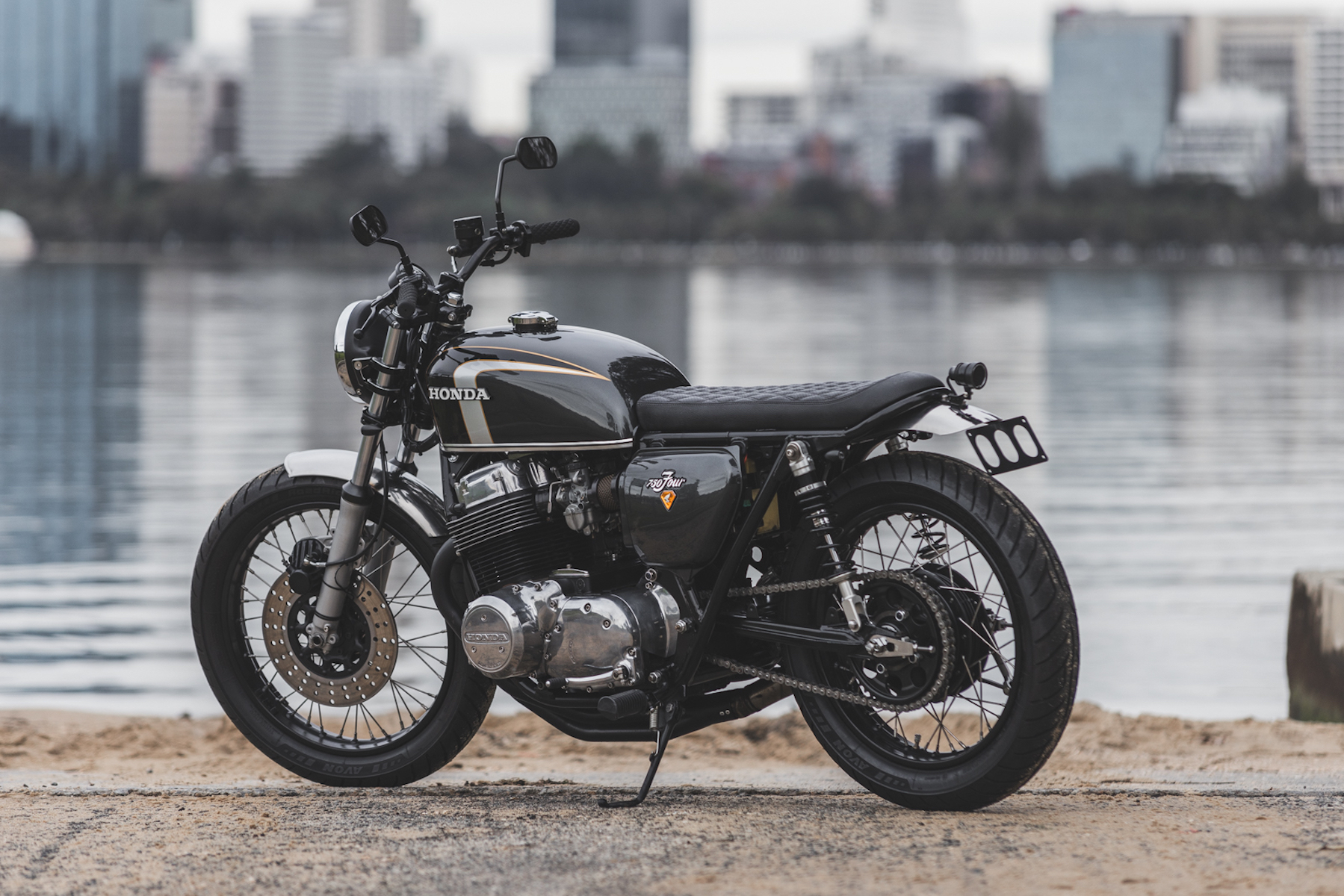 The stock wheels were holding up but the spokes were in a state of disrepair so an order for new stainless steel spokes was placed right away. With the new spokes laced up and the wheels back on the bike, attention turned to the rider controls and cockpit. Jan decided to move away from the stock handlebar and go for something a touch lower. Biltwell ⅞ tracker bars and Thruster grips make for a comfortable ride, which Jan says his back is thankful for.
All the necessary information is piped through an 80mm Daytona Velona digital gauge. Sleek Motone switchgear has replaced the original Honda units, which were chunky, to say the least. Finishing off the control area are new black levers and small black mirrors. The black and chrome theme of the cockpit has been continued along the entire length of the bike.
The only splash of color is the gold pinstripes on the freshly painted tank with Mike from Diablo Moto Custom Paint responsible for the flawless finish.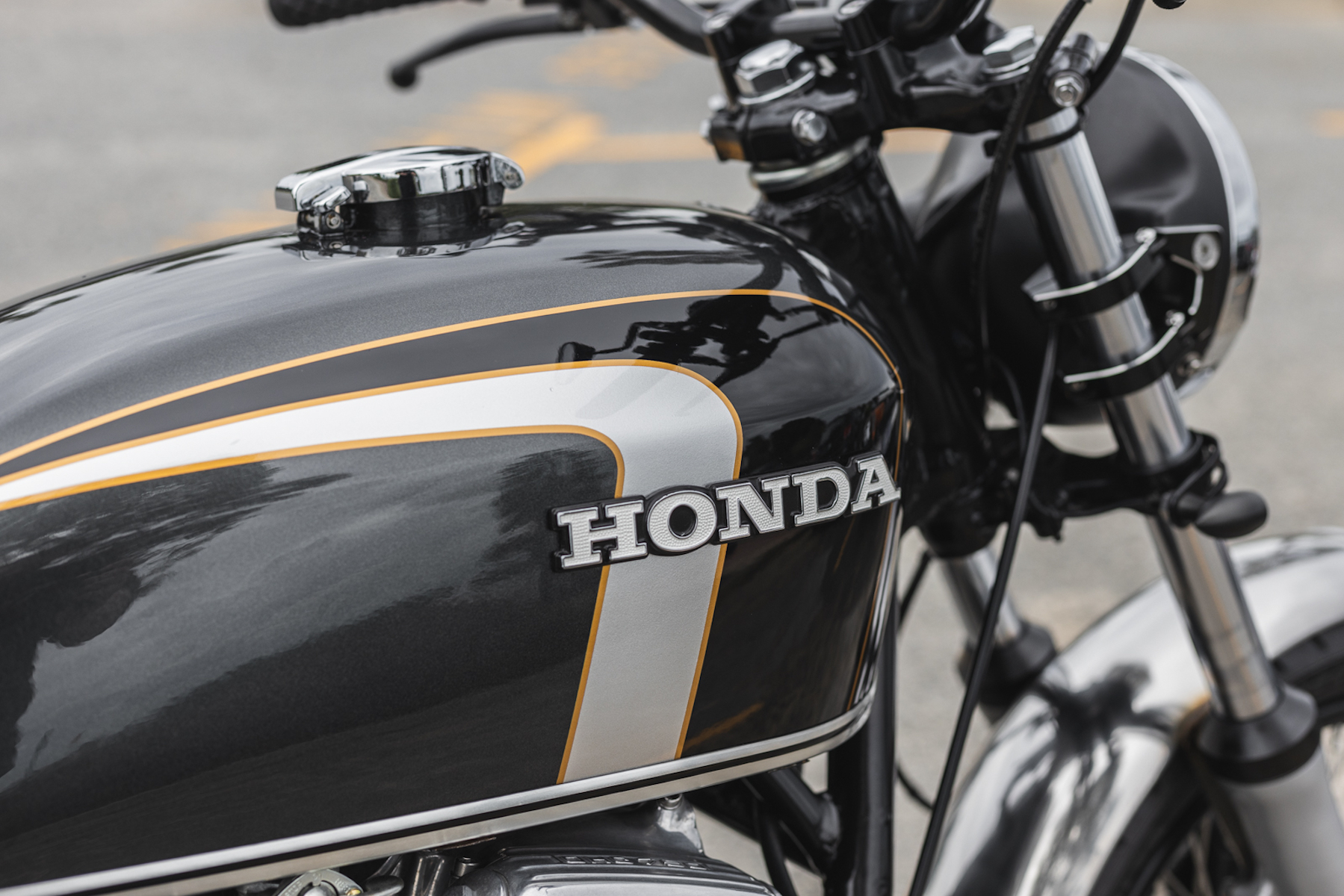 "When it came to the paint job I always wanted to use gunmetal grey to match the dark theme. I know black has been done to death but the outcome is awesome. There was only one man to do the paint and it was Mike from Diablo Moto. The lines on the tank are a homage to the '71 CB350. I presented a picture to Mike, he slapped a line on the tank in one go and it was perfect! We discussed the colors that would make the gunmetal grey pop and decided on black, gold, and silver. It's epic!"
That stunning tank is nestled above a freshly painted engine. The internals are all stock but the carbs got a good clean and a re-jet to accommodate the Cognito Moto air filter. The 4-into-1 headers were black ceramic coated and capped with a Lossa Engineering reverse cone muffler.
As Jan wanted to keep the bike as stock as possible, Billy and Jan modified the originals to lower them into a more sporty position. This has lowered the foot position considerably, so now Jan doesn't feel like his knees are on his chin. This was achieved without bolting on rear sets, and Jan is very happy with the factory appearance.
New YSS shocks were bolted to the back of the bike to replace the stock units. Old shocks are more like chrome spring holders than actual suspension, so this mod on any old bike can make a huge difference. The final piece of the puzzle was getting Andrew at Beyond Trim to create a flat seat in diamond-stitched leather to match the Biltwell grips. A discrete tail light and indicator package was selected from the shelf at Rogue, and the build was complete.
"As the bike was nearing completion, my dad passed away, and he was my main motorcycling influence. We always had motorcycles at home for me to ride and dream about. He bought me my first bike when I turned 16, back home in South Africa. It was a 1981 CB750, and it was an epic bike with loads of power for a 16-year-old (as you can imagine!). That bike was my main method of transport come rain, hail, or snow. And it rained a lot! I laser-engraved his army emblem on the oil dipstick to pay my respects and make me think of him every time I'm on the bike."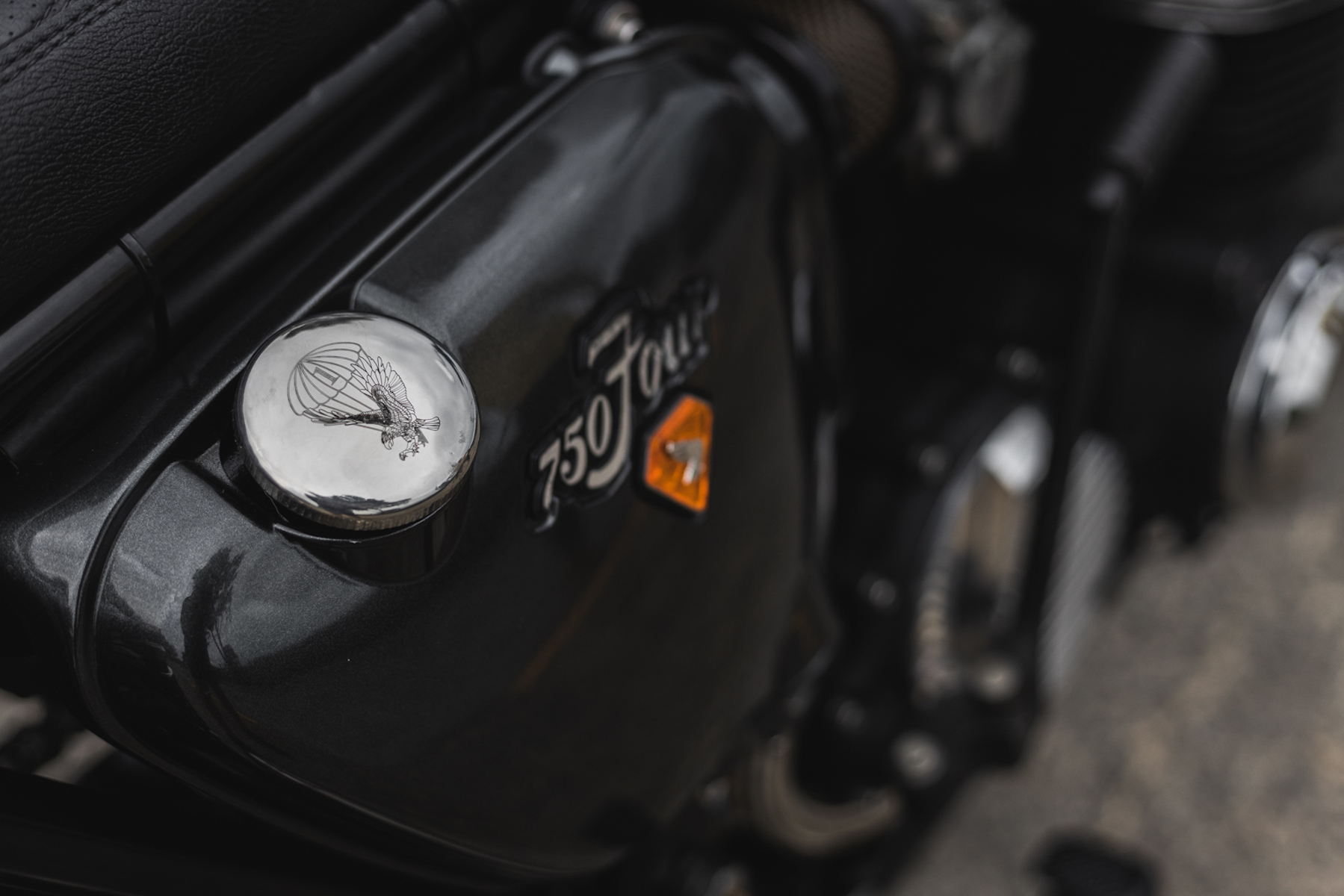 It takes only a few minutes to read an article, but it takes a monumental amount of work to get an old Honda looking like this. Most wouldn't bother or even entertain the idea of doing it themselves. For Jan, the familial tie with these old Hondas makes his journey all the more special.
Honda CB750 Restomod Photo Gallery
Photos by Ben Pilatti from @regularmoto