As far as timeframes go David says the Ad Hoc CB750 has been a hard one to wrap up. "Due to other projects it's taken 12 months to complete, but actual hands on time was 3 months." Thankfully the owner, a member of the Spanish military forgave him for the delay once he saw the finished bike, and rightly so. Almost every part of this CB750 has been tweaked, smoothed or improved in some way.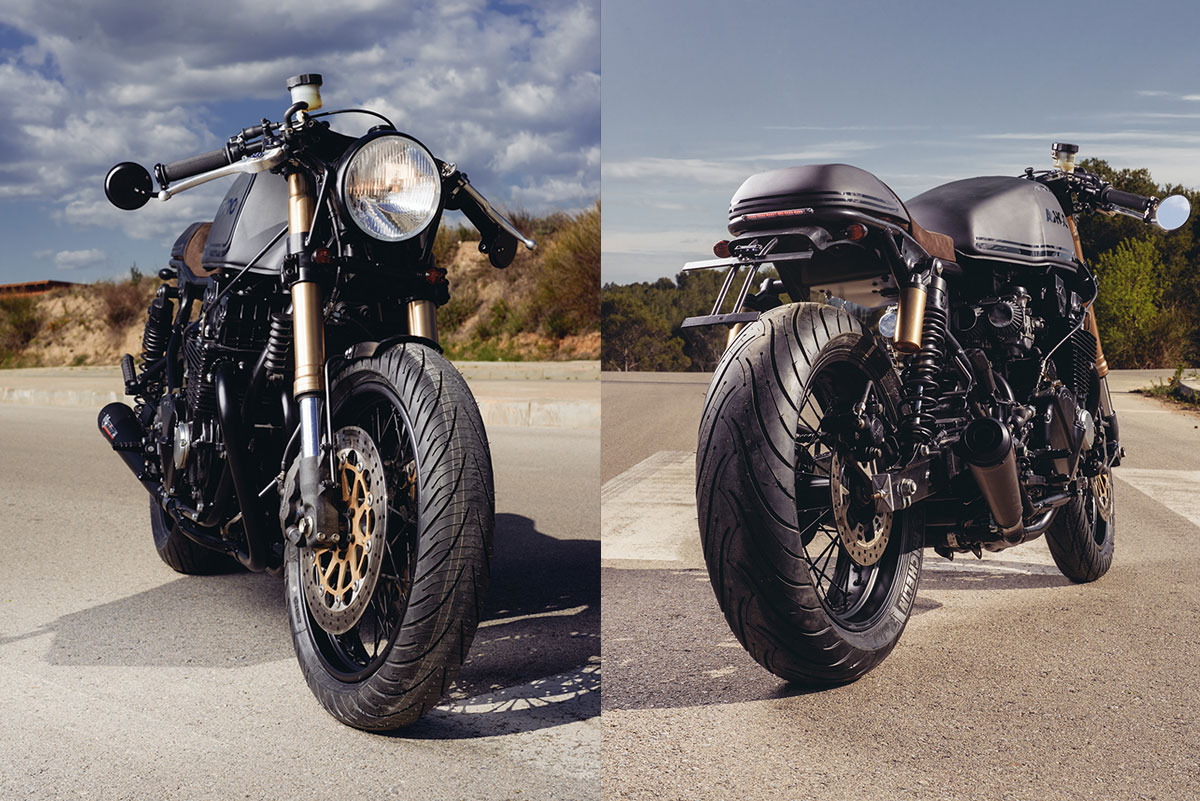 David's taken a holistic approach to what he describes as a "complete build" modifying everything for both aesthetic and functional improvements. This process began by replacing the overweight and outdated cast wheels with spoked rims wearing Michelin Pilot Road 3 sport-touring rubber. Nissin calipers and Brembo discs are the foundation for the complete brake upgrade and handling has been significantly enhanced with the addition of USD forks from a Suzuki GSX. The GSX also provided a set of clip-on bars that wear custom grips, switches and discreet bar end mirrors. To keep the top clamp clean David also mounted a tiny analog Motogadget speedo that's wired into the bike via a custom made loom.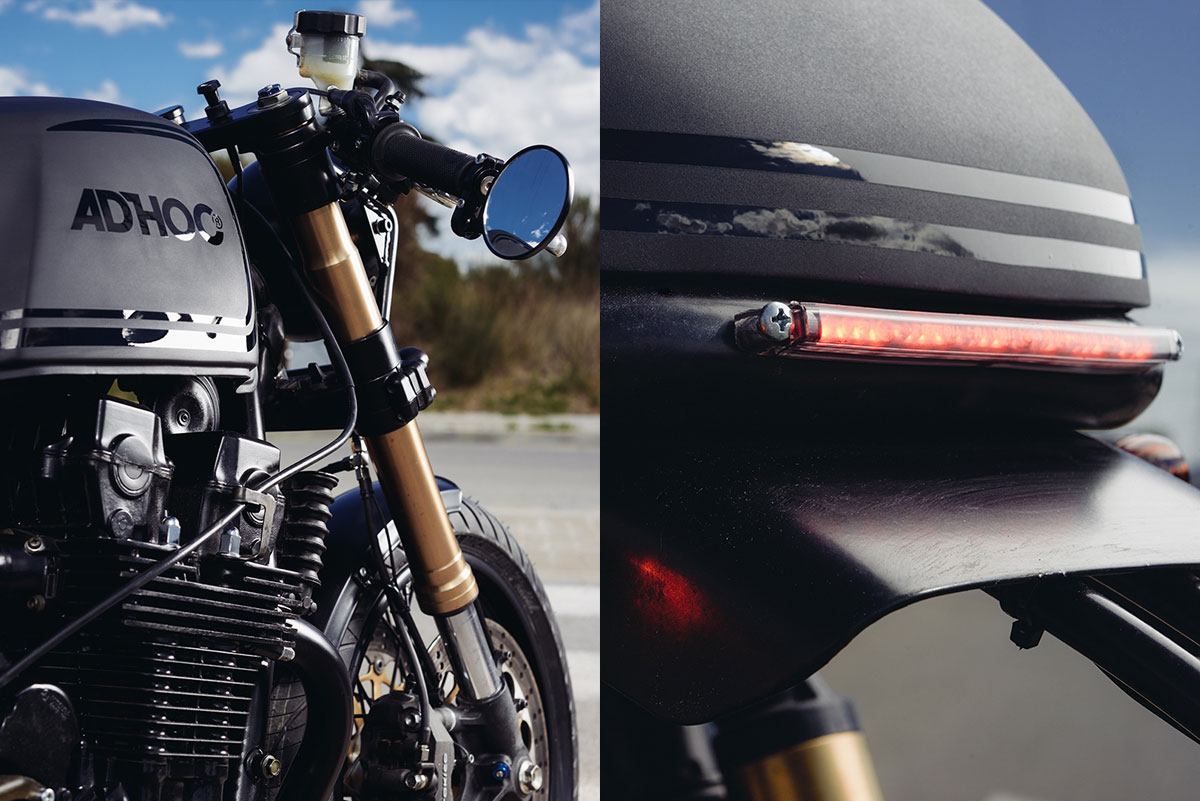 The bikes fuel tank is another Suzuki item customised to sit low and level on the Honda frame. There's a new rear loop welded into the rear that supports the custom made seat with its removable cowl for trips that include a passenger. All of the Honda's lighting is also new and has been mounted as discreetly as possible. Power mods are limited to the addition of pod filters and a blacked out Mivv 4-into-2 exhaust system, which should see the engine making a power figure of around 80bhp.
As with his other builds David's completed the majority of the work on this CB750 Cafe Racer himself, but the alcantara covered seat and the striking gloss and satin black paint were done by his trusted suppliers.
We may have seen plenty of CB cafe builds before, but David's out done himself with this one and it's easy to see why Ad Hoc is enjoying such success.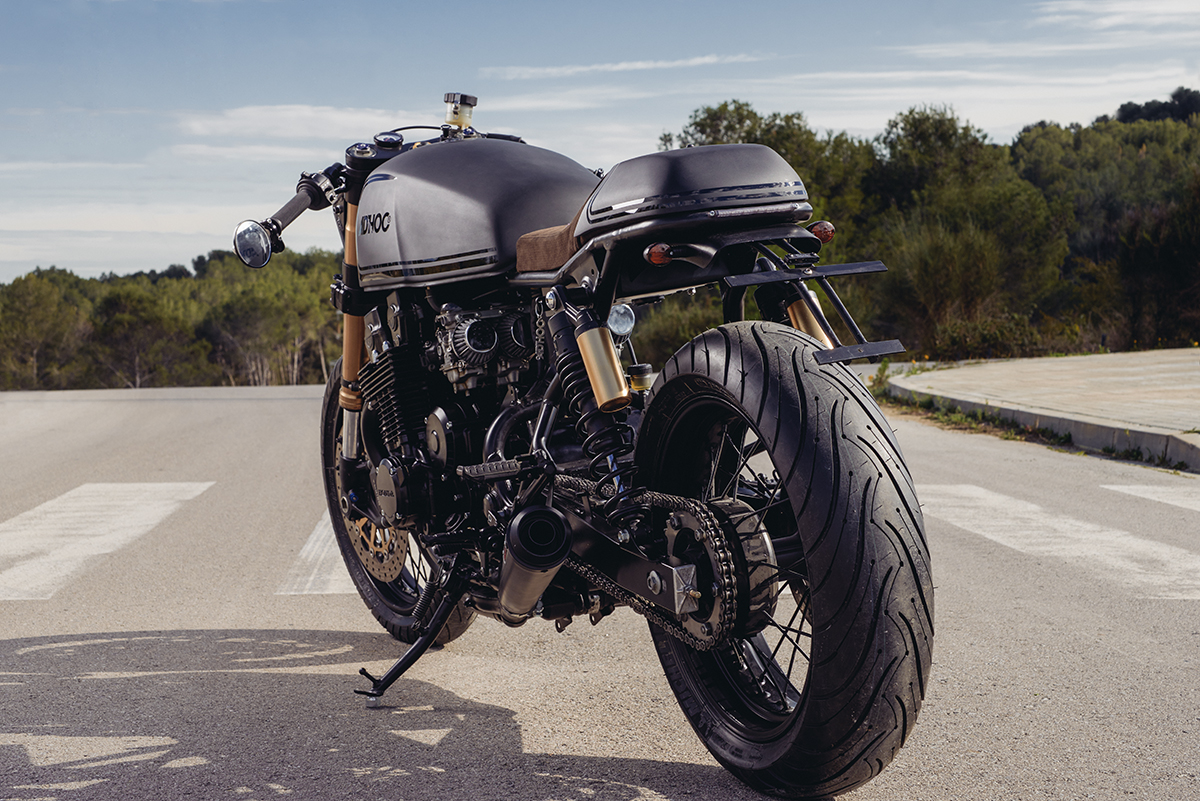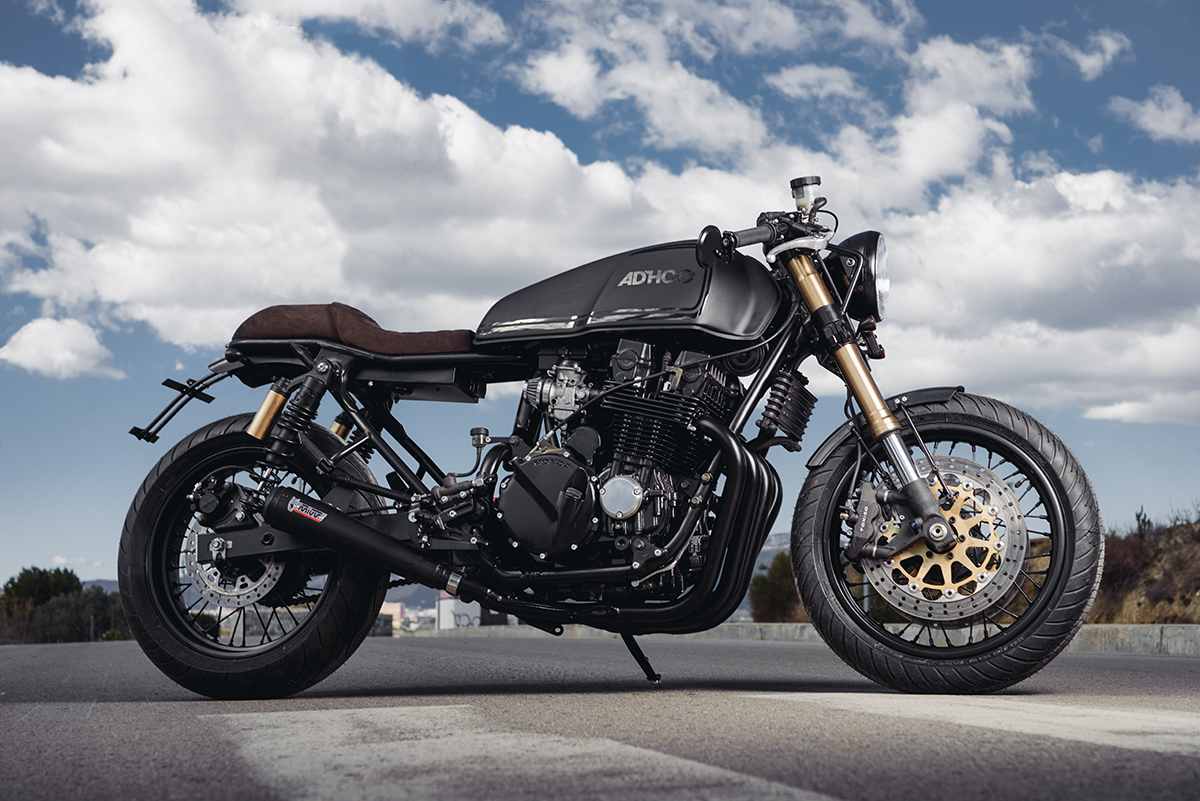 It's hard to believe it's been 4 years since I feature Ad Hoc Cafe Racer's first build. Back in 2012 I stumbled across their awesome Moto Morini K2 Cafe Racer and was blown away. As far as first builds go Ad Hoc's main man David Gonzalez nailed it with that bike and since then things have only gotten better. The Ad Hoc portfolio is now made up of 15 awesome custom builds based on an eclectic mix of donor bikes. For his latest build, number 15, David's chosen a platform we're all very familiar with in the custom scene, a Honda CB750.