There are several reasons why you might want to install an aftermarket exhaust on your motorcycle. It could be that you want a different look, want your bike to sing a sweeter song or that you're keen to extract some extra horses from its engine. Whatever your reason may be, choosing a new exhaust system for your motorcycle should be done with care.
Recently I set out to find, purchase and install a new exhaust system on a 2018 Kawasaki Z900RS Cafe. My desired outcome with this project was twofold. First I wanted a system that would change the look of the bike. Second I wanted to get a bit more bite out of its 948cc inline-four. Here's how I went about it…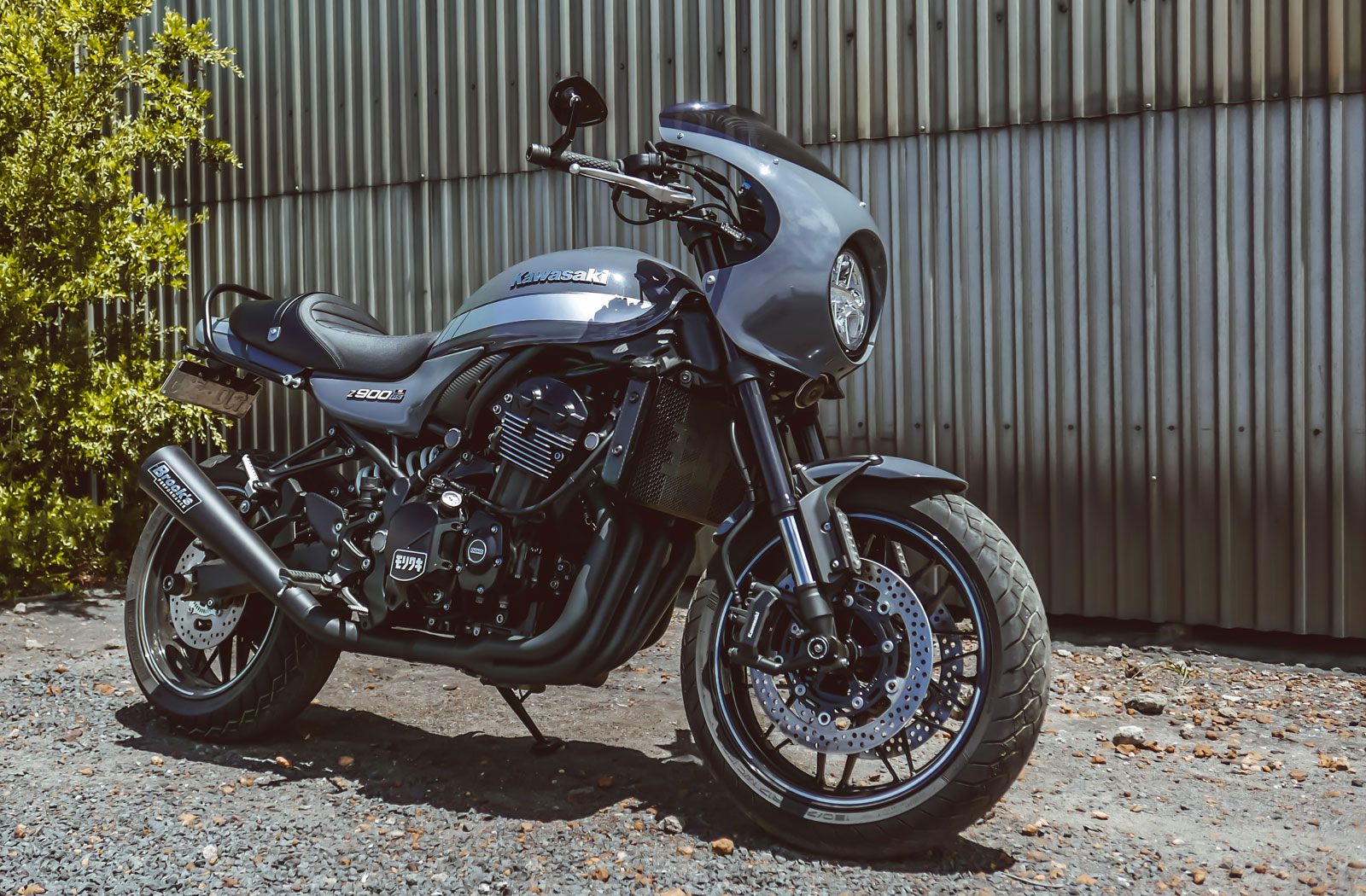 Choosing the right aftermarket motorcycle exhaust
As I've already mentioned I had 2 goals with my exhaust upgrade. The first was to get the look I was after.
My Kawasaki Z900RS Cafe wears a grey and black paint scheme and I found the touches of silver on the bike a bit jarring. I fixed most of them by either painting them black or swapping them out for black alternatives, but the elephant in the room was definitely the exhaust system. I also wanted a muffler that looked more like the aftermarket systems riders used to fit to the Kawasaki Z1 back in the seventies. Don't get me wrong, Kawasaki did a stellar job with the Z900RS exhaust. It just isn't as "retro" as I would have liked.
My second goal was to bump up the performance of the bike. I'm no hoon but I knew the Z900RS had more to offer and I wanted a taste of it.
There are many ways this can be done, but an exhaust upgrade will always yield the best bang for your buck. To make sure I would get an exhaust that would definitely improve the bike's performance, I searched for a brand that had developed a system specifically for the Kawasaki Z900RS. After scouring the internet, Z900RS forums and reaching out to Facebook Groups I landed on the website of Brock's Performance.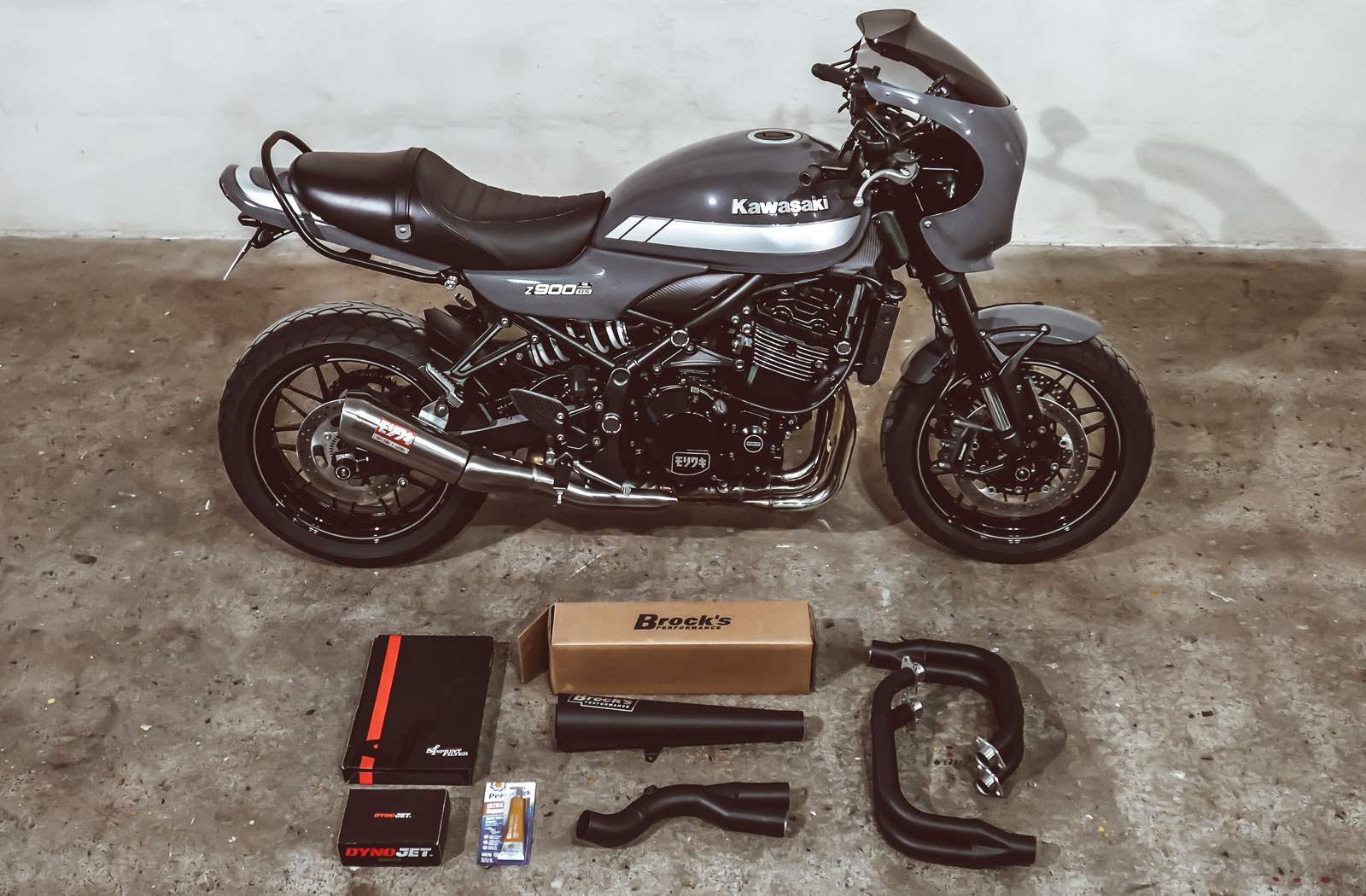 Brocks Performance offers a range of performance-oriented parts and accessories for a wide range of motorcycles including several of the latest modern classics. When it comes to the Kawasaki Z900RS they sell a tailor-made system that was developed when the Z was first released. They call it the StreetMeg.
Similar to the bike's stock exhaust, the Brock's Performance Z900RS StreetMeg is a 4-into-1 system. The 4 header pipes merge beneath the engine and dispense with the stock catalytic converter. Sitting at the end of the headers is a classic drag race style 20inch 'sidewinder' megaphone muffler. And, as fate would have it, the Brocks Z900RS StreetMeg also comes in a black Cerakote finish.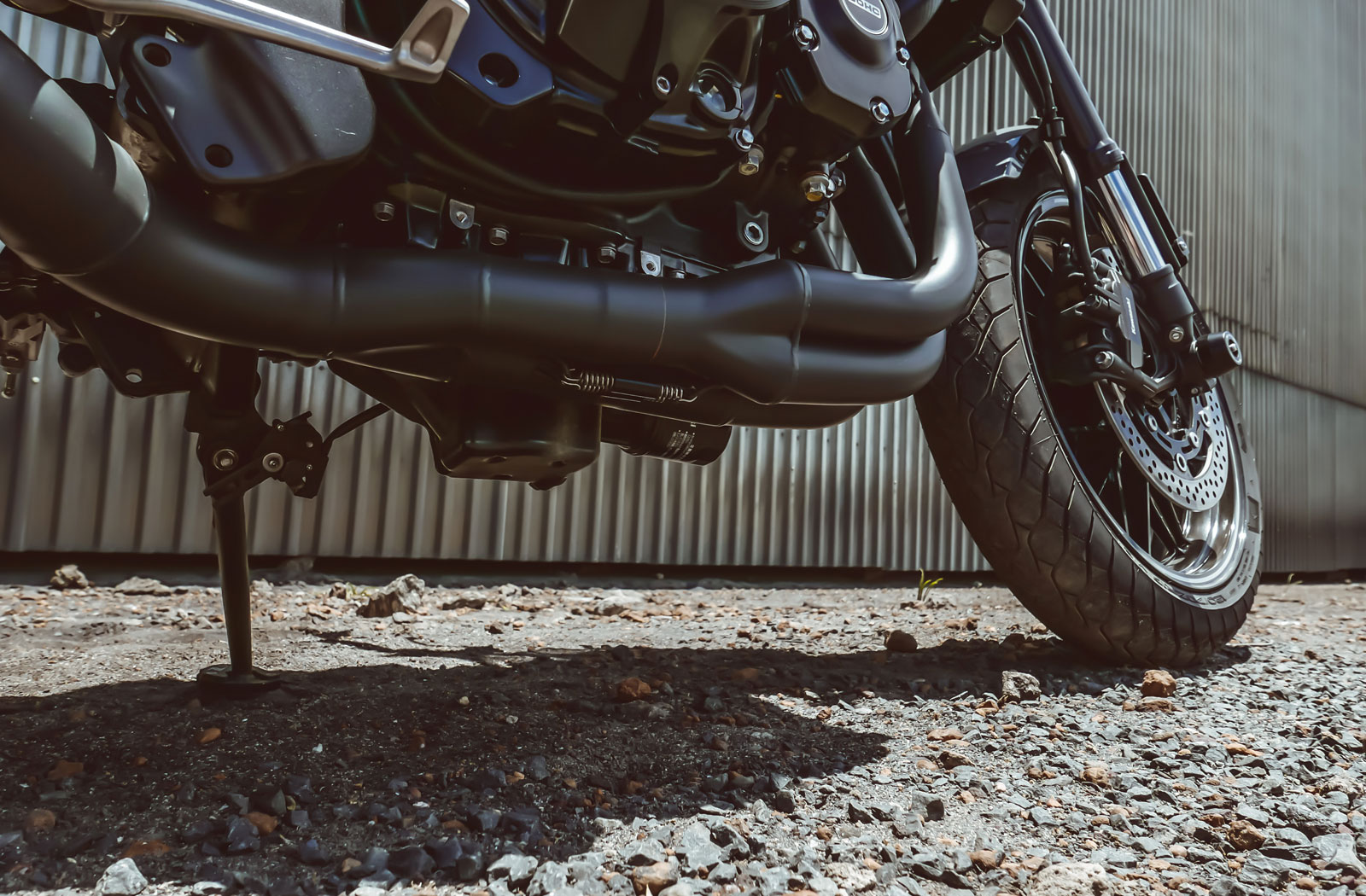 Conveniently the StreetMeg exhaust bolts directly onto the Z900RS using the factory mounts. It doesn't interfere with any other components (such as footpegs or hoses) and you won't lose any cornering clearance. The system also offers a huge weight saving. All up the Z900RS StreetMeg exhaust and all of its hardware weigh a mere 10.9 lbs. That's a massive 58% reduction compared to the bike's stock setup.
As for performance, every Brock's Exhaust system is designed specifically with performance in mind, including the StreeMeg, but more on that later.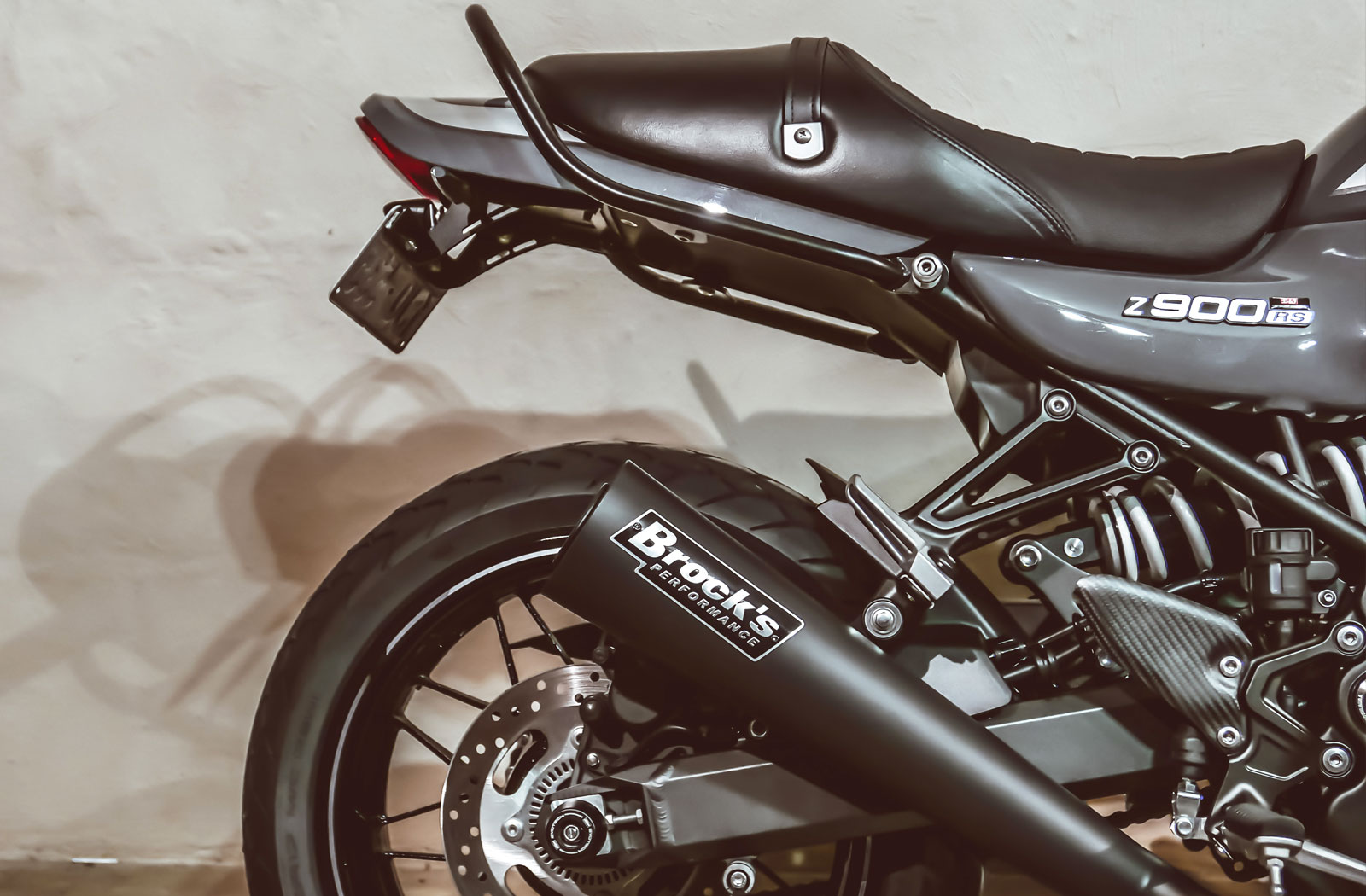 About Brocks Performance (and why I chose them)
For those who may not have heard of Brock's Performance, the company was launched in 2002 by American drag racer Brock Davidson. Brock had been building and racing motorcycles at the drag strip from a young age but it was the year 2000 that changed everything for him.
First, he and a group of his friends built a motorcycle to compete in the 2000 AMA Prostar Superbike Championship against the likes of Kawasaki's own race team. Despite a huge difference in budget and some seemingly unsurpassable odds, Brock took home the first place trophy. That same year while riding a modified '97 Suzuki Bandit 1200 he became the first racer to ever complete a 7-second quarter-mile pass on a street-legal motorcycle. Those 2 achievements combined with Brock's extensive knowledge of motorcycle performance modifications gave him the confidence to launch his own brand.
The Brock's Performance catalogue focuses on engine, driveline and chassis performance parts. As well as selling their own products they also stock a range of parts (filters, engine control modules, suspension components, carbon wheels, etc) from partner brands whose products complement their own. All of the parts can be purchased individually, but Brock also offers complete performance packages tailored to different riders needs.
The Brock's Performance approach to building parts is simple. In their own words, "No product will bear Brock's logo unless it is proven to deliver results." They achieve this by thoroughly testing the performance of all of their parts at their facility using among other things, their own in house dynamometer. Then, to put each component to the ultimate test they take them to the race track.
So when it came to choosing an exhaust I was confident would deliver the performance I was after, a Brock's Performance exhaust made sense.
Brock's Performance Z900RS StreetMeg Full System
After speaking with members of Brock's staff I ordered a StreetMeg Full System for the Z900RS, a performance P08 Sprint Filter and a Dynojet Power Commander. I added the additional filter and PCM because without these I simply wouldn't be getting the most out of the exhaust system.
It's important to remember that fitting an aftermarket exhaust without a change in fueling could introduce performance issues. That's why it's important on modern bikes to fit a PCM or reprogram the ECU. On older motorcycles, this would be achieved by rejetting the carburettors. Brock does provide an ECU flash service that will produce an even better tune, but I opted against this. I wanted to have the option to revert the bike back to stock and I also don't trust the postal service enough to safely transport my very expensive ECU from Australia to the USA and back again.
The StreeMeg exhaust comes with everything you need to install it aside from the tools. In the box, you'll find the exhaust itself, a set of exhaust springs (and a spring puller), a tube of Permatex Ultra Copper exhaust sealant, an air sensor block off bung, a PAIR block off cap and a detailed set of installation instructions. When purchasing the Power Commander Brock's will send it out with their own map programmed onto it. They develop this themselves and optimise it to work with these specific components. You have the option of a Street or Track tune. I went with the Street.
Stock to Brock – The exhaust install
While some people may opt to pay someone to install a system like this I chose to do it myself. If you're on a tight budget this is definitely the way to go. I'm not going to lie, the process is complicated and will vary from bike to bike, but the instructions explain everything simply and clearly.
Basically, you first remove several parts from the bike. In the case of the Kawasaki Z900RS, these included the seat, side panels, fuel tank, airbox cover and of course, the stock exhaust system. Removing the tank and opening the airbox allows the fitment of the Sprint Filter. Installing it was simply a matter of removing the OEM filter and replacing it with the performance one.
Next, you will need to mount the PCM somewhere under your seat and attach all the cables. The most difficult part of this task is getting the plugs onto the fuel injectors. After unplugging each one you plug the PCM connectors in their place then plug the original plugs into the PCM harness. It's a fiddly job and a good torch is essential.
While I was under the tank I also installed the PAIR block off. The PAIR system on the Z900RS is designed to add fresh air into the exhaust as part of the emissions system. With a custom exhaust fitted the PAIR can cause loud backfires on deceleration. Making this modification was a personal preference rather than a necessity.
For the installation of the exhaust, you need to remove the O2 sensor. This can be reinstalled once the StreeMeg is in place, but it can detract from the performance result. Brock's don't supply them but you can buy O2 block off plugs online for specific motorcycle models for about $20. They simply plug into the wiring harness and prevent the bike from throwing up any errors. After removing the stock exhaust you fit the supplied exhaust flanges, headers and muffler (in that order). The sealant is applied to each joint as you go and the springs are installed to hold everything together.
The final step before firing it up is to check clearances. It's important that the exhaust isn't touching any other parts of the bike, coolant hoses or any cables as it could melt them.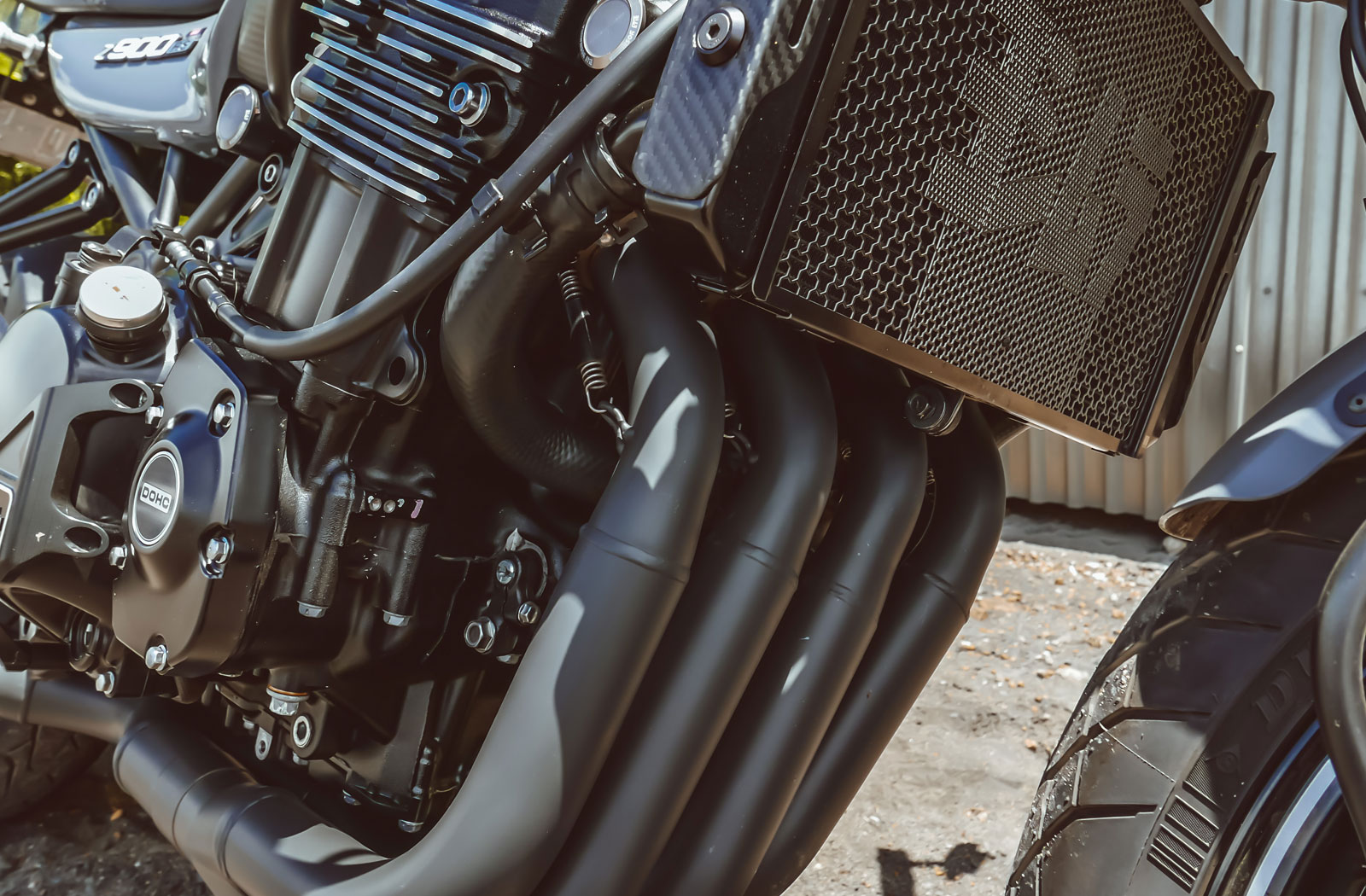 Before and after exhaust comparison
The first startup after making modifications like these is always a nervous moment. My approach is to first do a short warm-up without any throttle, watching closely for any errors on the dash, unusual sounds or excessive smoke. I then shut it down and let it cool. After the bike has cooled I do a longer run letting it get up to full operating temperature. I then give the throttle a few twists to again see how everything looks and sounds. When I'm satisfied everything is working as it should I do a short ride watching for irregularities in throttle performance or running temperature. I then check all the components again to make sure everything is nice and tight and that nothing has moved. If at that stage everything is running smoothly it's time to have some fun!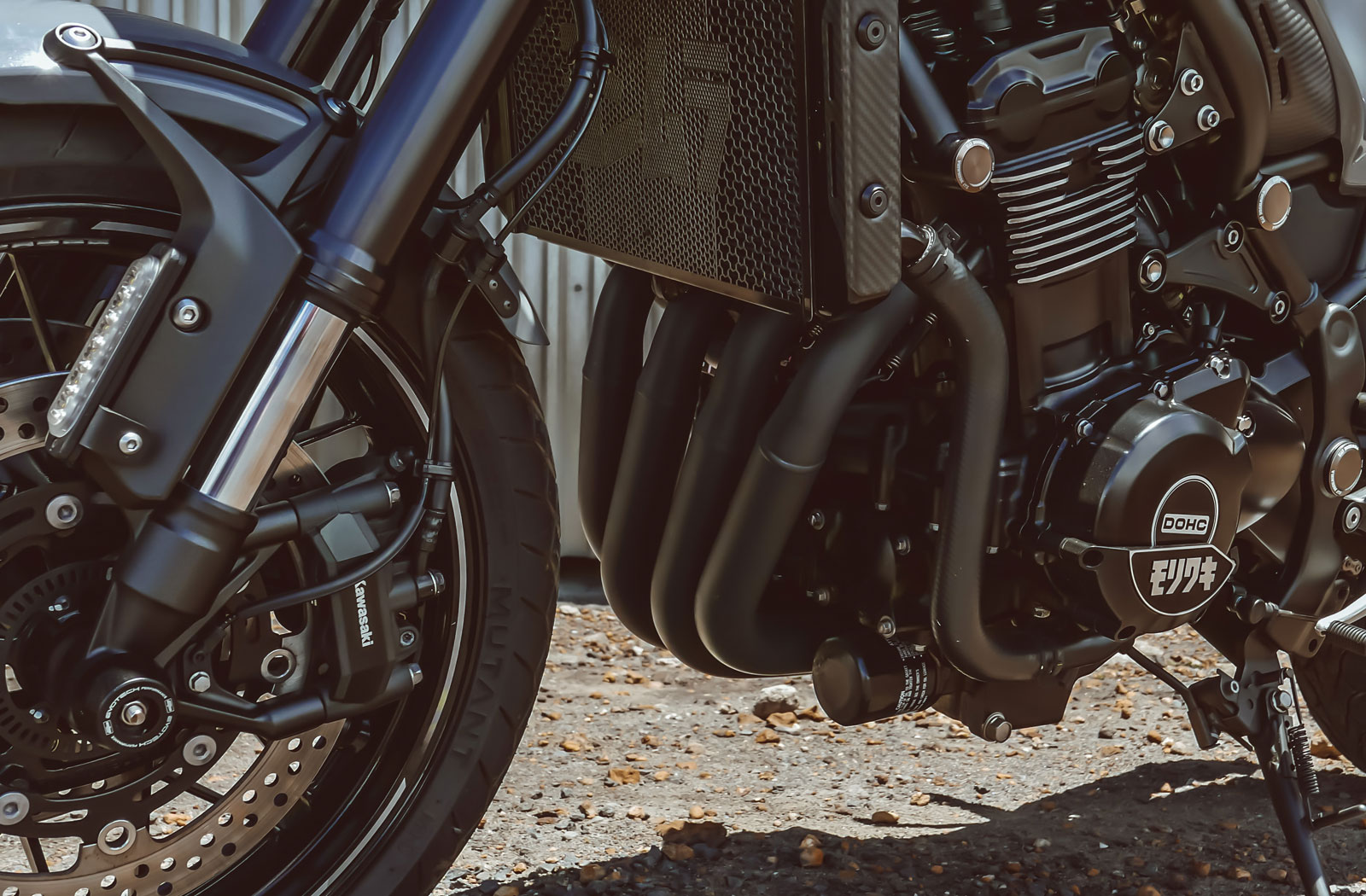 I was very happy to find that my install of the Brock's Performance system on the Z900RS Cafe went off without a hitch. Since then I've clocked around 500 glorious miles with the StreetMeg.
The first big difference I noted with these modifications was the sound. The sound reminds me of an original Z1 with a Kerker system which is definitely a good thing. Under hard acceleration the roar of the StreetMeg is intoxicating. It is definitely louder than the stock system (91dBA at 5000rpm), but not so loud that it's obnoxious or uncomfortable. Brock's do offer an optional noise reduction insert for the system which I may purchase for use on longer highway rides.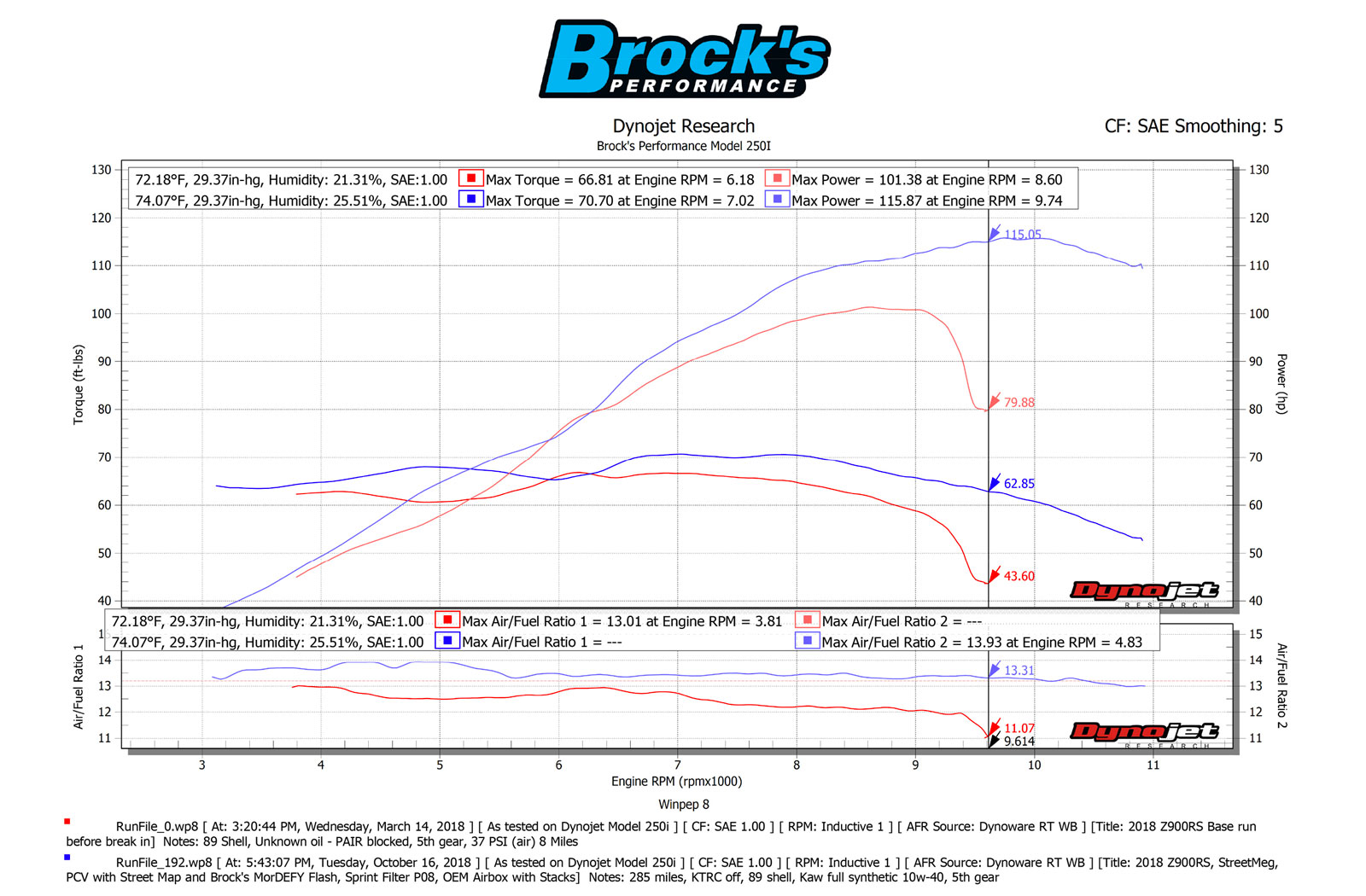 In terms of performance, my Z900RS is without a doubt more spirited than before. The ease with which the front wheel lifts and the fact that I've seen the traction light come on a few times during hard launches is proof enough for me that the system is doing its job. I have not dyno-tuned my bike to test exactly how much power it's now putting out but Brock's Performance tested this setup at around 115 bhp at the rear wheel. That's a 15% increase in power.
One surprising outcome of this whole exercise is that I haven't noticed a drop in fuel economy. Prior to the install, the Z900RS Cafe was achieving 42 miles to the gallon. With the system installed and after testing on both short and long hauls that figure hasn't changed. One thing that has changed though is that I'm definitely getting a lot more smiles per gallon!