So you've decided it's time to build a cafe racer of your own. Although you may be planning on fabricating many of your own parts, you're still going to need a few off-the-shelf items. When it comes to cafe racer parts and where to buy them we've had plenty of experience. From building our own bikes to documenting hundreds of cafe racer projects here on the site. We have extensive knowledge of what's out there, where to get it and what to avoid. So in order to help you build the best cafe racer you can, we've created this comprehensive list of where to buy the best cafe racer parts online.
Unfortunately, there are a lot of poor quality, cheaply made products out there. For that reason, we don't mention eBay on this list. There are too many eBay sellers offering parts we wouldn't trust. If you find a part on eBay that looks like a real bargain it may well be a cheap copy. We also steer clear of sellers on sites like Ali Baba for the same reason.
Before you jump into buying anything you may want to consider registration laws in your country. Imagine having your freshly completed cafe racer defected due to something as simple as a non-compliant headlight. The best approach here is to only buy parts that have the correct markings or clearly state they are legal for street use where you live. You can choose to ignore this point if you want, but don't say we didn't warn you.
British Customs – USA
The name says it all. At British Customs you will find everything you need to turn your modern Triumph twin into a bonafide cafe racer. They have parts ready to fit onto any bike in Triumph's range since production moved to Hinkley. Everything in the store is organized by model and split up into either air-cooled or water-cooled series. Products range from slip-on mufflers to fender eliminators and even complete styling kits to transform your Bonneville quickly and easily. BC also offers a range of performance upgrade packages so you can make sure your bike has the performance to back up its new look.
This store caters primarily to Triumph riders but never fear, there are plenty more options on this list for other makes and models.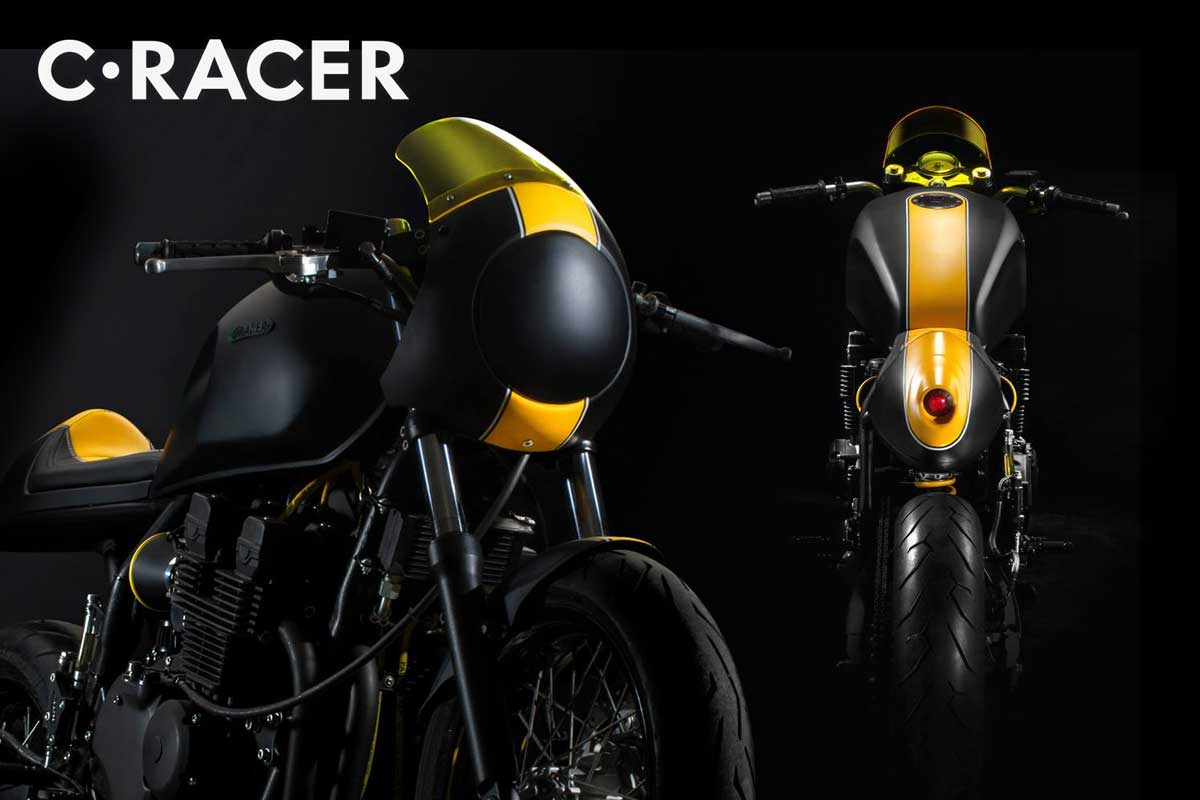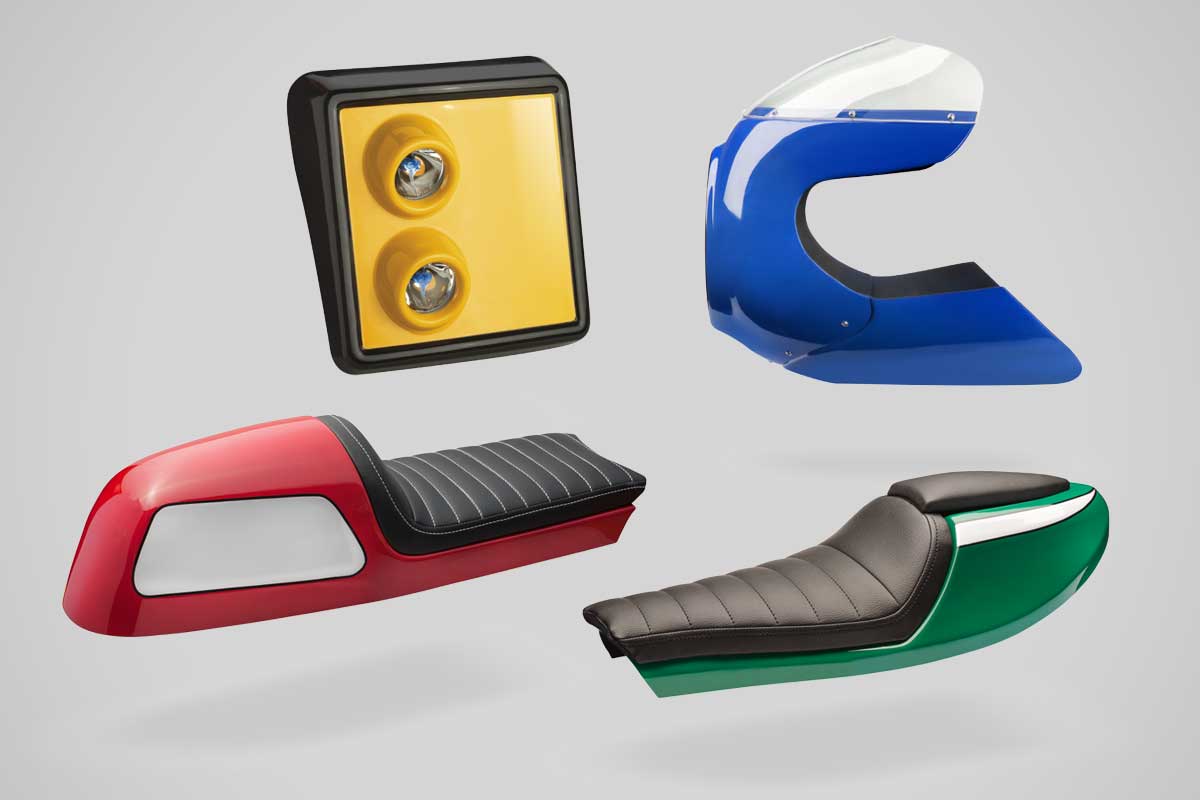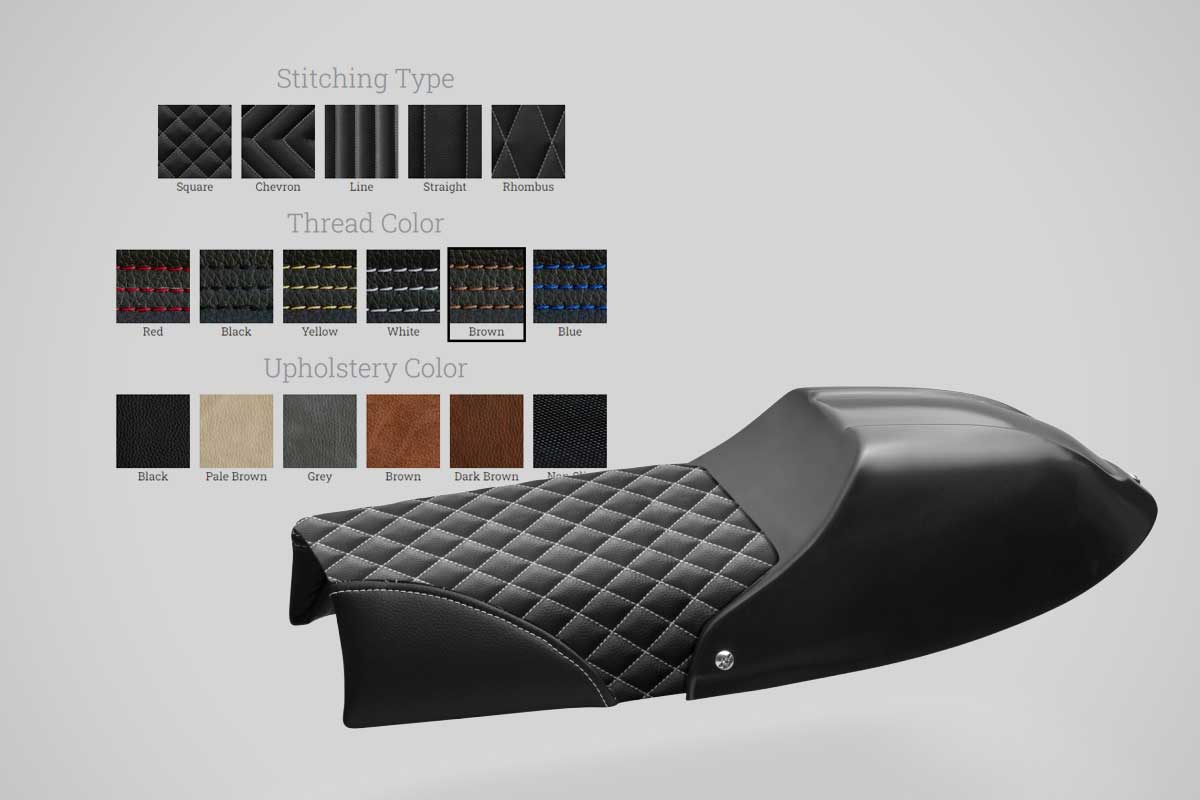 C Racer – Greece
Fabricating your own bodywork from scratch is a difficult and time-consuming task. If you're looking for a quick solution that still gives you the flexibility to create something unique, take a look at the C-Racer store.
C-Racer specialize in "universal" bodywork such as tail sections, headlight assemblies, and fairings. All of their parts are molded from ABS plastic which means they can be trimmed to suit their application prior to painting. On the C-Racer website, you'll find detailed diagrams showing all the measurements so there's no guesswork involved and no accidentally ordering an item that won't fit.
Universal parts also allow you to mix and match different items to create your own look. When purchasing one of the C-Racer seats you're also given the option of choose from a wide range of upholstery styles. You can select the color, stitch type/pattern and even the thread color. They also offer an extensive range of bolt-on options for the Suzuki SV 650.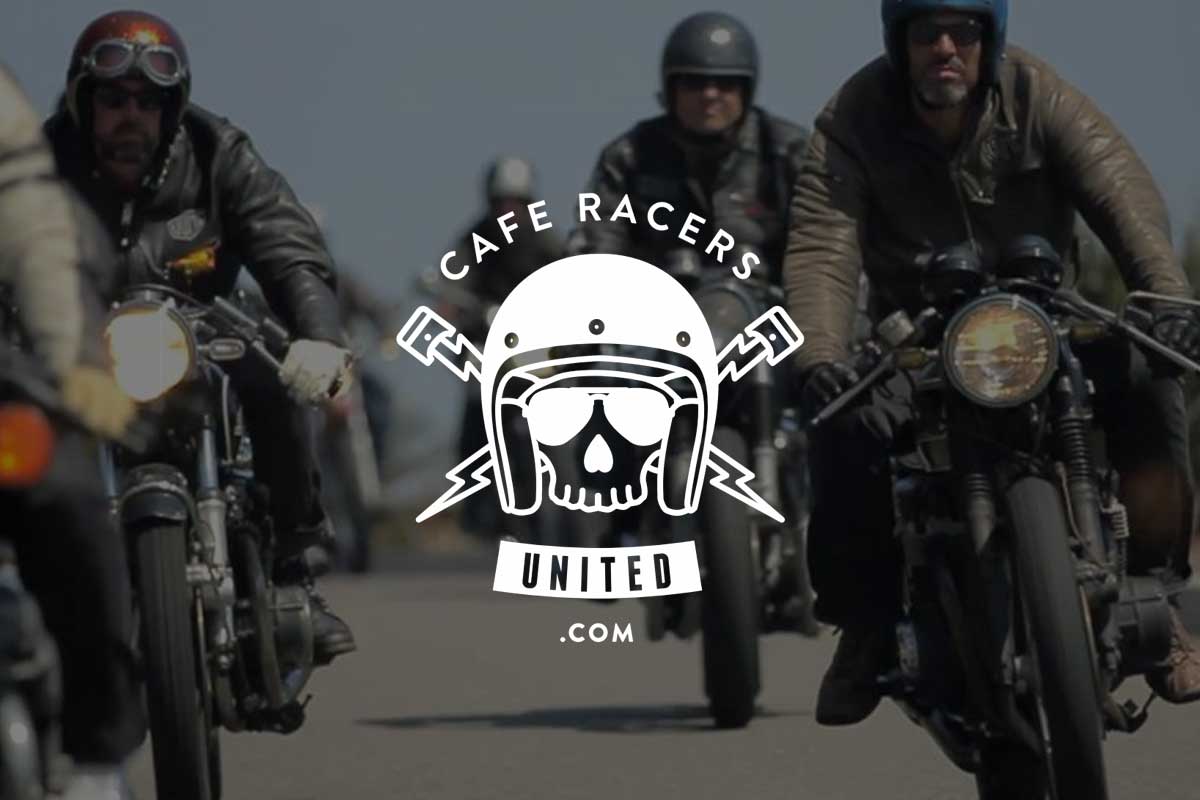 Cafe Racer Webshop – Netherlands
If you're based in Europe and want your cafe racer parts fast head over to Cafe Racer Webshop. This store's name says it all. Their extensive catalog has been tailored specifically for cafe racer projects. Everything is broken up into logical categories which makes using the site very straight forward.
Cafe Racer Webshop offers universal build kits which include headlights, fenders, and weld on frame loops to give you a head start. They also carry a huge range of parts from well known and reputable aftermarket parts manufacturers.
Along with cafe racer parts this one-stop-shop also offers an extensive range of tools and riding gear so you can save on postage and trips to the hardware store by getting everything you need here.
Cognito Moto – USA
Planning a front end swap when you build your cafe racer? Cognito Moto is here to help. Devin Henriques and his team specialize in creating high-quality CNC machined conversion components for fork swaps, wheel conversions, lighting upgrades and much more. In the Cognito Moto store, you'll find conversion kits created for specific motorcycle models or they can assist you with your own unique requirements.
Like many other manufacturers on this list, Cognito Moto started out of necessity. After being unable to find the parts they wanted or ones that hold up to their exacting standards they decided to create their own. Today their store features a huge range of exclusive products as well as handpicked parts from other brands they trust. In the Cognito Moto store, you'll also find rear set kits, electronics trays, oil tanks, air filters and much more.
Another added bonus of Cognito parts is that everything is machined from aluminum making them super lightweight.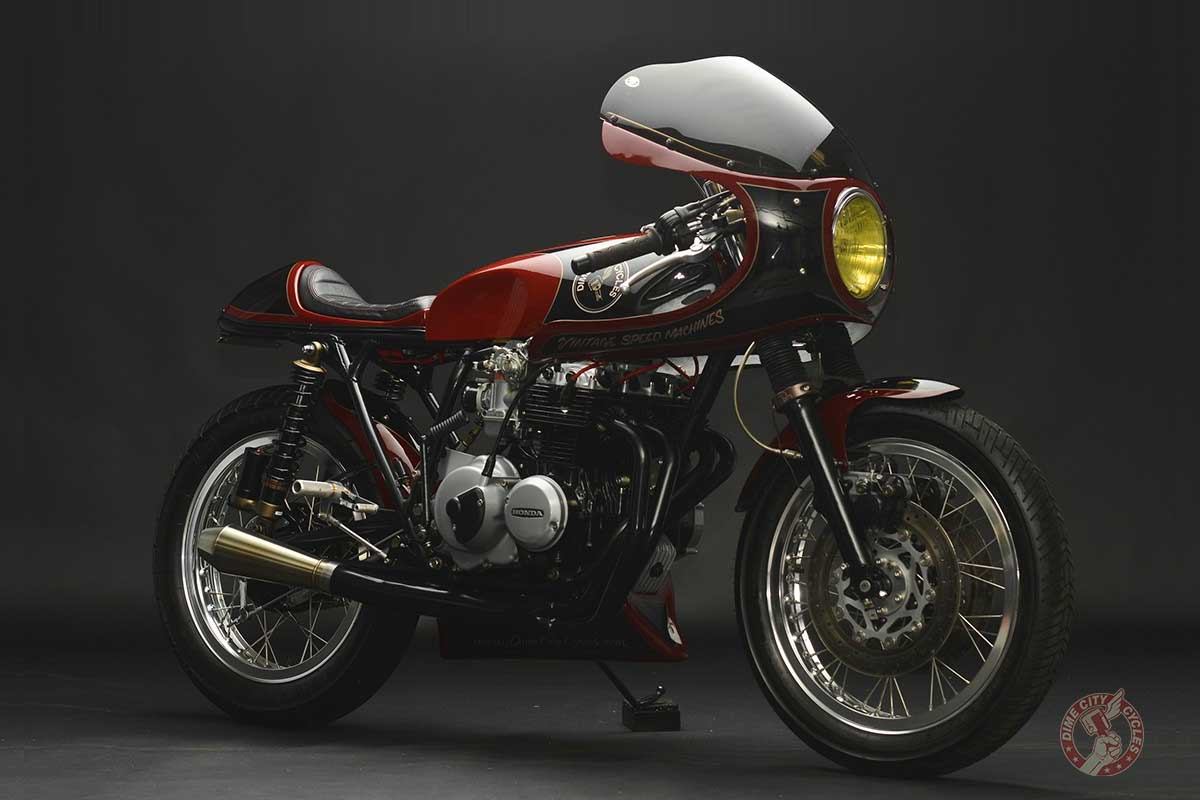 Dime City Cycles – USA
Since they launched in 2009 Dime City Cycles has become one of the best parts resources for Cafe Racer fans on the planet. DCC has also been instrumental in the growth of the cafe racer scene thanks to their involvement in programs like Cafe Racer TV, their commitment to promoting events and their own awesome workshop builds.
Visit the DCC store and choose from thousands of cafe racer parts including a huge selection of OEM and universal replacement components. To help guide you on your shopping journey you can choose to navigate their site by the style of bike you plan to build. So whether it's a cafe racer, scrambler, bobber, tracker or brat everything has been sorted appropriately. The sheer size of the DCC store can be a bit overwhelming, but rest assured with a bit of digging you'll find what you're looking for.
Also, be sure to check out their 'Builds' section where you'll find both examples of their own and their customer's projects using parts straight from their catalog.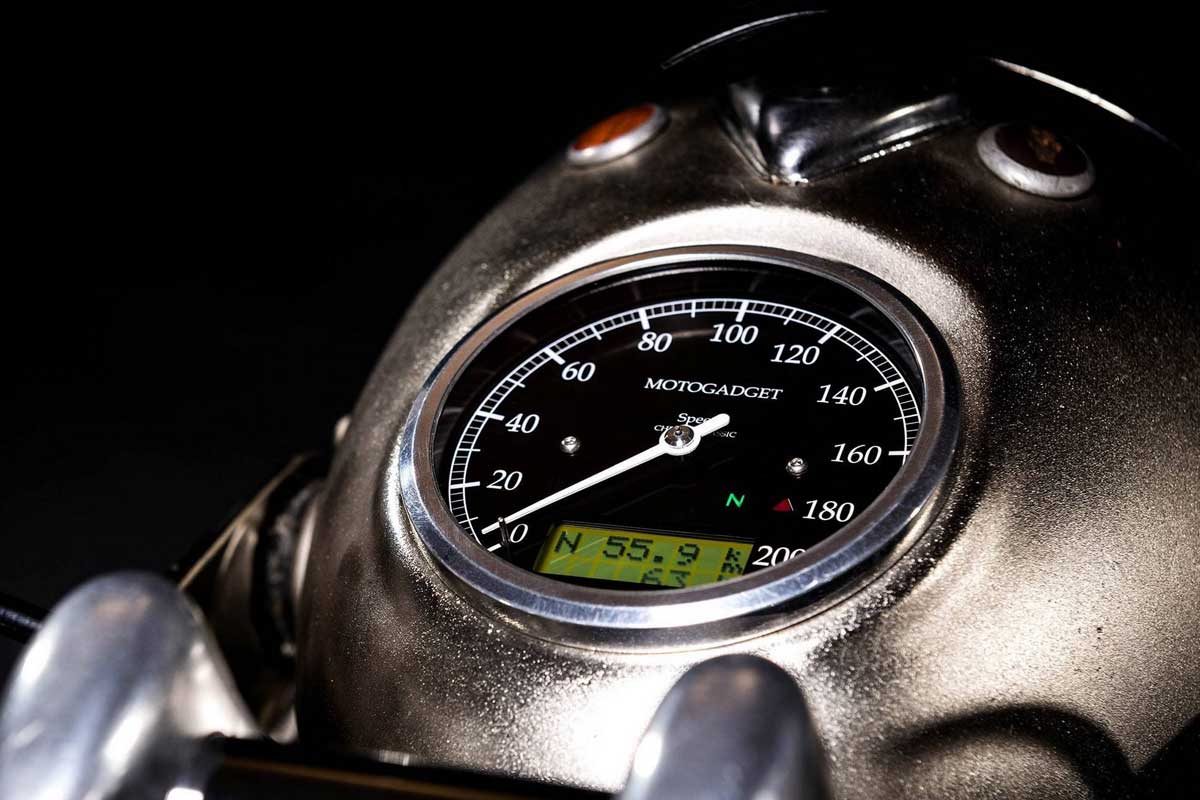 Motogadget – Germany
Motogadget needs no introduction. They have become the go-to electrical and lighting manufacturer for many of the world's top custom motorcycle builders. The Motogadget M-Unit was a game-changer in the custom scene. It removed the fear and headaches involved when rewiring a motorcycle from scratch. Their range of multi-function speedometers and precision made lighting are also some of the best on the market and all their products integrate with one another seamlessly.
This kind of quality doesn't come cheap though. If you only have enough money in your cafe racer parts budget for one or two high-end components you'll want to put it towards Motogadget parts. You'll find many Motogadget parts available in the store listed in this feature, we buy ours here.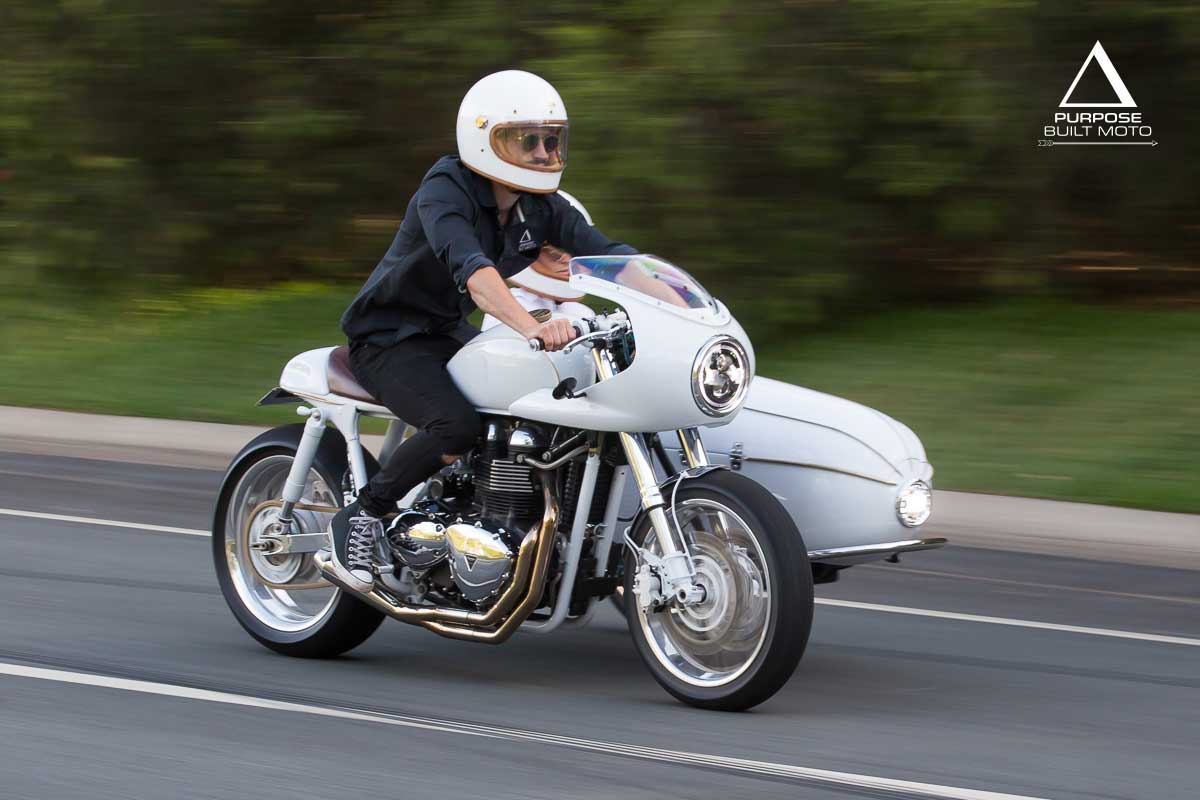 Purpose Built Moto – Australia
Tom Gilroy, the man behind Purpose Built Moto, has taken it upon himself to create the parts he always wanted for his own projects. Through extensive testing and development, Tom has created a modest range of electrical components designed to be easy to install and last the test of time. This includes everything from tiny LED indicators to switch block assemblies and electrical control modules. Purpose Built parts are high-quality components constructed from alloy rather than plastic whenever possible. You can also rest assured that Tom will personally assist you with any support you need after purchase.
Tom is also very active on his Youtube channel where he demonstrates how his parts work and how to install them.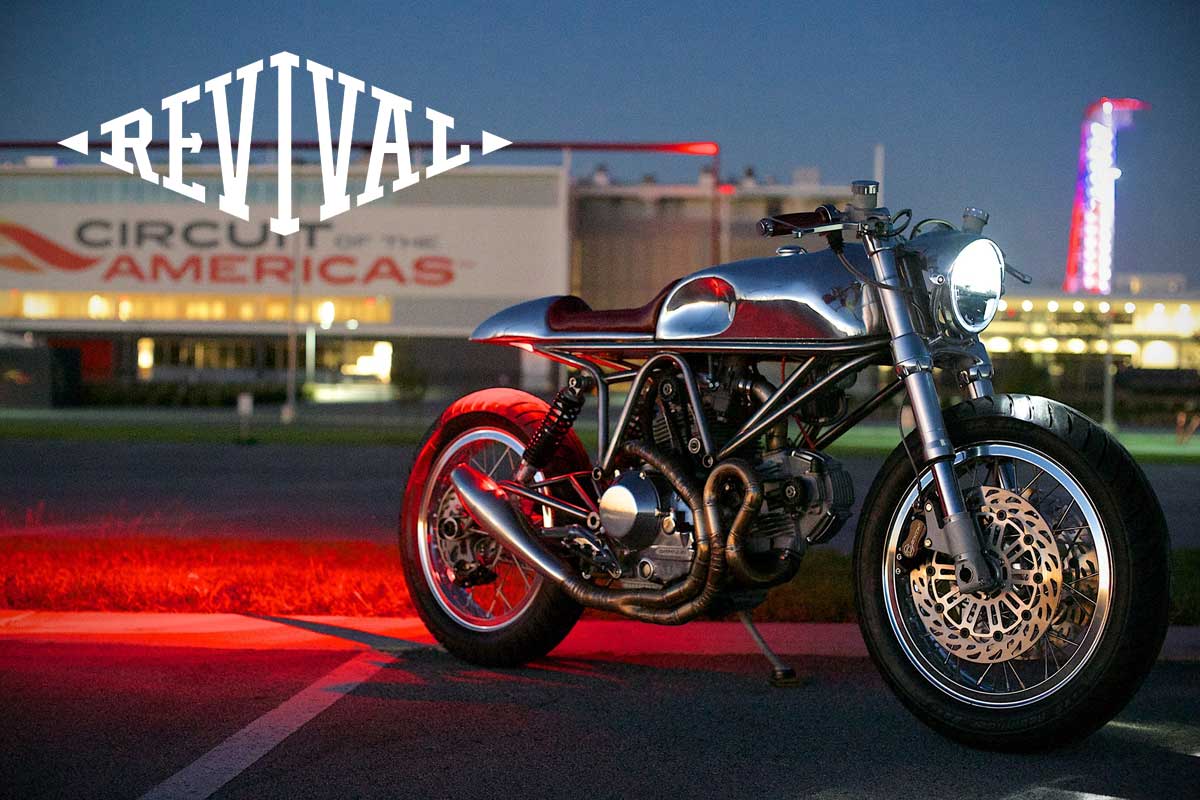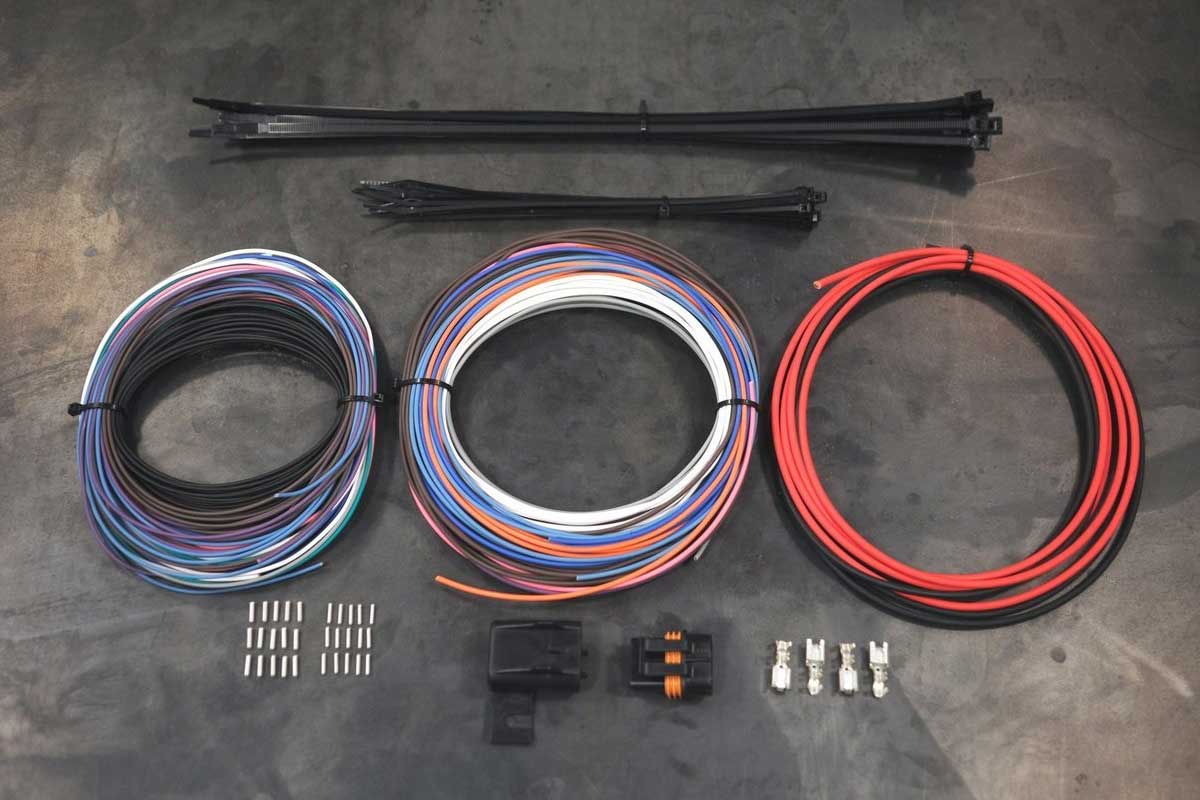 Revival Cycles – USA
Not only do Revival Cycles host one of the coolest bike events on the planet, The Handbuilt Show, they also build world-class custom motorcycles. This, of course, means that the Revival Cycles team have plenty of experience with aftermarket parts, which is reflected by the products they offer in their own online store.
Along with a decent range of quality parts from brands the use and trust, Revival Cycles also create some very useful kits. The Revival kits are designed to help simplify some of the more challenging tasks you'll encounter when building a cafe racer, like creating a custom wiring loom.
Another great thing about Revival Cycles is that they have been producing excellent DIY and how-to videos for years. These are a valuable resource for any budding custom motorcycle builder. Many of their videos are dedicated to showing how to properly install products they offer and they invite people to contact them with any questions or problems they have.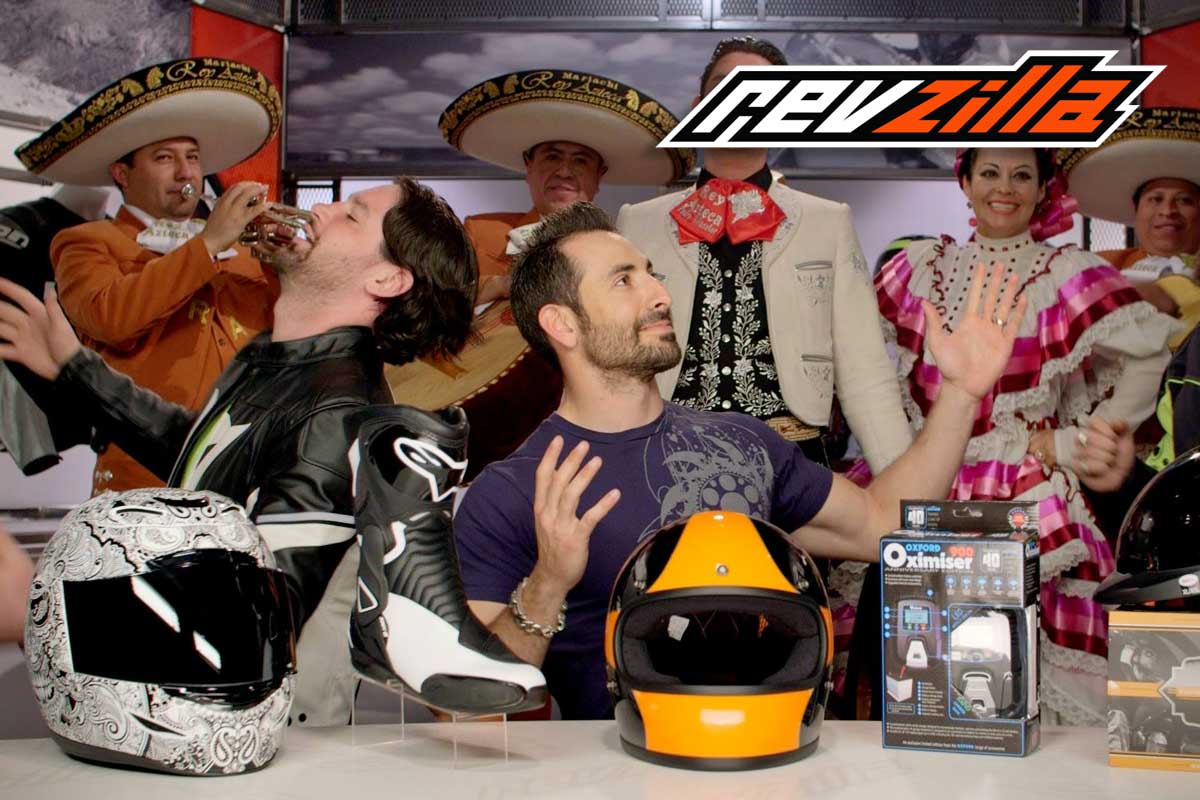 Revzilla – USA
That's right, riding gear mecca Revzilla also offers aftermarket parts! While many of the parts in their catalog are bike-specific there are still plenty of universal aftermarket items to choose from. Best of all Revzilla takes their product offering very seriously so you can rest assured you'll be buying a quality product that's been scrutinized by their astute staff.
Parts in the Revzilla store range from the basic bolt-on items like mufflers, mirrors, and lighting to full-blown engine and electrical performance parts and even wheels and tires.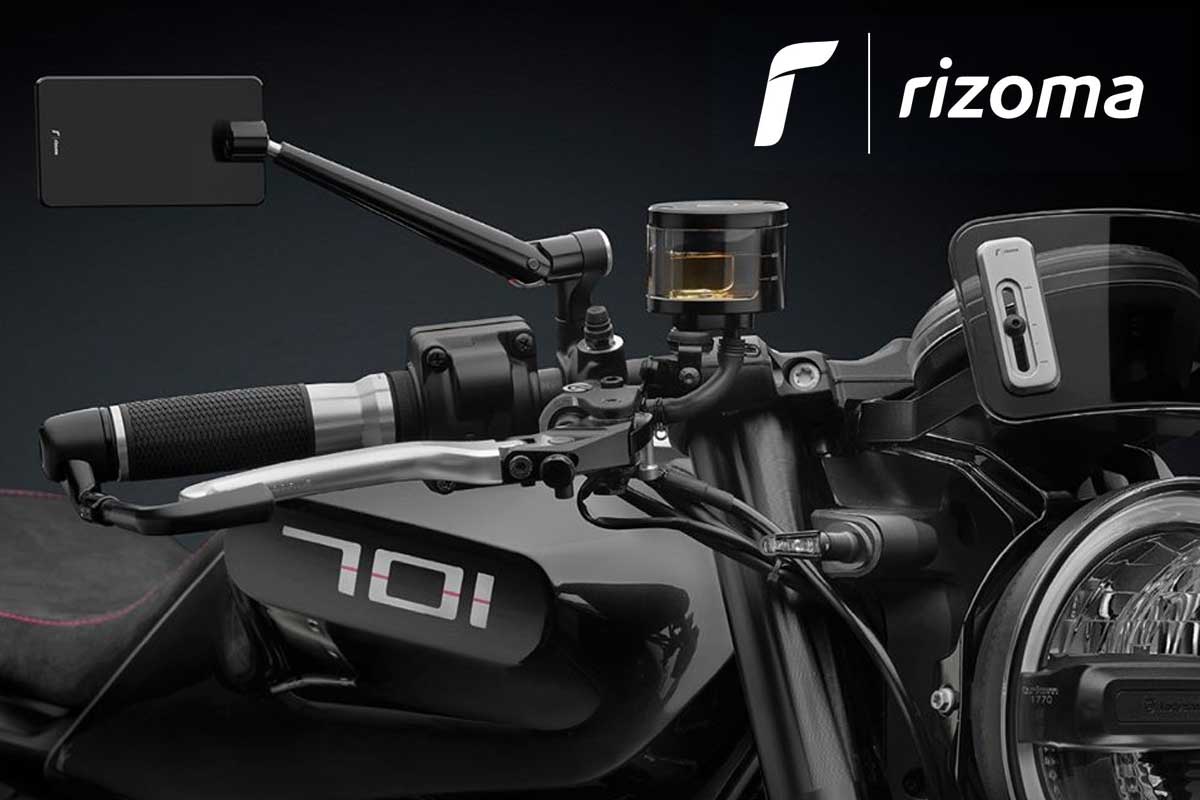 Rizoma – Italy
Most people will associate Italian aftermarket parts manufacturer Rizoma with the sportbike sector. However, Rizoma has been producing a wide range of parts appropriate for cafe racer projects for years now. Their products are generally best suited to later model motorcycles due to their modern styling, but don't let this put you off. Many of the universal items would look right at home on a vintage project too.
On the Rizoma website, you can choose to browse the catalog by universal parts or by model-specific items. If you're working on a modern retro like a Kawasaki Z900RS or Ducati Scrambler they've made complete kits that will streamline your bike's proportions and instantly raise its street cred.
Rizoma are experts in machined aluminum and you can purchase their parts in any color as long as it's raw alloy or black.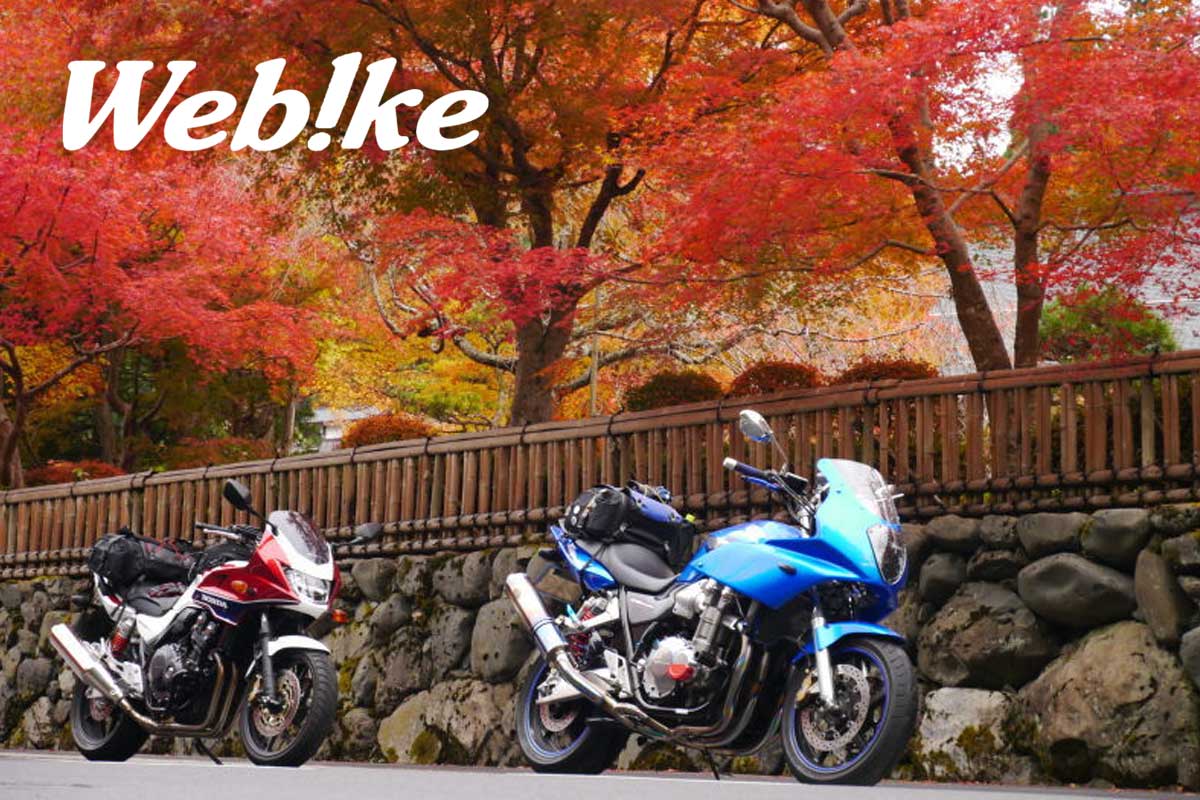 Webike – Japan
The beast from the east! If you're building a Cafe Racer based on a Japanese motorcycle, Webike has everything you'll need. From OEM parts to aftermarket items they have a massive range on offer. Thankfully, unlike many other Japanese sites, Webike is optimized for English speaking customers.
Webike also act as an international retailer for many of Japan's aftermarket manufacturers. In their store, you'll find items from some of our favorite Japanese workshops like An-Bu Motorcycles, Doremi Collection and Peyton Place along with more renowned Japanese brands like Daytona and Yoshimura. Trying to buy items directly from those brands is near impossible so Webike is a welcome solution.
Webike prices are reasonable but shipping can be expensive so try and bundle your parts into as few orders as possible. Repeat customers can also benefit from Webike's Cash Back point system. This allows you to earn points for purchases that you can later redeem for discounts.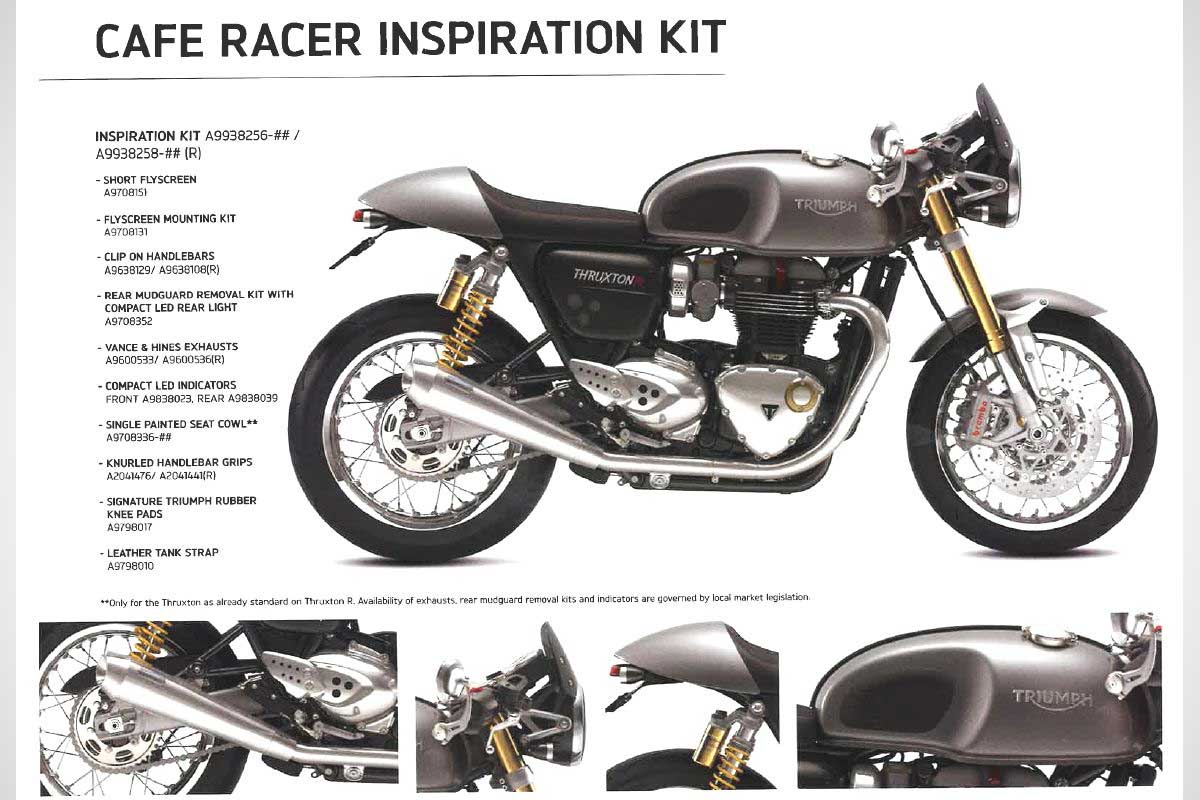 Buying cafe racer parts from motorcycle manufacturers
We don't mention any motorcycle manufacturers our this list of cafe racer parts stores. However many of them offer 'dress-up' parts for their latest models. If you're building a cafe racer using a modern classic, such as a new Triumph Street Twin, Yamaha XSR900 or a Ducati Scrambler, consider the parts offered by their manufacturers. This is particularly important if you don't want to void your bike's warranty. Just be prepared to pay a premium if you head down this path and remember that many people take this route so your cafe racer may not end up being as unique as you had hoped.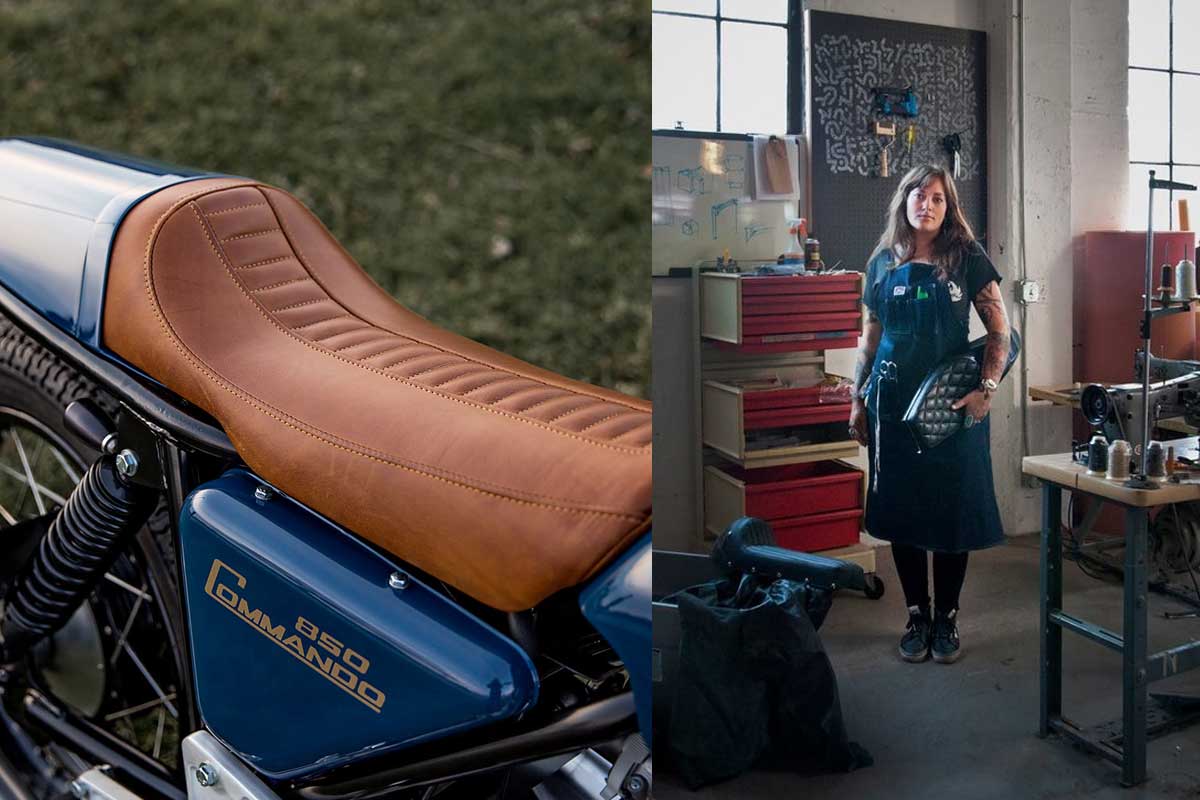 Commission a local expert
Lastly, if you want to add something really special to your cafe racer project consider hiring a local expert. No matter where you live there will be fabricators, painters, and upholsterers nearby who can produce a one of a kind part for you at surprisingly affordable prices. Need a rear cowl? Hire a local coachbuilder or metalworker to shape one for you out of aluminum. Got a cool idea for a custom seat? There will be an upholsterer out there who can turn your vision into a reality. Nothing's cooler than supporting local businesses and keeping dying trades alive.
And what about if you want someone to build your entire cafe racer for you? Check out our custom workshop map for the location of over 300 custom builders around the world who can do exactly that.
(above photo credit: Ginger at New Church Moto)
---
That sums up our list of where to buy the best cafe racer parts online. Remember, before you buy anything make a plan, do your research and avoid impulse buying. There's nothing worse than spending your limited budget on parts that simply won't work on your motorcycle.
The amount of aftermarket cafe racer parts you choose to use on your project is entirely up to you. We've seen amazing cafe racers that were built using nothing but off the shelf items. This was achieved by ensuring there were a few elements that made each build unique. Things like custom paintwork, upholstery and bodywork can make the difference between a basic bolt-on bike and a bespoke, rolling work of art. Good luck on your journey building a cafe racer and be sure to send us a photo when you're done!
Article updated 12/2019 – – – Opening image via Vagabund Moto