My dog doesn't care for the Yamaha XSR900. When I arrive home on any other motorcycle the small ball of fur masquerading as a canine runs to the window to stare out at me. But for the last few weeks, I've been riding the Yamaha XSR900, the family furniture destroyer is nowhere to be seen. The bike hums to a halt in the driveway, I tear off my lid, look to the window… and there's nothing there.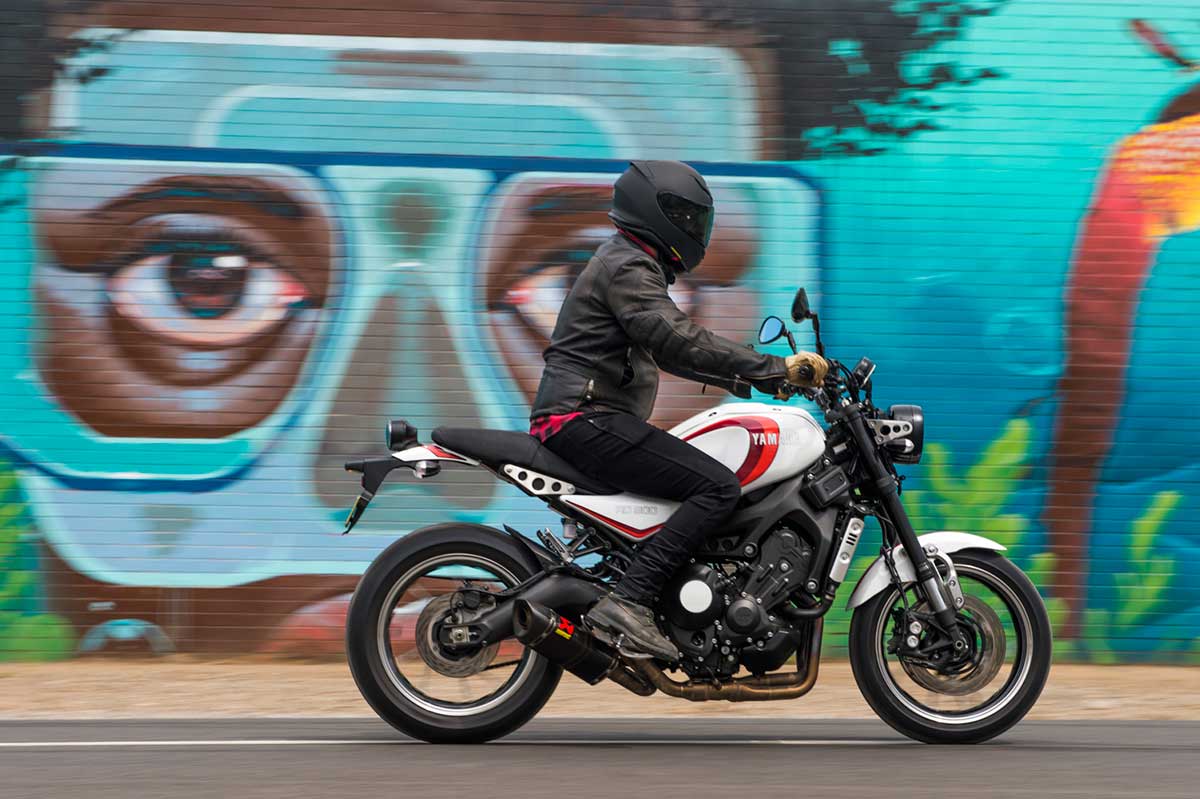 That's because the Yamaha XSR900 is the complete opposite of the kind of bike that I normally ride. It's got one more cylinder than anything I generally find interesting, electronics I don't understand, frame geometry that boggles my mind and horsepower I struggle to fathom. As a result, my arrival in the drive each day isn't signalled by an unsteady idle, rattling noise, the smell of burning oil and muttered swearing.
The dog's as confused as I am. Because after a few weeks of reviewing the bike I'm ready to jump into Yamaha XSR900 ownership and firmly into the 21st century. Despite my initial misgivings, I could totally own this motorcycle.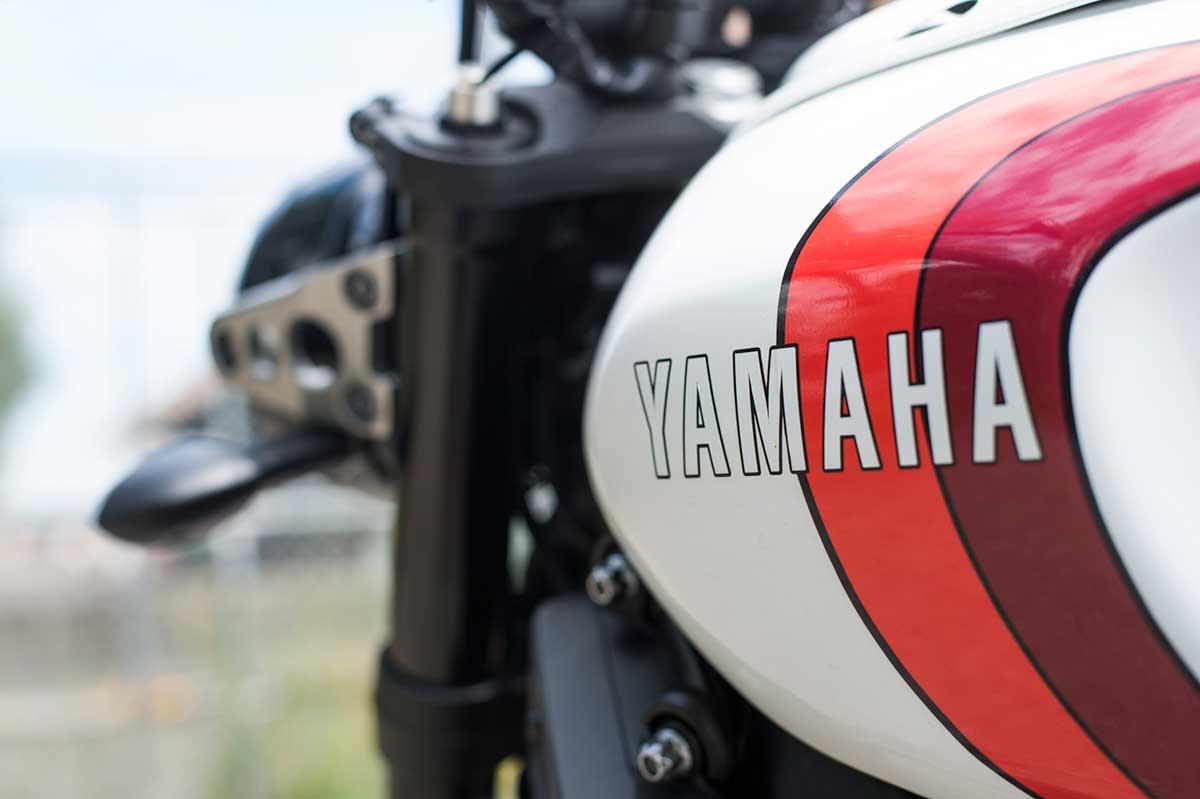 IT'S YAMAHA MT INSIDE
But I can't say that about the bike it's based upon. The Yamaha XSR900 lifts its running gear from the very modern-looking, insectoid-like Yamaha MT09. Just about all the changes to twist it into an XSR900 are cosmetic, and now it's decidedly more 'retro'. Think of it as an MT that's downed a few artisan beers and has a Facebook page bleating about social issues. But despite the throwback looks below the surface it's still an MT09. Which is no bad thing.
Released in 2014 to universal acclaim the MT combined a lightweight chassis, cross-plane-crank 847cc triple engine and razor-sharp handling to smack the naked bike market awake. For a few years now it's been racking up sales in the showroom and filling government coffers with appropriate regularity. But the XSR900 is a little different.
Most obviously, it's the revised styling. But straight up I'll warn you – don't go hunting for this particular livery in your local motorcycle showroom – it's a one-off finished in a Yamaha RD350LC paint scheme, replete with a confusing 'RD900' name on the side. And, in my opinion, it looks miles better than the standard bike.
Because the stock Yamaha XSR900 looks quite different. There's aesthetic panelling, cosmetic shrouds around the tank and a few design choices that have me a little confused. But overall it works – there's something healthy about a modern bike that points to a classic ride rather than shouting its intentions from the rooftops. The standard finish is a blend of metallic colours and black plastic with a brown suede seat that, if I was being cruel, would say looks like a low-tier men's watch purchased the day before a year twelve formal. But I actually don't mind it at all.
And now take a good long look at our test model. It's amazing what a simple paint job can do sometimes, isn't it? The looks are certainly there – they just need a bit of altering to really work.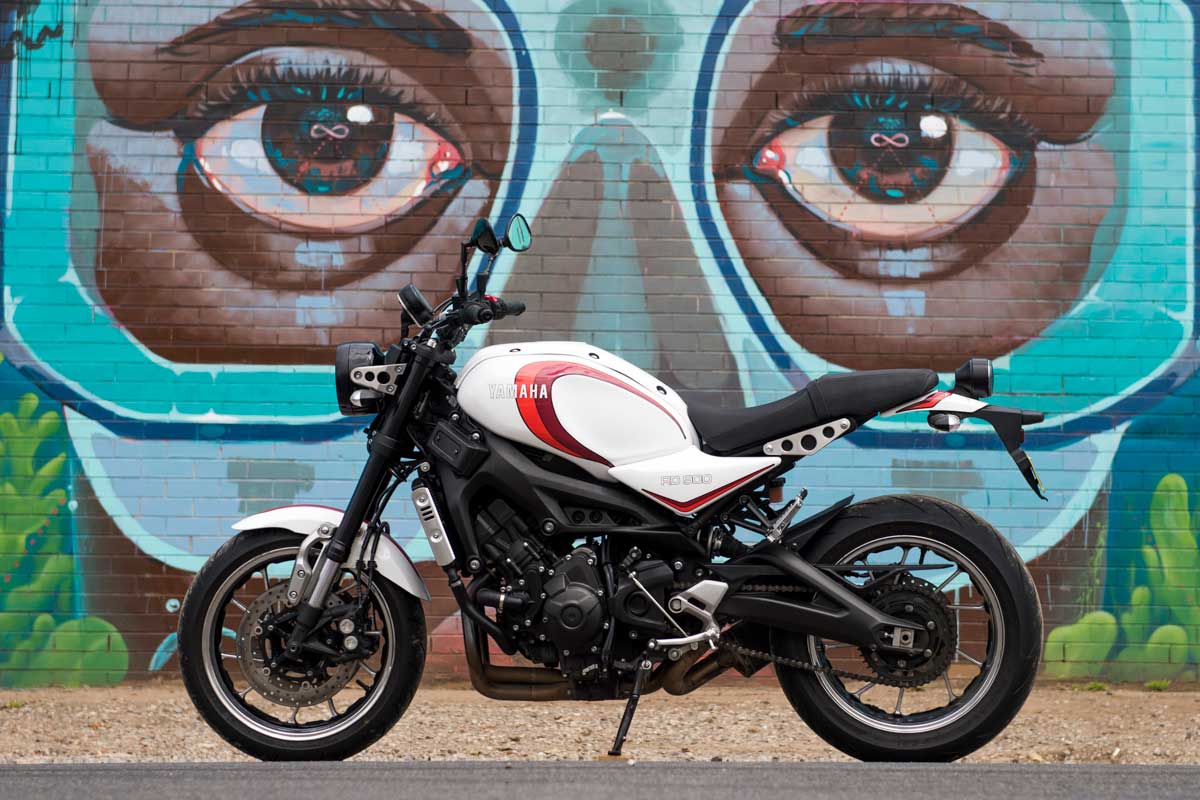 SUCH GREAT HEIGHTS
The first thing you'll notice when swinging a leg over the XSR is that it's damn tall. It's not enduro bike tall, but at 5'8" with stubby little legs, I couldn't flat foot my way around the bike. Thankfully it's light and easy enough to swing around in a carpark and there were no butt-puckering moments when filtering between cars at a walking pace. But if you're vertically challenged you might want to drop the forks a little and put in a lowering link.
It's got a comfortable, upright seating position with a slight forward bias that puts a good amount of weight over the front wheel and bends your arms without feeling like you're half stroke on a pushup. The seat itself doesn't have much material to it and a seriously long day will have your cheeks burning. But if you're after long-distance comfort, Harley Davidson can sell you an armchair with a motorcycle attached to it.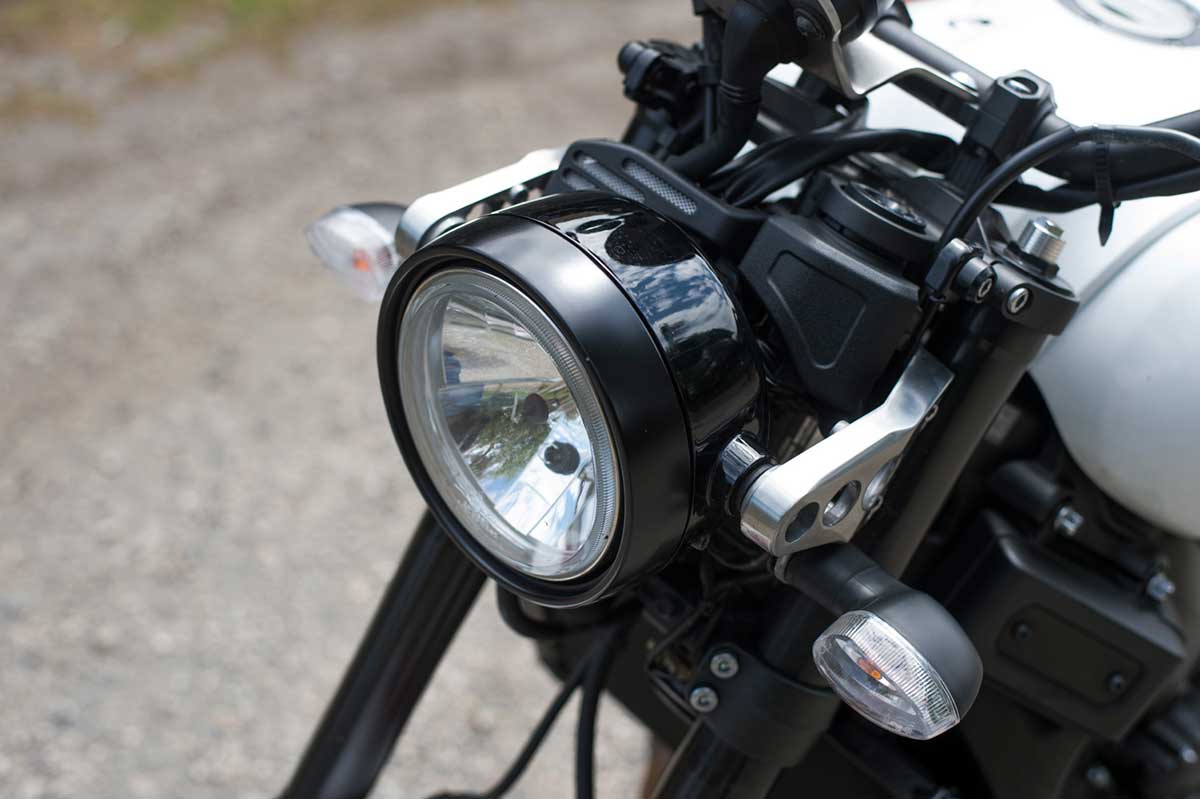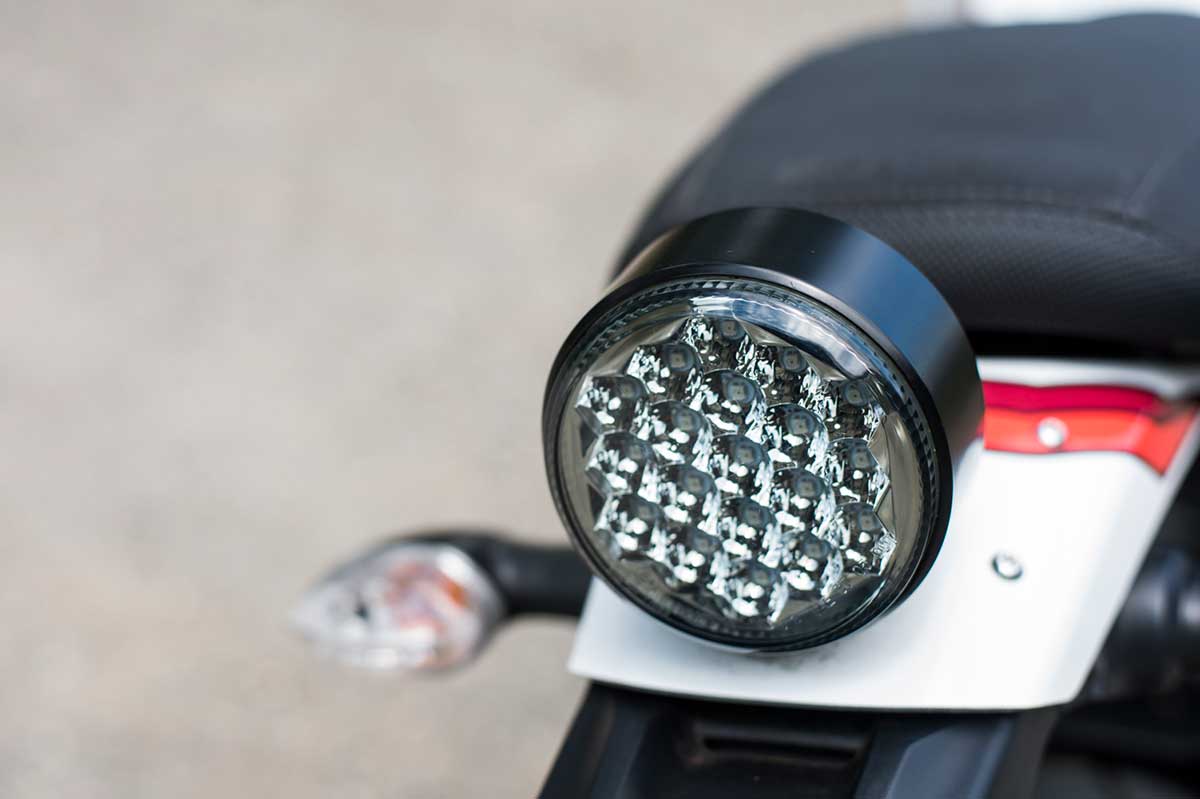 PROVEN PERFORMER
The entire bike is centred around Yamaha's glorious liquid cooled, 847cc powerplant. Lovers of inline fours are quick to rant and rave about how much personality a triple has, citing the amount of torque and the uneven rasp of the exhaust tone. I get that, but for me, it's still a smooth engine that's an exercise in restrained, aggressive precision, like a 1950's detective armed with a phone book.
And oh, it is glorious. Modern sports-oriented donks have come a long way in the last fifteen years. It's bloody fast, responsive and requires little mental work to ride hard. Surprisingly, it's got no aggressive powerband and all 120 horses seem usable and tractable everywhere. You can punch around town on the thing, never breaking 6,000RPM and have yourself a great ol' time. Or you can get it out on a set of corners, pin it open, hear the engine roar and hurtle yourself towards the nearest waiting highway patrol officer.
The bike features three riding modes; A, Standard and B. 'A' mode features more aggressive throttle response, 'Standard' features… well, less exciting throttle response and B mode feels like you've dropped a valve and the bike is in limp-home mode. Apparently, it's for riding in the rain. Keep it in A mode.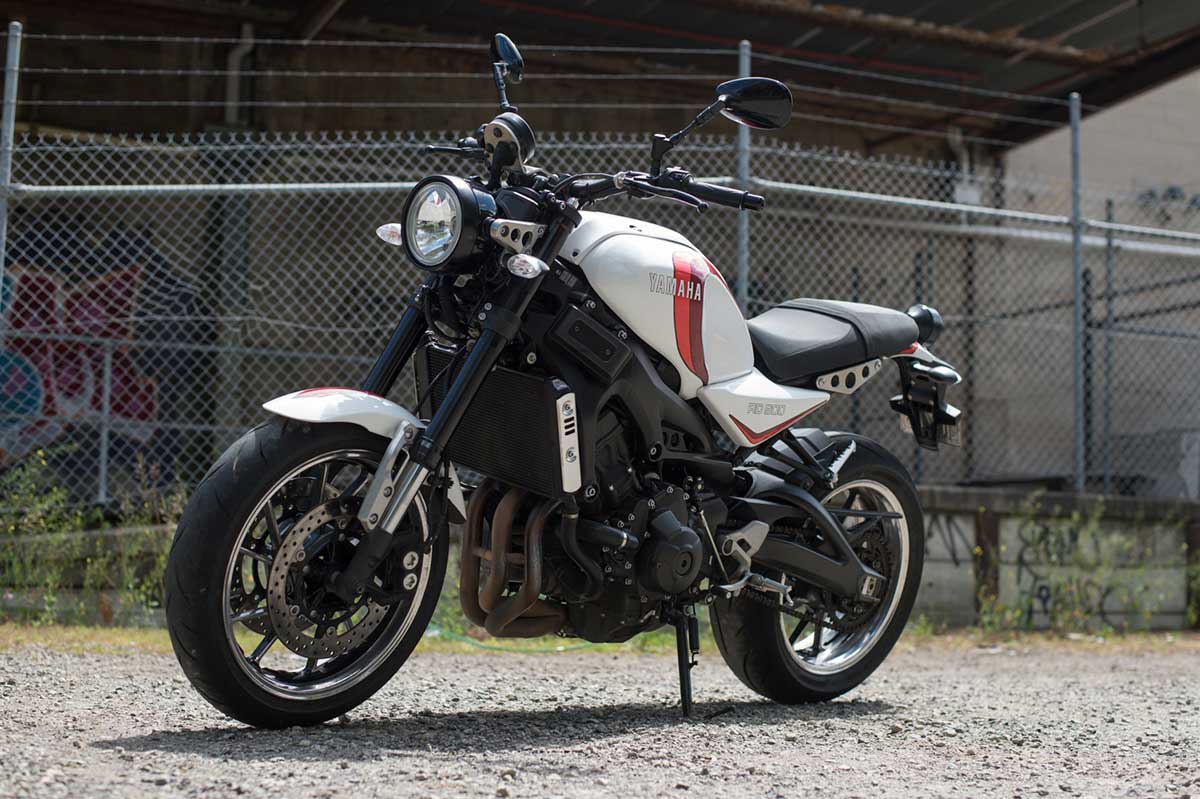 Yamaha XSR900 – THE GIFT THAT KEEPS GIVING
Perhaps the best thing about such an engine is that it's mated to a modern chassis. Other retro-styled bikes inevitably compromise on the frame – we all sadly know that twin shocks, traditional forks, and a single backbone design aren't the best for a truly sweet-handling ride. The modern set up means the Yamaha XSR900 tips quickly into corners and when a line is picked, the bike just stays there, glued to the road. No line too tight or too wide couldn't be corrected in an instant.
Around town, it's much the same. But with an important caveat – the traction control. Down here in suburban Melbourne our roads are lined with tram lines. Cunning things that help numb commuters get around and careless motorcyclists dump their rides. On more than one occasion when throttling across the tracks the traction control retarded the throttle and flashed up a warning on the dash. It's unnerving. I'd be half tempted to leave it off all the time – if I didn't have to reset it every time I got onto the bike.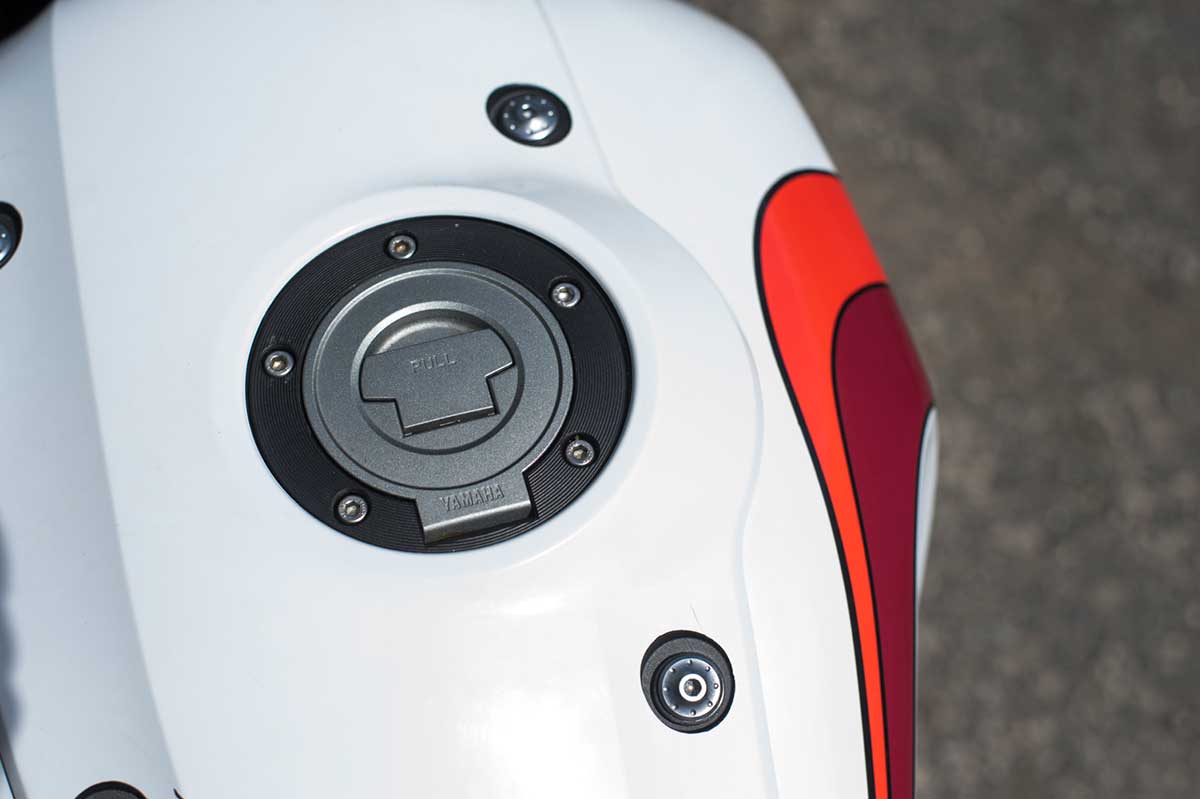 GET CHOPPING
So the XSR900 is a bike that absolutely hammers and handles beautifully. But if you're a regular reader of Return of the Cafe Racers odds are that you're not going to be happy leaving the bike stock. Besides the paint, our test sample has a small side cover that helps take some of the right angles out of the frame. It also had an Akrapovic exhaust fitted, which sounded nice but has me hankering for a sweet 3-3 stainless system that would help make it a real header turner.
Interestingly, the few heavily modified XSR900's out there tend to keep the standard single gauge. It's a real thing of beauty – it's crammed with information, easy to read and looks absolutely gorgeous. If something like this was available on the open market I'd be tempted to put it on a project bike, Yamaha or not.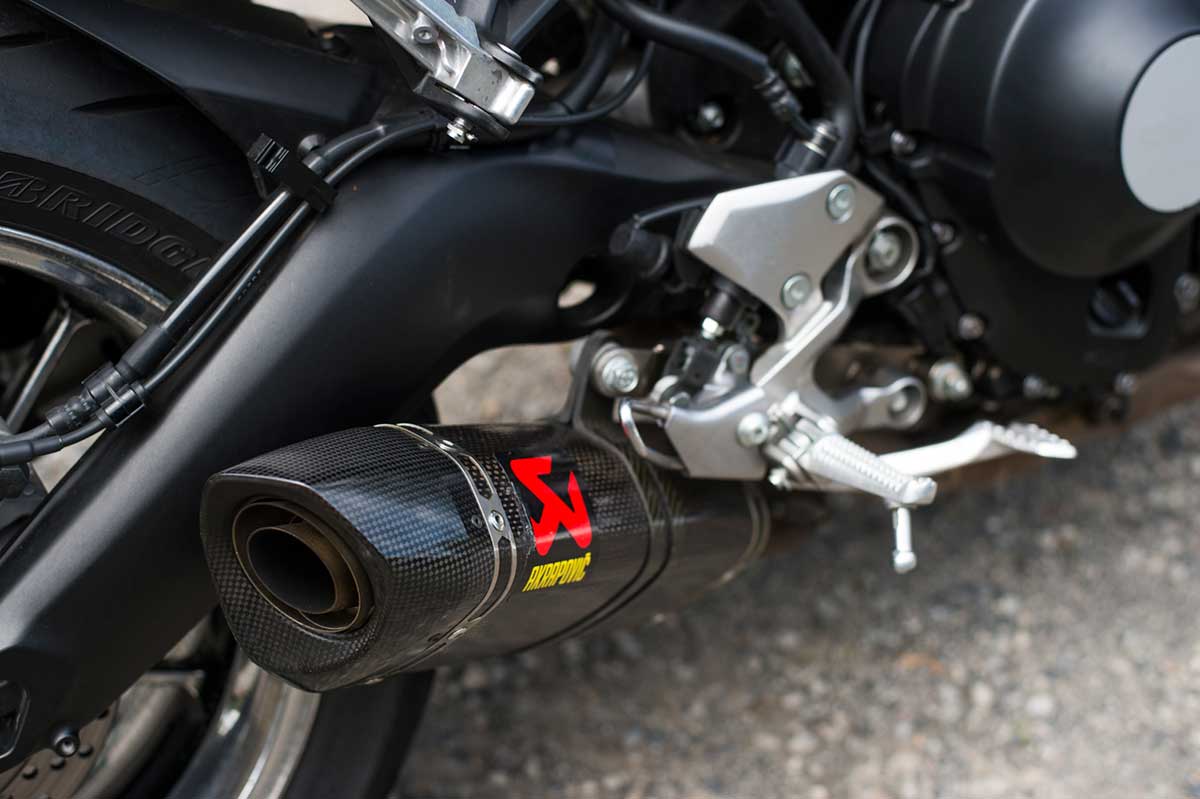 WHAT'S NOT TO LIKE?
For someone as picky as me I'm a little disappointed that the bike is so free of foibles. If I was to be particularly picky, I'd say I don't like that switching between ride modes is on an easy-to-access button on the handlebars but all the other functions (clock, tripmeter) require you to lean forward and press through buttons on the dash. If I was to be really, really picky… I'd say the side stand looks… a little thin?
That's the extent of criticism I can make of the bike. And the list of positives only start to expand when you look at actually owning one. With valve adjustments at 42,000kms, the service intervals are excellent but the news only improves when you look at reliability.
Hop on an MT09/XSR900 forum and go hunting for problems the owners have with their bikes. Their 'technical issues' sections are mostly reserved for stupid questions regarding indicators and blown fuses and people struggling to get an aftermarket fuel map to work. The rest of it? Tumbleweeds.
All told the Yamaha XSR900 is dead reliable, handles perfectly and has an engine that can go from daily commuter to snarling licence-loser in a twist of the wrist. And the best thing? It's $12999 AUD ($9,499 USD) plus on-road costs, with a two year, unlimited kilometre warranty. Find me a better handling, better-powered bike with throwback looks for anything like that amount of money. You can't.
Story by Marlon Slack / Photography by Fuel Tank