Sometimes techniques for overcoming adversity are found in unexpected places. Scott Campbell found the solution to his battling his demons in the form of a BMW R65. To help him through a challenging time Scott kicked off a build that would see him finalise a long term project in spectacular fashion. This BMW cafe racer represents the realisation of one mans dream and is a rolling reminder of how perseverance can really pay off.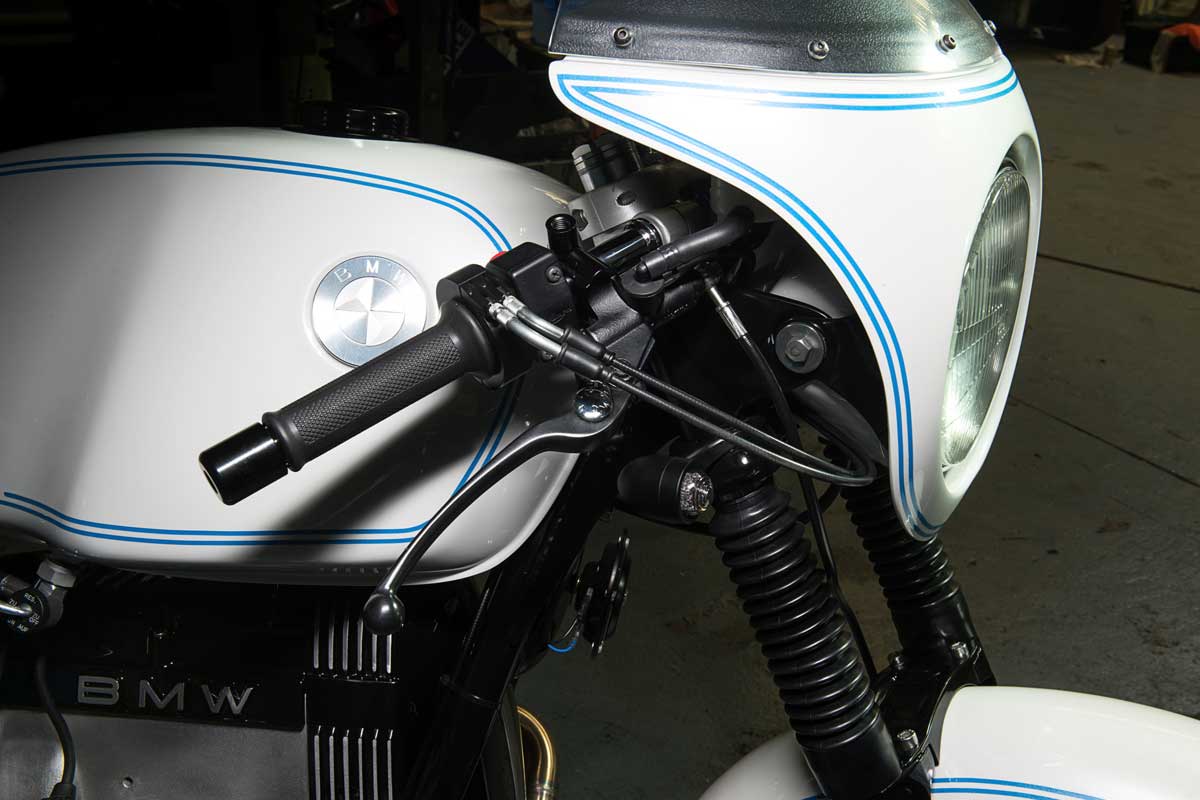 As a furniture designer by trade Scott's skill set includes metal fabrication. Sharing a workshop and tools with a group of friends he completes occasional one-off parts for other people's projects. This has lead to him working on all manner of bikes from Nortons to Harley Davidsons. His BMW project began 5 or 6 years ago when he purchased the '85 BMW R65 Mono on a whim. "I'd gone to look at another bike and bought this instead," Scott recalls. "I had the money in my pocket and was going home with a bike that day." Purchased locally from another rider Scott considers his BMW fortunate. "I remember the guy had several BMWs but had recently got into building trikes so I saved this bike from that heinous fate." After getting the bike home Scott clocked up a measly 1/4 mile in the saddle before swiftly dismantling it. Unfortunately, that was as far as he got.
Then in 2019 when he was looking for something to take his mind of things and his unfinished BMW project presented the perfect distraction.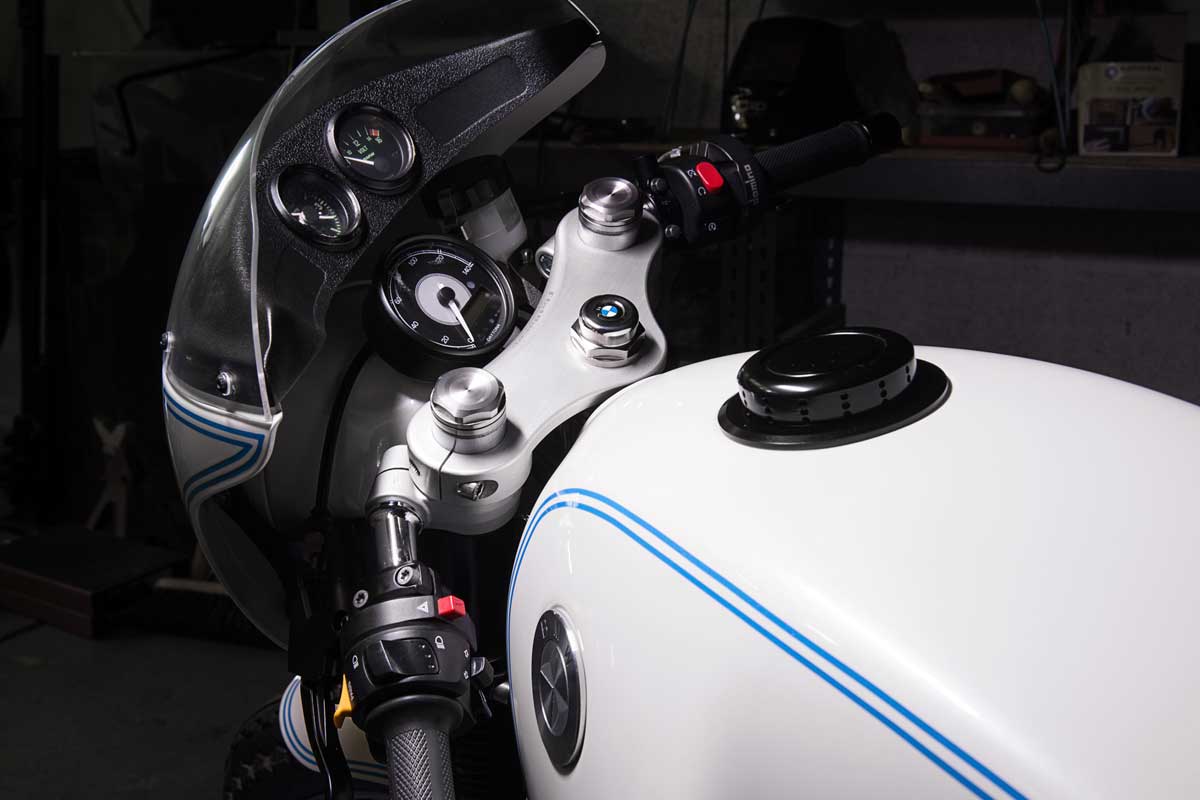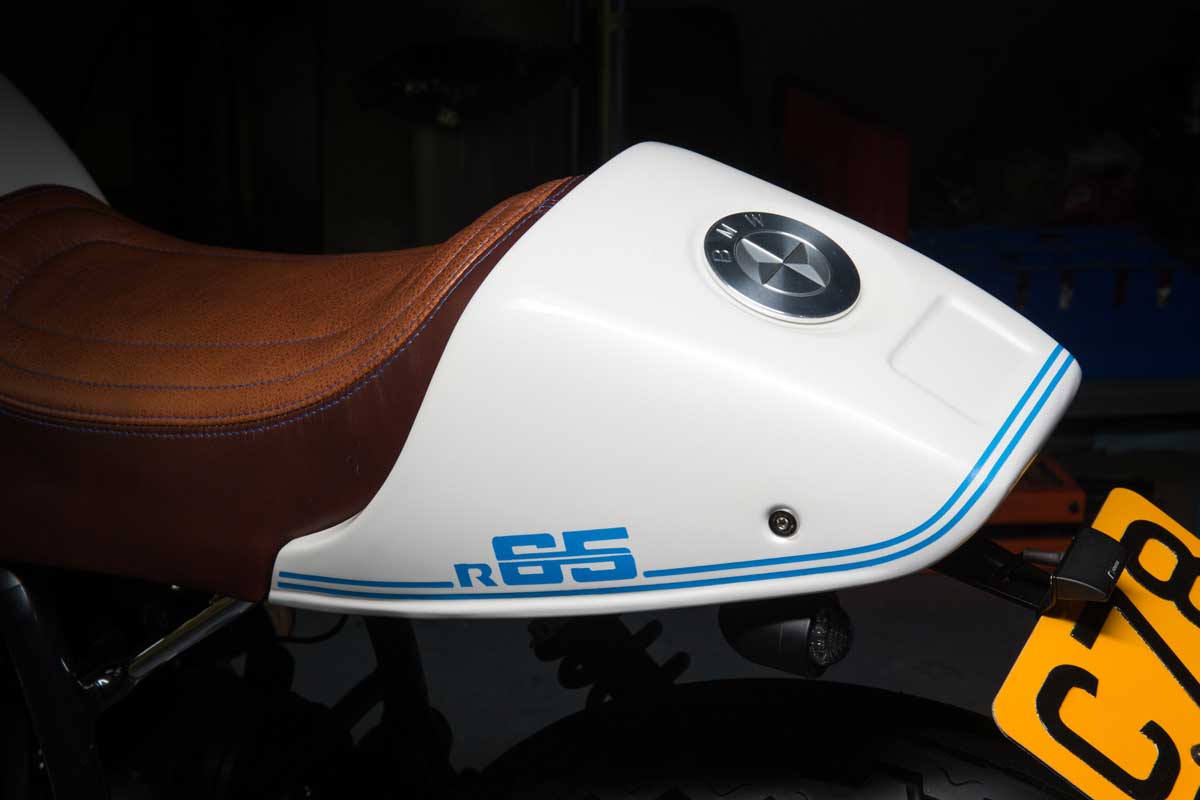 Scott's original goal was to build a bike that looked like something that could have rolled out of the BMW factory. However, when his interest in aftermarket parts increased the idea evolved into more of a resto-mod with a clear cafe racer connection. After the teardown, he got stuck into the frame, removing unnecessary brackets, trimming the rear, sandblasting then repainting it in classic gloss black. To support his proposed tail section Scott designed a bespoke subframe based off an R100RT unit. His new design uses a trellis layout for structural strength and includes all the brackets required for mounting the rear bodywork, taillight, wiring and seat. The whole unit was then chrome plated and bolted to the R65 frame using custom threaded mounts he welded onto the frame.
To compose a classic cafe racer body line Scott raised the rear of the R65 tank. Sloping slightly upward it connects perfectly with his custom seat which has been upholstered in two-tone leather with blue stitching. His rear cowl design functions as a storage space for small items or tools. The front bikini fairing is a remodelled BMW RS unit trimmed to suit its new home. To keep proportions tight the headlight bucket has been modified and a set of custom brackets, modelled off the original items, positions it closer to the frame. His headlight brackets are so close to the originals that they make use of the BMW seals and he cleverly made them shorter to leave room for a set of clip-on bars.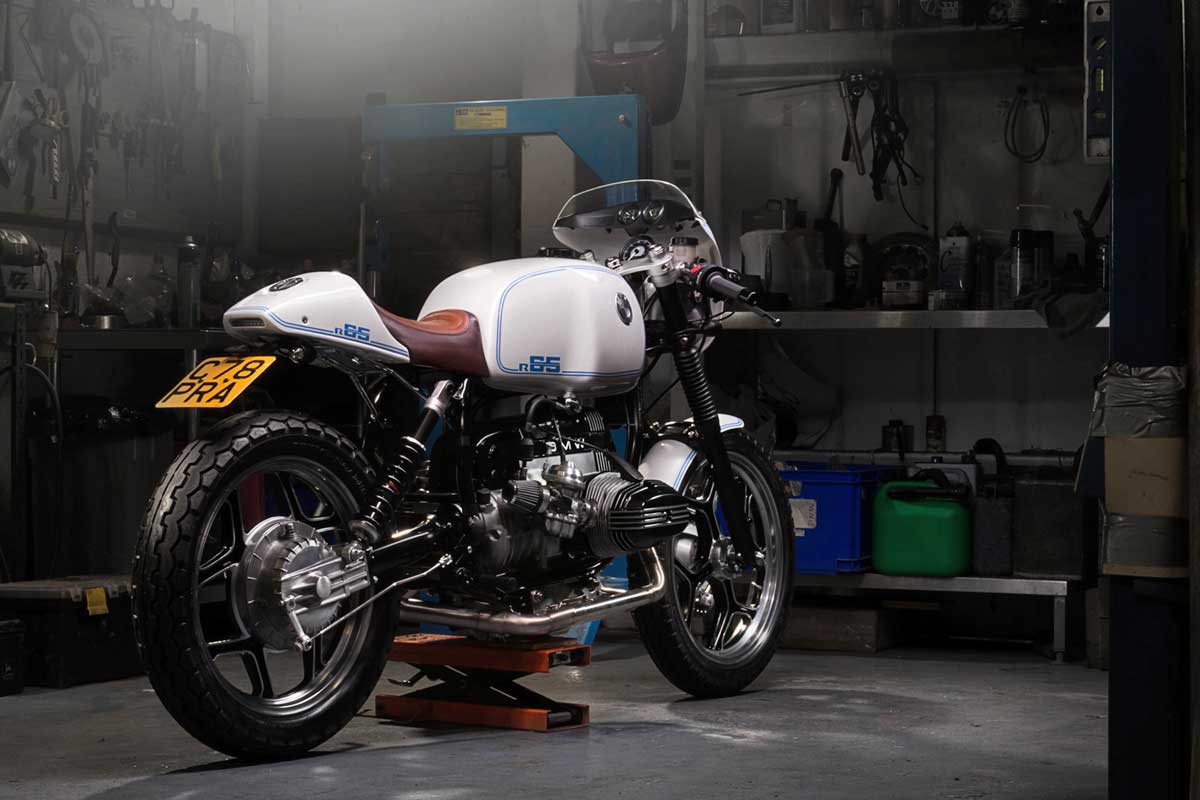 Mounted behind the windscreen is a pair of standard BMW gauges (clock and voltmeter). The new top yoke and stem bolt are aftermarket items from BMW experts Flatracer. Scott drilled and tapped the underside of the yoke to fit a bracket for holding the Daytona Velona speedo in position. Local machine shop Rebel Moto also worked up a fresh pair of fork top nuts to replace the tired original ones. Having clip-on handlebars was always high on the list of must-haves so Scott splashed out on a set of Tarozzi bars from Disco Volante. New brake lines, a Domino throttle, fresh grips and new switches complete the pristine cockpit.
While his R65 cafe racer was never designed to be a high-performance project, Scott still wanted to upgrade the bike's handling. This involved rebuilding the original forks using progressive internals and bracing the front end. For improved stopping power he's applied a common upgrade to the brake system by installing a rebuilt R1100 Brembo setup. This involved machining the calliper to get the correct offset and adding a new EBC disk. As for the wheels, they're the standard R65 affair, but Scott's dressed them by hand to achieve a fresh look. "I was inspired by one particular Ritmo Sereno cafe racer. I later learned this was how the RS version of these wheels were dressed," he says. "I vapour blasted them then hand polished the rims and spokes and had them painted black and clear lacquered." For a period look, he's wrapped each rim in Dunlop TT100 rubber.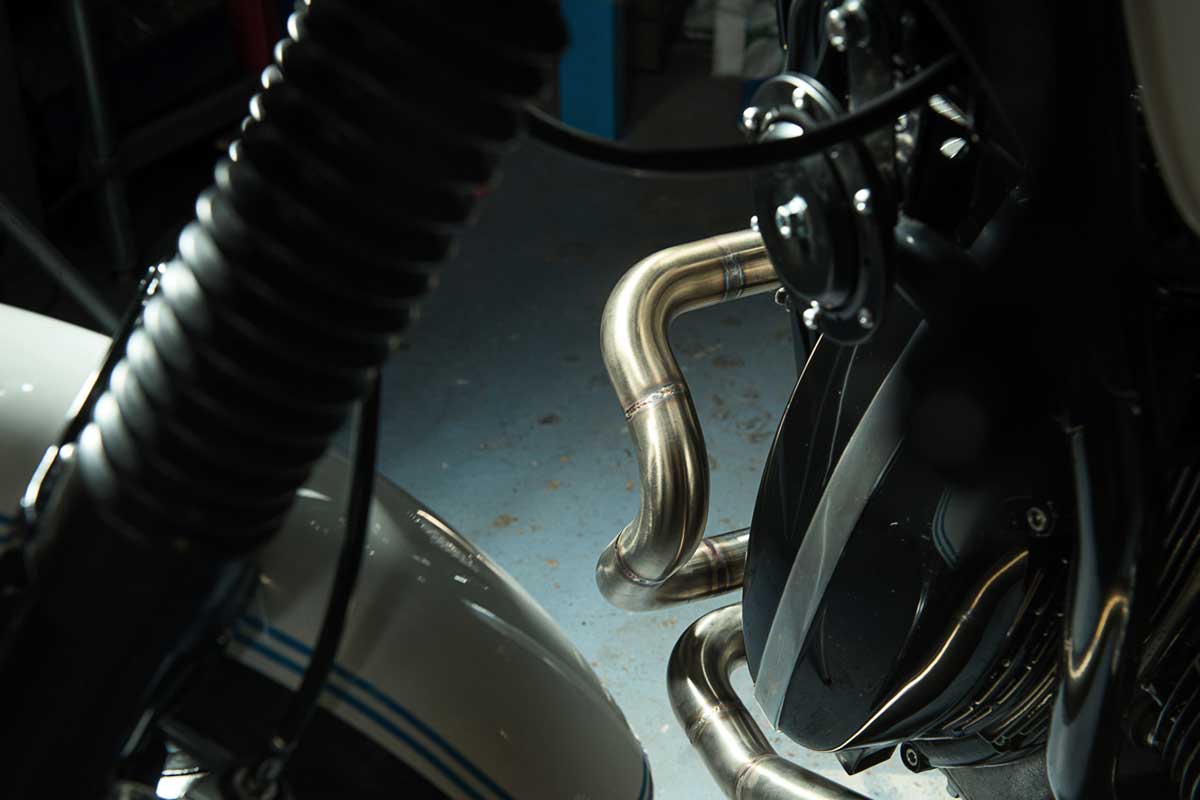 The extensive work continued with the electrics. Scott chose aftermarket black bullet indicators from Motone and added a Rizoma number plate lamp. An antigravity lithium battery and Ricks Motorsport reg/rec bring things up to modern spec and there's an entirely new loom built by Rupert at Rupes Rewires (you can read how that was done here).
A basic inspection revealed the engine was in good working order so only a few parts required replacement. The Bing 32 carbs were treated to a complete rebuild and fitted with K&N pod filters. To extract a few additional horses a stainless 2-into-1 system by NRP Exhausts in Nottinghamshire was also bolted into place. "The R65 isn't a hell-raiser, "Scott admits. "The 650 sounds good on the custom exhaust, it picks up well and the tyres surprised me. It steers lovely." Scott also tells us there are plans for future performance upgrades which will involve an increase in capacity using a Siebenrock kit.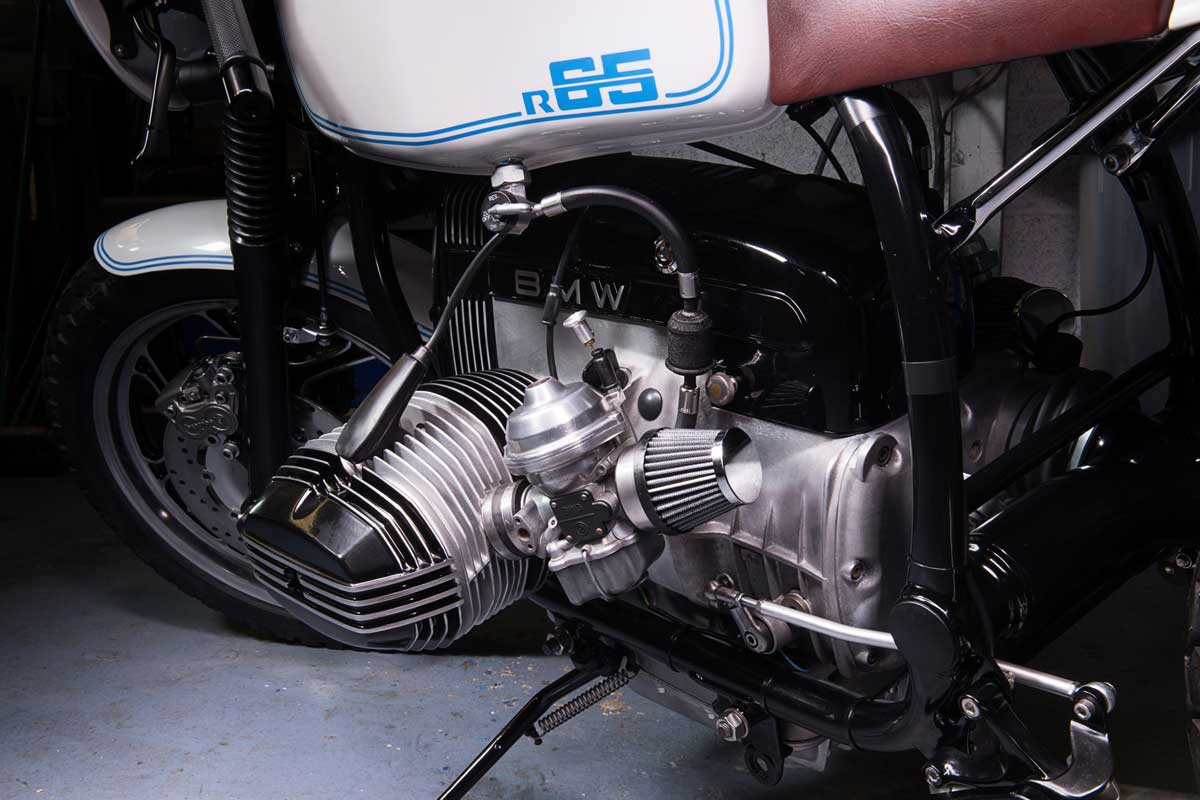 To complete the look of his resto-mod BMW R65 cafe racer Scott laid out an '80s inspired scheme on his computer. This was then applied to the bodywork by local craftsman and friend Tom Kruger-Dean at Nene Valley Body Repairs. The pearlescent white and blue pinstripes are an inspired addition to this build but the icing on the cake would have to be the striking machined alloy BMW roundels that Scott sourced from Ex-motorcycles in Italy.
Photography by John Owen