It's been less than 6 months since we featured the Le Bouterollier BMW R60/7 and Jean-Pierre is back with yet another impressive build. Once again the Frenchman has opted for a bike from his favourite Bavarian brand in the form of a 1980 BMW R65. What has changed though is his design direction. Rather than building another "typical" cafe racer, Jean-Pierre opted for a slightly more practical approach to create a machine that could be enjoyed by more than one.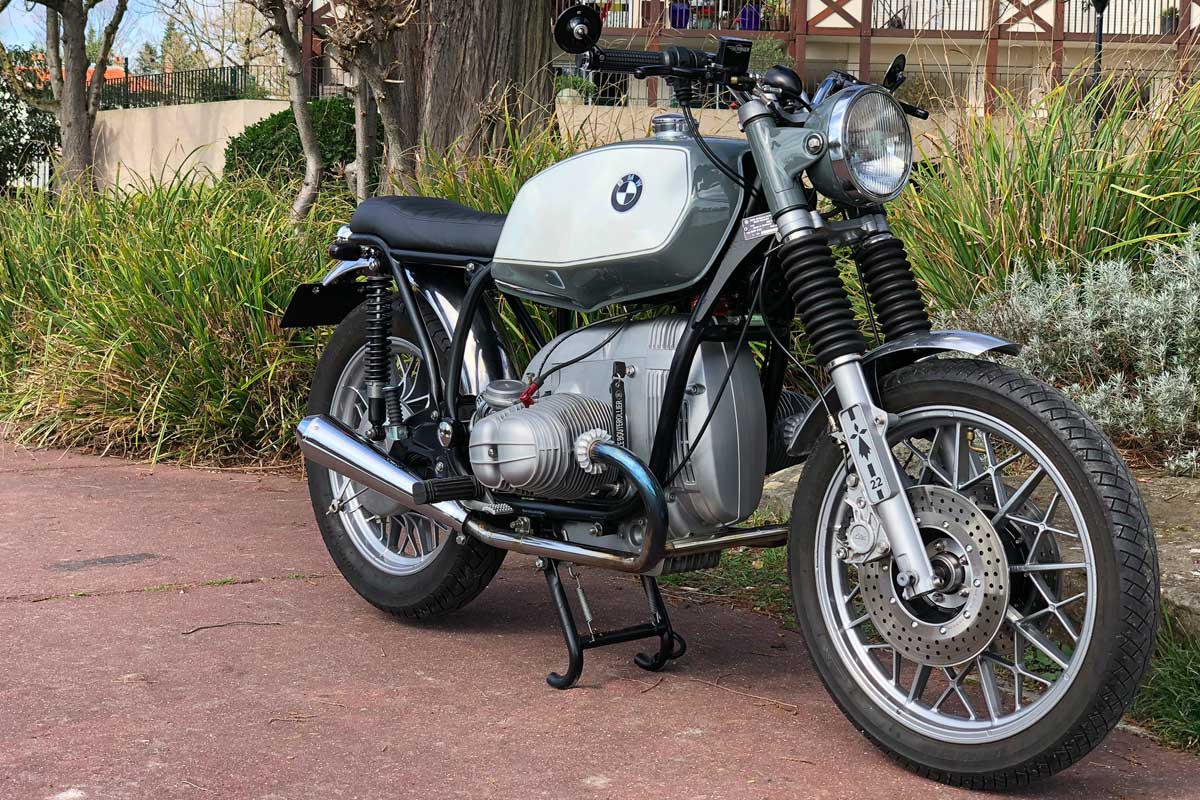 Jean-Pierre's goal was to build a bike that was more discreet than his R60 cafe racer but still captured the vintage aesthetic he loves. Most importantly it had to have room for two so he could take his wife or daughters on the occasional two-wheeled adventure. This inevitably meant that the donor would have to be comfortable and reliable so the decision to go with a BMW was an easy one. "I wanted to apply the same method I used for the R60/7 to this build," says Jean-Pierre. "That meant a full disassembly, refreshing all the parts, adding a few high-end components and a classic paint scheme." But no sooner had he finished sketching his idea did his plans go out the window.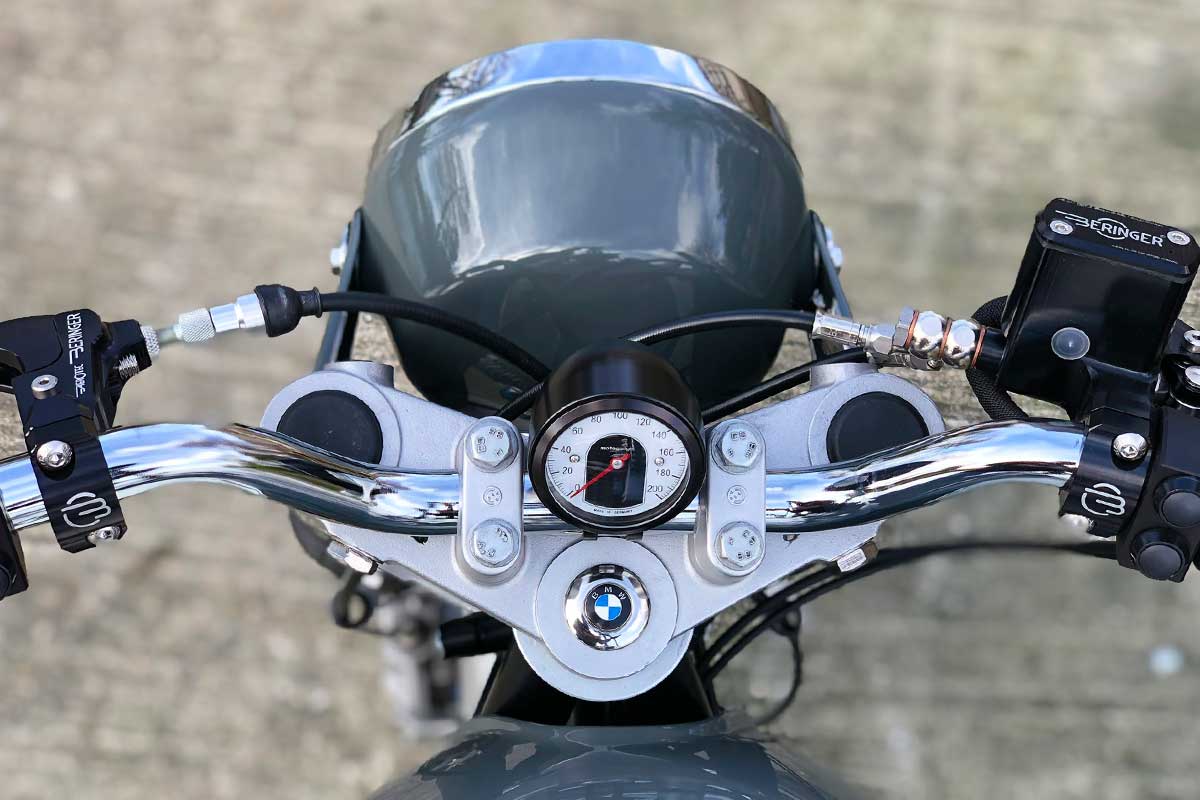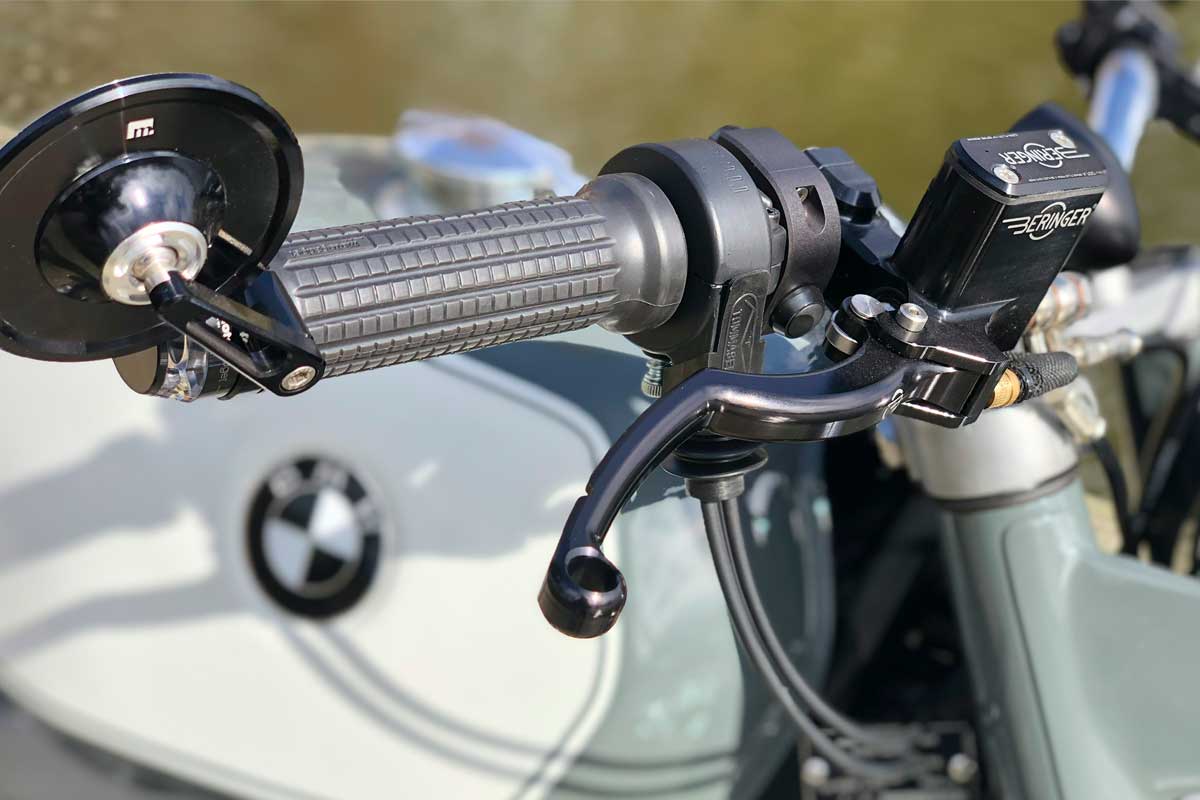 After acquiring the donor for the project Jean-Pierre's a good friend, Yannick dropped by his workshop. Yannick, a self-confessed auto/moto addict whose collection includes a Lotus Eleven, Ford Lola T90 and a modern Triumph Thruxton (to name a few), spied the Beemer sitting in the workshop and professed his love for the boxer engine. After sitting on the BMW R65 and pawing over Jean-Pierre's sketches Yannick was soon convincing him to build the bike for him instead. Before he left that evening Yannick had put down a deposit and Jean-Pierre's goal to build a bike for himself was put on ice. After all, any good business owner should know a paying customers needs should always come first.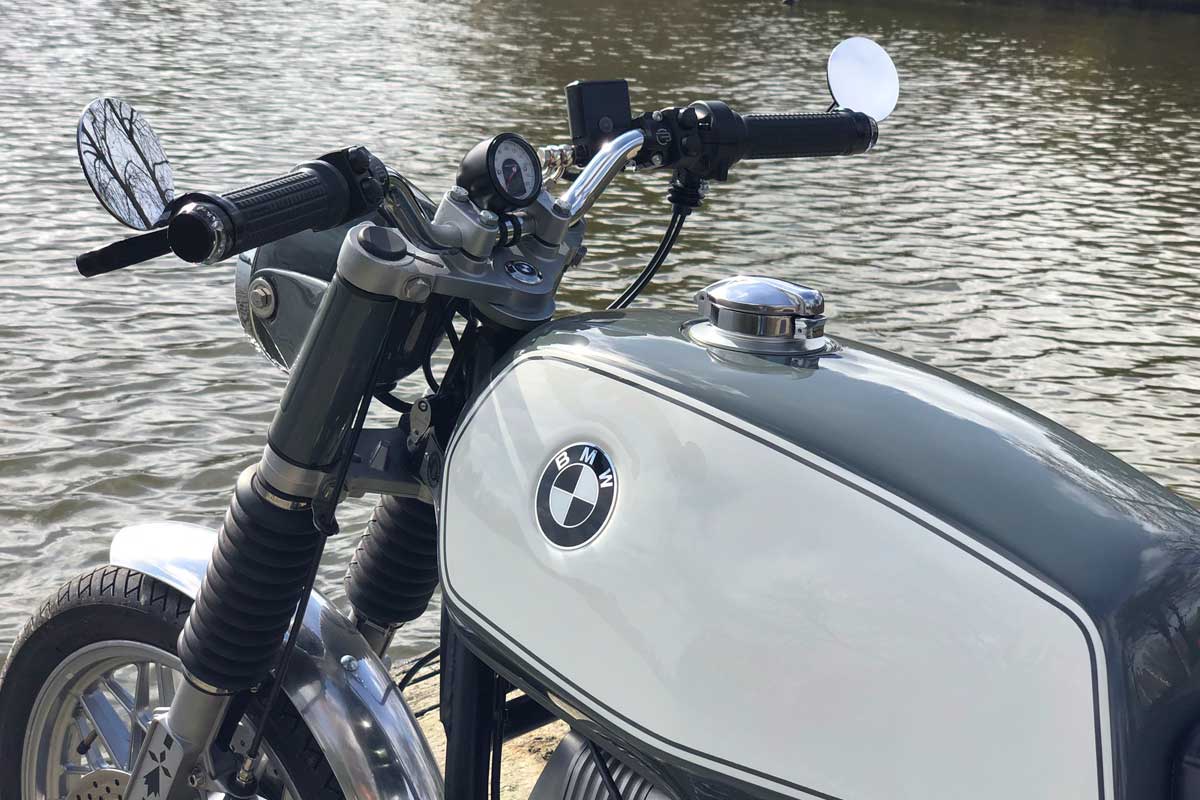 Jean-Pierre had done his homework when acquiring the donor for this project. He had managed to secure a BMW R65 which had undergone a significant engine overhaul. The previous owner had recently modified the engine to make it compliant with SP98 fuel which included the installation of fresh pistons and some maintenance work on the crankshaft. But that didn't mean the engine was left completely untouched. To ensure the bike's reliability Jean-Pierre completed a full service and tune. Work included replacing consumable parts, dropping in new oil and adjusting the valves. He also refurbished the carbs before tuning them to suit a set of conical K&N filters and free-flowing mufflers. With the engine work taken care of Jean-Pierre turned his focus to cleaning up the exterior and fine-tuning the bike's new look.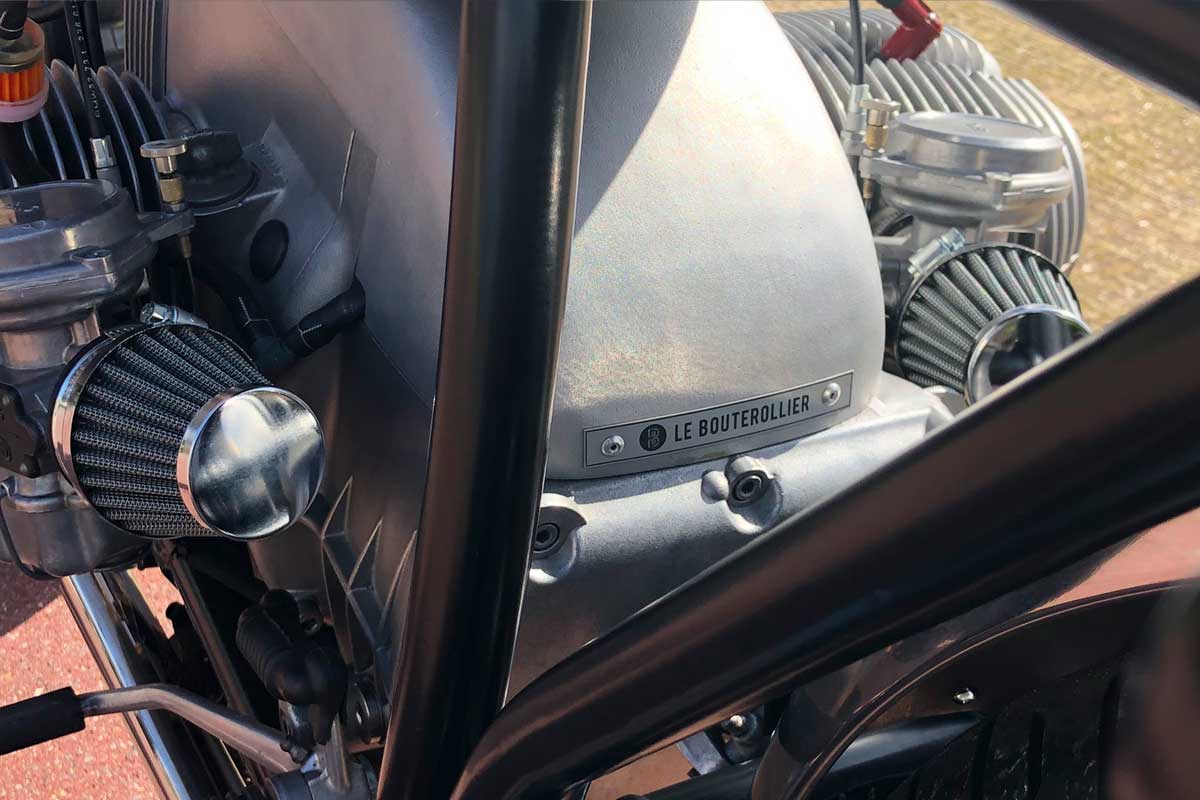 "Every part that required it, was either sanded or polished. Yannick did some of the work as he wanted to be part of the building process" recalls Jean-Pierre. "My good friend and new addition to the Le Bouterollier team Bernard was also there through the whole project contributing his skill and knowledge to help achieve this outcome." Of the work done to the frame, the most extensive was at the rear. The R65's new subframe is completely custom with a slight kick at the back to allow for a practical rear fender. Jean-Pierre's go-to upholsterer, Christine Sellerie, built the new seat which can comfortably carry 2 and it bears an embroidered BMW emblem for a touch of elegance.
Next came the wiring, which you will note there appears to be a distinct lack of. This is the result of countless hours of work rerouting everything out of sight. The wiring itself is all-new too and it's centred around a Motogadget M.Unit Blue. Motogadget also provided the majority of electrical accessories on the bike including a wireless M.button ignition, bar-end M.blaze turn signals and a Motoscope Tiny gauge. Power is provided by a lithium battery and the charging system received an upgrade in the form of a Boyer Bransen electronic ignition module.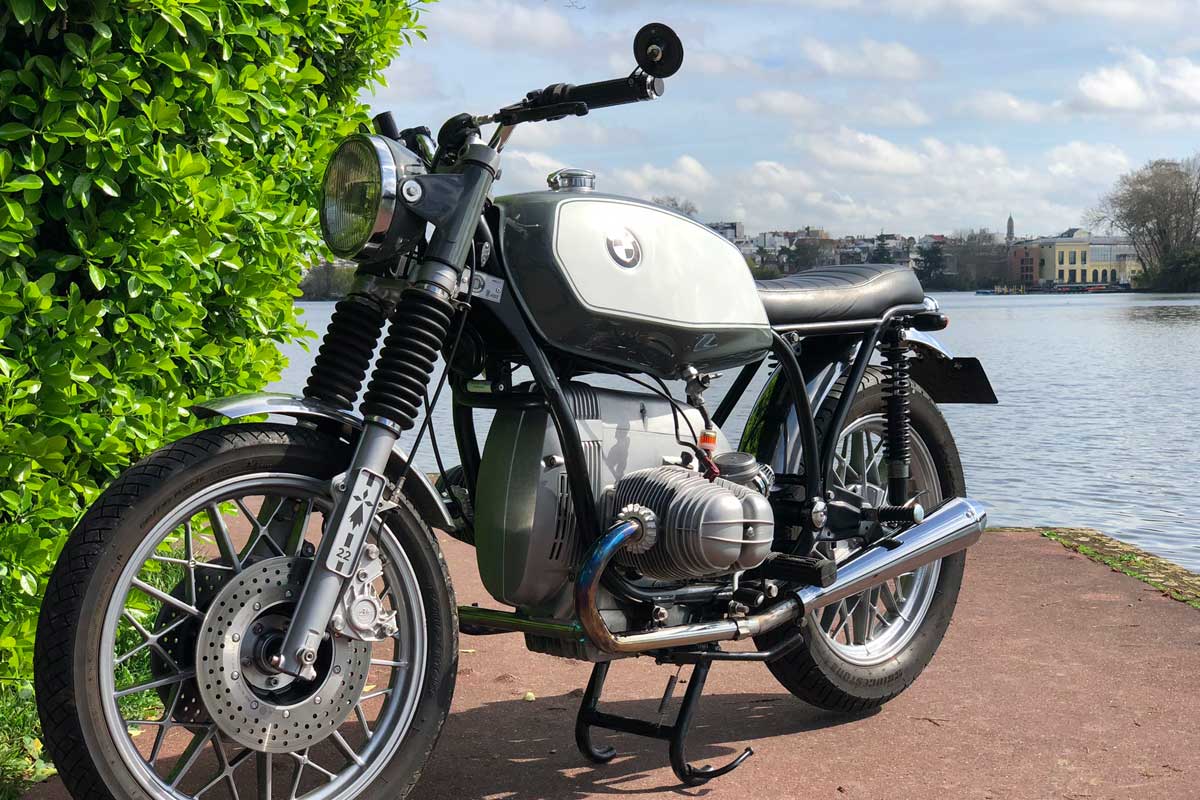 For handling improvements, the BMW R65 forks now run Progressive springs and the stock shockers have been swapped for suitably styled Hagon road A units. Beringer provided updated brake and clutch controls and fresh stainless lines connect everything together. As for the wheels they are the original R65 items refurbished using silver epoxy paint. The fuel tank is an original R65 item as well and it's sporting a Monza filler cap to amplify the bikes vintage feel. Jean-Pierre has taken the bikes timeless look even further by adding a classic BMW handlebar, Tomaselli throttle, retro Motogadget mirrors and grips and Bihr vintage look rear lighting.
"Yannick was an essential part of how this project turned out," says Jean-Pierre. "We were in agreeance on the paint direction from early in the project, both wanting a look that was vintage and discreet." Their idea translated to a timeless grey and cream two-tone scheme that is perfectly suited to this understated build.
The Le Bouterollier BMW R65 is the kind of project that makes no attempt to draw attention to itself, yet inevitably it will get no shortage of it. Subtle touches like the laser-etched Le Bouterollier badges and handpicked aftermarket parts give it the look of a concourse restoration rather than a custom build. For that, we must once again applaud Jean-Pierre's efforts.
Shop This Look
| | | |
| --- | --- | --- |
| Image | Product | Buy Now |
| | M.Blaze bar end indicators | |
| | Motogadget M.Unit | |
| | Vintage style lighting | |
| | Motogadget handlebar grips | |
| | Motogadget Motoscope tiny guages | |
| | Bar end mirrors | |
| | Vintage look mufflers | |