Experiences from our youth can have a profound effect on what we do later in life. For Jean-Pierre, it was time spent with his father on their BMW R60/7. Despite pursuing a career in IT later in life, Jean-Pierre's passion for motorcycles never left him. So in late 2017, he decided to do something about it. He signed up for a 3-month motorcycle mechanic training program to hone his technical skills. Then, with a crisp graduation certificate in hand, he made the big jump from IT professional to custom bike builder by opening his workshop, Le Bouterollier. Twelve months on Jean-Pierre successfully divides his time between IT Consulting and building motorcycles. Of all his work to date, his latest custom creation is the one he is most proud of. It's a project inspired by his father's bike and the first cafe racer to roll out of his workshop. This is the Le Bouterollier BMW R60/7 cafe racer.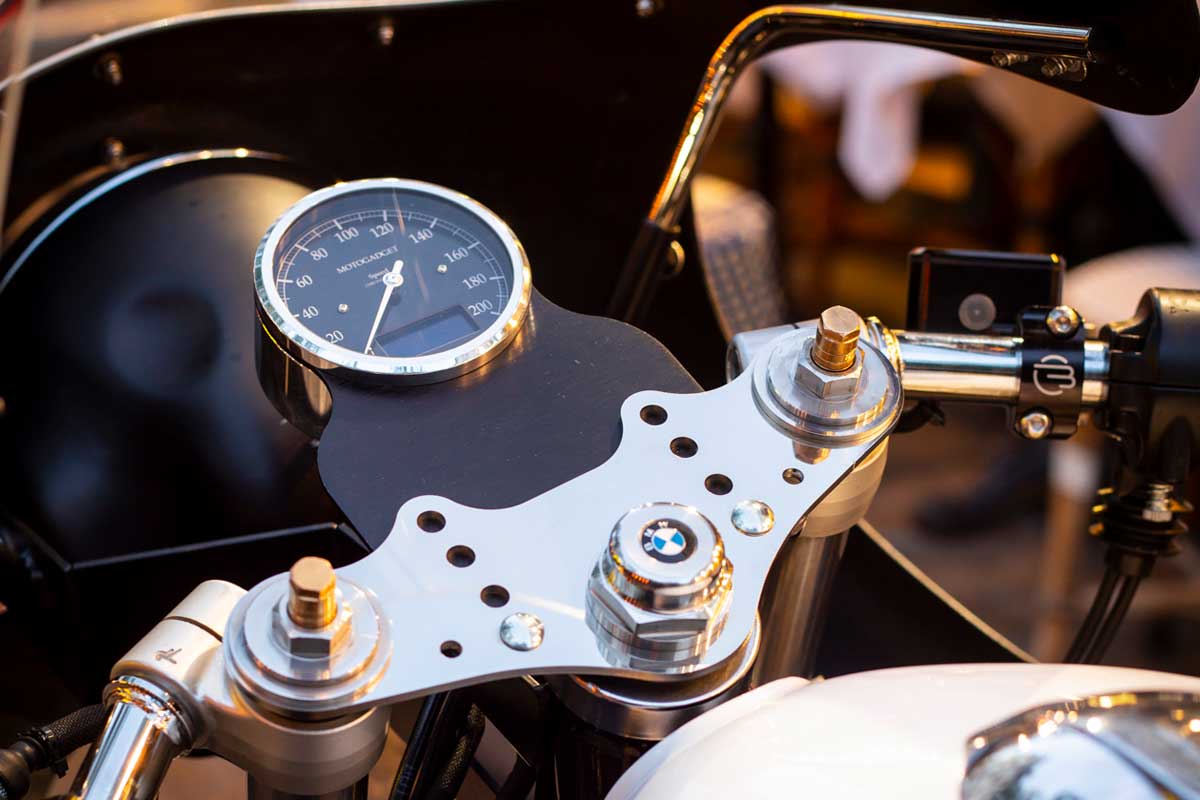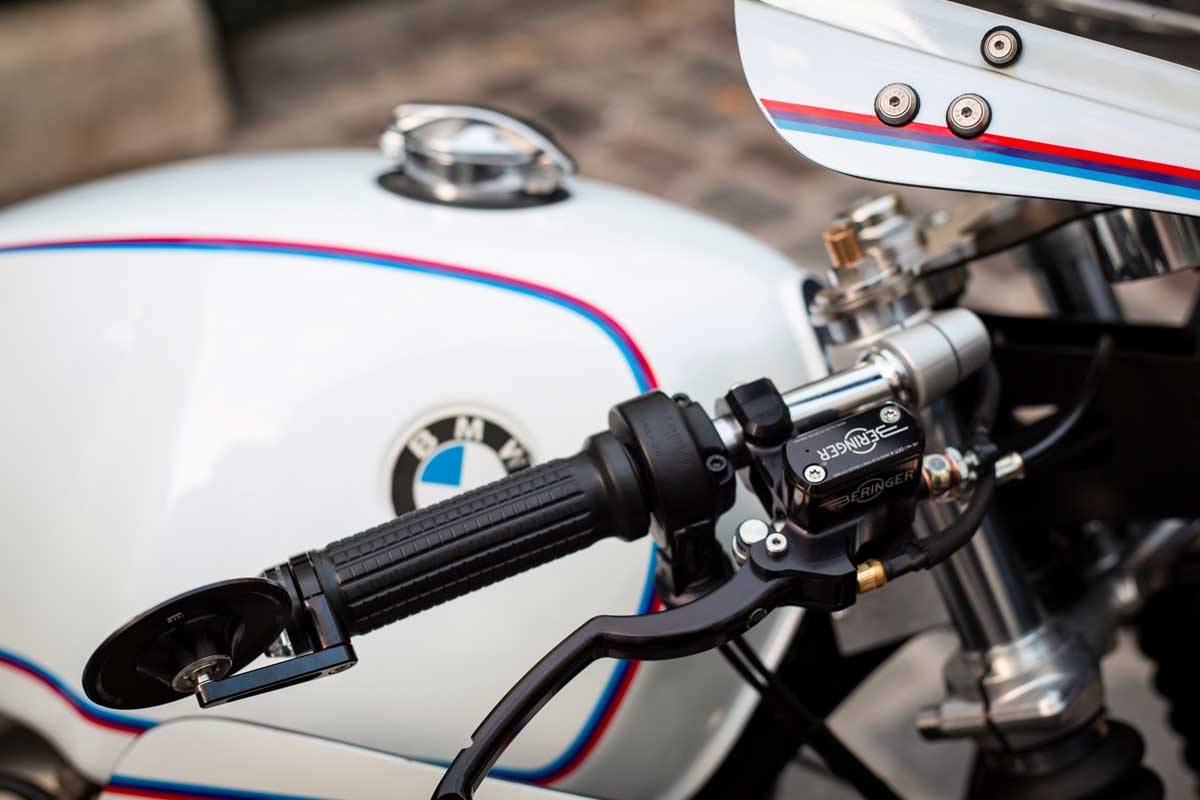 Prior to opening his workshop Jean-Pierre's experience with motorcycles wasn't limited to sitting on the back of his dad's Beemer. He's a seasoned rider with years of experience navigating the streets and race tracks of Europe. His knowledge of handling and performance comes from time on the track and he applies it to every project he undertakes. So although his BMW cafe racer has clearly been built to look good, nothing was undertaken at the expense of performance.
The project started with a stock 1977 BMW R60/7. To get the bike performing its best things kicked off with a complete engine overhaul. Along with thoroughly cleaning its exterior the internals of the engine were carefully measured and adjusted. It was then rebuilt using only original BMW parts. Jean-Pierre wanted the bike to be reliable so the engine's internals remain essentially stock. Performance improvements would come instead from tweaks to the bike's fueling, weight, and handling.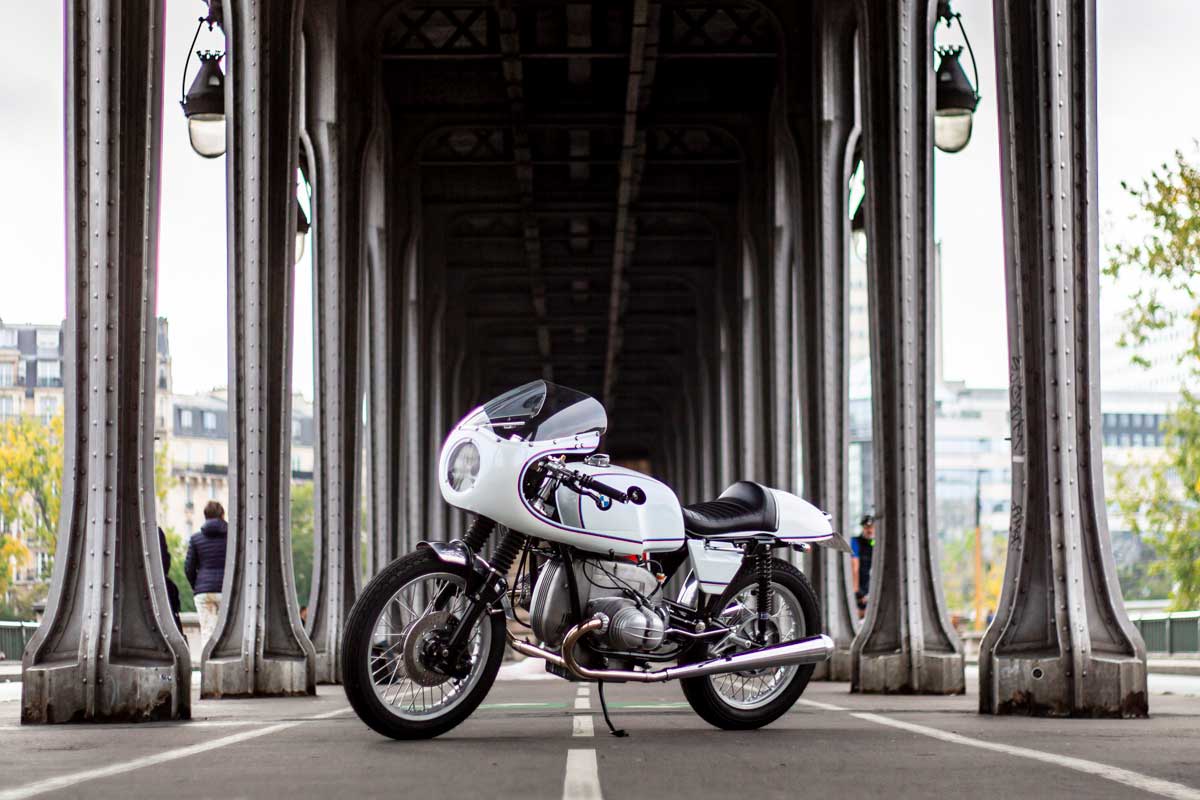 Once the engine work was done attention was turned to fueling. The retuned carbs now breathe freely through K&N filters. At the opposing end of the combustion cycle are Daytona style mufflers hanging off a fresh set of stainless steel headers. Next, he set about shedding weight. This meant either removing or replacing bodywork and doing away with redundant items like the airbox. For his replacement body parts, Jean-Pierre wanted quality made, proper fitting components so he looked to aftermarket airhead experts, Flatracer. From the Flatracer catalog, he sourced an R2v Monza fairing based on the Ducati bevel fairings of the seventies. The new tail section and seat is a Spandau kit modeled off a '70s Knoscher design. The fuel tank, however, is the original item, but it was given a classic racing touch by installing a Monza style filler.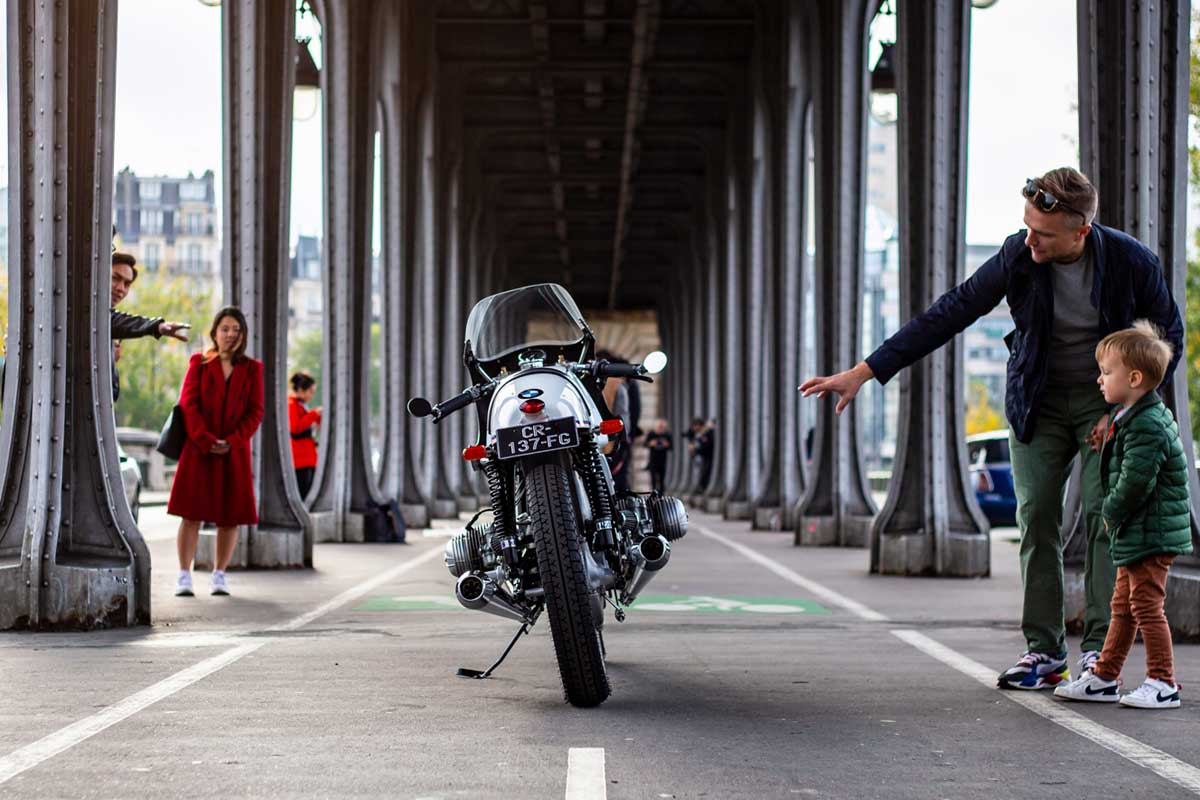 During the rebuild, Jean-Pierre also performed a complete overhaul of the BMW's electrical systems. The R60/7 cafe racer now runs an extensive list of components from two-wheel electrical experts Motogadget. The whole system runs off Motogadget's latest Bluetooth enabled M.Unit. A keyless M.lock ignition stashed out of sight removes the need for a key and an M-Button helps reduce wiring to a minimum. M.Pressure units allow the rider to monitor tire pressures via their phone and the cockpit has been reduced to a single Motogodget Chronoclassic dial. For a lightweight spark, the electrical system is powered by a lithium battery. And finally, the ignition has been swapped for an electronic Boyer Brandsen system.
Handling was another key component in Jean-Pierre's cafe racer recipe. He's put together his ideal set up by upgrading the fork internals using Progressive components. Meanwhile, out back there's a set of Hagon Road A shocks that look and perform perfect for this application. Stopping power has also been dramatically improved with the use of Berringer items.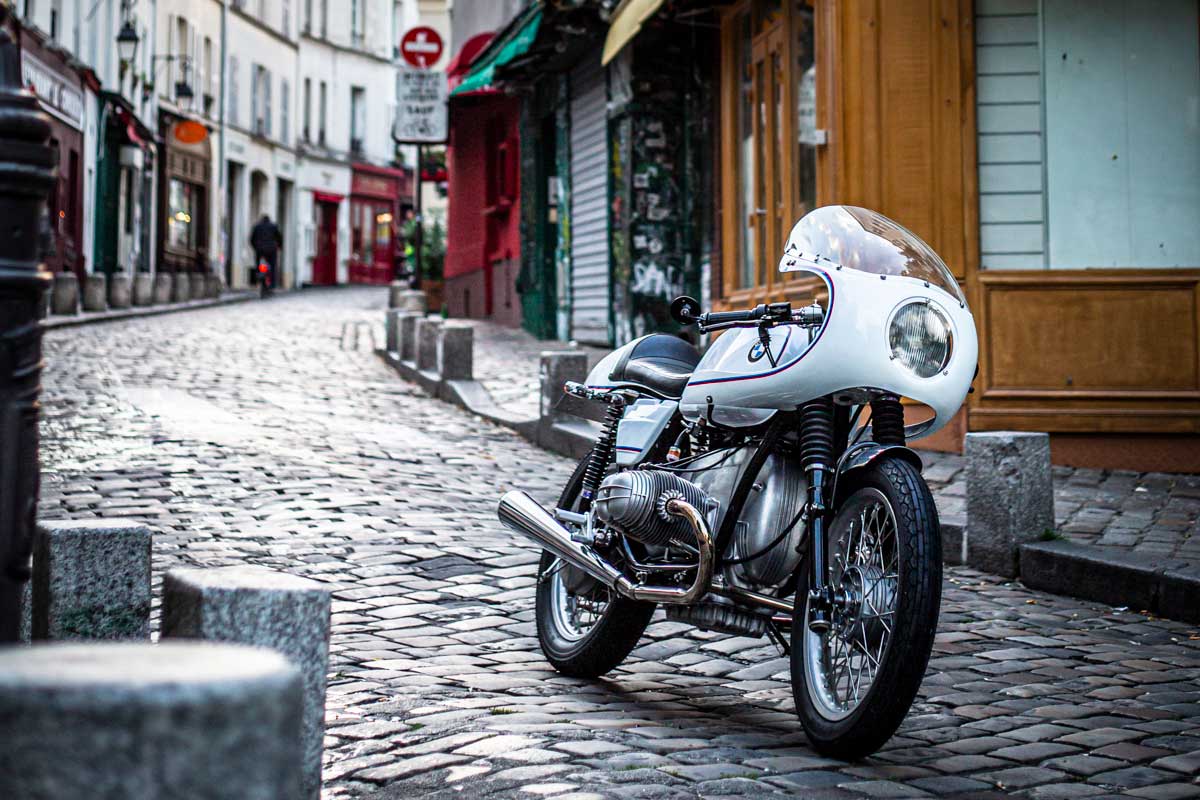 To fine-tune this BMW R60/7 cafe racers look there's also a selection of carefully selected accessories. The bar end mirrors are Motogadget M.View Spy items that have been paired with M.Grips and M.Blaze bar-end indicators. The rebuilt wheels wear short alloy fenders and the handlebars and foot controls hail from Tarozzi. As for the paint, one of the only tasks Jean-Pierre didn't do himself, he says "I wanted something classic but noticeable, so I choose a deep and shining white with a little blue pearl which is visible under the light of the sun. I included the strips of BMW Motorsport as a tribute to the race division of the brand."
All up the Le Bouterollier BMW R60/7 cafe racer took more than 340 hours to complete. The result was clearly worth every second.
Photography by Sotha Ith