This isn't the first time we've featured a BMW cafe racer that's been put together by a BMW car enthusiast. Marek Kruszynski's transition from 4 wheeled to projects to 2 came about when he decided after a 23-year hiatus to return to riding. Seeing as his life was already consumed by the Bavarian brand it was only natural his return to motorcycling should be atop a BMW.
While researching his options Marek stumbled on the Cafe Racer Bible by the Lourenço brothers. The Bible contains 105 pages of detailed instructions on how to build a BMW K100 based cafe racer. It also comes with 3D files that can be used to fabricate a custom horizontal monoshock rear end giving Marek all the incentive he needed to kickstart his project.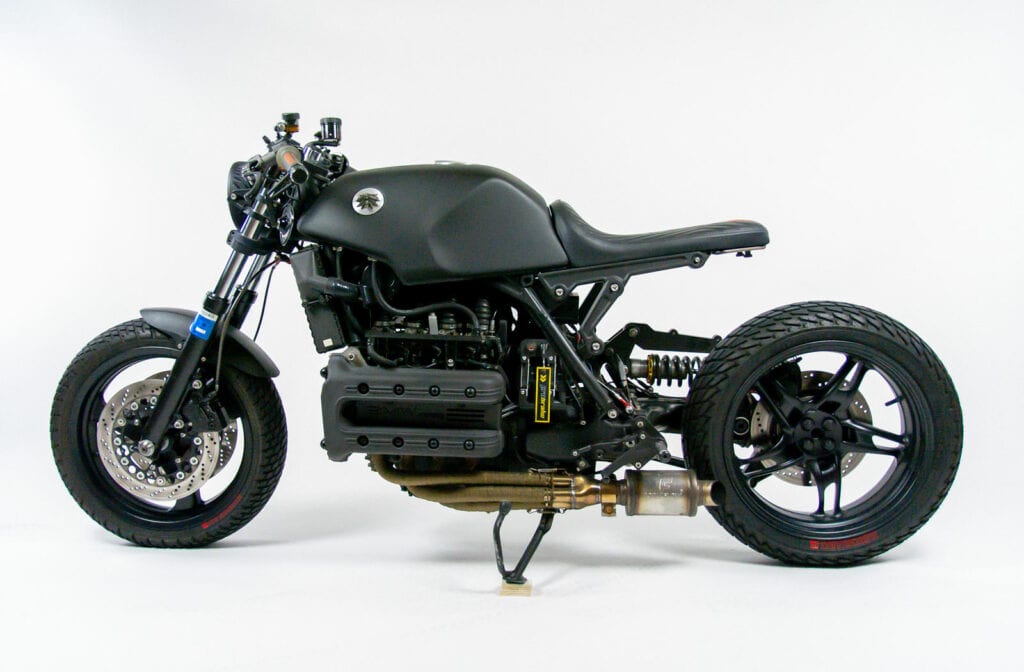 First up he required a donor bike. His search resulted in the purchase of a '93 BMW K1100RS and he didn't waste any time getting started.
"I cut the original frame and modified it to fit the custom made aluminium parts that support the seat, horizontal suspension and a NITRON shock," says Marek. "The whole assembly was then powder coated at my friend's shop The Powder Touch here in New York. I designed and fabricated the seat pan and upholstery to cover the new saddle too."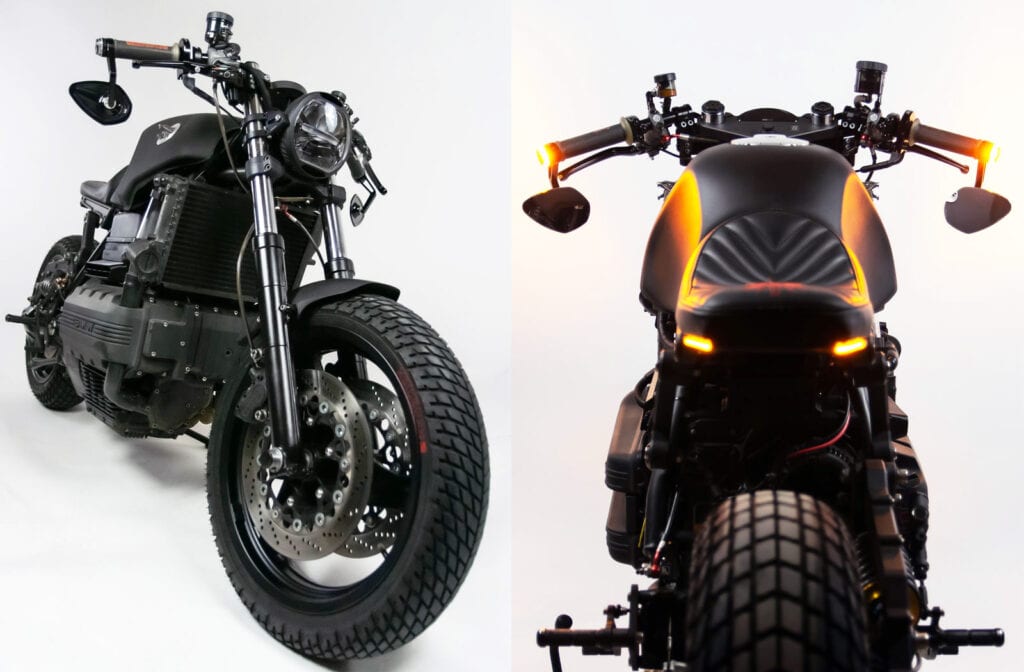 After removing the factory handlebars Marek wasn't happy with the look of the empty mounts on the factory top clamp. "I designed my own triple tree clamp to fit the Motogadget Motoscope Pro and a dual colour gear indicator display," he says. "This was then machined in alloy on a CNC by Dixer Parts in Poland."
While upgrading the electronics of the bike Marek also did away with the BMW's stock lighting. His K1100RS is now running the latest in LED lighting solutions. Up front you'll find a Thunderbolt headlight by KOSO. The bar-end turn signals are Motogadget units and rear-end lighting duties are fulfilled by Radiants LED strip lighting.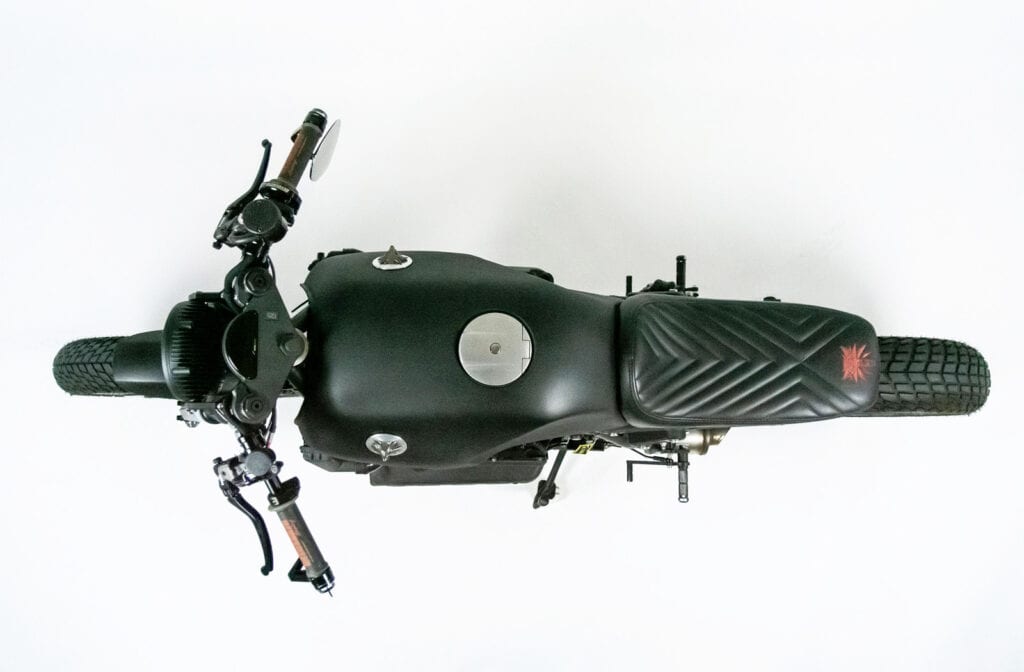 To complement the new top clamp assembly and his cafe racer theme, Marek's K1100RS is running ABM fully adjustable clip-on handlebars. The new switchgear comes courtesy of Rebelmoto and he's added a quick throttle assembly from Accessato. Next up were a reliability and longevity improvements.
"I rebuilt the engine and upgraded the injectors to multipoint. I applied armour black Cerakote to all of the aluminium parts including the new triple tree clamp,  BSK Speedworks footpegs, brake callipers and engine covers. I also rewired the whole bike and installed a Motogadget m.Unit Blue to power the lot. Everything is running off a lightweight Shorai battery hidden under the seat in a billet aluminium tray."
As is usually the case, once Marek started adding a few components he descended deep into the Motogadget rabbit hole. Along with the m.Unit and Motoscope Pro gauge his bike is running a Motogadget m.Button, Breakout Box and their latest glassless m.View bar-end mirrors.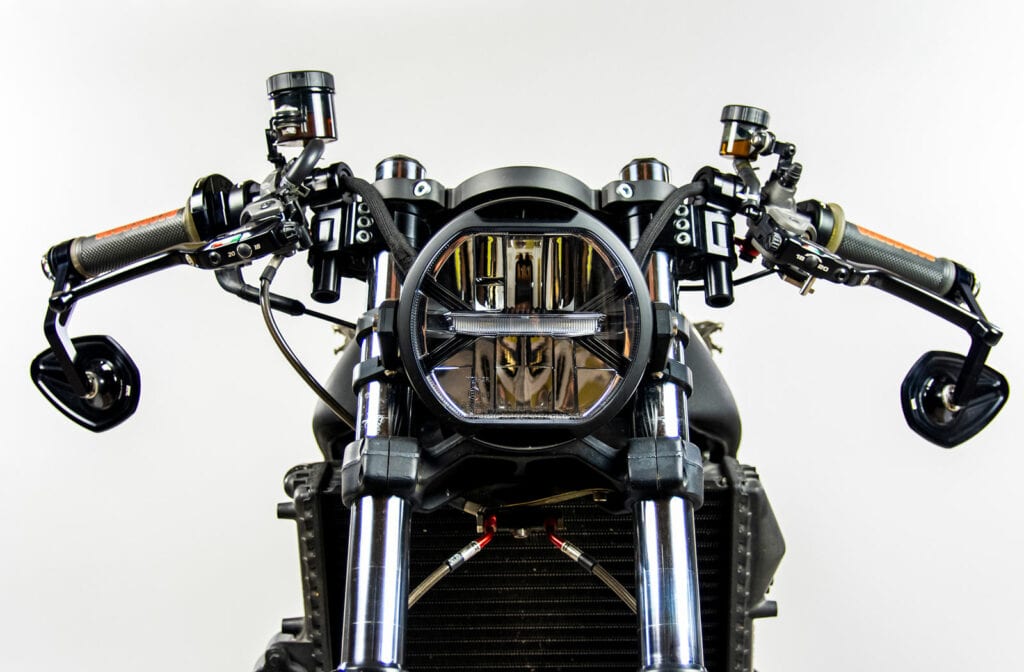 As for performance improvements Marek reports that "The modified exhaust of my K1100RS uses a car muffler which produces an incredible sound. The clutch has been converted from mechanical to hydraulic for easier shifting and I set it up using a Brembo 19mm RCA radial clutch master cylinder and Frando 11NBL slave clutch cylinder. All of the bike's hydraulic hoses were custom made by Pro brake GmBH in Germany." Marek also made additional improvements to the handling by installing a K1200 rim in the rear and wrapping both wheels in Heideanau K73 rubber.
Despite the work Marek put into upgrading the inline-fours fueling and exhaust, the biggest improvements in performance come from a reduction in weight. The Sports Touring BMW K1100RS wore extensive bodywork which didn't suit his cafe racer theme so everything aside from the bikes alloy fuel tank was stripped away. Marek also replaced the first-gen ABS brake system with a newer, lighter alternative. All up these changes resulted in a whopping 50kg drop in weight.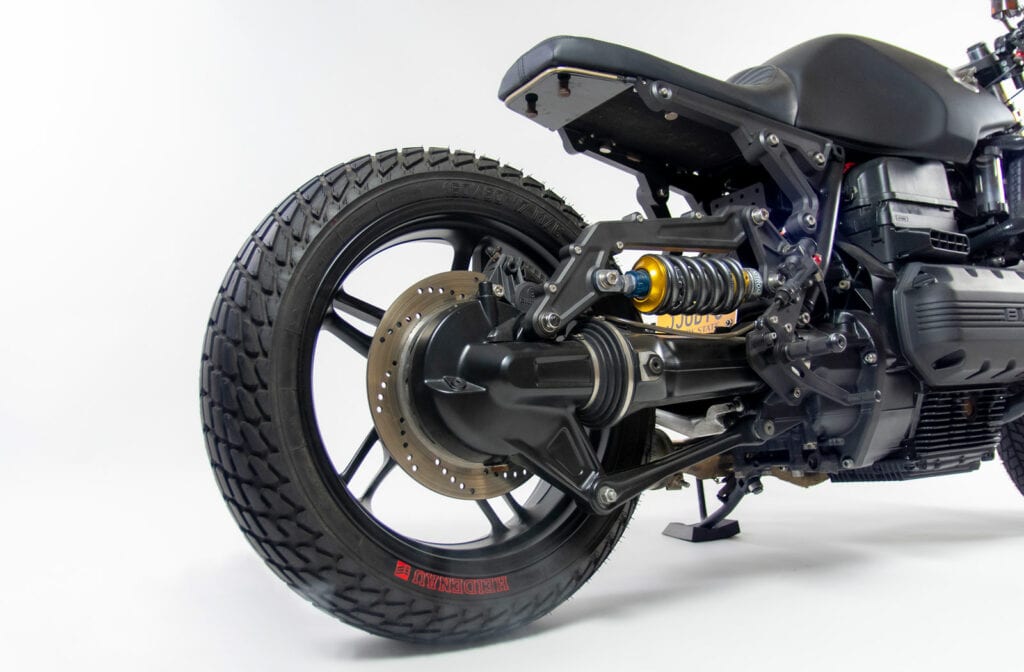 One consequence Marek faced after removing the K1100 RS bodywork was where to hide everything he'd now exposed. This was made even harder by his pared-back, cafe racer theme. "I was looking for the perfect position to hide the K1100 ECU which is huge." he recalls. "I ended up stashing it in the air filter housing. I had to cut off the factory oil separator to make room for it, but after all my modifications it works perfectly. I've never seen this done before so I guess I might be the only person to make that crazy mod!"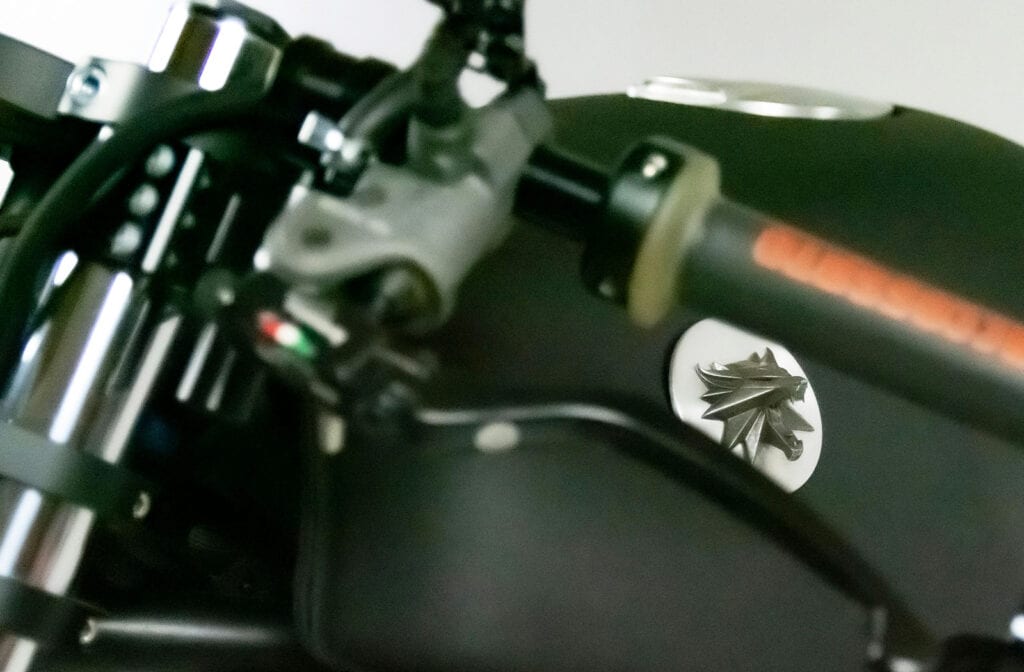 Marek's unconventional home for the ECU isn't the only unique feature of his K1100 cafe racer. After deliberating on which roundels to apply to the bike's tank he settled on something altogether different. "I was looking for some unique emblems and one day had a crazy idea. Why not the Wolf logo from The Witcher? I'm formally from Poland and I grew up on Andrzej Sapkowski's fantasy book series. I thought that it will match nicely to the dark character of my workhorse." Machined from alloy the 3D Witcher wolf head emblems are a stand out of this build. As for the bike name, Marek tells us it's 'Roach', as a final hat tip to the book's monster-hunting protagonist.