When it comes to building custom bikes, taking the path less travelled is never the easy option. Sure, cafe racers look cool and all but just how many of them do we need to see before you can't tell your arse from your exhaust pipe elbow? And scramblers? And bobbers?
It's a brave customiser that ignores the obvious and reaches for the stars of uncertainty. Yes, there's a longer way to fall, but the riches are that much more satisfying when you've forged your own path. And for this tough-as-nails build from Amsterdamn's Moto Adonis, more new paths were forged than a rogue bulldozer in the Amazon.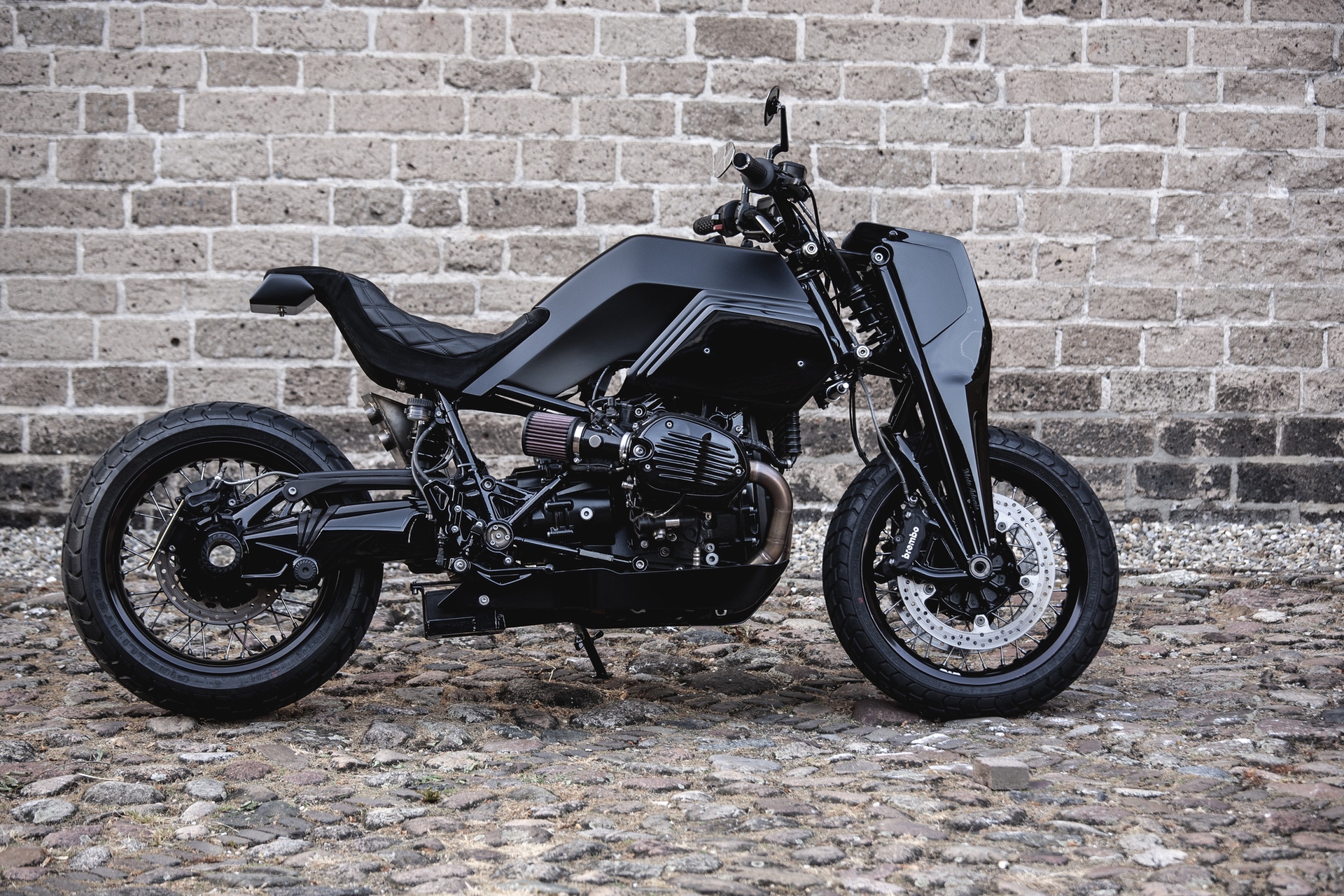 "The building of the BMW Girder R9T started with a question," says the shop's bearded chief, Arthur Elcameleon. "Instead of supplying us with a motorcycle, the customer asked us what we wanted to build?" "Surprise me!" were his exact words.
Talk about ballsy; it's one thing to supply a donor bike and ask your builder to suggest a design, but to do that with the type of bike as well? "That's a different way to start a custom build," continues Art, "but as we are always up for a challenge, we were excited to get started."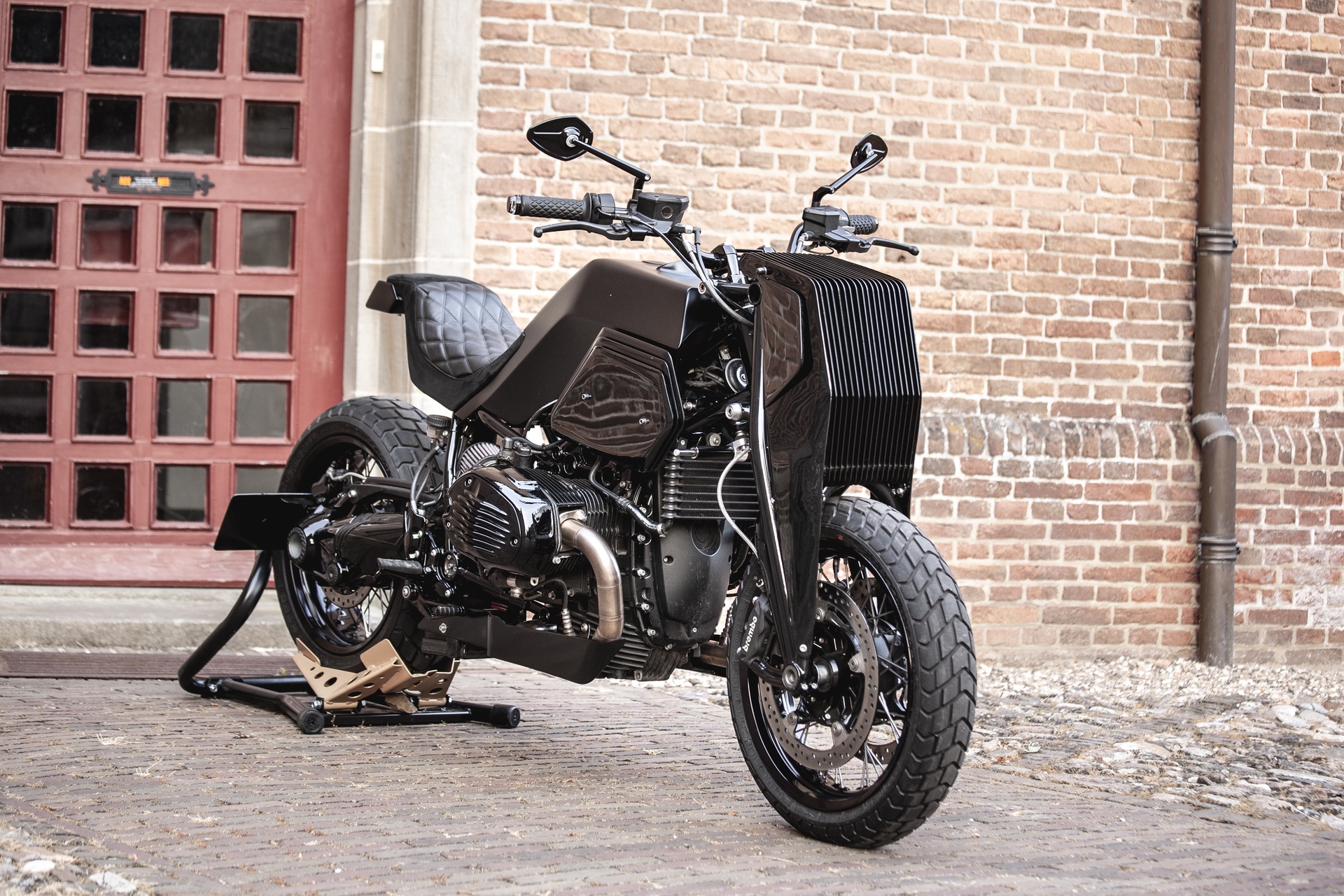 This Bike is Forked: Modding Out the Moto Adonis BMW R nineT Girder
So what did the customer think when Art presented him with a stock R nineT? "He  was not thrilled about it at first glance," Art says, with a grimace on his face. "But when we shared our ideas, drawings and Photoshop mock-ups, he totally changed his tune." And looking at the photos here, you can maybe guess why.
See, Moto Adonis completely transformed the R nineT into a rather extreme-looking custom bike. No more stock body or tank. New seat and tail section. Even the stock front fork was gone.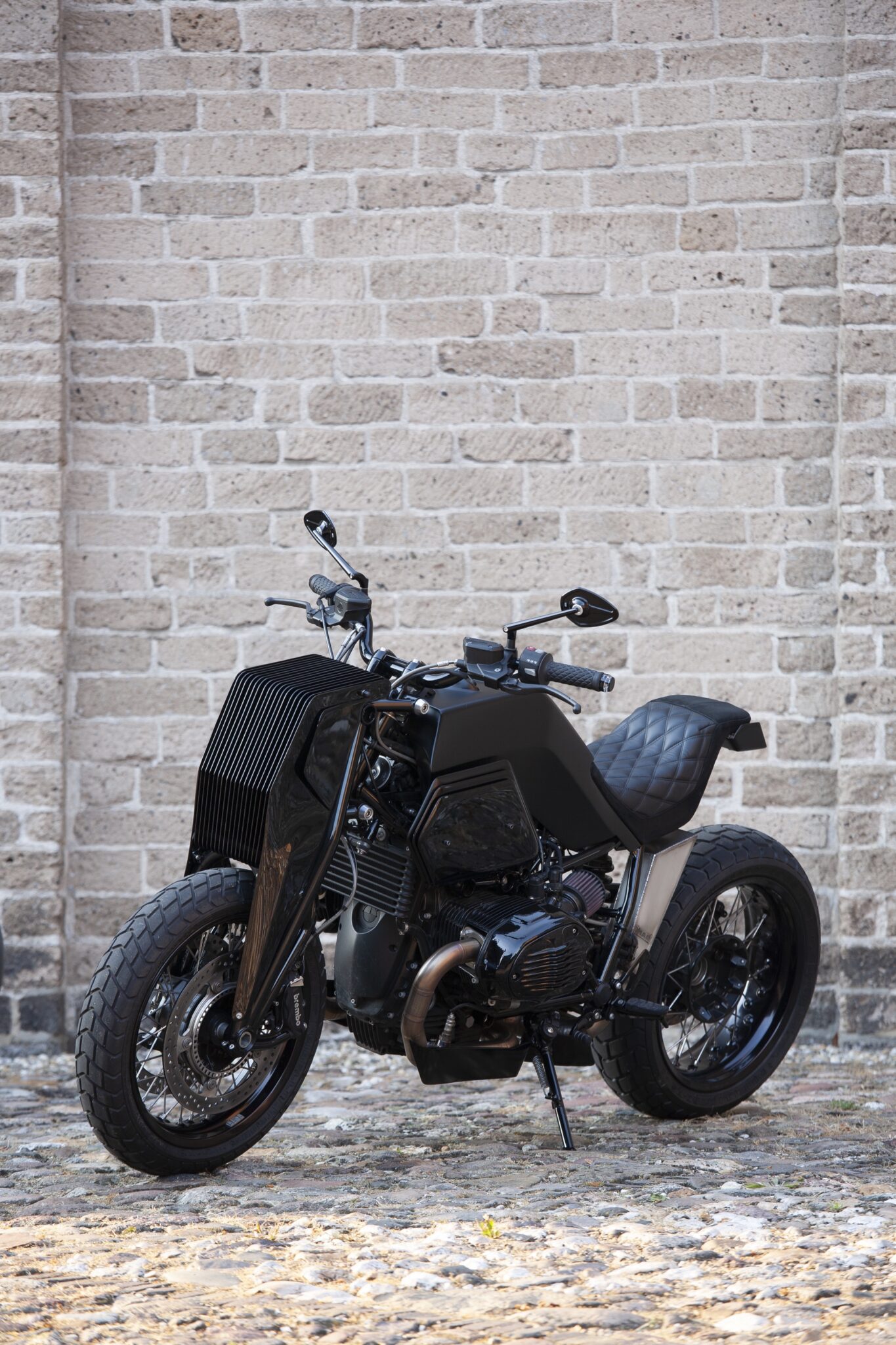 "We thought that if we were given the opportunity, we should just go for it," continues Art. "It's not everyday you have an opportunity like this, so we went hard with the design. Our goal was to build a futuristic and mean-looking bike, while maintaining decent amounts of ride-ability."
In other words, they wanted a bike that is meant to be ridden hard and fast. Naturally, that'll put added emphasis on the front fork's set-up and performance, so why not really bite off more than you can chew and add a girder fork into the mix? Madmen, I tell you!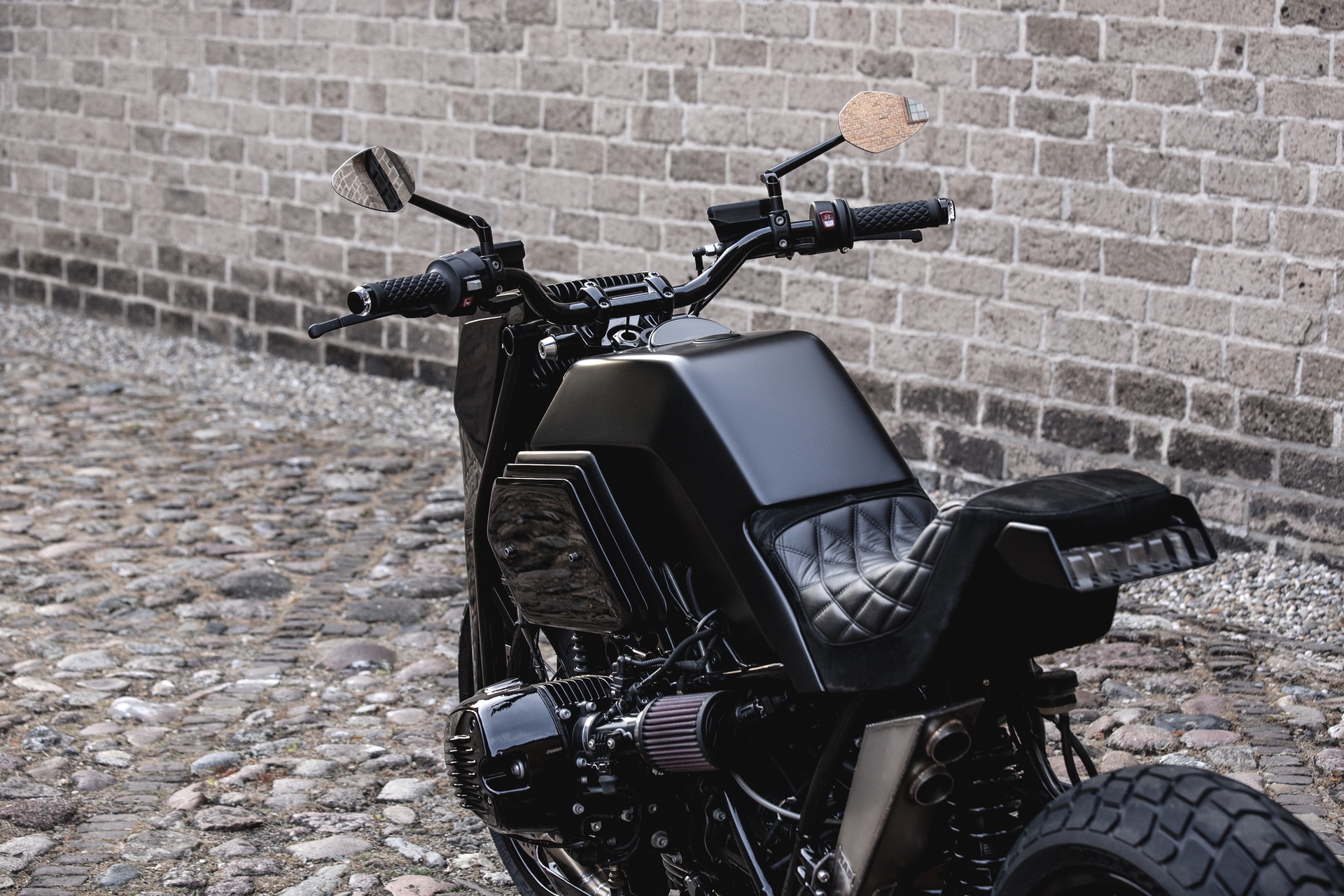 Weight Watchers: Keeping the Moto Adonis BMW R nineT Girder Light
"We designed the custom girder-style fork ourselves," says Art, "but we knew it had to perform well and not just look cool." For this, the Adonis team turned to their friends at Wimoto to make the geometry work better than intended—and by all accounts, it does. "We also fitted bespoke Wilbers shocks in the front and back, so this bike handles like a dream."
As always, it's a thrill to see the girder forks in action because the whole front section of the bike is moving. But what about downsides? Well, it's clear that weight isn't one of them. "You would think that the girder adds a lot of extra weight, but actually, it's 10 kilos (22 lbs) lighter than stock."
The bike's new tank and body panels are handmade out of aluminum, but they didn't start life that way. For prototyping purposes, Art made the items out of cardboard and masking tape to get a real sense of what it would look like before putting hammer to metal.
"We made several tanks this way, despite the large amount of work." That's commitment for you. When they were finally happy with the looks, they rolled their sleeves up and pulled out the big boy tools.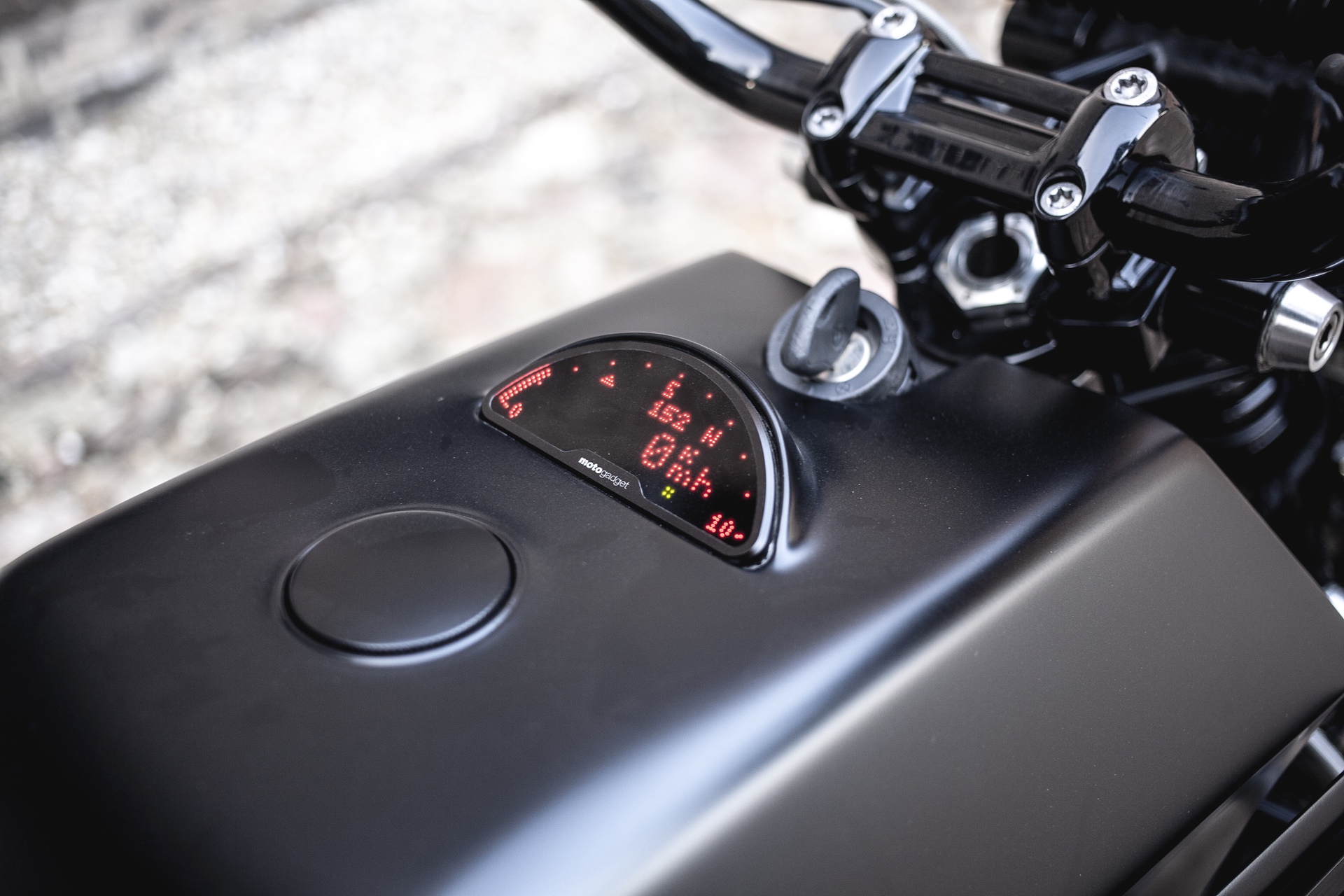 "There was much hammering, English wheel rolling, and welding that went into making the tank and rest of the body," notes Arthur. "And by giving the Motogadget speedo a pride place in the tank, we could keep the front end clean."
The tail section was also completely handmade, mounted on a custom frame, and then tastefully finished with a bespoke leather seat.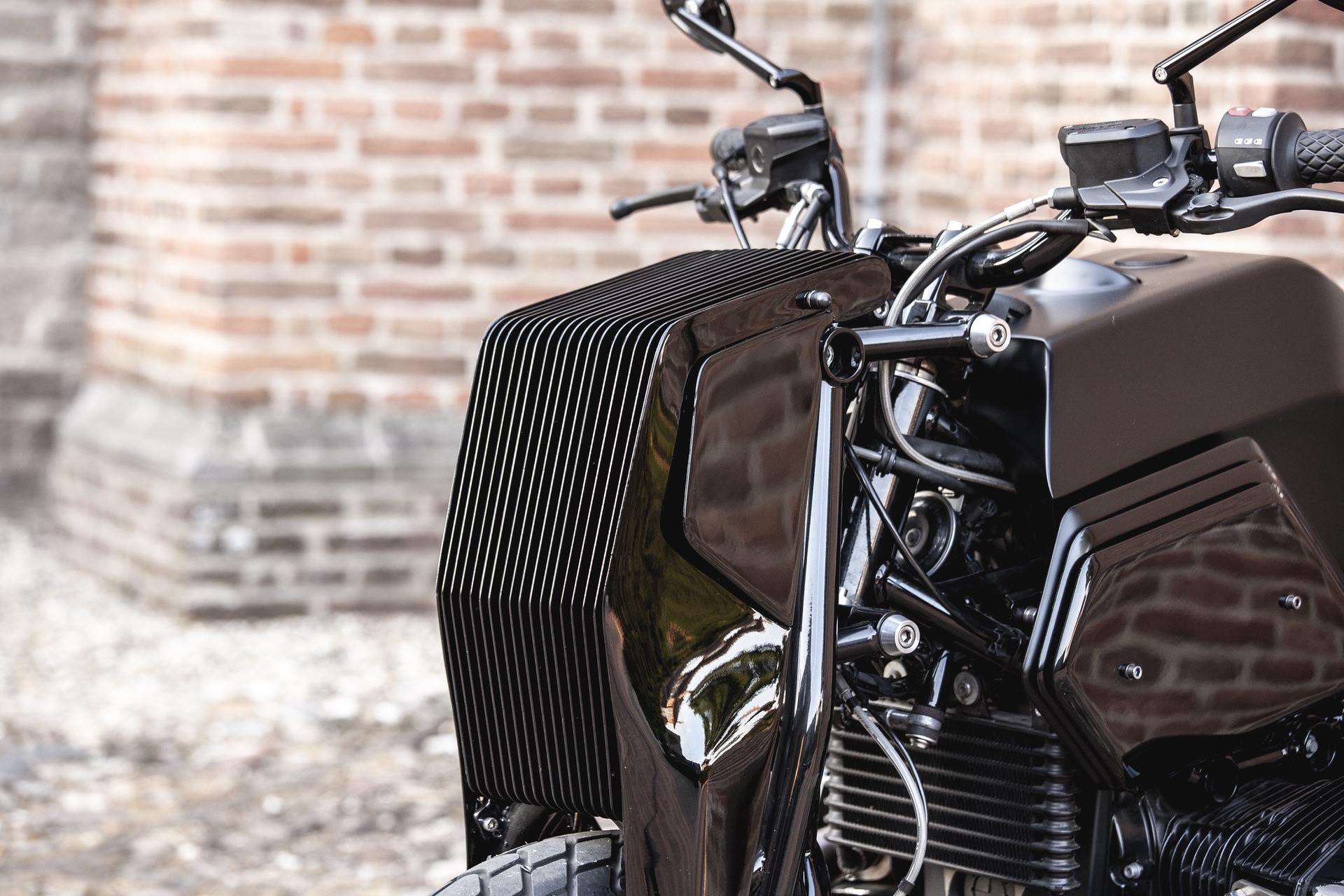 A Challenging Body: Refining the Moto Adonis BMW R nineT Girder
To finish the bike off, Moto Adonis placed a LED headlight behind the bike's new and super distinctive front fairing and then matched this with a custom-made tail light that was fashioned out of acrylic and a few more automotive-quality LEDs.
Painting the bike in different gloss levels of black was also a big challenge, because the body had some very sharp corners. Sure, they may look fine in raw metal, but there's nothing like gloss black paint to make any inconsistencies obvious.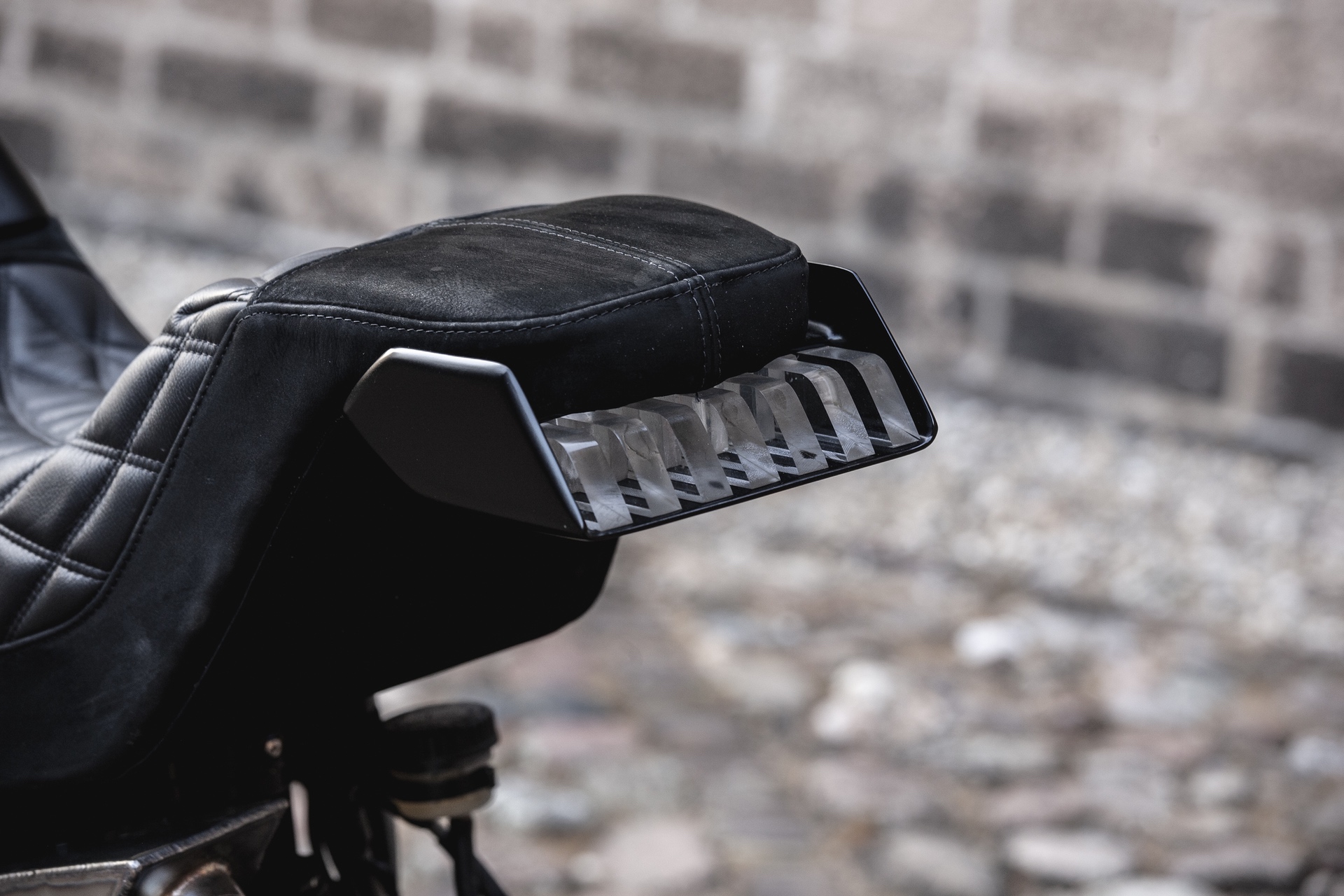 "These had to be really straight to make it look perfect," says Arthur. "But when it was all said and done, we think we chose the perfect color for this mean-looking Beemer."
Moto Adonis are really proud of how the Beemer turned out, too. "We have been building custom motorcycles since 2012, but I like to think we really stepped up on this one," finishes a smiling Art. And funnily enough, we agree wholeheartedly.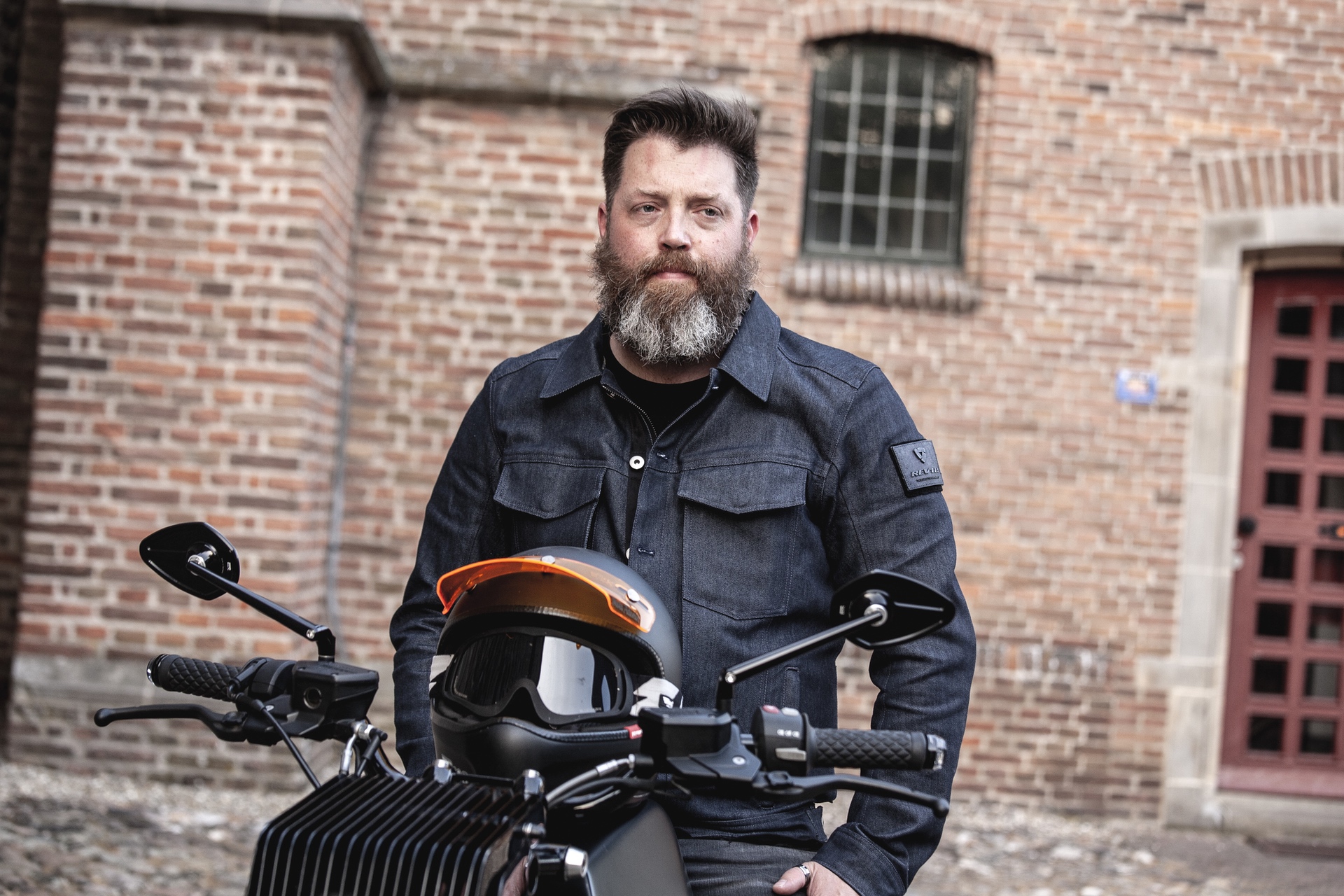 Arthur contemplates how he's going to keep all that black paintwork clean…
All Images via Mark Meisner.