Most custom motorcycles projects are based on a pretty common donor bike. I have done many myself where the donor was knackered and there were thousands of them around. No one will notice if another generic Honda or BMW goes missing; plus they're cheap. When I decided to do something a bit different, I thought why not take an iconic British bike and revamp it with a few cafe racer cues here and there. The bike I had in mind for the project was a 500cc BSA Goldstar Clubman.
If you have ever ridden a BSA Goldstar Clubman you'll know it was a lash-up of a motorcycle. It had a GP carb which was great for racing but made little sense for a street bike. The GP had no tick over, a big air intake, super sensitive remote float chamber and almost impossible to set up pilot fuel jets and mixture. The bike also ran an RRT2 gearbox which was the daftest gearbox in the world for road riding. It was fitted with an incredibly tall first gear and one can only assume BSA had over-ordered clutches that decade. The Clubman also bore the usual Joe Lucas 'Prince of darkness' electrics in the form of an old fashioned Mag with a silly manual advance/retard mechanism. It was so sensitive that the advancing lever should have had vernier increments on it. They then threw a high compression 500cc piston into the engine.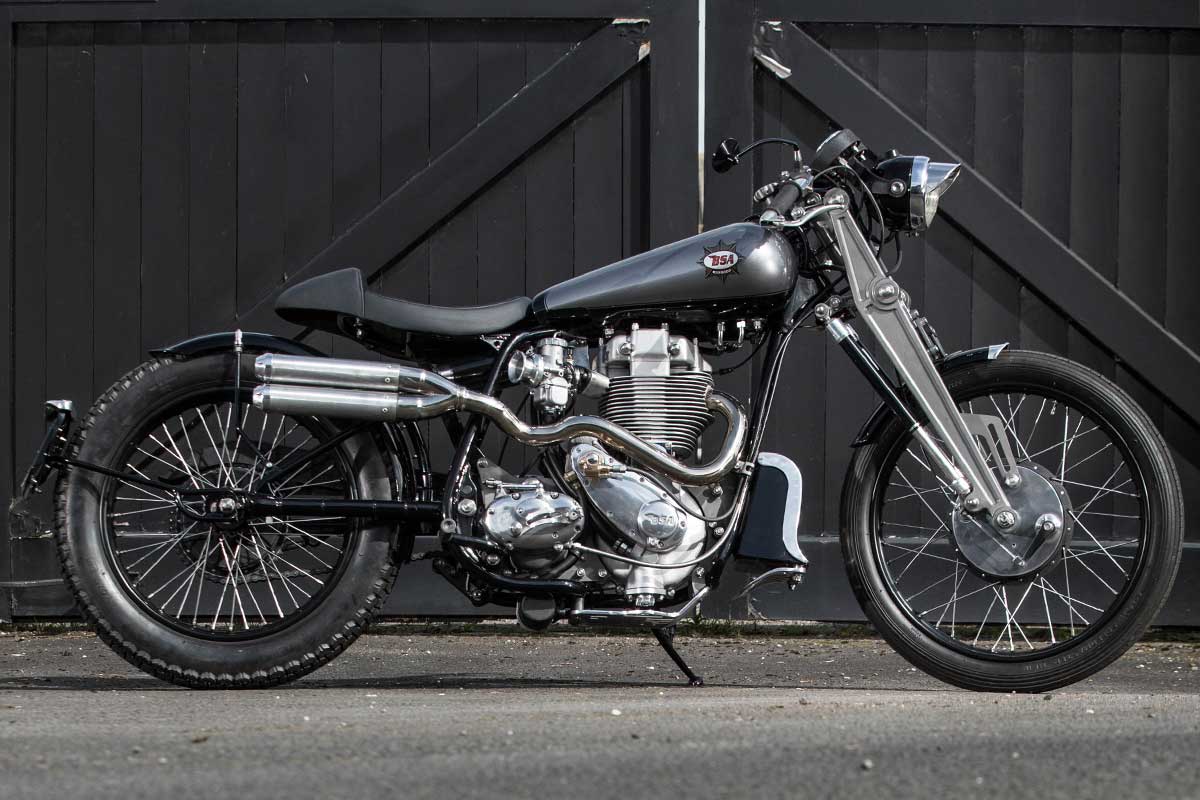 All of those factors made for an engine that was a bastard to start. If you were riding one and, god forbid, it stalled at the lights you would need International Rescue (probably Thunderbird 2) to help you get the thing going again. To top it all off the BSA Goldstar Clubman also didn't really have a riding position as such. You just had to somehow get used to everything being in a slightly awkward place. Which is probably the reason why nobody rides them anymore.
To be honest it's actually a shame because once you get the 500cc single over 5000 rpm it goes well. Below 5000  you may as well walk. So with all this in mind, I thought what's the worst I can do?
The good thing with BSA singles is they are really easy to work on. Your average schoolboy could strip one of down and put it together again in a couple of days. The only challenge they'd face is setting the tappets, which requires around 7 or 8 well-trained mechanics.
The remit was simple. It had to start easily every time. To do achieve my goal, I rebuilt the engine with all the usual bits and bobs fitted. This included a new BTH electronic mag, Alton 12v alternator, a Mikuni Carb and, most importantly, an electric start. That's all it needed to make it start easily and be reliable. To make it rideable I fitted a Nova 5 speed gearbox. That was it. Written down it doesn't sound all that hard does it? And although all of the above was not cheap, it was well worth it.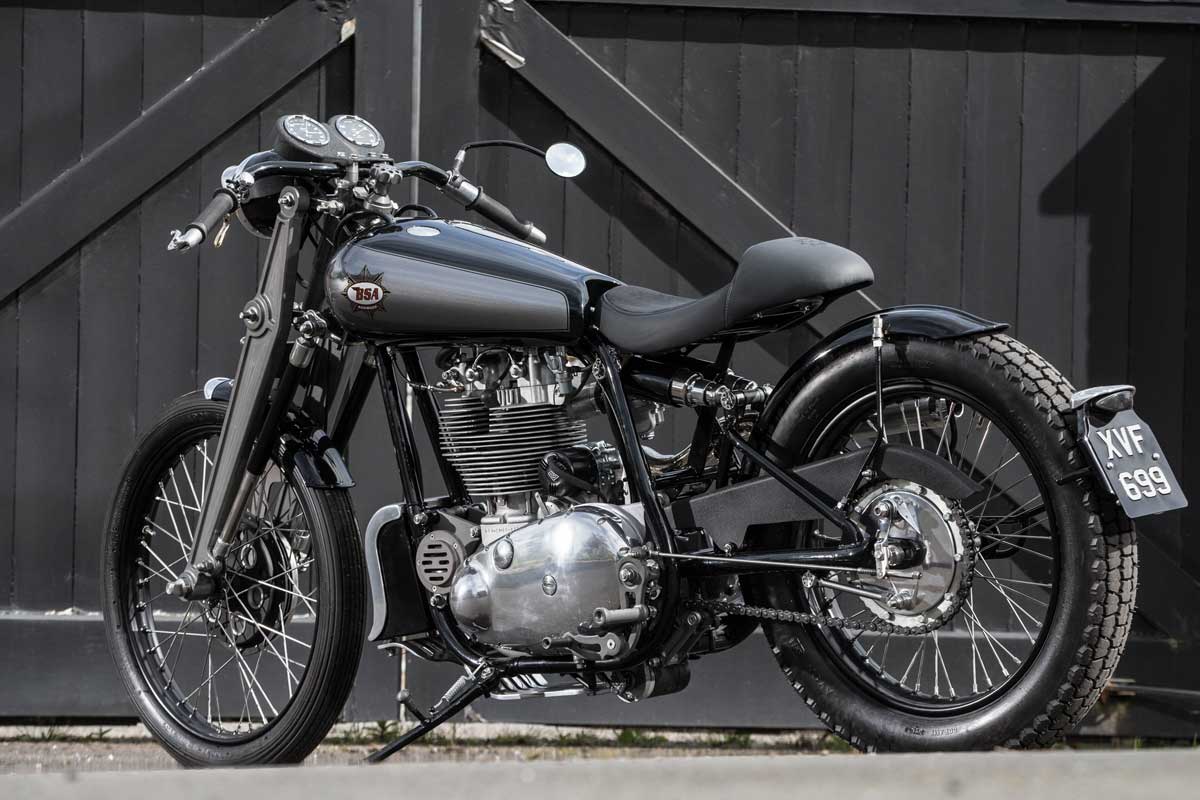 The next thing was how I wanted it to look. Personally I like the Vincent/Brough era of British motorcycles, so if thought if I nicked styling cues from them it might turn out ok. I decided to make a set of girder forks that look a little like those Vincent used. I took the same approach with the rear by creating a Vincent style mono-shock set up. As with all the bikes we build, we installed fancy pants electrics everywhere. From the tiny battery to the hidden wiring and clever start switch. Team member Geoff really excelled on this project.
The standard BSA frame was good enough but it needed altering around the timing side where the oil pump gets in the way. BSA's solution was to crimp the tube in a very crude way and I felt it cut the engine in half visually. That's a shame because this engine is, to me, one of the finest looking lumps of aluminium around.
As for the bodywork, both the hand made petrol and oil tank were copied from the profile of a Brough Superior. Virtually everything else on the bike was also made by hand. From the nuts and bolts holding it all together to the handlebars, seat, alloy battery carrier/engine guard, exhausts and footrests. You name it and it was made bespoke especially for this bike.
Now we have a custom BSA Goldstar Clubman that, unlike the original, starts easily all the time. It still handles like an old machine but losing that would have stripped away everything that this motorcycle once was. So I think it turned out alright.
Story by Jim Hodges