Chris Flechtner isn't your ordinary custom motorcycle builder. He works part-time as the lead designer at a boutique furniture manufacturer moonlights restoring antique Japanese swords and is the owner of Speed Shop Design a ten-year-old custom motorcycle and car-building workshop in Seattle.
Chris recently entered his bike, the Beezerker into the 2010 AMD World Championship of Custom Bike Building and won a very respectable 5th place in the freestyle class and second place in the Metric World Championship class.
The Beezerker doesn't look like your ordinary entry into the AMD's, in fact, it doesn't look like your ordinary motorcycle, instead, it's an art deco/steampunk work of art which you would expect to find on the set of a Hollywood movie.
At the heart of the Beezerker is a rebuilt 1965 BSA A65 motor which Chris admits he didn't make but aside from that motor and the custom tuck and roll seat the entire bike has been designed, modified or fabricated from scratch by Flechtner. The tank and tail are hand-formed from aluminium, the forks are made from fabricated sheet metal, the down tube is the oil tank and twist clutch is his own design. Chris' expert machining skills enabled him to create the bike out of aluminium and stainless steel which also meant a lot of the bike could remain unpainted and raw.
The Beezerker took 11 months to complete. Hundreds of hours were spent sanding and polishing the tank and seat alone. The aluminium sheet construction of the tank was believe it not Chris' first time working with this medium and it's definitely a stand out feature.
Chris Flechtner isn't new to custom motorcycle construction and already has several trophies on his shelf to prove it but this bike, The Beezerker is what has and will continue to make people sit up and take notice of what Speed Shop Design has to offer the world of custom motorcycle building. Hopefully, this will mean more rule-breaking and trend-defying works will be rolling out of his workshop in the near future.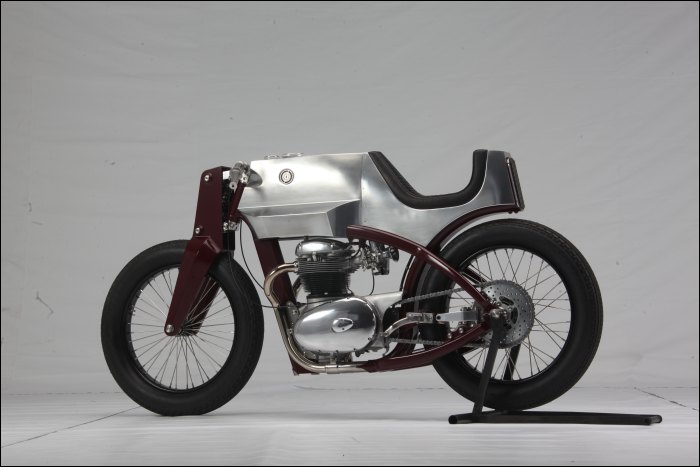 "Dedicated to the design of all things fast, visually and literally. Speed Shop marries off-center design with meticulous craftsmanship. Creating designs that blur the past with the present, making timeless pieces with integrity, personality and soul. This return to the day when the designer was the builder is enhanced with the tools of today.|