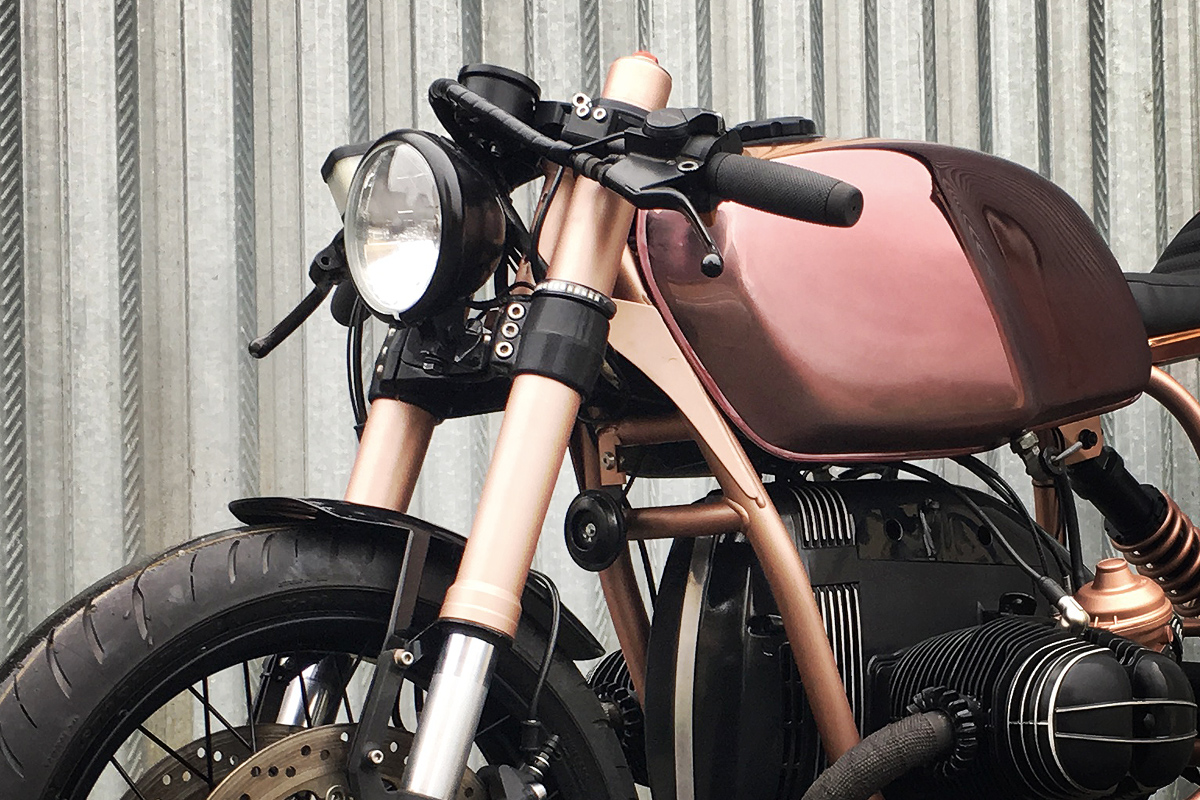 37-year-old Degano developed an interest in BMWs from a young age. His father was a member of the French police force and rode them when he was out on patrol. These days Vincent customises them, usually in a scrambler style due to the more relaxed riding position. However, after having built scramblers for 5 years he decided it was time to break the habit and put together a BMW café racer, but he knew he'd need to pick the correct donor to get it right.
The bike he nominated for the task was BMW's R100 R Mystic. When BMW released the Mystic back in '93 it was designed as a 'modern classic' similar to their current R9T range. Running spoked wheels and classically inspired bodywork it looked the part in '93, but Vincent knew he could take it much further. Slung beneath the Mystic's outdated plastic panels was an imposing 980cc airhead. The spoked wheels definitely looked that part and thanks to the design of the bikes shaft drive it could be fit with sportier looking wide rubber.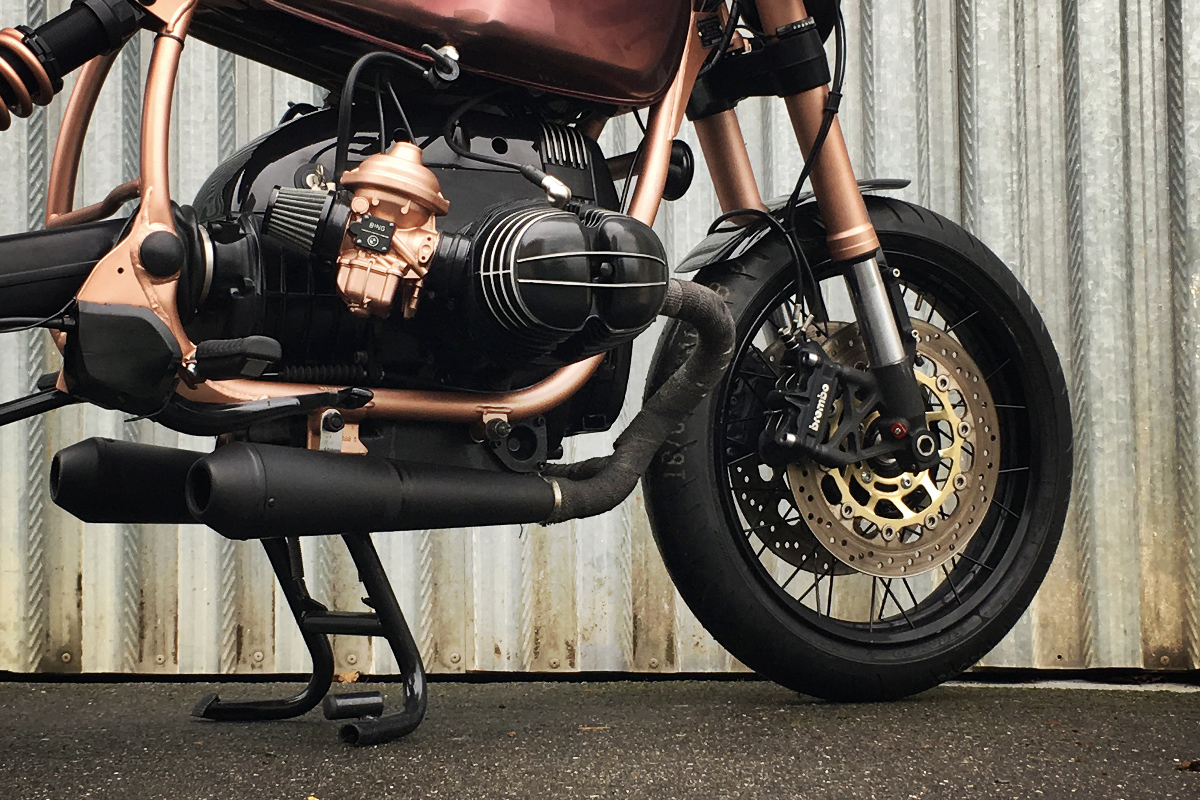 After sourcing his donor Vincent stripped the bike down and kicked things off with an engine overhaul. The airhead was opened up and treated to a full service that included honing the cylinders, changing the valves and installing an all new charging circuit. For a cleaner finish, the factory oil cooler was removed and the stock airbox replaced by K&N filters. BMW used larger 40mm Bing carbs on the Mystic so they were simply cleaned in an ultrasonic bath and tuned to suit the Megaton mufflers Vincent had picked out for the build.
The Mystics factory stance was more cruiser than café. Its tall front end positioned the frame rails on a backward slope and appeared too flimsy for Vincent's liking. To remedy this he sourced a set of 2010 Speed Triple forks that came with a pair of highly desirable radial Brembo brakes. A modified triple clamp and steering stem had the forks sitting in the frame but running the brakes with the spoked wheels required some custom fabrication. A new axle, wheel and disc spacers had the 320mm stoppers sitting right and custom lines from Silver Performance rounded the package off. Both wheels were then blacked out and fit with purposeful Avon Storm 3D rubber.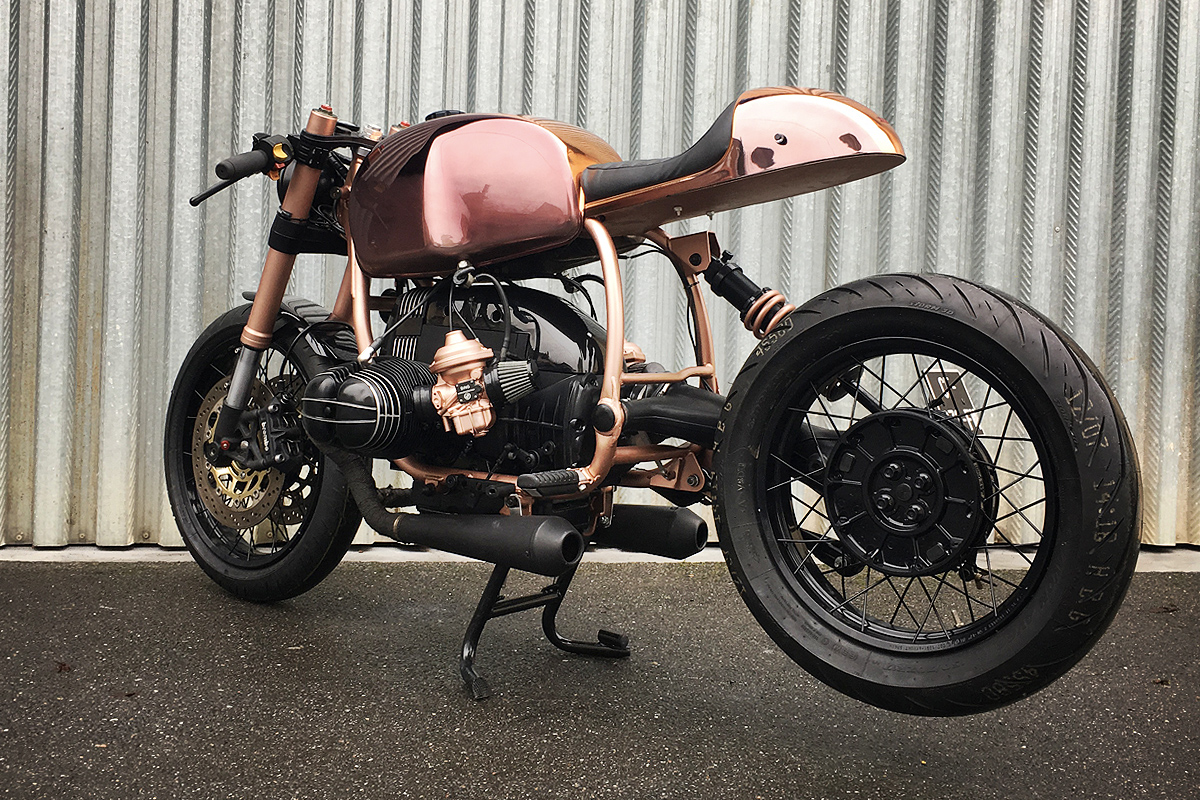 After fitting a new rear loop to the frame Vincent worked with fiberglass experts 'Bike Composite 61' to create a custom tail that could house the bikes battery and electrical components. He swapped the stock fuel tank for a leaner R80 item and mounted a Bates headlight and Daytona Velona speedo upfront using more custom made bracketry. No café racer is complete without clip ons so a pair of black LSL bars were slid onto the forks wearing Biltwell recoil grips. If you look closely you'll also spot LED indicator rings on the fork legs that help to keep the bike free from clutter. In the rear he's completed the lighting system with a tiny pair of Motogadget M.Blaze pin turn signals and an LED brake light that's been flush mounted into the tail.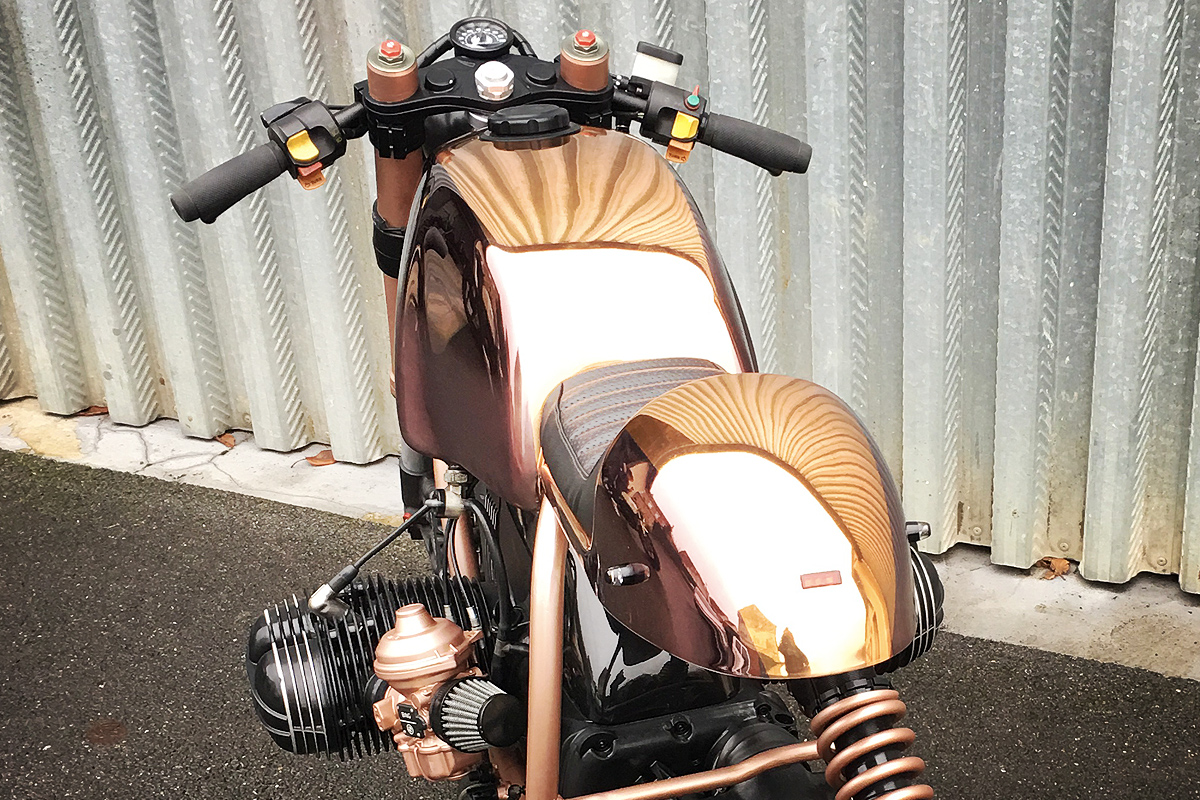 With everything sitting right the only thing left to do was decide on a paint scheme. The engine had been etched clean and painted black after the rebuild and the wheels done to match. Fed up with all the black and silver bikes seen all over the internet Vincent decided to do something a little different. After about of sandblasting he had the frame, forks, carbs and shock spring shot in a copper look powder coat. For the bodywork, he wanted a polished copper finish without the worry of oxidization so he had his friends at 'Paint Design' create the tank and tails stunning faux copper paint.
According to Vincent, "This bike is one of my most accomplished achievements. The steering position is excellent, the braking is fantastic and the modern front suspension transforms its handling. You can ride this old bike with its factory fresh flat-twin just like a modern motorcycle."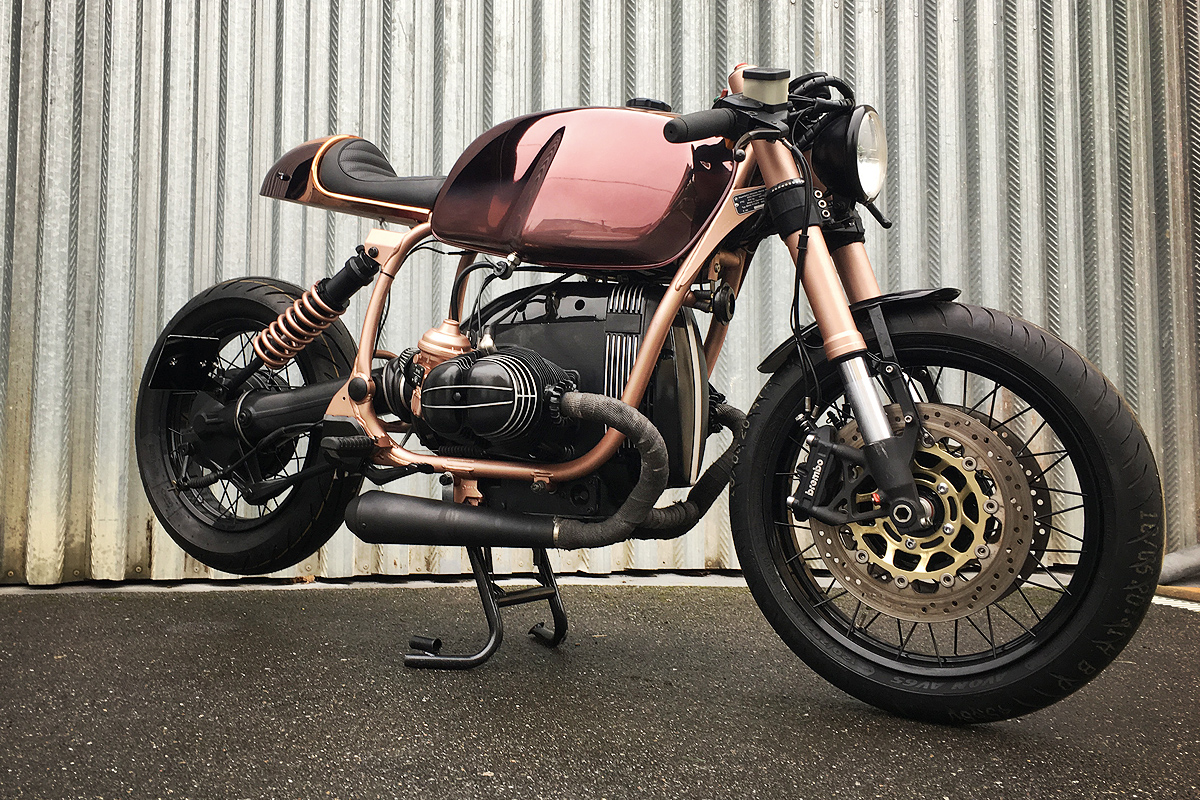 Mankind has been discovering clever uses for copper since 9000BC. The stuff has been used to fashion tools, tile church roofs, build a supersized lady liberty, conduct electricity and its even cast as currency. At some point, someone also discovered that if you give it a good rub it looks rather nice. Using copper as a decorative finish on a custom bike has certainly been done before, but we've never seen it look quite as good as on Vincent Degano's copper cloaked BMW café racer.