Last month Deus Ex Machina in Camperdown, Sydney unveiled their stunning R Nine T Cafe Racer, the 'Henirich Maneuver'. Unfortunately I wasn't able to make it along to cover the event, but I have something special for you instead. My good friends at Motor Retro in Sydney played an important role in the project putting their skills in metal fabrication and coach building to the test. The bikes unique bodywork was inspired by the work of German BMW fuel tank designer Karl Heinrich and was sketched up by the Deus team before it was passed on to Motor Retro for construction. I interviewed Vaughan Ryan of Motor Retro about their role in the project which you can now read here on Return of the Cafe Racers…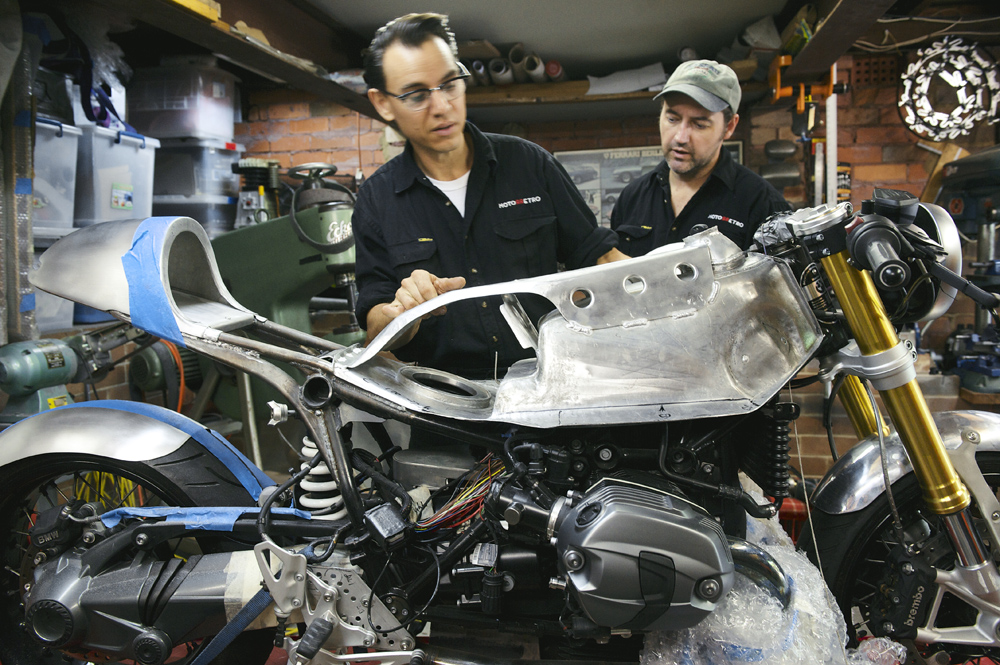 ROCR: Hi Vaughan,  Let's start by you telling us a bit about yourself and Motor Retro?

VR: G'day Geoff, I suppose to begin with you featured my CBX1000 here on Return of the Cafe Racers back in 2012 and again in 2014 when I completed it and it's still a much loved and complimented bike. Georgio and I are lecturing at a Tafe college running courses in automotive collision repair during the day and instructing adult learners wishing to try their hand at metal shaping or vehicle restoration at night. However due to a pending section closure we have been looking at the ever broadening market for private training and concept to completion work such as custom motorcycle and car builds. We've also been developing our own range of metal fabrication machinery that's been getting us a lot of interest in the industry.
ROCR: So how did Motor Retro become involved in the Deus R Nine T project?

VR: Jeremy Tagand of Deus Sydney was attending my night classes for most of 2014. At some point Jeremy asked if we would be interested in doing some contract/special project work with Deus. It was a great opportunity so we didn't hesitate getting involved.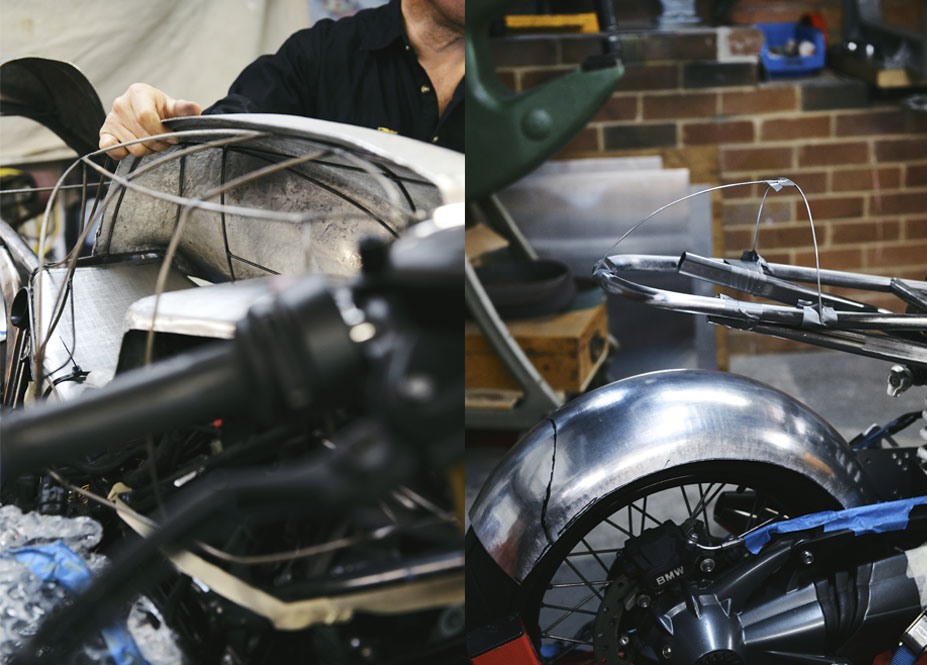 ROCR: What part did you play in the initial design development of the Heinrich Maneuver?

VR: After Georgio and I had an initial meeting with the Deus team I was asked to submit some sketches and a written proposal. Dues lead designer Carby Tuckwell also came up with a design sketch. In the end neither of our sketches became the reality because as function dictates form all the practicalities took priority. For example seat height, riding position, etc.
The creative instruction and direction was very clear and extremely good. Especially for us because Deus really trusted in our ability and our vision of the finished bike. Every 2 or 3 weeks the Deus guys came to the workshop to photograph, inspect and discuss ideas and alternatives so it was a real team effort achieving the resulting design of the R Nine T.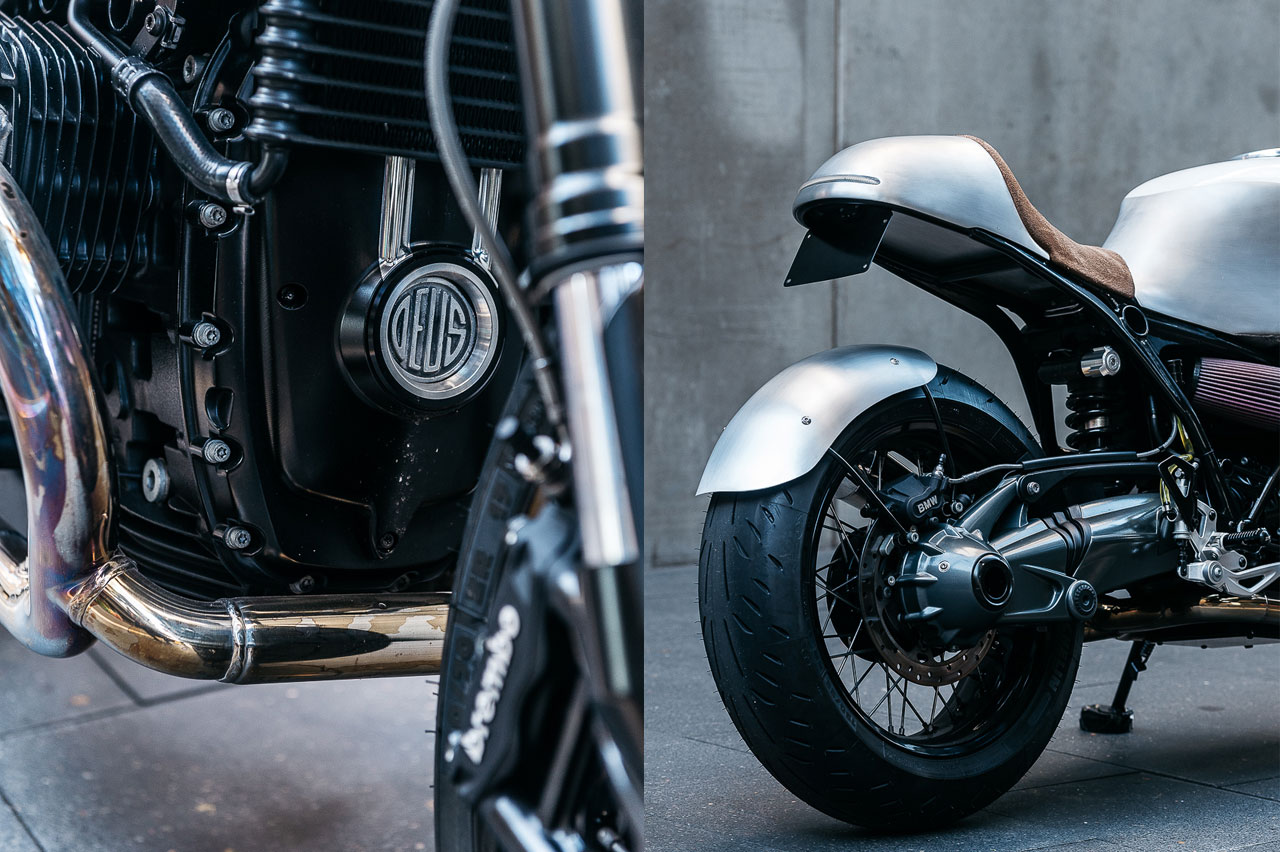 ROCR: What parts of the build were you responsible for?

VR: The bike was partially stripped and modified when we received it. We were responsible for mounting and fitting of the front & rear guards, fabrication of the seat subframe, the seat under tray, seat base and shaping the seat tail unit and of course building the complete fuel tank assembly. We spent around 250 hours completing our part of the build. The Deus guys were excellent with the supply of parts (thanks Taka!) and Jeremy came over in his own time to help us out.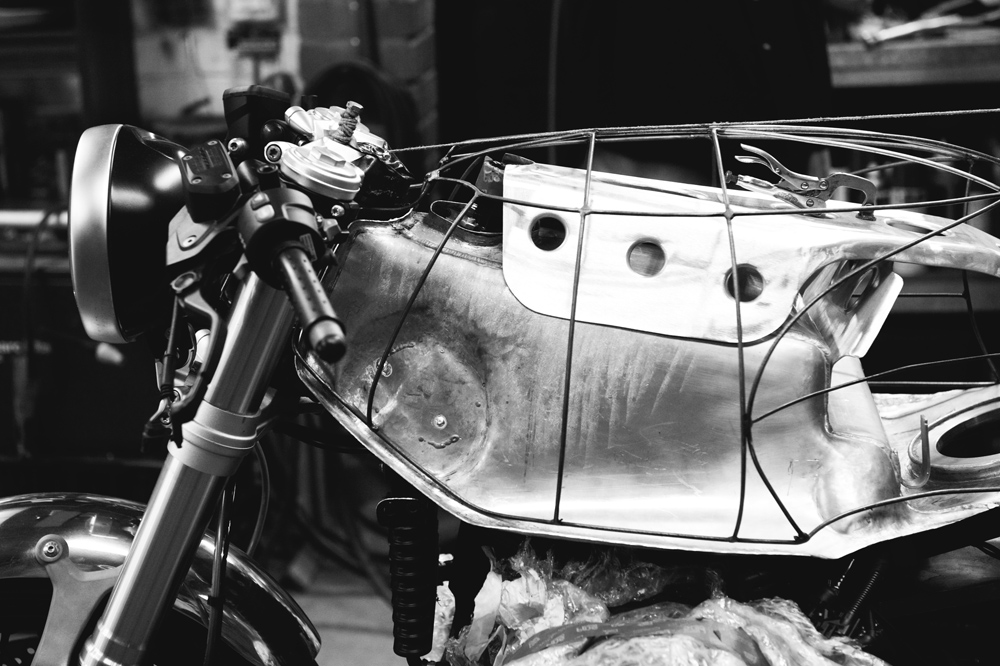 ROCR: What are some of the techniques you used when making the bodywork?
VR: There's a number of different ways to make a former or buck. For the R Nine T tank and seat build we made a 4mm wire former (hollow 3d shape, as seen in the photos). This was done because we needed access to all the components under the tank, there's a lot going on under there! The wiring, ABS, ignition barrel, etc are all under the tank. The wire former can then be reshaped, cut, shortened or extended easily and quickly, along with any design changes that pop up during the build.
The whole process was actually an exercise in reverse engineering because we knew approximately what the final product was. The flow of the design and it's compound curves and shapes e.g. convex and concave sections dictate where the weld lines need to be. For example my Honda CBX tank has 3 pieces to the top of the tank. On the R Nine T we really challenged ourselves by making it in 2 halves. The seat unit has no welds and is formed from 1 piece of sheet aluminium.
We use a wide selection of hand tools; hammers, dollies etc. Also we have an eckold piccolo and kraftformer (seriously hard hitting power shrinkers and stretchers). The tank halves are welded together with oxy acetylene and the base is tig welded together. Everything has to be finished by hand or if the shape and size allows it, we can use our Motor Retro cast wheeling machine that we make. Our wheeling machine was specifically designed to make small parts with tight curves.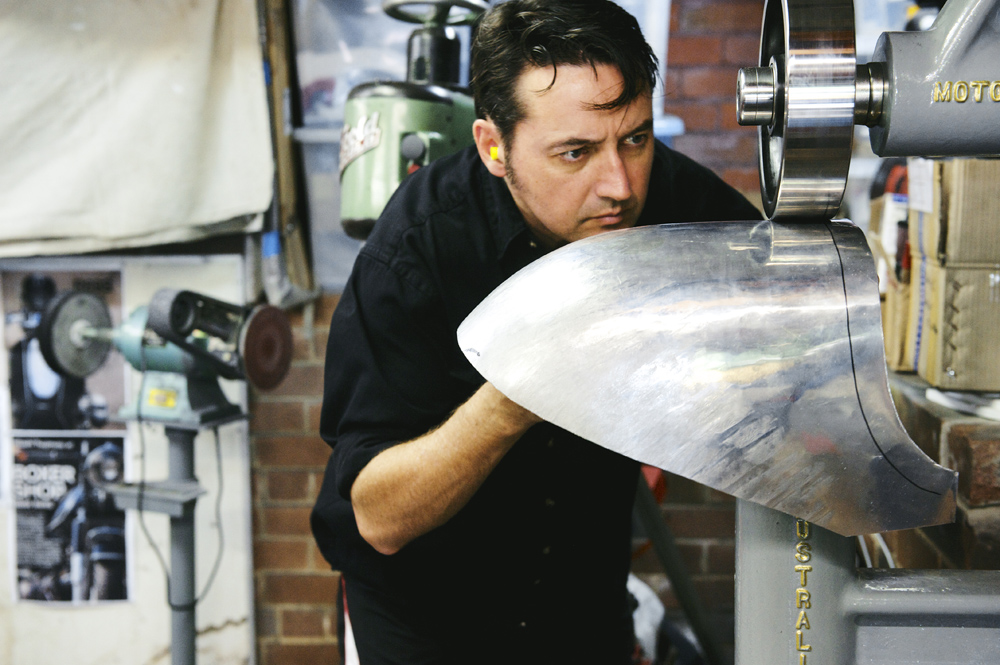 ROCR: Were there any challenges you had to overcome with the BMW?

VR: The whole thing was a huge challenge! However any technical issues where always resolved with the help of BMW Motorrad Germany and Australia. The R9T is the perfect modern bike platform to lend itself to the whole customising process. It's an unprecedented step forward by a mass manufacturer!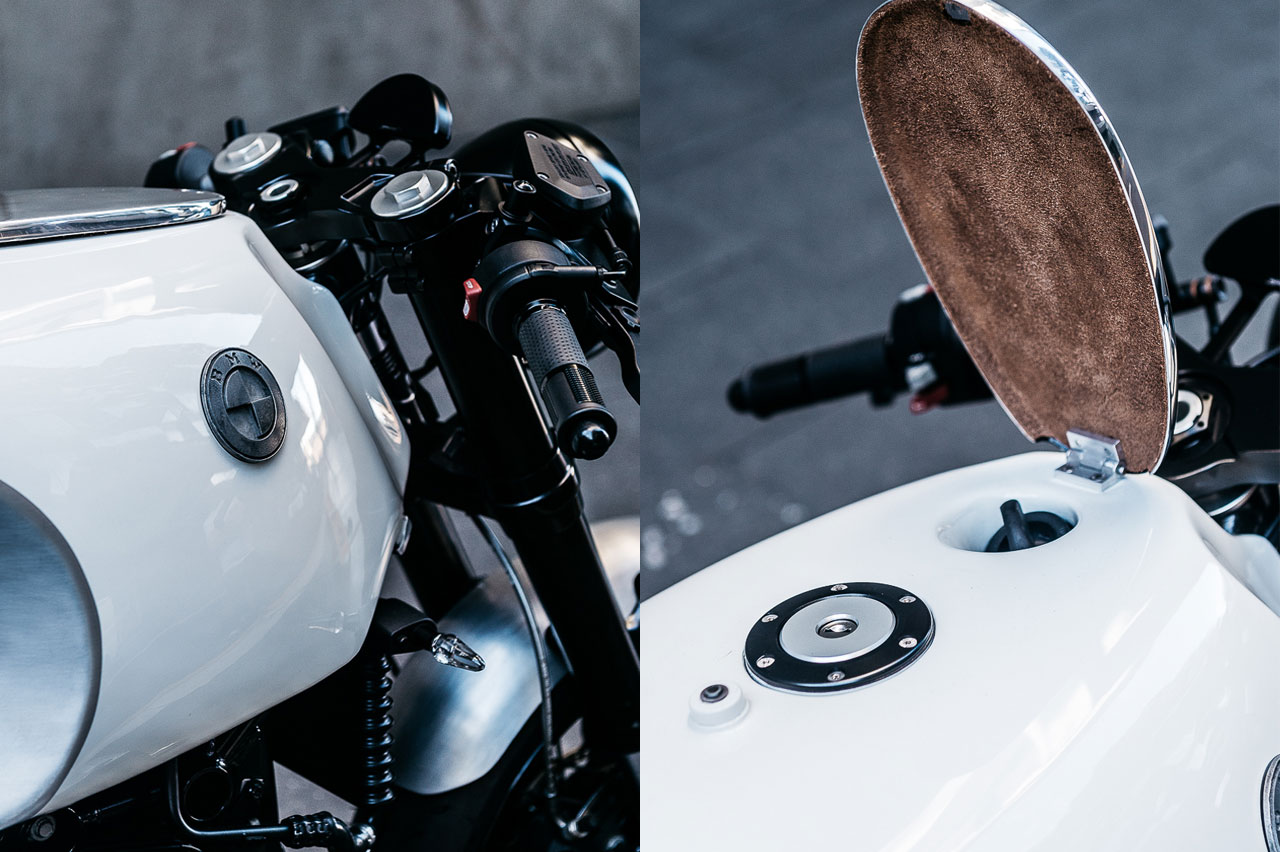 ROCR: What it is about the R Nine T that you think makes it so great for customising?
VR: The bike has been designed to be easily customised right from the earliest point of design by BMW. Previous models to the R Nine T are not tolerant to change to the electronics so only factory options can be fitted. If you tried to fit non-factory parts such as indicators, a string of fault codes will appear on the dash and the bike won't run. With the R Nine T many things can be changed like adding air pods, changing the indicators, dash units and taillights without any such issues. Simplicity, neatness and attention to detail are the key for any build but especially for highly complex, multiple CPU powered bikes. Jeremy did a great job of tying it all together seamlessly.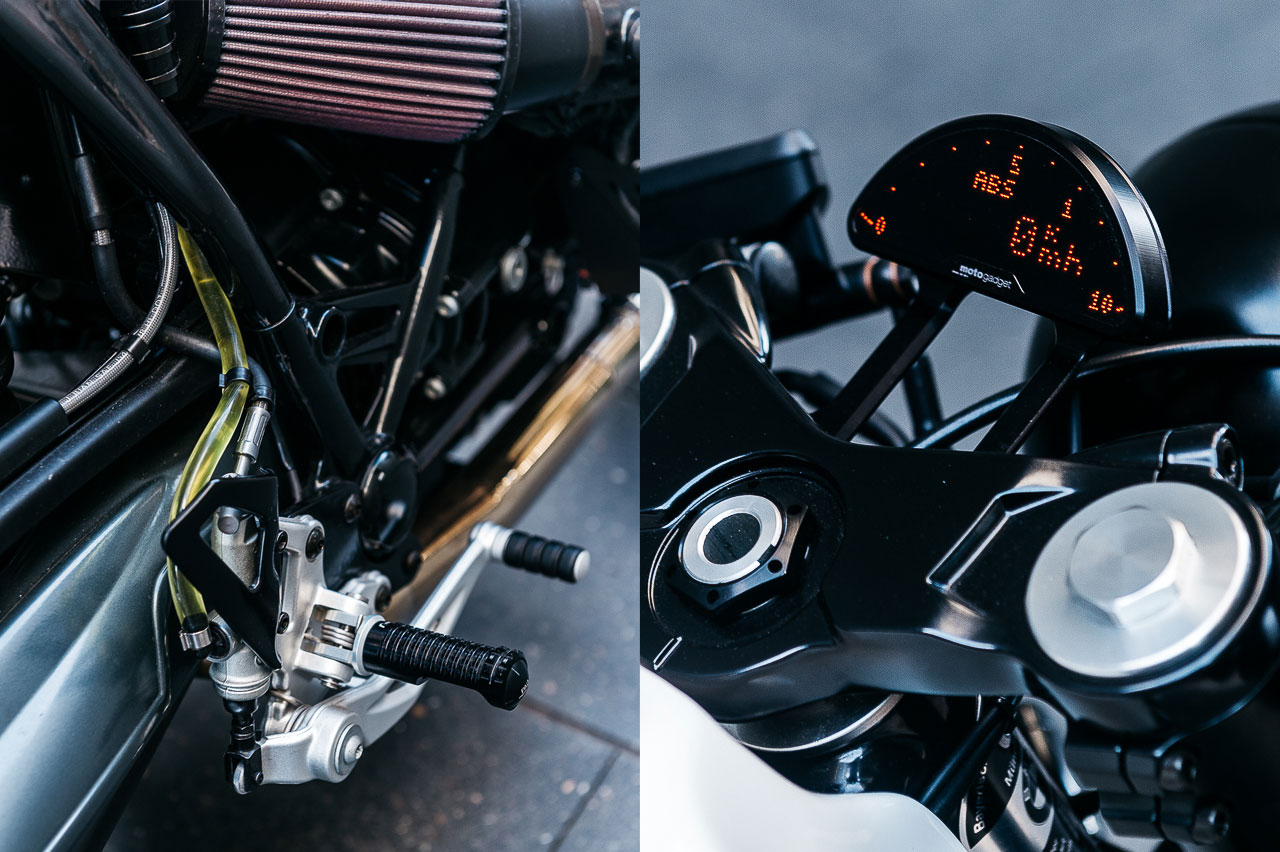 ROCR: How was the bike received at the unveiling?

VR: The official launch was 6th May & I think the result has significantly raised the bar for Deus because they/we have now entered the world of concept bikes (the sky is now the limit!). It seems to be very popular from what we have seen online. We would like to be able to help many others with their fabrication ideas from small tasks like fitting guards up to completing road ready concepts.
ROCR: So what's next for Motor Retro?

VR: We have some other commissioned work currently in the pipeline for local and overseas customers, so who knows I hope something beautiful and sexy comes out of it. Later in the year we will be opening the workshop, so please stay tuned to Motor Retro on Instragram to find out more.