If there's one thing every builder should strive to achieve when they customise a motorcycle it's to improve upon its original construction. Many of the bikes used as donors for the builds we feature are decades old so that task can sometimes be an easy one. Improvements in electronics can be made by simply installing components from MotoGadget and power upgrades can be easily unlocked by fitting a set of modern carbs or a free-flowing exhaust. Technology has come a long way and, let's face it, we're spoilt for options, but where the real challenge lies is in improving on the design.
Antoine Meister of Meister Engineering has been messing with motorcycles since his early teens. His fascination with motorcycles drew him towards studies that involved more complex machines and left him with a degree in engineering. "Over time I realised that more and more people were expressing their admiration for my work with motorcycles." says Meister. "And so I transformed myself into the 'surrogate mother' of my projects by separating from them soon after they were born." After turning a small room in his families home into a fully equipped workshop he formed Meister Engineering, then with the help of a fellow enthusiast by the name of Mathieu Dimier they relocated to a larger workshop and things got serious.
Meister Engineerings latest custom motorcycle is this 1977 BMW R100/S. Back when this Beemer rolled out of the factory it featured the latest in Bavarian engineering and design. An increase in capacity from its /6 brethren meant a considerable gain in power and changes in frame design delivered handling performance to match. The R100/S was also available with an optional bikini cockpit fairing to improve wind protection for touring riders. Rather than a customer build the R100/S was a personal project for Antoine. Over the course of 3 months, he and Mathieu resurrected the classic boxer using modern performance upgrades and a carefully considered aesthetic overhaul.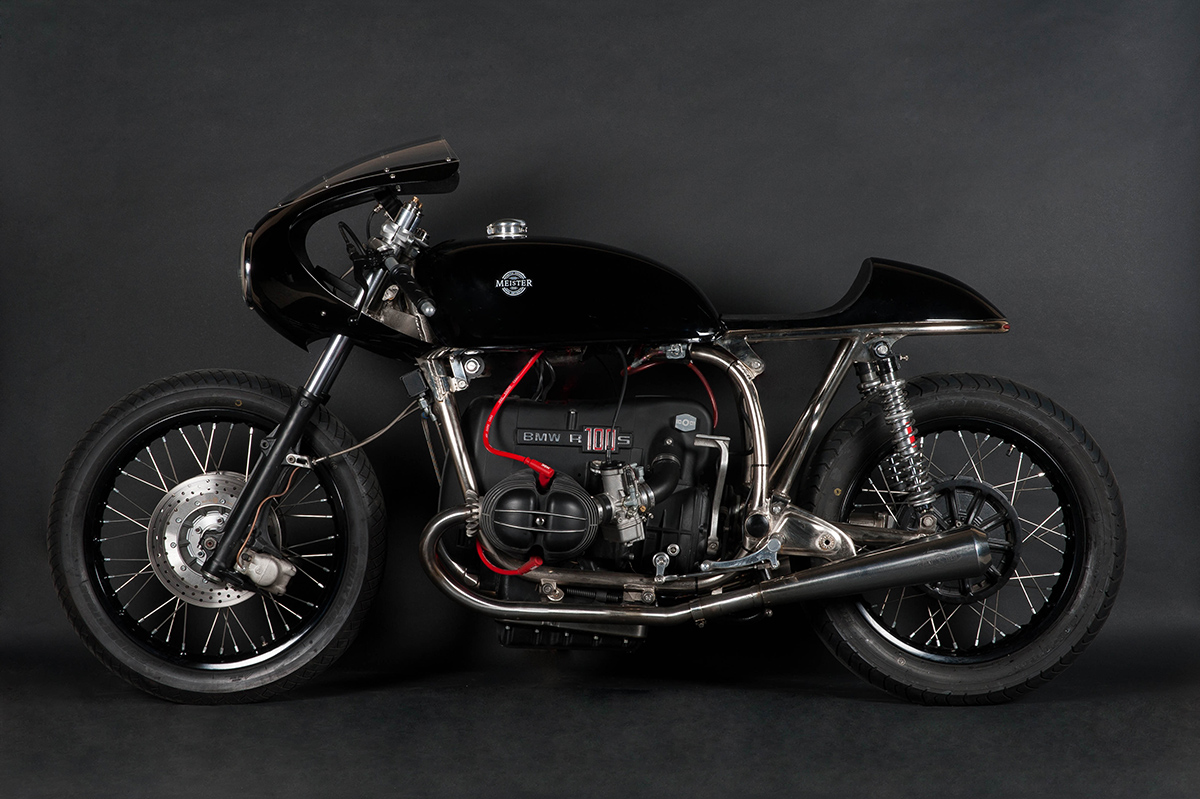 Overhauling the 40-year-old engine was the first task on the list. "As non-professional mechanics, the engine was one of the most challenging aspects." Antoine confesses. But rather than a simple refresh and tune up the pair went all out on the boxer. Internally there's a Siebenrock cylinder kit, lightened flywheel, and a hotter cam. The heads have been converted to twin spark units and a larger capacity sump and oil cooler ensure reliability. A pair of Dell'Orto carbs feed the engine and spark is supplied via a new electronic ignition system. To finish it off short stainless headers wearing reverse megaphone mufflers hang off each of the horizontally opposed cylinders.
"I wanted to keep the fairing as it was a common feature of the R100/S but aimed to revitalize the line of the bike." Antoine explains and he's done exactly that. The new fairing was constructed in Germany to his own design and styled to give the bike a racier, more aerodynamic appearance. The fuel tank has been given a classic finish with the fitment of a Monza fuel cap and the cafe racer styled seat is a one-off item built to fit Antoine's custom subframe.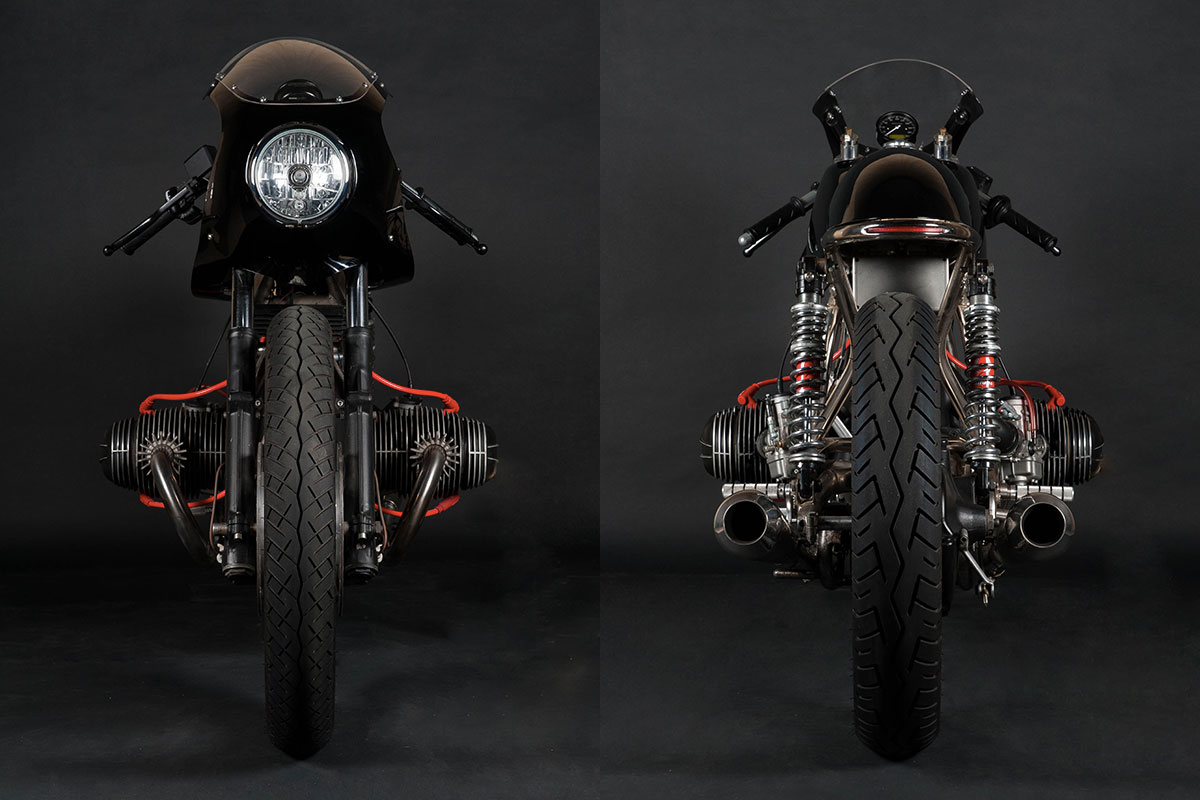 The frame itself has also had a striking overhaul. After fabricating the bikes bolt on rear subframe the entire chassis along with the swingarm and drive shaft were plated in nickel. The rear hoop contains an LED taillight to help keep the rear end clean and Bitubo shocks support the swingarm. The early model R100/S wore spoked wheels prior to the introduction of the cast snowflake rims and these ones have been rebuilt using stainless steel spokes and the rims painted gloss black.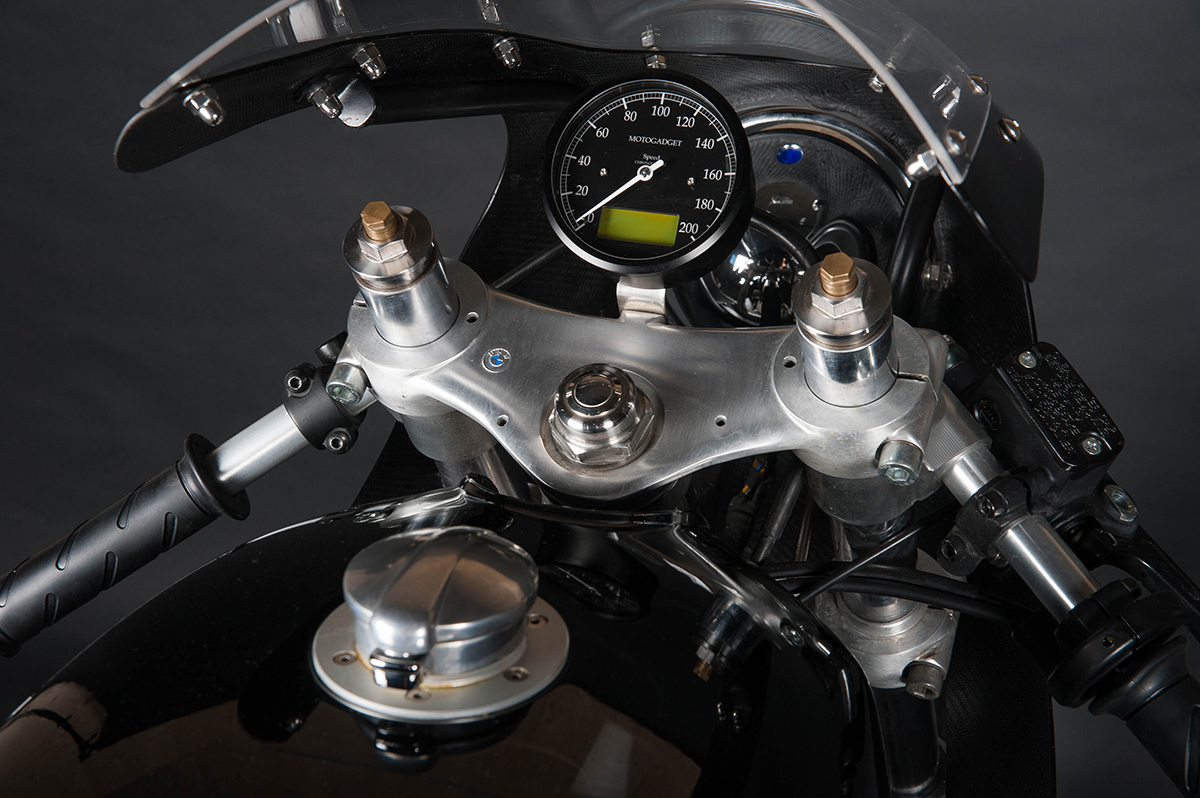 Inside the cockpit, the forks are held by a custom top clamp that is a repurposed lower clamp and it supports a single Motogadget dial. Lightweight aluminum clip on bars and rear set footpegs create a more aggressive riding position to match the bikes performance and rebuilt Brembo discs at the front provide plenty of stopping power.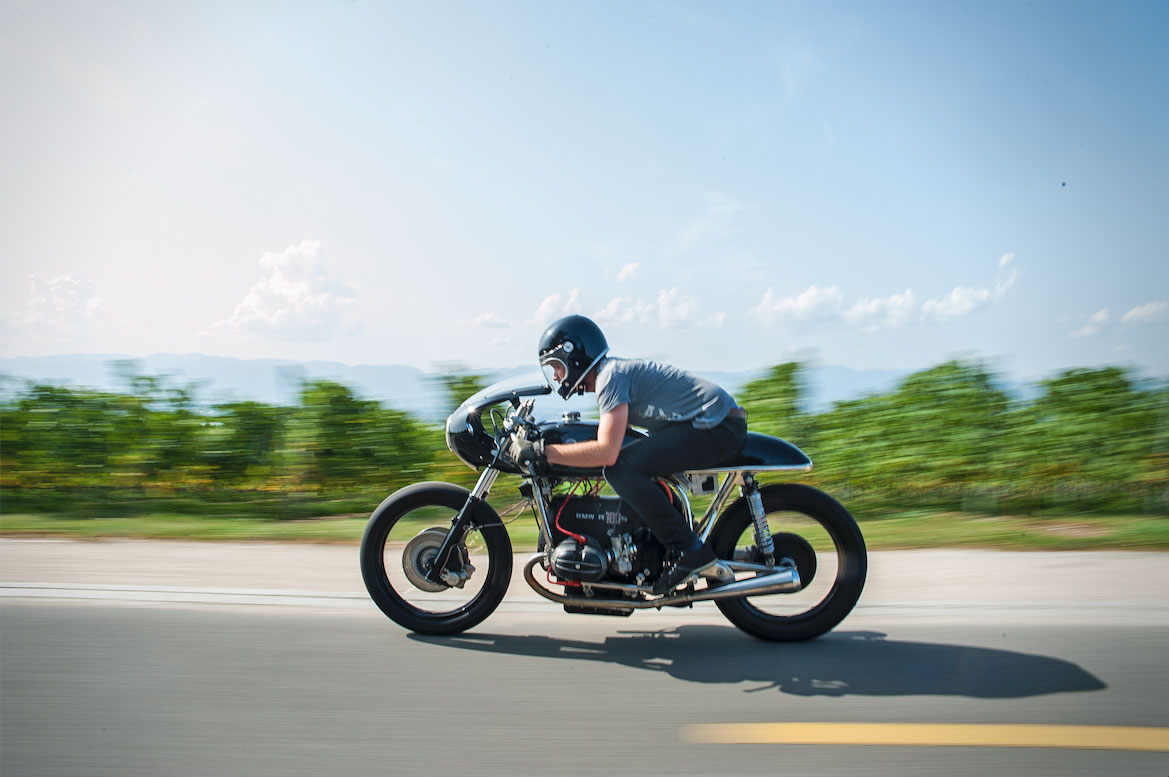 "It's incredibly powerful and easy to handle without all the weight." Antoine reports and we have no doubt looking over the list of modifications. The bike's appearance also hints at this. The bodywork is finished in classic BMW gloss black and the engine coated in flat black. Then, like the stripe down a Redback spiders abdomen, splashes of red warn of this beasts nasty bite.