After building his own bobber and plenty of customer bikes, James decided it was time to set himself a new challenge. "A friend told me that there was nothing I could do to make it cool." James recalls "So I set out to prove him wrong!" The motorcycle in question was a 1992 Yamaha XJ600 Diversion described rather unflatteringly as the "Vauxhall Astra diesel amongst motorcycles" by an unashamedly honest MCN journalist. Unfortunately, the XJ600 James acquired didn't feature any characteristics capable of dispelling said journalists opinions. It was a tired old commuter that had lead a hard life so it was going to need a serious overhaul. Working in the evening or in between paid work he stripped the XJ down and began work remodelling its frame.
Choosing to go with a cafe racer styled build James stripped off as much excess as he could leaving only the essential items. The subframe was also removed to make way for a new, lightweight hoop designed to create a more balanced bone line. A new rear cowl with integrated LED taillights and seat were also fabricated in-house at his 'JM Customs' workshop. Concealed beneath the tail are the bikes electrics and battery and to keep the rear clutter free the numberplate was relocated to a custom hugger style mount over the wheel.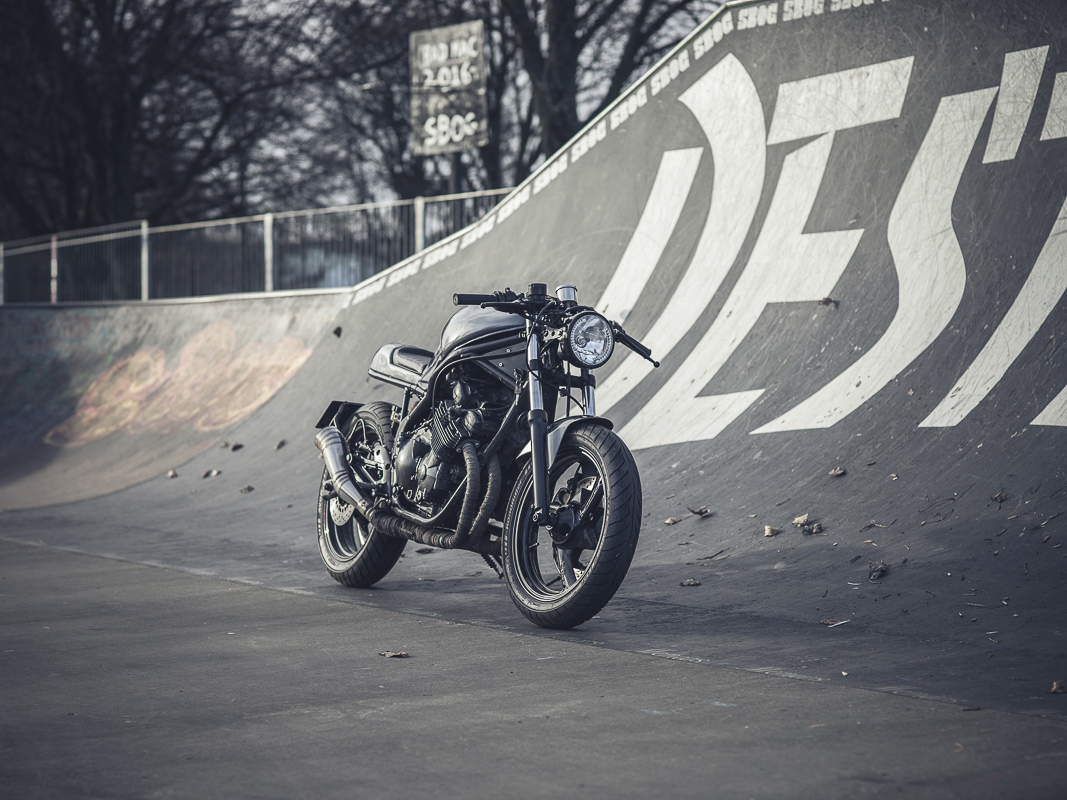 The fuel tank is the original item because finding one that matched the unusual frame so well would be near impossible. After removing the bikes front cowl James had to find several solutions for upgrading or hiding the mess hidden beneath it. So, clip on handlebars wearing custom controls and switches were mounted to the forks and a new triple clamp milled. A single aftermarket speedo was then recessed into the top clamp and an aftermarket headlight with integrated indicators added to keep things really clean. To hide the bikes coils from sight, James and his team fabricated frame plates which also gave them a place to relocate the ignition.
For handling upgrades, the rear shock is now a Hagon unit and the forks internals were completely rebuilt. The brakes were also overhauled to improve stopping power. The XJ's 5-speed, air-cooled traverse four engine was also given a full overhaul. For a bit more grunt in both power and presence, a GP style muffler was mated to the wrapped, stock headers.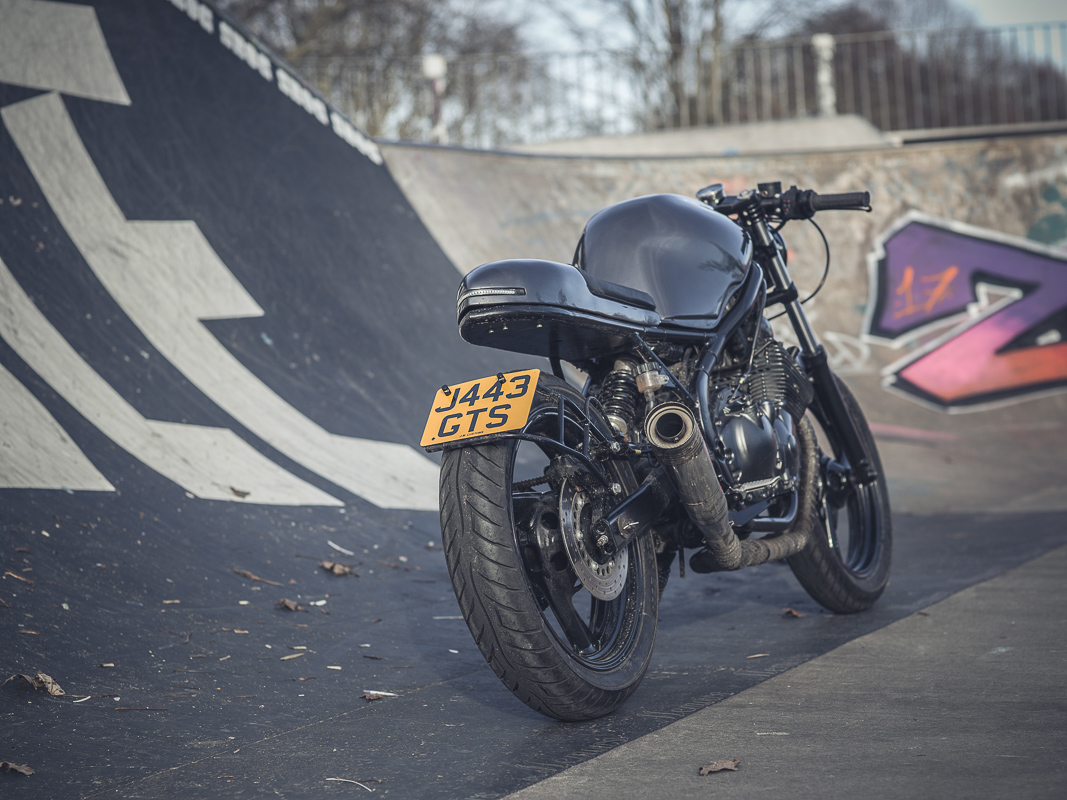 In this day and age if you want something to look cool you can't go wrong with a more muted colour palette so James applied a mix of satin and gloss black across the frame, wheels and engine. For the bodywork, he went for a metallic gun metal grey with a hint of blue that "transforms" in direct sunlight.
With its rebuilt engine, handling upgrades and a whole lot less weight to pull around the 'Morpheus' is a vast improvement over it former self. As James pointed out, "Any bike can be transformed, with vision and some old fashioned hard work you can create something unique, something special." and we'd certainly stand by that opinion.
Photography by Space 21
We all remember the scene from the Matrix when Keanu is given the choice of taking one of two pills. The blue will allow him to carry on with his normal life, the red to follow a new uncertain, yet potentially rewarding path. It's an existential predicament that many people experience at some point and it can be the most defining moment of your life.
For James Moir his red pill moment was the day he decided to step away from his career in oil and gas to follow his dream and open a custom motorcycle workshop. The aptly named Yamaha XJ600 'Morpheus' is a symbol of his transition and exemplifies how the mundane can be transformed into something much more exciting.