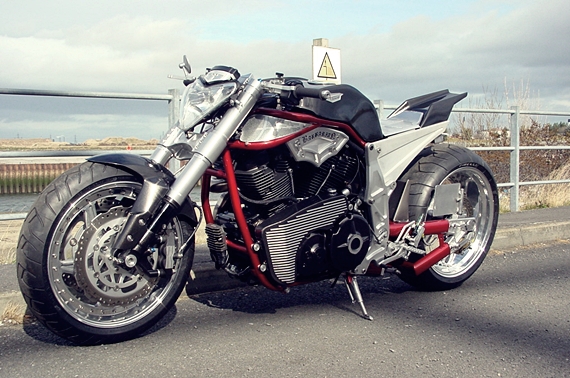 I've always been intrigued by Yamaha's MT-01 V-twin "muscle bike". Back in 2008 I got really excited when they released shots of the 
Yamaha MT-0S concept
 which sadly never went into production. While Yamaha's MT-01 in stock form is by no means an ugly motorcycle I often thought it would make a great base for a kick ass custom…thankfully I wasn't the only one. This is the Barbarian, a custom Yamaha MT-01  by Shaun Wainford, a talented engineer and self taught CNC master.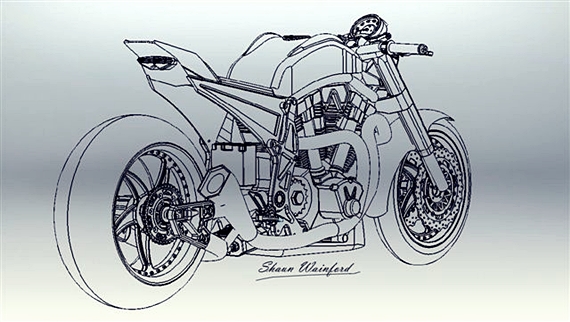 Shaun was looking for a project to showcase his skills in 3D modeling and CNC machining when he stumbled across a written off MT-01 motorcycle. The bike had been involved in a serious crash which meant everything had to be scrapped apart from it's lightly damaged V-twin motor. Once Shaun had the Barbarian laid out in 3D he separated out all of the components that he could build using his CNC mill. The wheels, yokes, handlebars, brakes, foot pegs, swing arm, tail section, levers and integrated exhaust were all milled out of aircraft grade aluminium on his own CNC setup.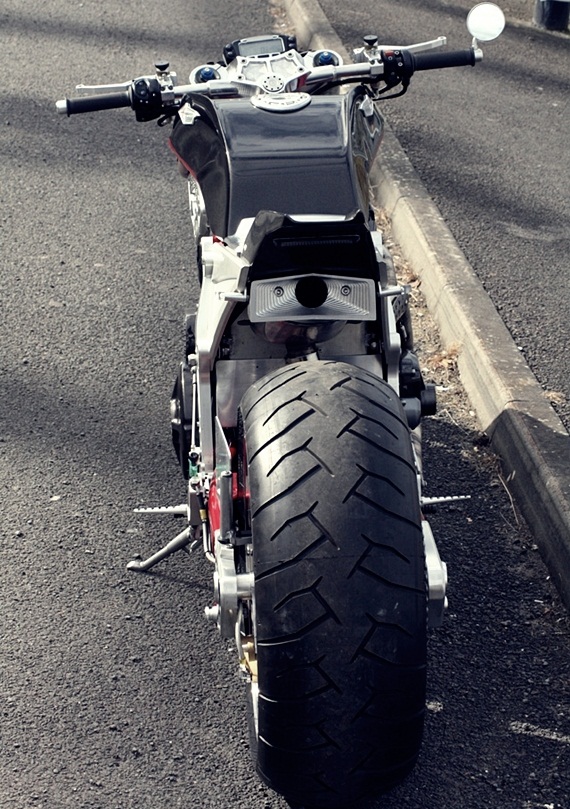 Shaun wanted a bike that would appeal to chopper riders, classic bike lovers and even the street fighter crew so he designed a front end which allows up to 10 degrees of adjustable rake. The rear end also uses a custom made air suspension unit that sits in the bikes underbelly to give it a cleaner back end. The frame is also a custom design which Shaun fabricated himself, bending and welding the tubes by hand (he's a bloody custom builder Jedi!). For the unique exhaust a technique called Lobster backing was used which involved cutting the pipes in to sections and welding them back together to form the bends. Then just to show his skills don't end there, Shaun hammered out the pieces of the tank by hand before welding them together and mounting it snug in the frame.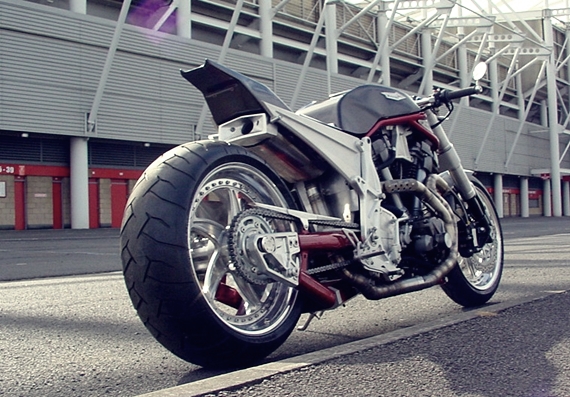 All up the Barbarian weighs in at 235kg which sounds like a lot but is actually 30kgs lighter than stock and just incase anyone wants to criticise it's weight a set of high compression pistons and a reworked cam, head and upgraded ECU push performance numbers well above the stock figure of 89bhp. Over 1500hrs of work went into building the Barbarian and it's easy to see why. If you visit Shauns website you will able able to see more of the build process which reveals just how intricate the detail that went in to this build is.