To improve the v-twin's power and torque Yamaha fit the SRV with a beefier cam profile, two carburetors rather than one and a specially developed exhaust system. Sure it was still a 250, but when they put that engine together with a Norton-esque double loop frame and a diminutive kerb weight they ended up with one hell of a little performer. Unfortunately, like most things designed in the nineties, the SRV's styling was showing its age, despite its retro theme.
"Yamaha's pint-sized v-twin SRV250 won us over 20 years ago with its sleek castings, punchy low-end delivery and sweet handling," says Matthew Roberts, the creative director at Tokyo's Speedtractor Industries. So when the opportunity came to overhaul one he knew every tweak should be carefully considered. The concept was to create a "ruggedized" cafe racer, the henchman for an aggressive rider, and it would be called 'Odd Job'.
"The SRV250 frame is a double-edged sword," Roberts says of the SRV's double loop design which posed the biggest challenge to the overhaul. So to create a balanced bone line the entire rear subframe had to go. With the loop removed any unwanted frame flex was negated by welding bracing between the bikes rear shock mounts and the stock shocks were replaced with better performing Ohlins items.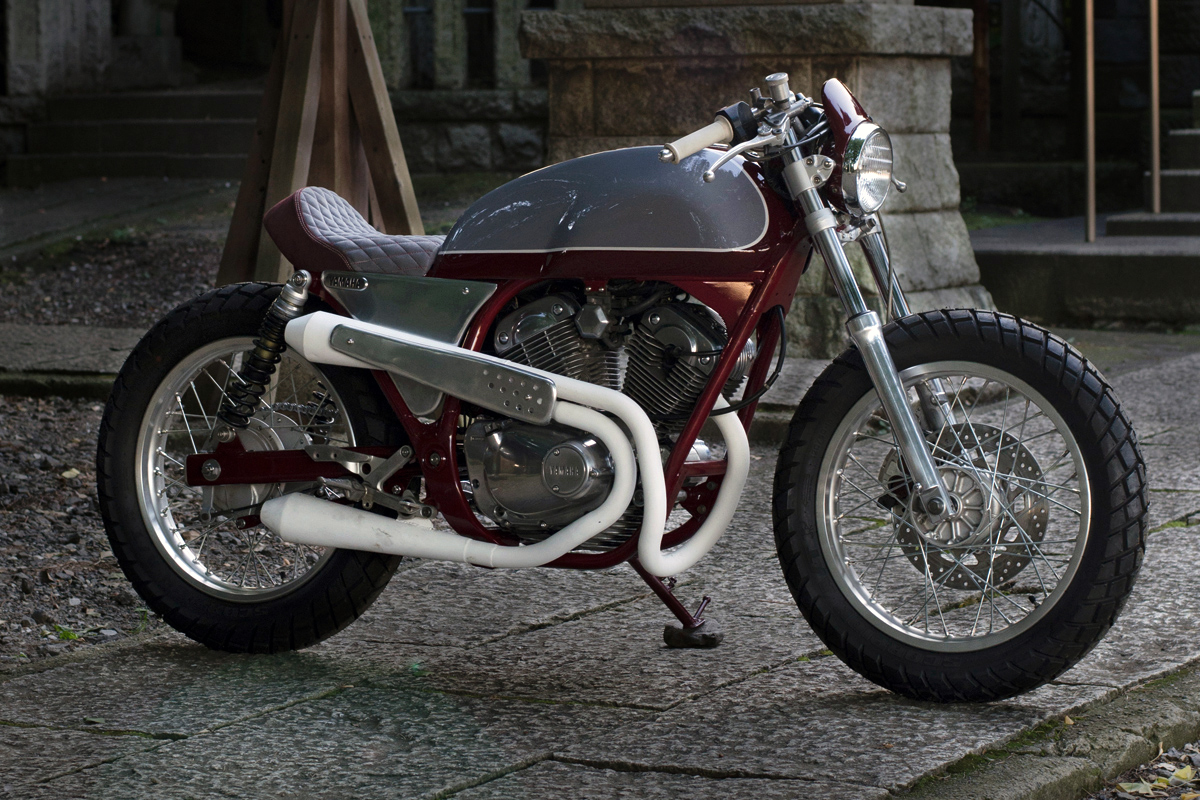 Since Yamaha did such a good job with the SRV's v-twin Speedtractor focused on breathing new life into it by giving it a thorough service, a clutch overhaul and installing a pair of free-flowing uni-filters to the carbs. Another trick bit of engineering Yamaha applied to the SRV was a specially designed exhaust system that, unlike many factory pipes, really made the most of the engine's power. A stock system simply wasn't going to cut it on a Speedtractor build so an all-new stainless system was fabricated from scratch. One pipe per cylinder was the preference, so a pair of tuned length headers were fabricated with reverse megaphone mufflers welded to them. Then to showcase their work each one was heatproofed with a white ceramic coating.
Odd Jobs custom fuel tank is a one-off epoxy composite unit that sits low to cover the curve of the frame rails and tucked away beneath it are the carbs and battery. To complement the lines of the tank a custom seat was also put together using a classic cafe style kick at the rear. Finished in diamond-stitched Alcantara it features the same colour scheme applied to the tank and frame to help tie everything together.
"Looking to keep a congruous line from the tip through to stumpy tail, a one-off headlight shell that transitions seamlessly into a mini fairing as a single unit helped smooth out the Yamaha's notoriously high riding triple clamps," says Roberts. To further lower the look of the front end a custom top clamp was fabricated and clip-ons fit. Again performance was paramount so the bar height was kept at a comfortable position and paired with rear set footpegs to lower the rider's knees and keep their feet away from the asphalt.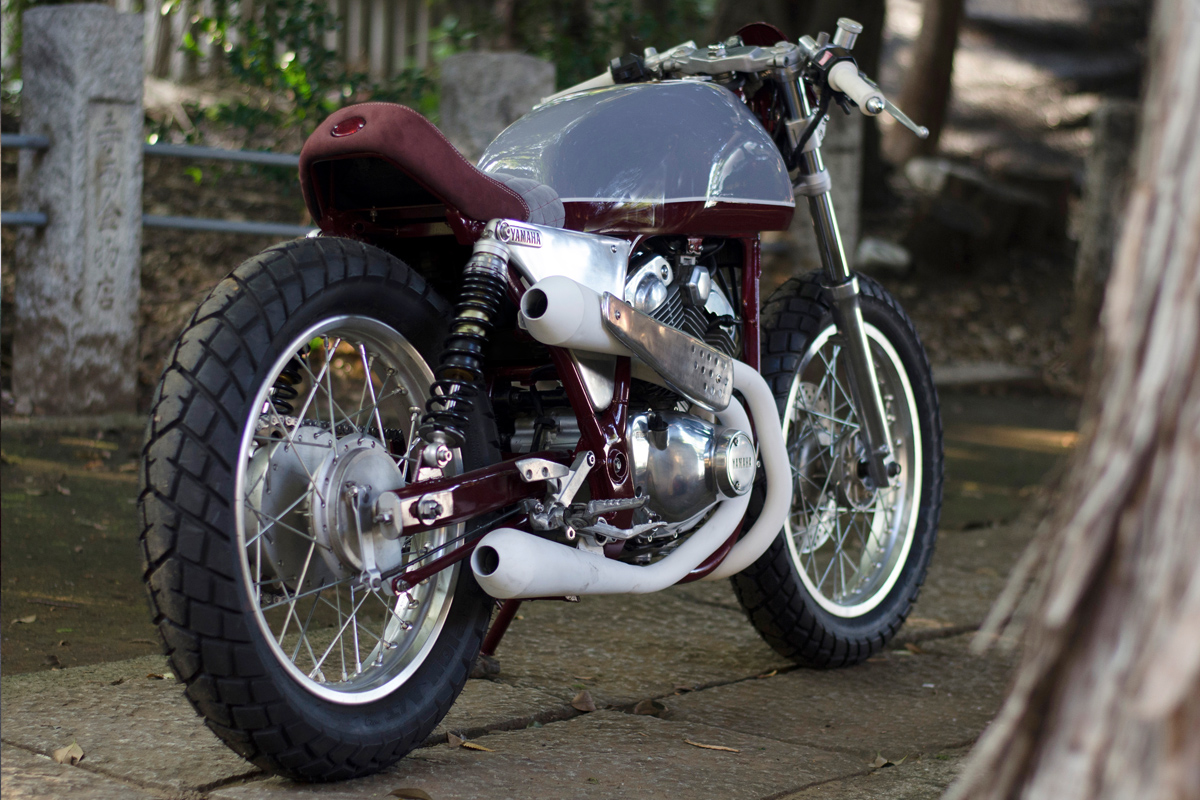 Odd Job's brakes have also been overhauled and braided lines added for improved response. To compensate for the lack of gadgetry between the bars Speedtractor recessed a single mini speedometer into the fuel tank right alongside the filler cap for almost perfect symmetry. Although an open frame can work wonders on some bikes, in this case, the SRV250 needed a bit more bulk so a set of custom side covers were fabricated and left raw to match the finish of the bike's engine. Although the hubs are stock, the wider rims they are laced to are not. With a name like Odd Job, the SRV had to be chunky so wider rims were added to allow the fitment of Pirelli Scorpion rubber.
Those with a keen eye will note a lack of indicator lights. That's because Speedtractor has grafted them into the headlight and onto the number plate bolts (not shown in these photos). When fit to the bike the number plate also doubles as a mudguard to prevent road dirt from ending up on the riders back.
Matthew attests that "Even in standard trim these machines eat up corners better than motorcycles twice their capacity, so we thought, what the hell, we may as well go to town on it." and we're certainly glad they did.