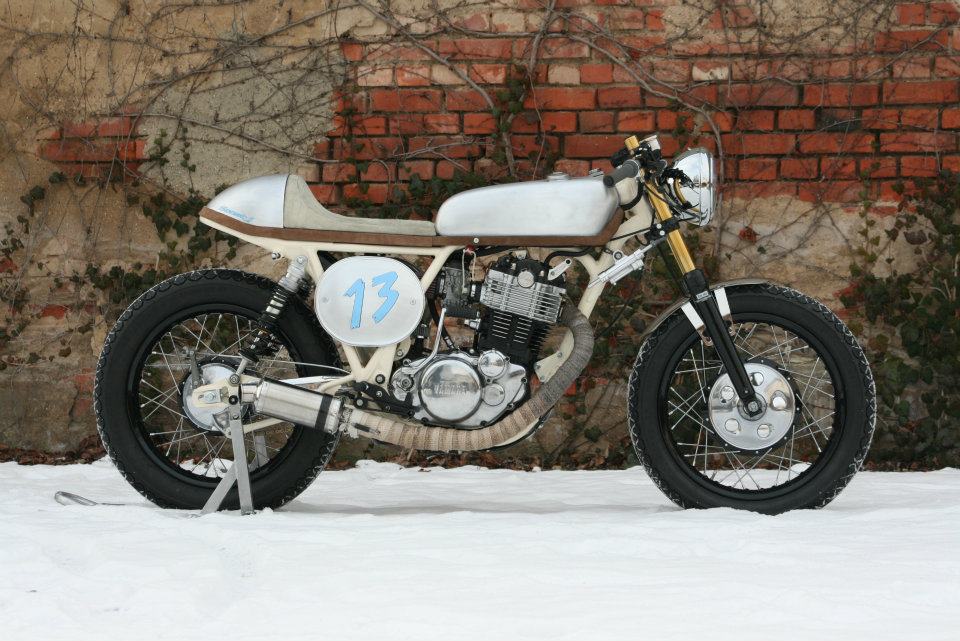 Brrr… Lars and Jorg of Motorradtke GbR in Germany traditionally build and maintain Superbikes for the race track. However after an intimate encounter with a customers Yamaha SR500 they purchased their own SR and locked themselves away in their workshop for the winter. Four months and 20 cases of beer later they emerged blurry eyed and bloodied with this, the Soost #1 Cafe Racer.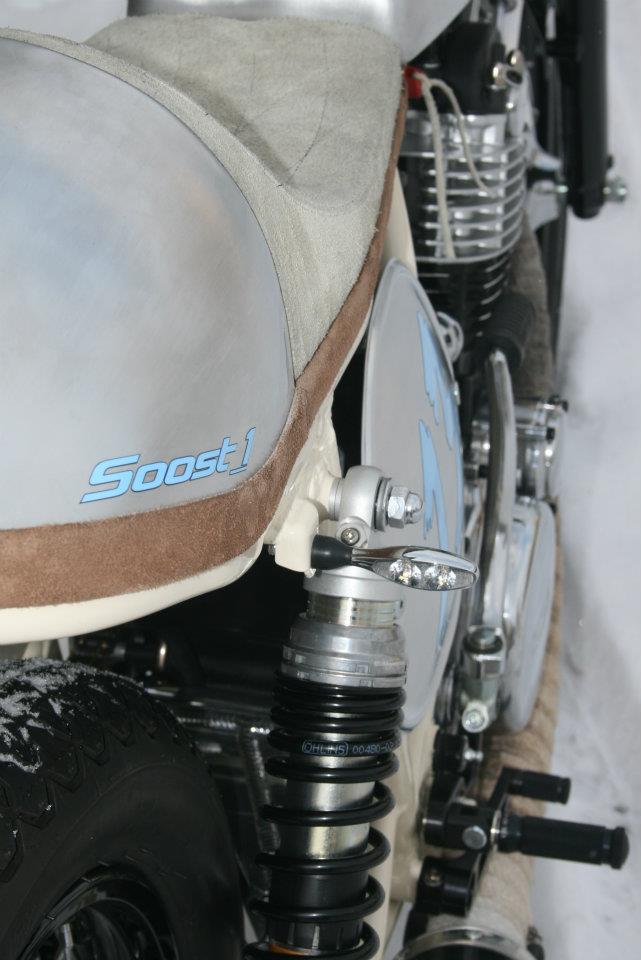 Why go from building Race Bikes to a 500cc Cafe Racer?
"One ordinary cold autumn night, this guy wheels his SR500 into our garage. He brought it in for a "tune up"- only thing was, it didn´t even run! We're were looking at each other thinking "What the f*ck can we do with that piece of sh*t?" when he told us that he'd already been turned away by several other workshops. After much debate, we made a decision to help the guy out and fix it.
It took one intensive day of troubleshooting and tuning to get the bike runining. Risking being seen by a customer and most likely losing their business, I (Lars) took the bike out for a test ride. What I didn`t expect was how good the SR would actually be to ride…It was awesome!! When I got back to the workshop, Jorg asked me if I had just had sex? I told him "no" but the truth was… I wasn´t really sure! Two days later we bought an SR500 for ourselves."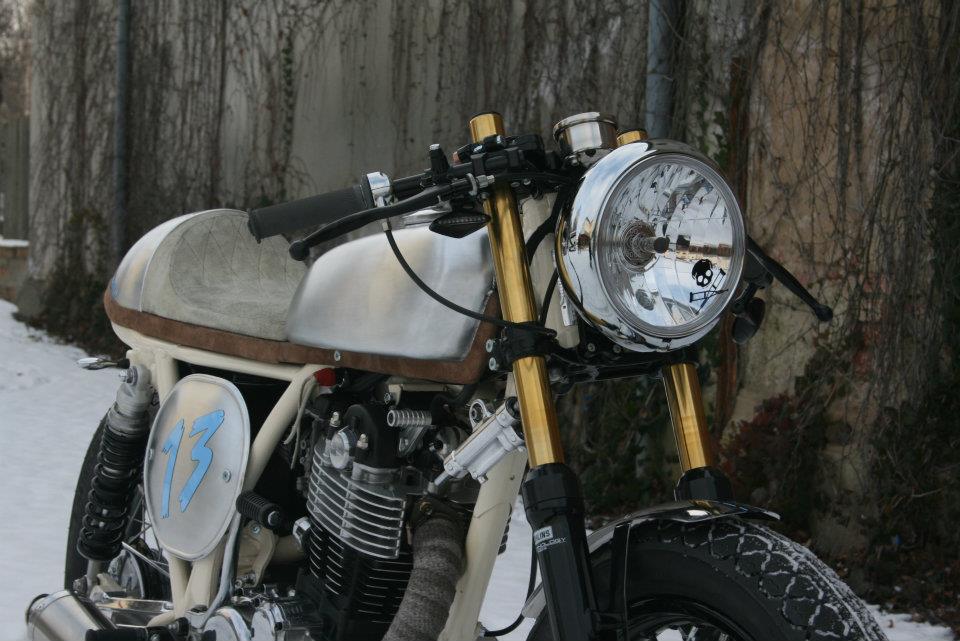 Lars and Jorg weren't about to just build any old custom bike though. Their work on race bikes won them the 2010 International Deutsche Meisterschaft (IDM SSP)with talented Aussie racer Damian Cudlin (who now competes in the Moto2 GP World Championship) at the helm. They had a reputation to maintain. Their SR500 was destined to be a Cafe Racer and it was going to perform to the best of its ability.A whopping 41kg of excess weight was removed from the'93 SR500 SP to get it down to only 124kg. Modifications to the lower part of the frame and tail section were made prior to the fresh coat of paint. LSL rear sets and clip-ons also helped to shed some weight and revised the rider position for a more aggressive riding style.

Ohlins S36e shocks replaced the stock units and a completely customized fork set up, 38mm taller with linear springs and a low friction inner coating, provide more rebound and compression damping in the front end. A Yamaha R1 steering damper minimizes the chance of any unwanted tank slapping and a slightly longer, lightweight aluminum swingarm extends the bikes wheelbase.
Power upgrades come from changes to the cam, compression and valve clearance. The flow of gas in and out of the bike has been improved with a K&N hi-flow filter, a carb upgrade and custom exhaust system. Top end performance has been sacrificed for faster acceleration with a lightweight sprocket combination and a Quickshifter. Then to ensure the bike will pull up just as well as it takes off, dual brakes were fitted on the front.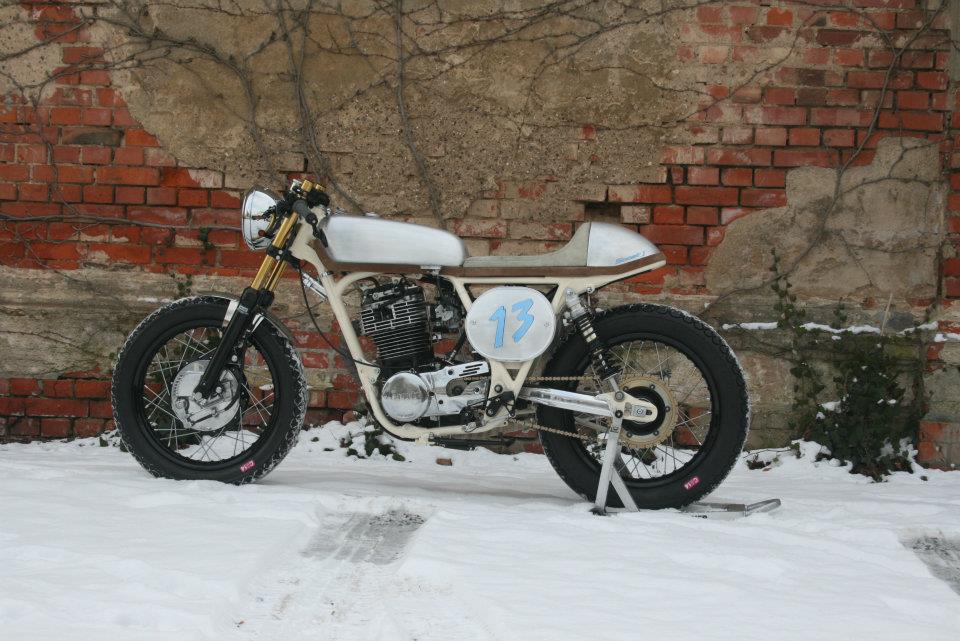 Aesthetic improvements come in the form of a Harley Davidson head lamp, low profile indicators with integrated brake lights, electronic Daytona dials, and a customised aluminium cowl, fuel tank and seat. The bike was finished in a raw metal and a caramel/nougat paint scheme that is innocent enough to trick any unsuspecting fool who thinks they can take on this wolf in sheep's clothing.
Special thanks on this build go to: LSL, Lackierfachbetrieb Uwe Hahn, Zupin, Rock Bock, Nelosch, Axel Pfannenschmidt, Blechmanufaktur, Folientechnik Nielebock, Hans Werner HW, Dieter Soost.