"Years ago I rode a '72 Yamaha XS650 from California to Sturgis. I was wearing a Walmart rain suit in the pouring rain flat out to dodge the inclement weather. When I stopped for gas some motorists commented 'You were going so fast that your damn clothes are tearing off! You passed us like we were standing still!'. These are my memories of my infamous XS650."
The inspiration for the build came from the history of Yamaha's XS650. There's no denying that Yamaha took massive styling cues from Triumph's Bonneville twins when building the XS, so just like the British Cafe Racer riders back in the 50's he decided to add elements of Norton's Commando to create this Cafe Racer. While the bike may not sport a featherbed frame it's stance and bodywork scream British design especially that unmistakable Norton colour scheme of black with gold pinstriping.
First thing I noticed about this build is how clean the bike's frame now appears. The factory welds on my own XS650's frame resemble those made by a high school student about to fail shop, but Dustin has cleaned away all the unsightly slag and smoothed the seams before giving it a fresh coat of gloss black. The bike's tank has been swapped with one from an XS750 triple which already had the classic, Cafe Racer style knee dents. The seat and rear cowl were then handmade by Dustin himself using similar lines to those found on the XS750 tank to tie the whole look together nicely.
The polished triple trees have been slid down the forks and a pair of clip-ons and rear sets added to reposition the pilot for more aggressive riding. To optimise handling the forks contain new internals, Hagon shocks manage the rear end and an extra drilled disc and calliper have been added to the front end for improved braking. The rims were also swapped out for a set of freshly laced, shouldered alloy wheels and a custom made exhaust with upswept mufflers ticks another box on the Cafe Racer style list.
As with his work on the frame, the rest of the finish on the XS is impeccable. I shudder to think how much time Dustin spends in front of his buffer getting those beautiful mirror finishes we see on his builds, but I have to say I'm very glad he does it.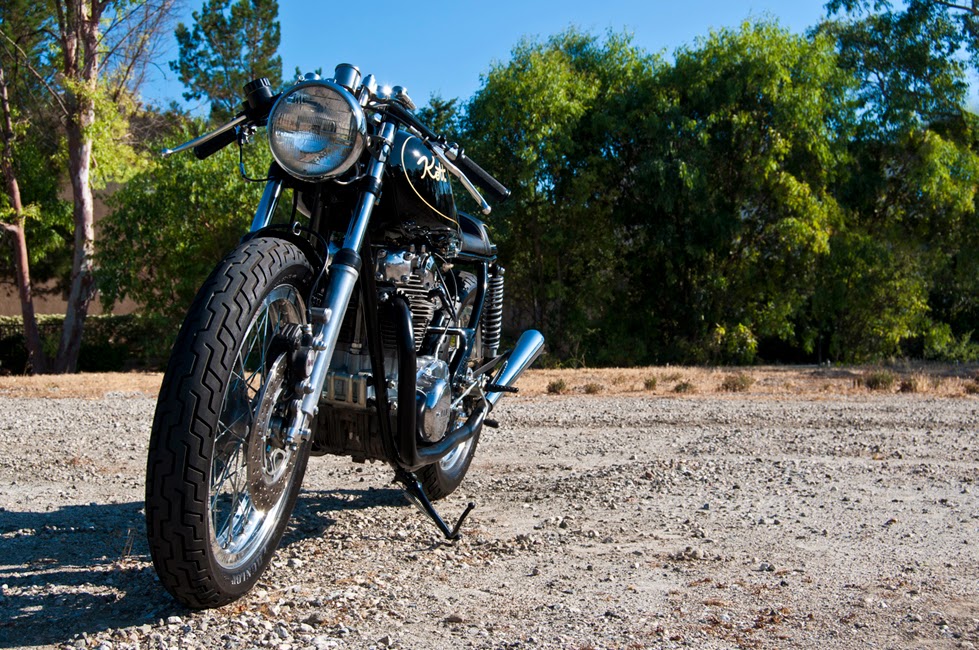 Dustin Kott and his Kott Motorcycles workshop have become a well-respected builder in the custom scene thanks to his impressive portfolio of custom Honda CB Cafe Racers. So to see him turning a wrench on a Yamaha XS650 is something of a surprise. As it turns out Dustin has some history with Yamaha's parallel twin from back when his mechanical skills were much more limited. It was because of that affinity with the Japanese parallel twin that when a customer rolled into his workshop hoping to have their XS650 customised Dustin eagerly took up the challenge.