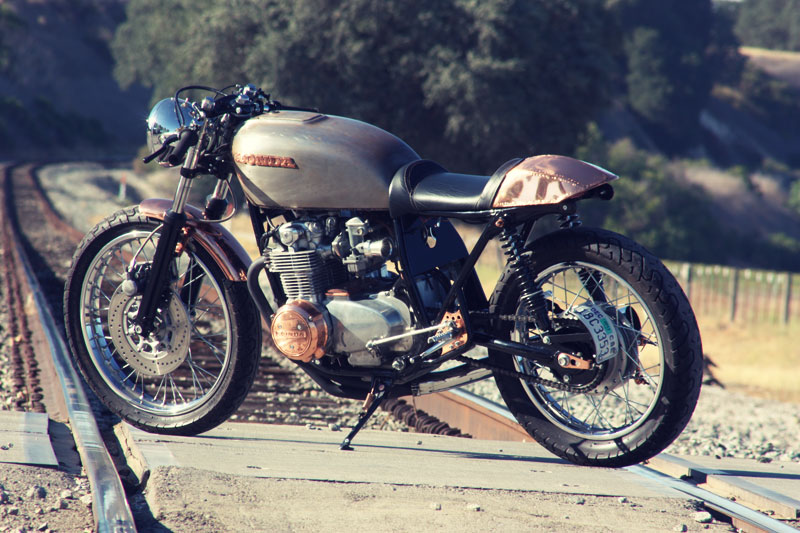 How many times have you walked into a dealership and been convinced by a salesman that their bike isn't right for you? This is exactly the experience David Jeffers had when he contacted Dustin Kott of Kott motorcycles looking to purchase one of his custom builds. David was chasing a custom classic he could add his own touches to, knowing this would never quite make him happy Dustin convinced him to start a fresh build. The two shared ideas and the "Copper Cafe" project was set in motion.


With several custom truck builds behind him and a life long relationship with motorcycles David had a pretty good idea of what he was doing so all that he needed was a donor bike. When a '78 Honda CB550k popped up cash changed hands and Dave piloted the CB down to Newhall, California to the Kott Motorcycles workshop.
"I always wanted to build this exact bike. Clean show bike meets a weathered steampunk look…"
After putting some ideas down on paper Dustin pulled the CB's motor out of the bike and David returned home with it under his arm. Dave and his father stripped the motor down and performed a full rebuild, the completed engine was painted, ported and polished and the carbs rejetted to compliment a set of steel Dragon velocity stacks. Then it was back to Kott Motorcycles to reunite the engine with it's frame.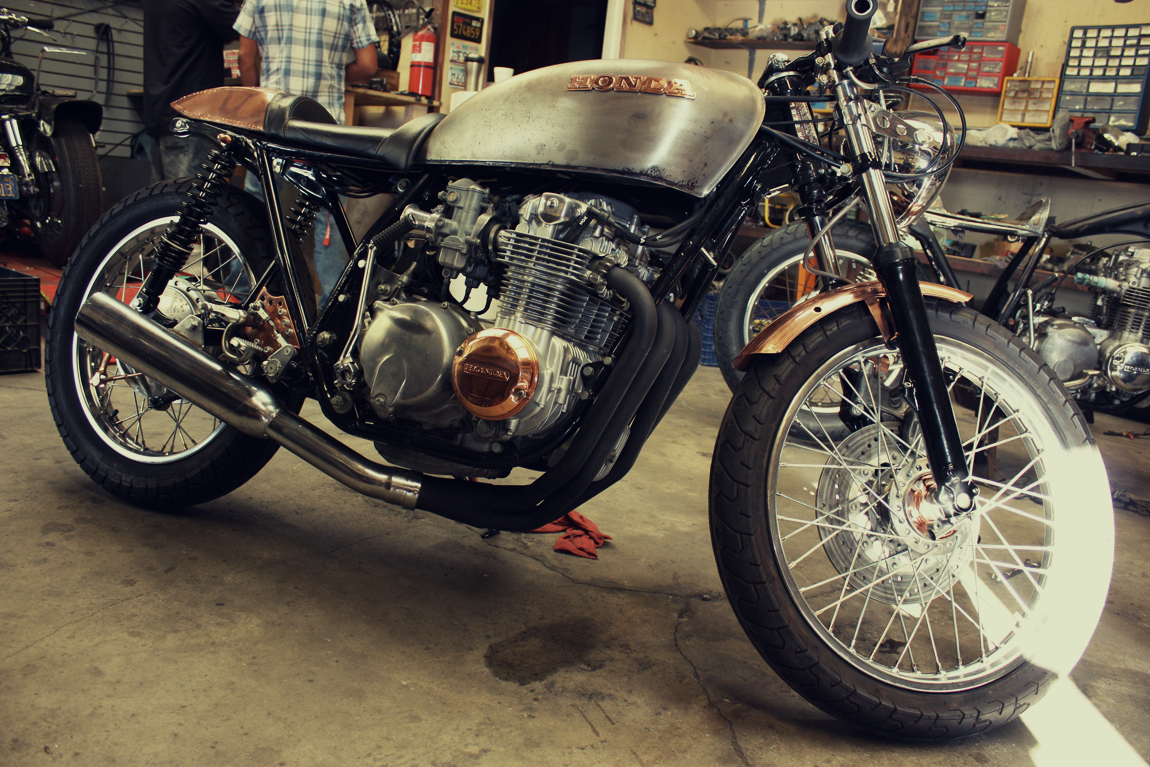 Meanwhile at Kott the Copper Cafe was starting to take shape. The bikes frame had already been detabbed, gusseted and powder coated in black. A fresh chain, new brake shoes, controls, fork seals and cables replaced the 30+ year old parts and a revised and rebuilt wiring loom, rectifier and voltage relocator were installed. Dustin also went ahead and added bolt parts such as a set of clip on bars and rear sets to get the Cafe Racers riding position right.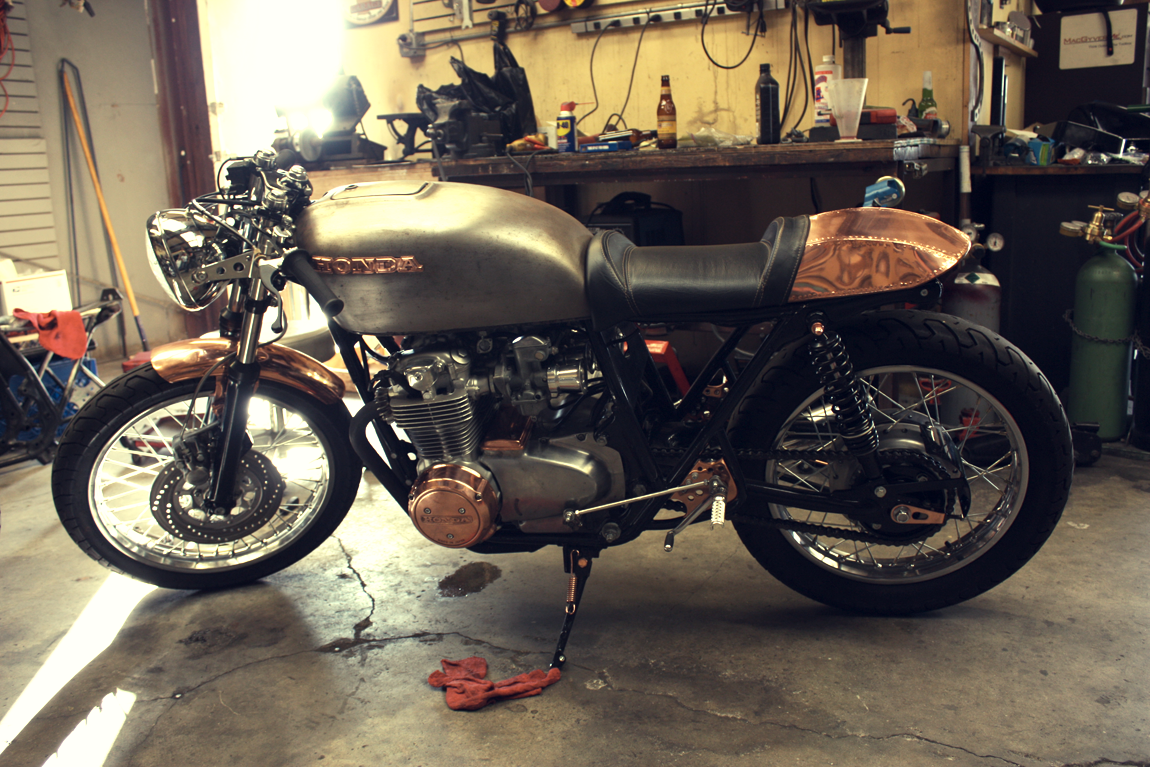 A Kott custom seat pan was fabbed and welded together by Dustin but at Daves request the welds were left visible. The seat cowl along with the modified front fender, engine covers and a selection of small components were then sent off to get the Steampunk treatment with an Electorplater. Each part came back with a bright copper finish that was then given a light clear coated to retain their spotless lustre. The forks, triple trees, headers and shocks were all sprayed in black while the tank was stripped back to bare metal and left exposed for mother nature to work her magic on.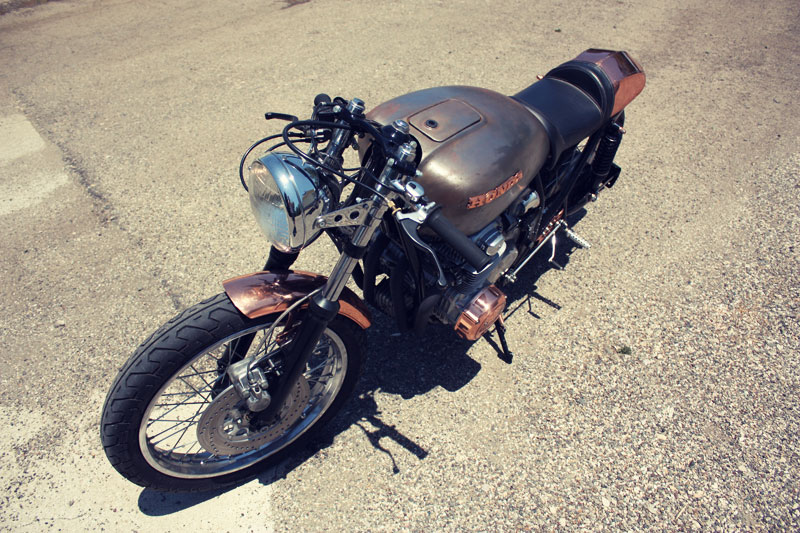 Dustin also boosted whoa and go performance by drilling the front brake rotor, rebuilding the master cylinder and adding a Kerker 4-into-1 exhaust system. The battery was relocated to the tail section and a set of newly laced rims were installed.
The final bike is exactly what David had in mind. It's a show bike with a hint of Steampunk that will only look better as time goes by.