Alongside Harley Davidson's Sportster the Triumph Bonneville is arguably the most customised motorcycle ever made. We've featured countless Bonneville cafe racers in the past, but today we're bucking that trend with this Scrambler styled 865.
Built by custom workshop Absolout Motorcraft in Barcelona, this Bonneville 865 shows the older Hinkley's can still hold their own. Built for an Absolut customer the bike entered the workshop as a lightly modified, Special edition Steve McQueen Bonneville 865. Three months later it emerged as this smart-looking Scrambler with genuine off-road ability.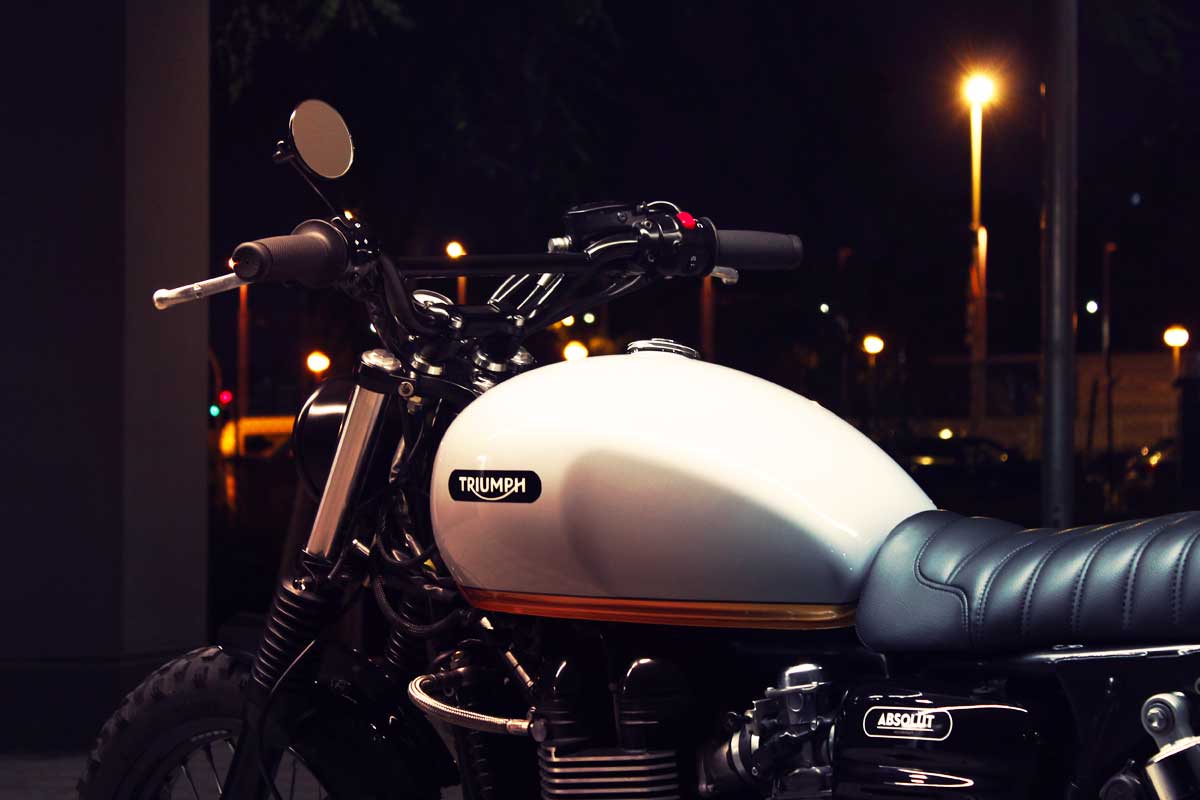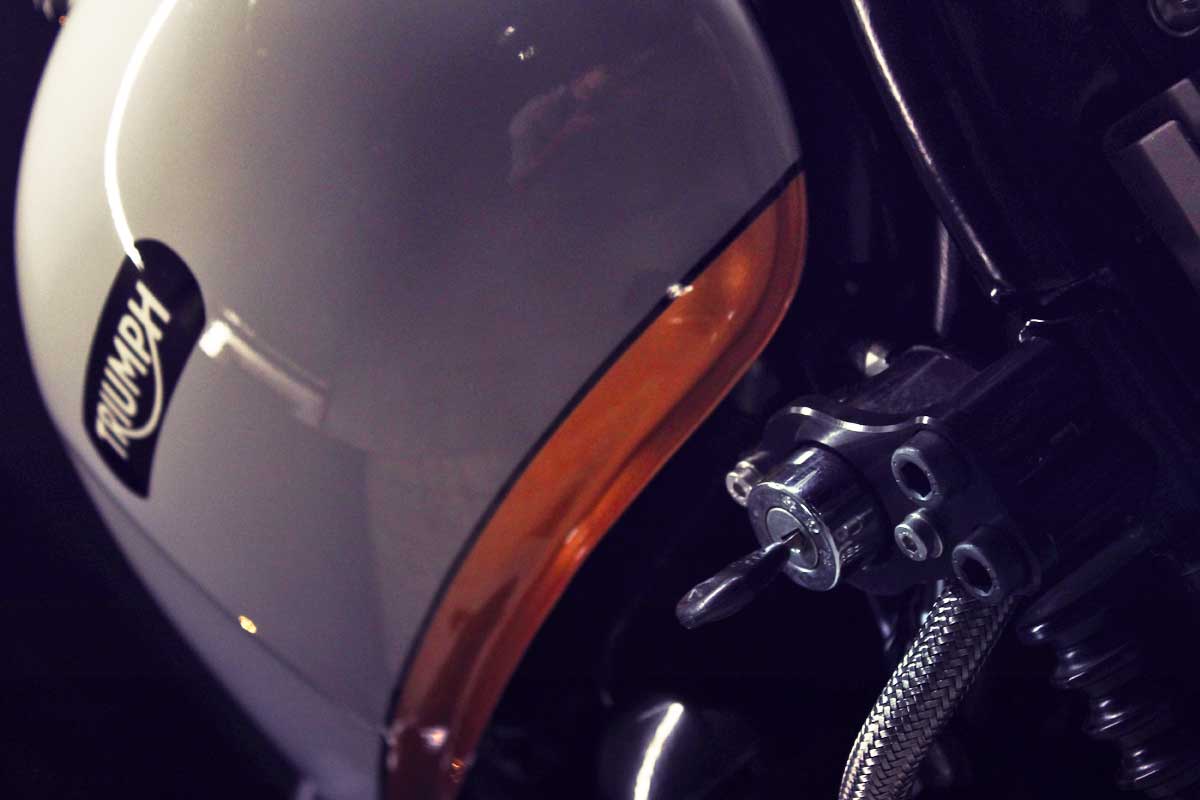 Absolut founder Federico Cerdá is open to working on whatever motorcycle platform he's presented with. From the genuine classics through to the latest retro-inspired rides. Working on a Triumph Bonneville 865 was nothing new to Absolut, but this was the first Special Edition Steve McQueen Bonneville to roll into the shop. Seeing as it was number 662 of only 1100 Federico decided to create a machine that better suited both his client's needs and the bikes Steve McQueen moniker.
"The client was looking for a bike to enjoy the local roads of his home on Ibiza," says Frederico. "The island is full of hidden roads to enjoy the cliffs, coves, and beaches." As it happens McQueen was also a lover of off-road riding. So rather than a homage to a fictional motorcycle, their McQueen Bonneville would be a celebration of the King of Cool's passion for off-road riding.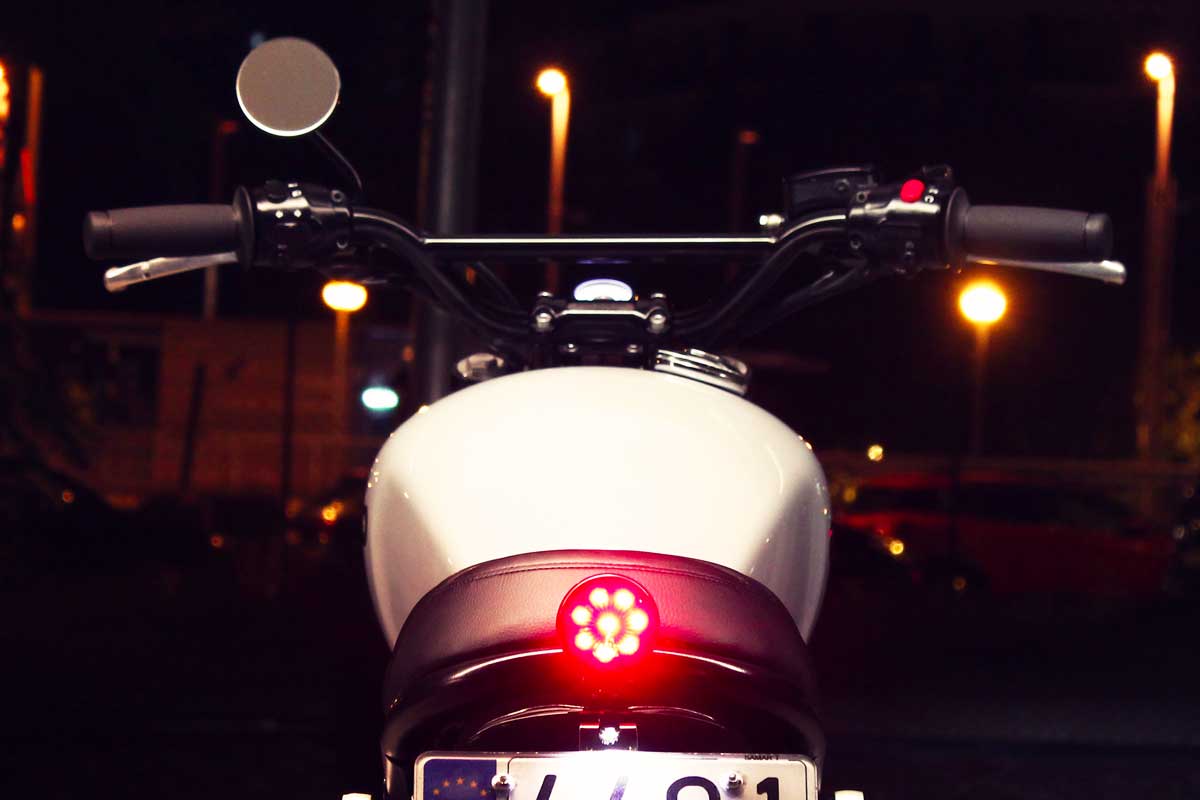 First Frederico translated his vision into a series of Photoshop concepts. After he and the client agreed on the practical and visual changes the bike was torn down. The chassis was promptly chopped and fitted with an Absolut Motorcraft Bonneville 865 subframe kit. Along with building bikes Frederico designs and fabricates these aftermarket kits himself. His Bonneville 865 subframe kit includes a weld-on loop, LED Bates taillight, fibreglass fender, license plate hardware, a new seat covered in robust nautical fabric and all the fasteners required for an all-in-one solution.
| | | |
| --- | --- | --- |
| Image | Product | Buy Now |
| | Dual sport tires | |
| | Classic headlights | |
| | m-Blaze tiny indicators | |
| | Retro brake lights | |
| | Motoscope tiny speedometer | |
| | Aftermarket handlebars | |
| | Aftermarket grips | |
Next, the Bonneville received a series of parts better suited to its function as a dual-purpose steed. The list included a set of enduro Burly Co. footpegs for plenty of underfoot grip. A classic dirt-bike styled Biltwell Moto Handlebar came nest along with a Tamarit Motorcycles engine skid plate and fork gaiters to keep the dust out. Biltwell Renegade grips add more feel to the throttle and both the front fender and side panels have been swapped for lightweight fibreglass alternatives. Most importantly though the stock wheels were wrapped in Mitas E-09 rubber for tackling Ibiza's unsealed limestone backroads.
For a clutter-free cockpit, a Motogadget Tiny Speedo replaces the Bonnie's original clocks. Up front there's a Bates style headlamp and the tiny indicators on the lower tree clamp and license plate bracket are Motogadget items too. As for performance tweaks this Bonneville 865 benefits from a free-flowing K&N air filter kit and a handmade 2-into-1 Tamarit exhaust and muffler.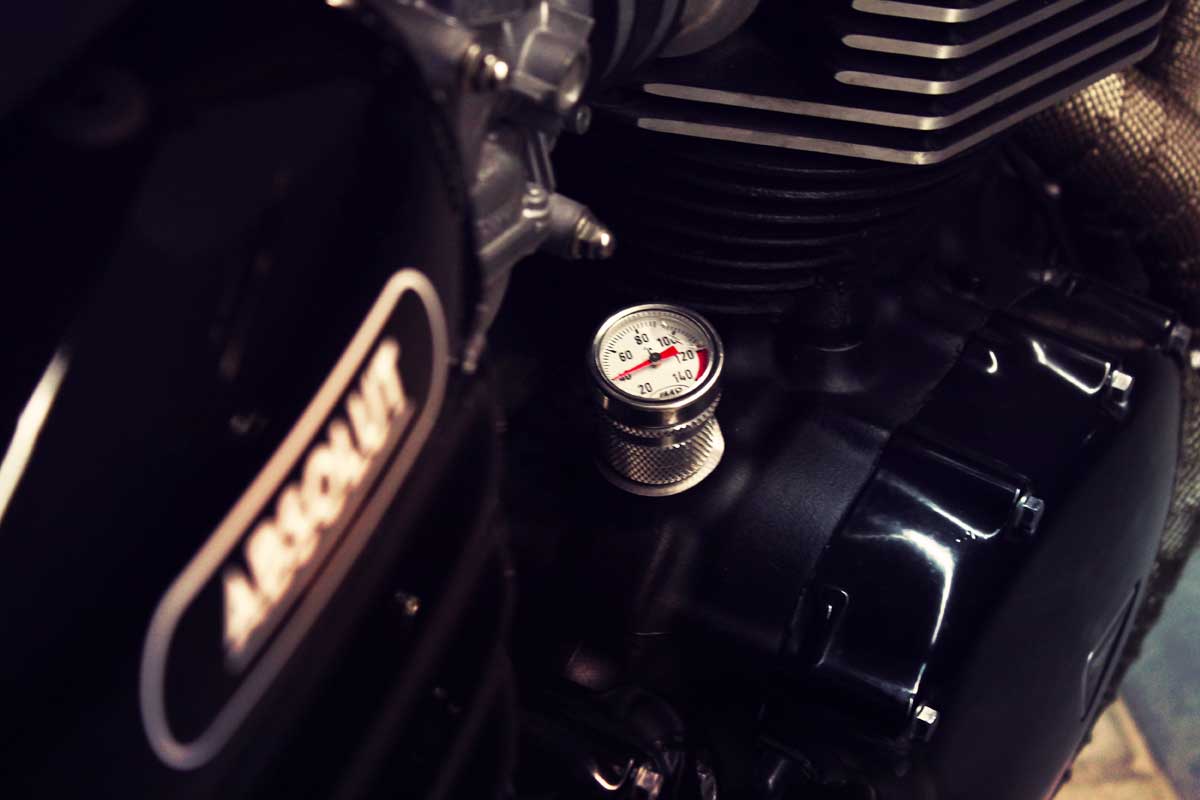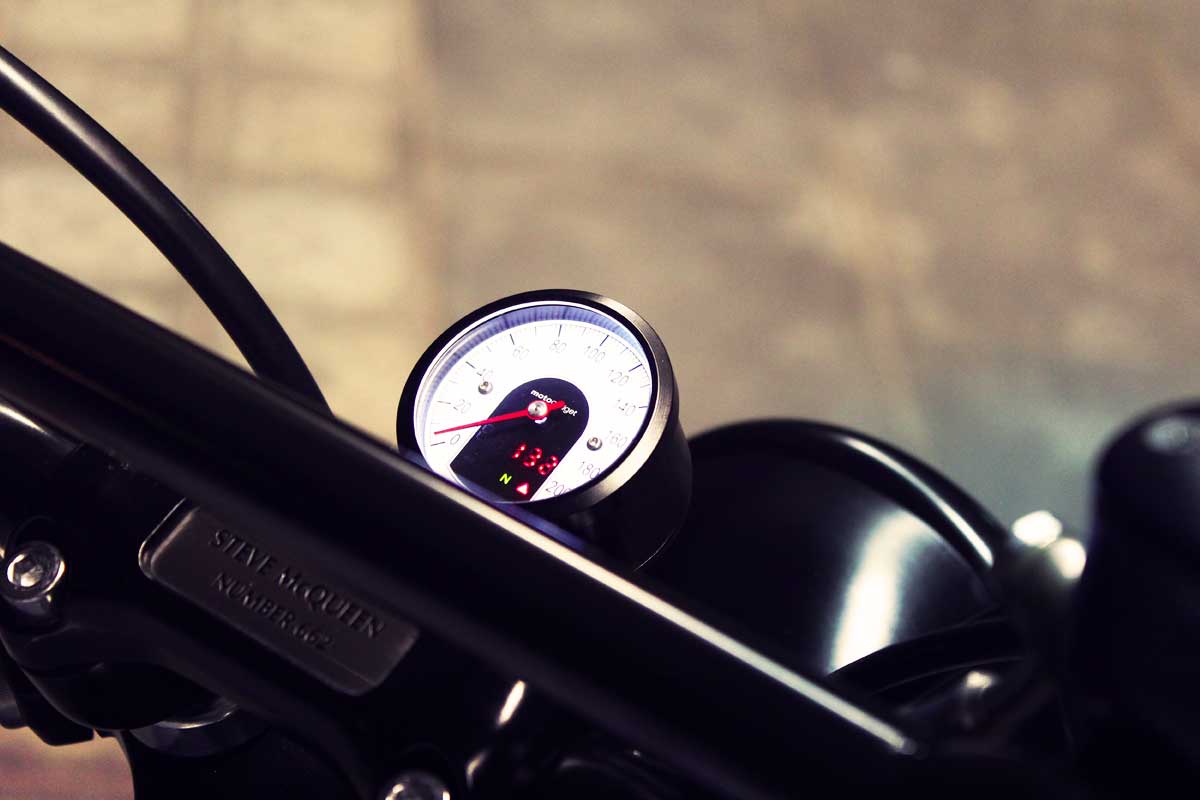 To finish things off Absolut applied a crisp new paint scheme to their McQueen edition Bonneville 865. It's now running a blacked-out engine and chassis and rather than the garish metallic green Triumph applied it features a bright white tank with a gold pint stripe.
As for the performance of the bike, Frederico had this to say, "We get an important weight reduction thanks to the change of the exhaust, the mudguards, and the removal of the stock seat and rack. It amounted to around 35/40 Kg. The air filter, the exhaust and changes to the ECU map brings extra power too. It's performance if very good for an 865 EFI Triumph."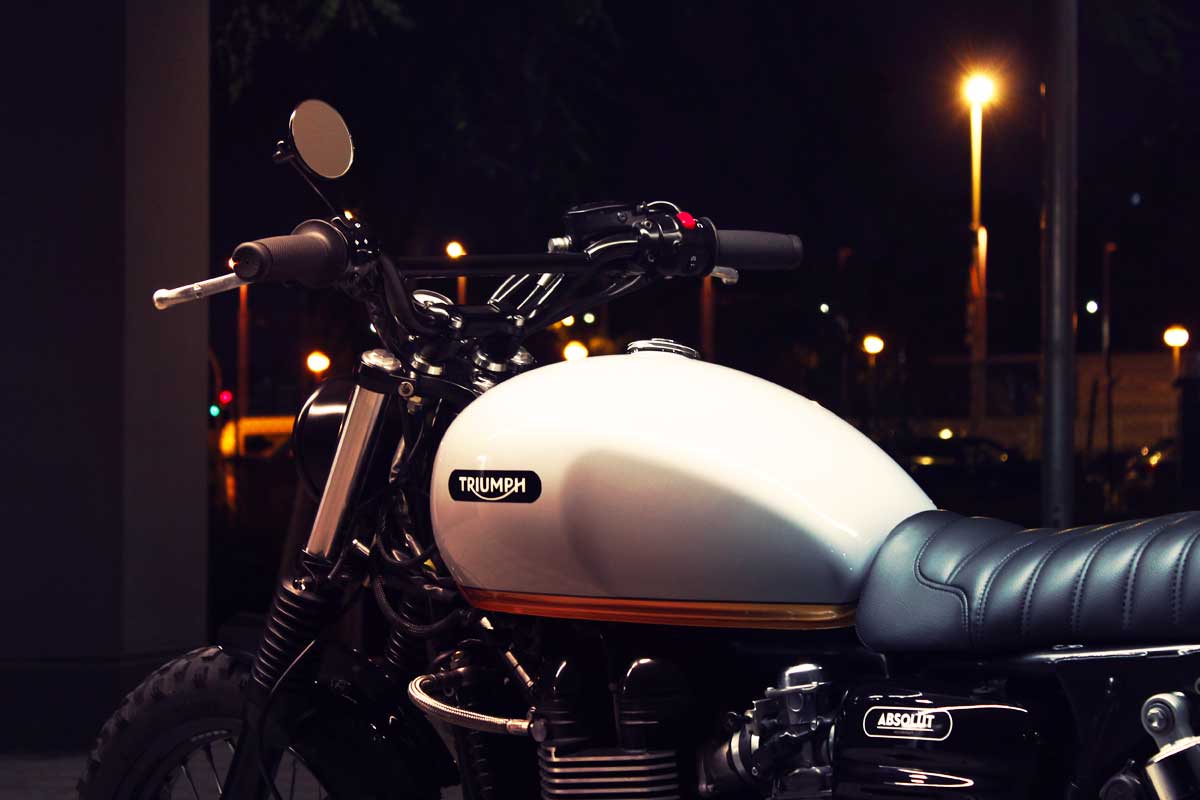 While the original Steve McQueen Bonneville 865 never garnered our attention, Absolut's interpretation is bang on the money. If the King of Cool was still around to see it, we have no doubt he'd approve too.
Photography by 321-Zero.com