One place where form should never compromise function is in the world of motorcycle customisation. This is particularly relevant when customising a motorcycle such as the Triumph Speed Triple. The Speed Triple lays claim to being one the first factory built bikes to adopt the streetfighter style. This was a bold move by Triumph and one they took very seriously. Along with its aggressive 'bug-eyed' styling, the Triumph Speed Triple is a top performer. It's been praised for both its power and handling year after year and has amassed a huge global following during its 25 years of production.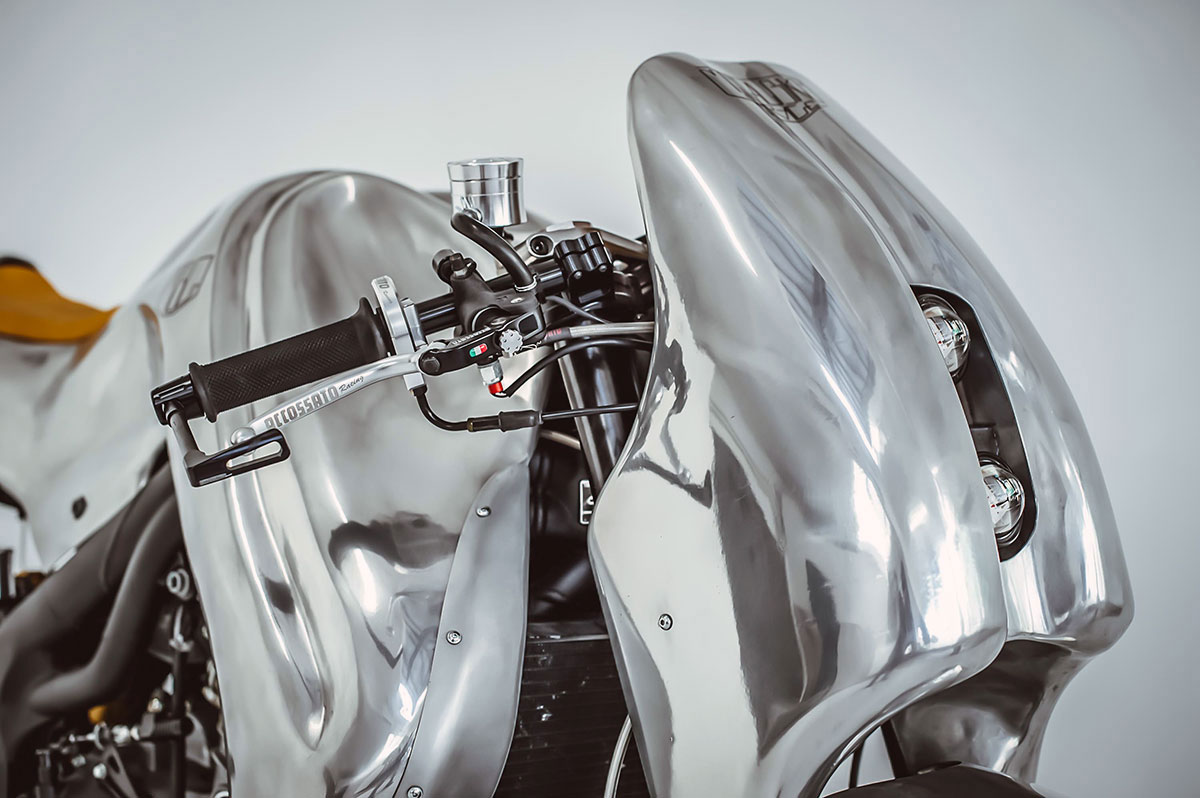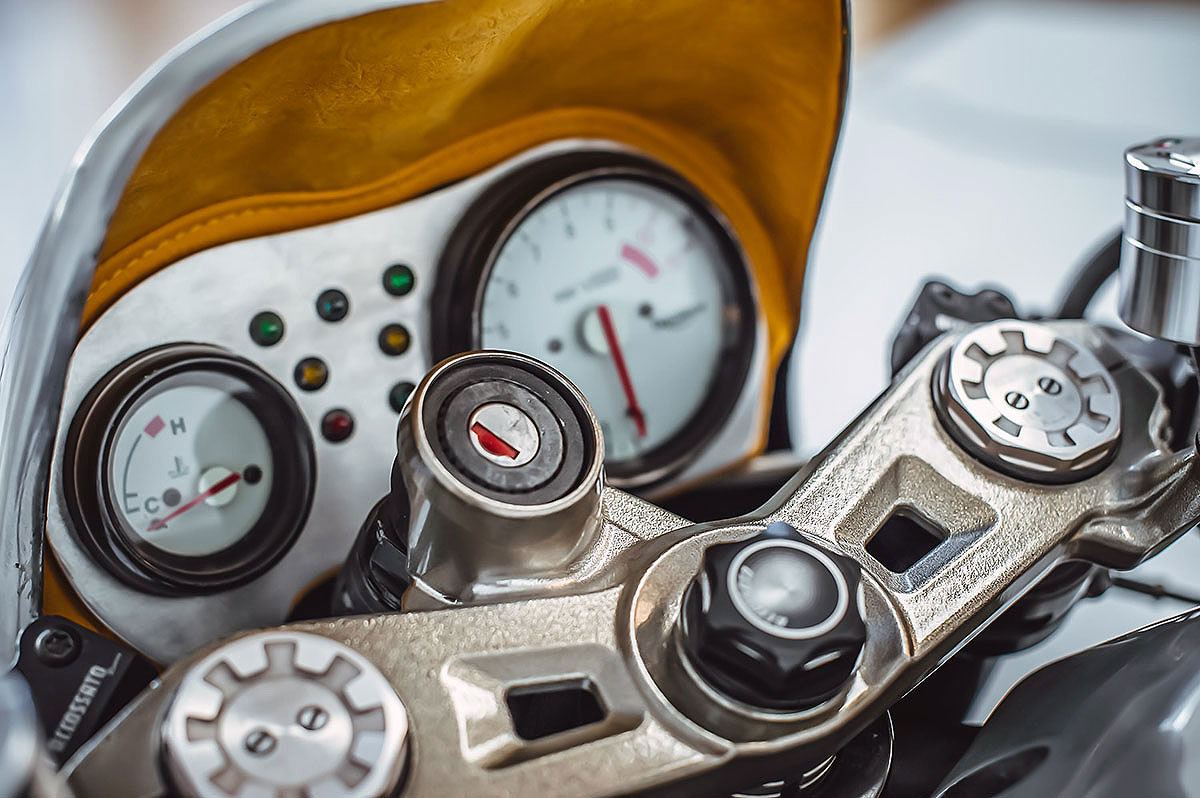 Master coachbuilder Simone Lecca and his team at Metalbike Garage knew they had a challenge on their hands before this latest project even began. The donor was a 2000 model Triumph Speed Triple 995 and their goal was to completely redesign the bike without compromising any aspect of its performance. With his lead designer Federico Rizzo, Simone penned a radical design that wrapped the Speed Triple in unique, custom made bodywork. Their vision was to create a "futuristic street motorcycle" boasting fluid lines and liquid forms.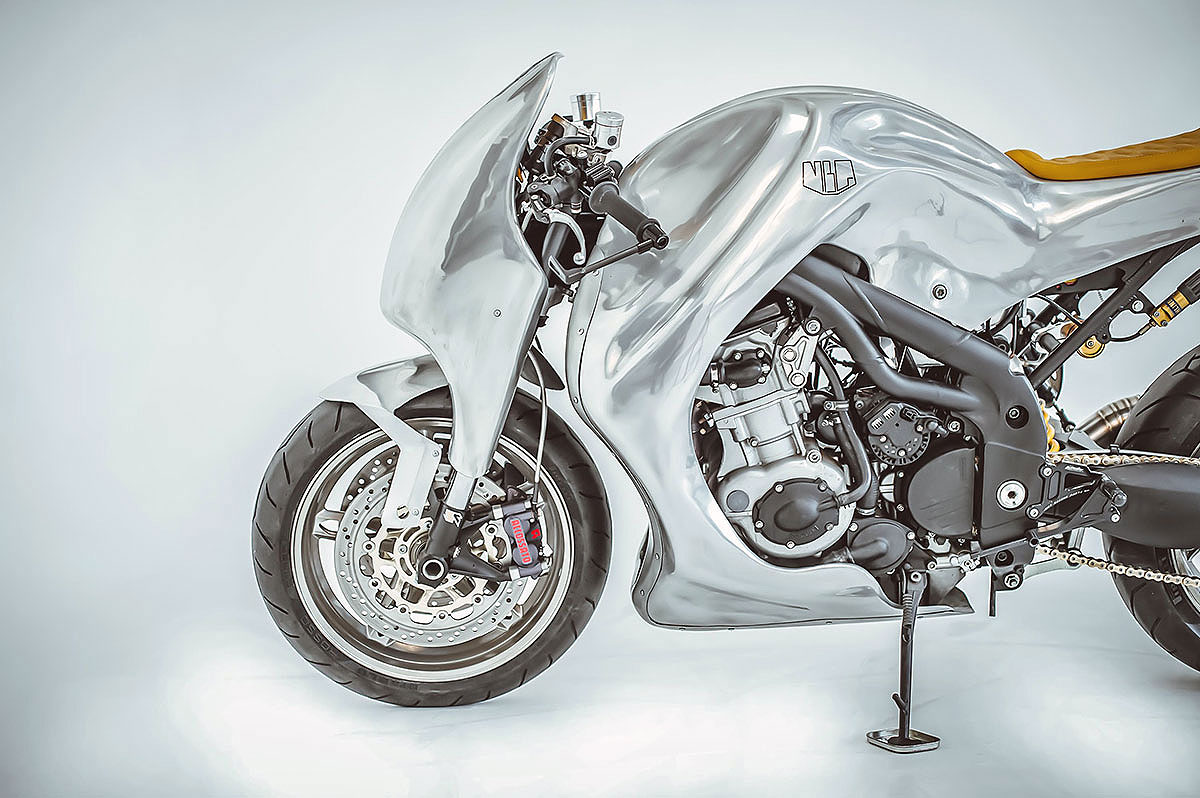 Before construction of their design began Metalbike Garage stripped away the bike's factory bodywork. They then made a few performance improvements to step up their Speed Triple's performance. The biggest improvement came from the installation of later model suspension. Using parts sourced from a 2007 Triumph Speed Triple Simone replaced the bike's front end and wheels. The rear suspension also received a suitable upgrade using a top of the range Ohlins adjustable mono-shock. Grip is supplied by Pirelli Diablo Rosso Corsa rubber and stopping supplied by the '07 discs with radial Accossato callipers and controls. As for power, a stock 995cc Triumph Speed Triple pumps out a decent 100bhp. To improve this figure a little Metalbike freed up the flow of air into the engine and at the exhaust end using a custom built 3-1-2 system.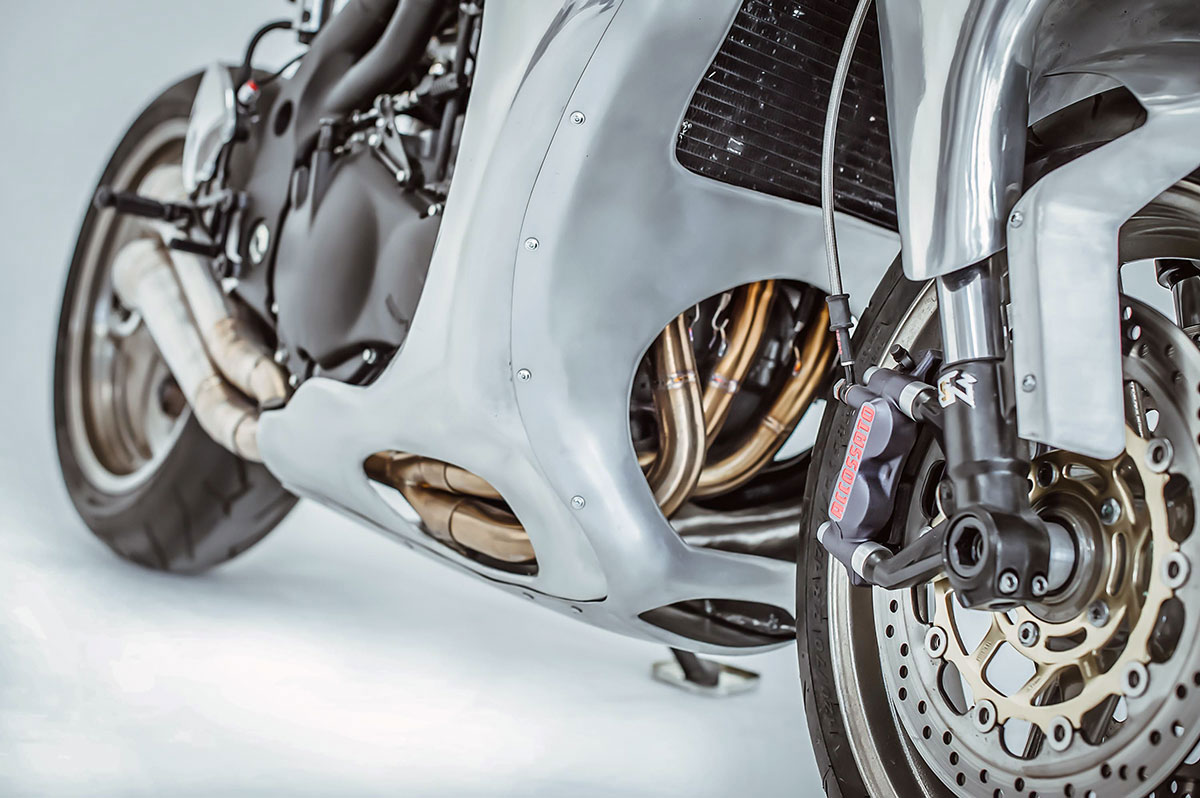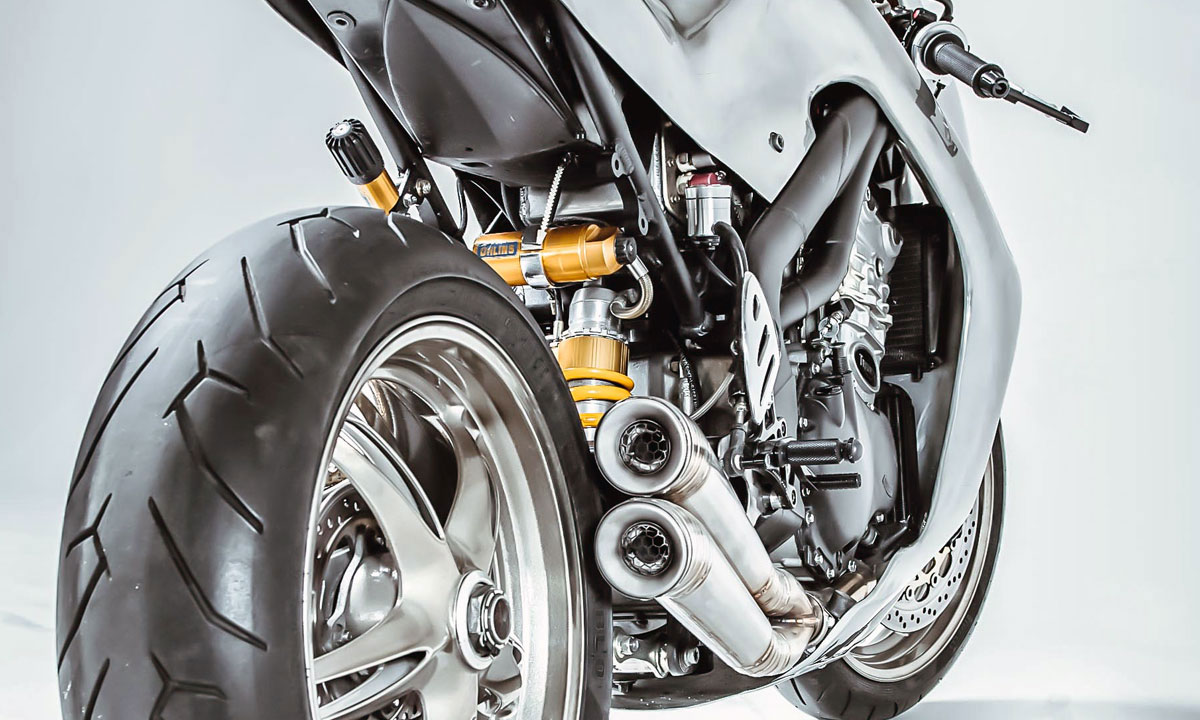 Metalbike's real expertise lies in their ability to mould metal into incredibly complex forms. Simone Lecca's previous career involved shaping concept bodywork for Italy coachbuilders and car designers, Bertone. In 2009 Lecca left his role at Bertone to focus on his own projects which focused on two-wheeled projects. With his Metalbike Garage team, he now designs unique motorcycles using modern techniques and builds them with age-old ones. His MGB_001 Triumph Speed Triple is no exception.
The bodywork design process began with a series of sketches that were translated into 3D models they could overlay onto images of their Speed Triple. Once they were confident they had a design that satisfied their requirements Simone set about hand forming everything from flat sheets of aluminium. The most complex of the components is the huge monocoque style body that incorporates the tank, tail and belly pan. Incredibly this entire piece was shaped from only 2 sheets of aluminium. Taking countless hours to complete the monocoque body fits over the Triumph's chassis with millimetre perfect precision and is pulled together by a central, second piece that encompasses the radiator and directs air onto the exhaust system.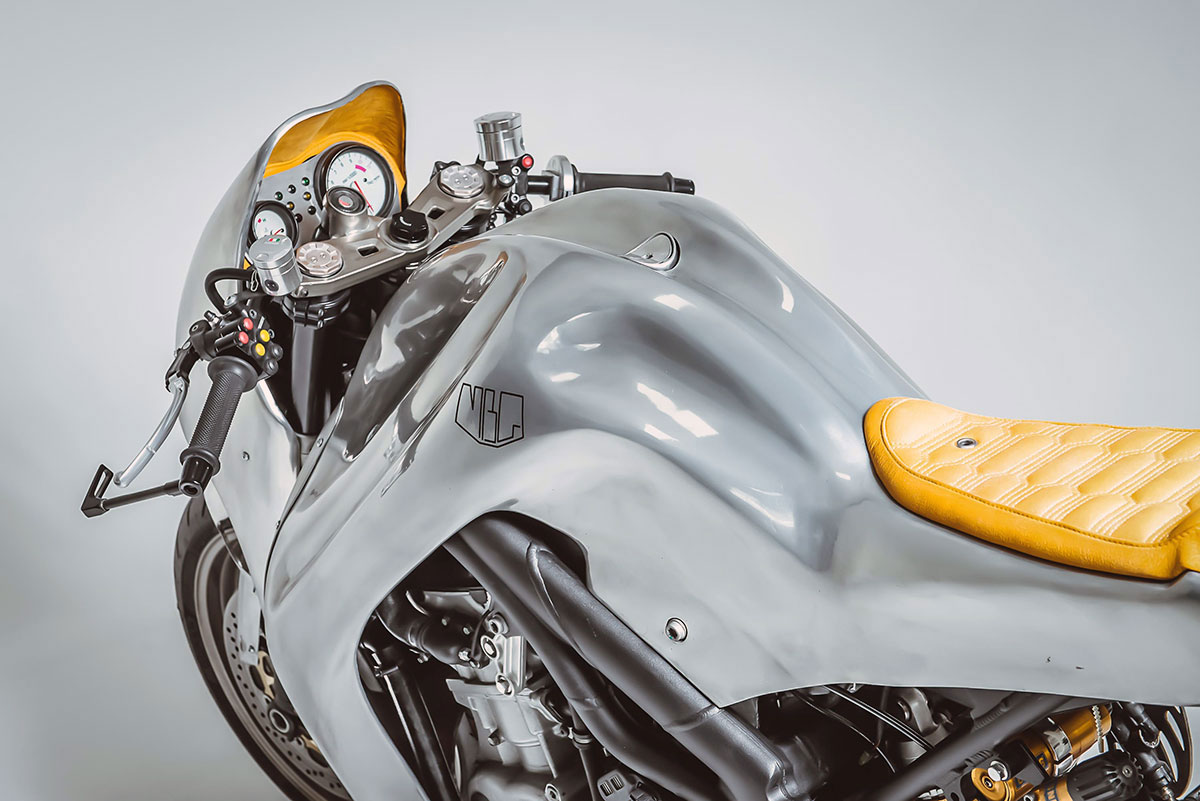 The seat is another bespoke component. Stitched using a bold yellow tan leather it features a removable rear cowl and is complemented by a matching finish inside the cockpit. Up front, Simone has used a single alloy sheet to shape a custom fairing. It features a vertical twin headlamp design as a nod to the Speed Triple's original twin headlamp design. Other handmade parts include the fenders, heel guards, chain guard and a plate holder (not pictured). There's also a custom made cell beneath the monocoque that holds the bikes fuel. To finish things off MGB_001 was treated to fresh paint on the frame, wheels and engine cases. Countless hours were then invested into polishing the bodywork to a mirror finish.
There's no question that Metalbike has achieved their goal with creating a futuristic street motorcycle. Their Triumph Speed Triple is unlike anything you're likely to see out on the street. Best of all they have respected the form and function rule to create a custom machine that packs enough performance to back up its incredible looks.