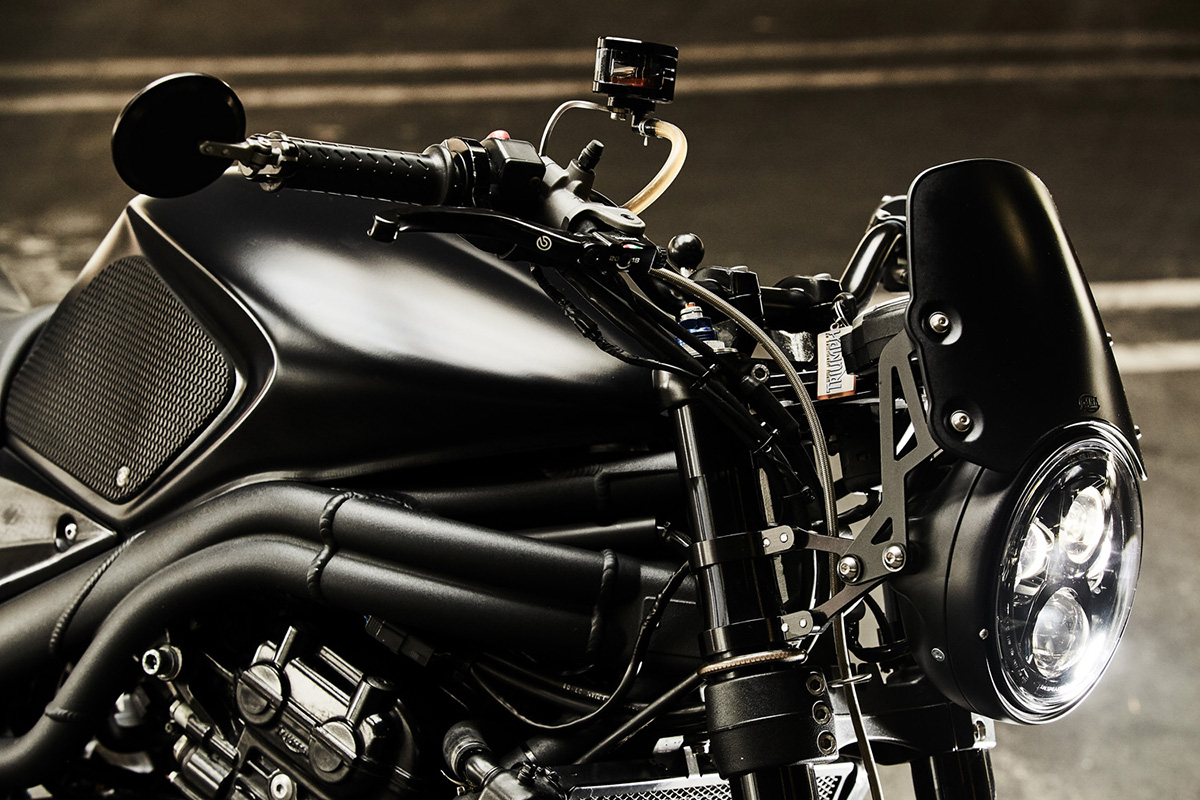 "My main goal was performance and low-key style.  Most of the modifications made decreased the Triumph's weight and added to its handling, but it was never my intention to create garage art. This bike is my daily driver. It had to have form and function. To look good and still be reliable enough for daily commutes and spirited rips up Angeles Crest or the odd overnight camping trip to Joshua Tree and Big Sur.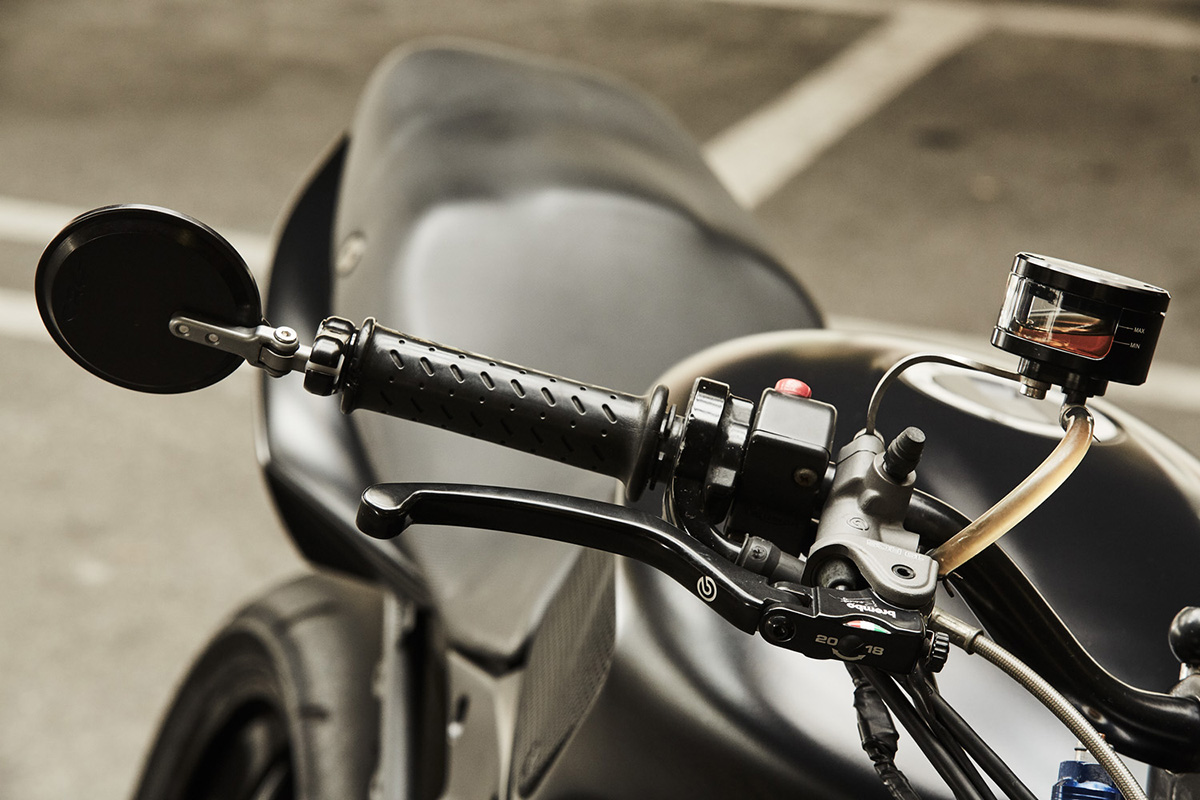 My concept was to build an endurance racer that took cues from Walt Siegel's work. Unfortunately, pricing on serious aluminum fabrication would have been too expensive and take too long for my end goal, getting out there and riding it. So I partnered with a local shop in Hollywood called Motorsport Exotica. They specialize in servicing high-end imports (Ducati, Aprilia, Triumph, BMW), have a race team and do custom motorcycle work as well. They had been servicing my bike before the accident and always did good honest work so the partnership made perfect sense.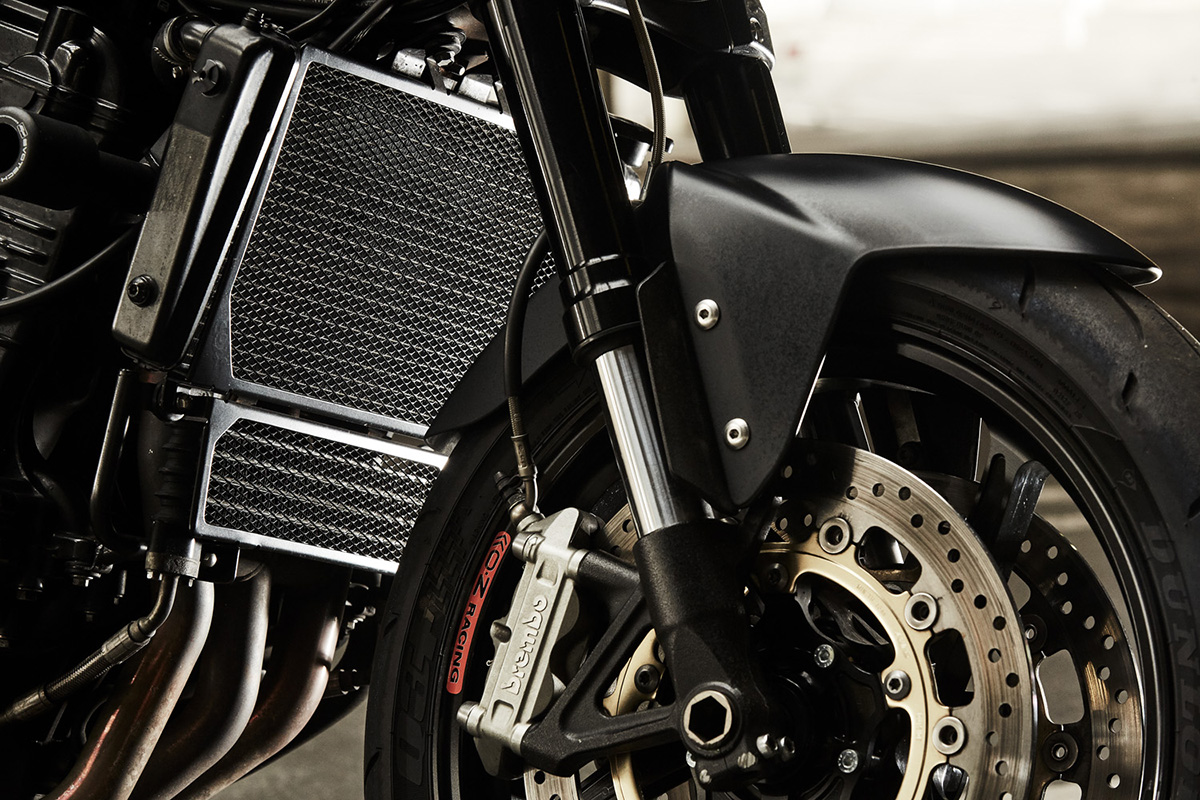 The first thing we did was to shed weight. The bike was stripped of all miscellaneous plastic (radiator cowls, chainguard, sprocket cover) the dual headlights were removed and the stock wheels swapped for lightweight OZ racing items. A new sprocket guard was fabbed from titanium, rear brake lines rerouted, Renthal fat bar fitted and LSL adjustable rear set footpegs installed. A Motodemic EVO headlight, gauge relocation kit, and some Motobox LED flush mount fork indicators tidied up the front. The rear exhaust mounts were ground off and passenger pegs removed but we left the mounts intact for the occasional passenger or luggage support. All up we shed around 30lbs from the Speed Triples factory weight.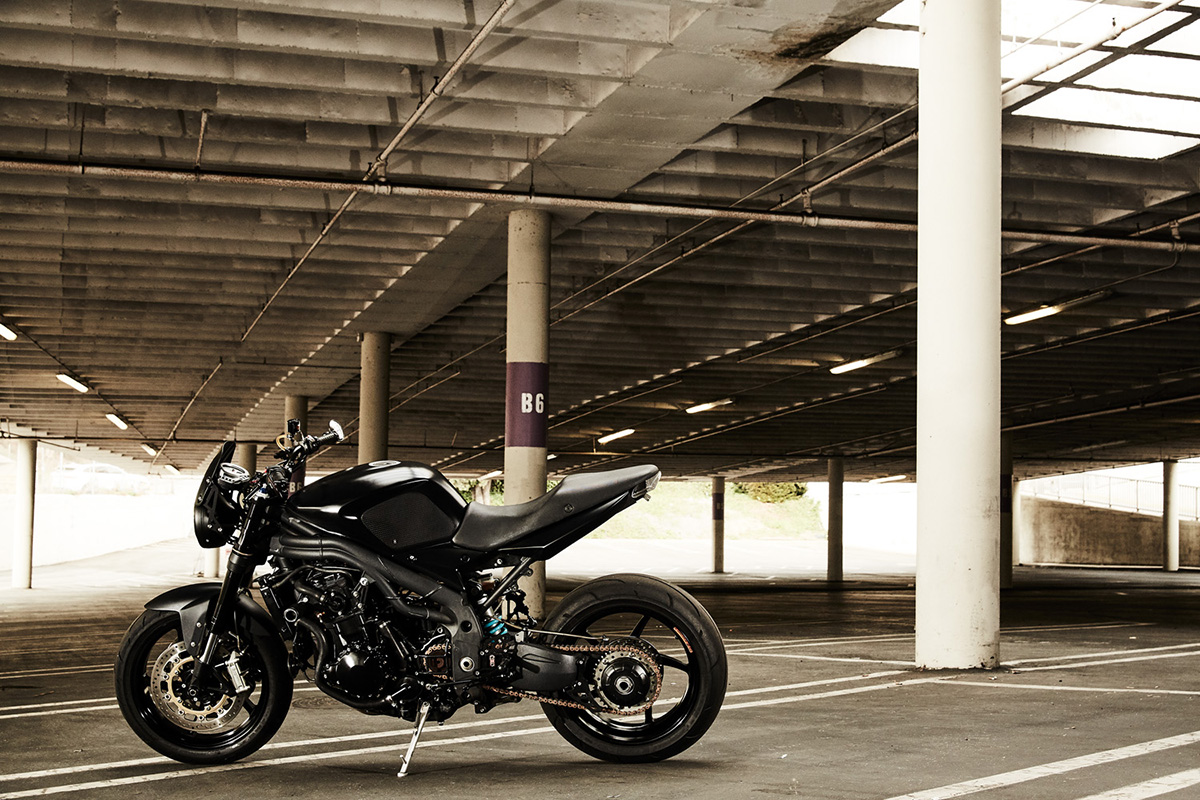 Next came the performance and handling upgrades. The suspension was dialed in with a Nitron rear shock and we installed Ohlins springs during the fork rebuild. The front brake lever was changed to a Brembo RCS 19 set up with a low profile Rizoma reservoir and the stock muffler was replaced by a shorter Compwerkes can.
As far as aesthetics go, all the large body panels were painted matte black. The triple trees and smaller parts have been powder coated and the new Compwerkes muffler was de-badged and ceramic coated in more black. The motorcycle is now free from branding. Motodemic had just released a new low profile fly screen and it works like a charm to keep the air off my chest so we added one to the build list and painted it to match the panels. Lastly, a Scorpio SRX -900 alarm was added for peace of mind. I thought it would be a smart choice for LA since theft is a reality here and the thieves move quickly.
This build wasn't all smooth sailing. Electrical difficulties delayed our progress 2-3 months and drove all of us crazy. After riding the bike for a bit the battery would just randomly die leaving me stranded. I soon learned that downtown Hollywood at 10:30 at night is not the best place to be asking strangers for a jumpstart. We backtracked our work and I ended up discovering on a forum that the issue was a long-standing problem with the stator on these Triumphs (Here's the thread in case others are having this problem). Remarkably around that time one of Motorsport Exotica's customers came in with a totaled 2012 Speed Triple with the stator still intact, so we swapped it out and haven't had a problem since.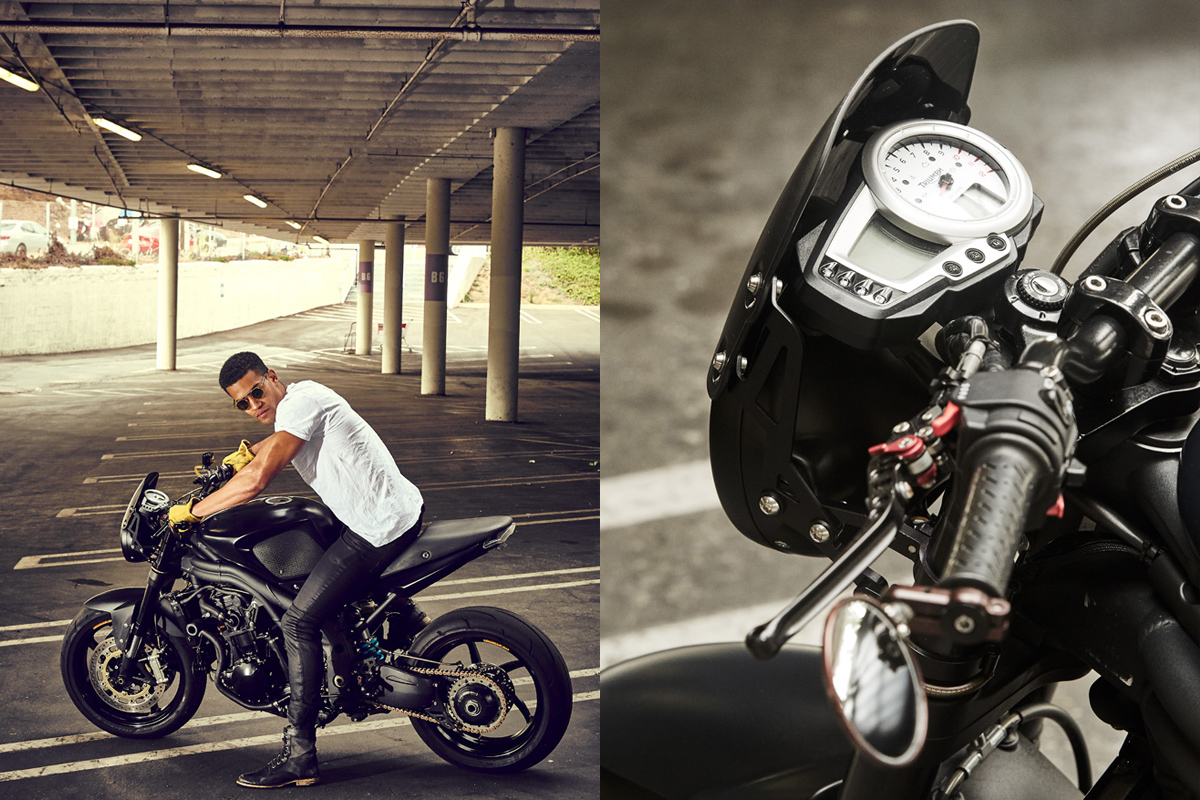 Now that I've had the chance to ride the bike properly I'm extremely happy. It's very comfortable and acceleration is noticeably quicker. With lighter wheels, the turn in is quicker but in a straight line, the bike is a little loose at high speeds. I figure a steering dampener could fix this or perhaps I should just keep it under 120mph. The stock Triumph Speed Triple had plenty of character but my bike now looks more refined and subdued. When people walk by they don't really know what they are looking but with all of its performance upgrades the legacy of the original hooligan is still lurking in there."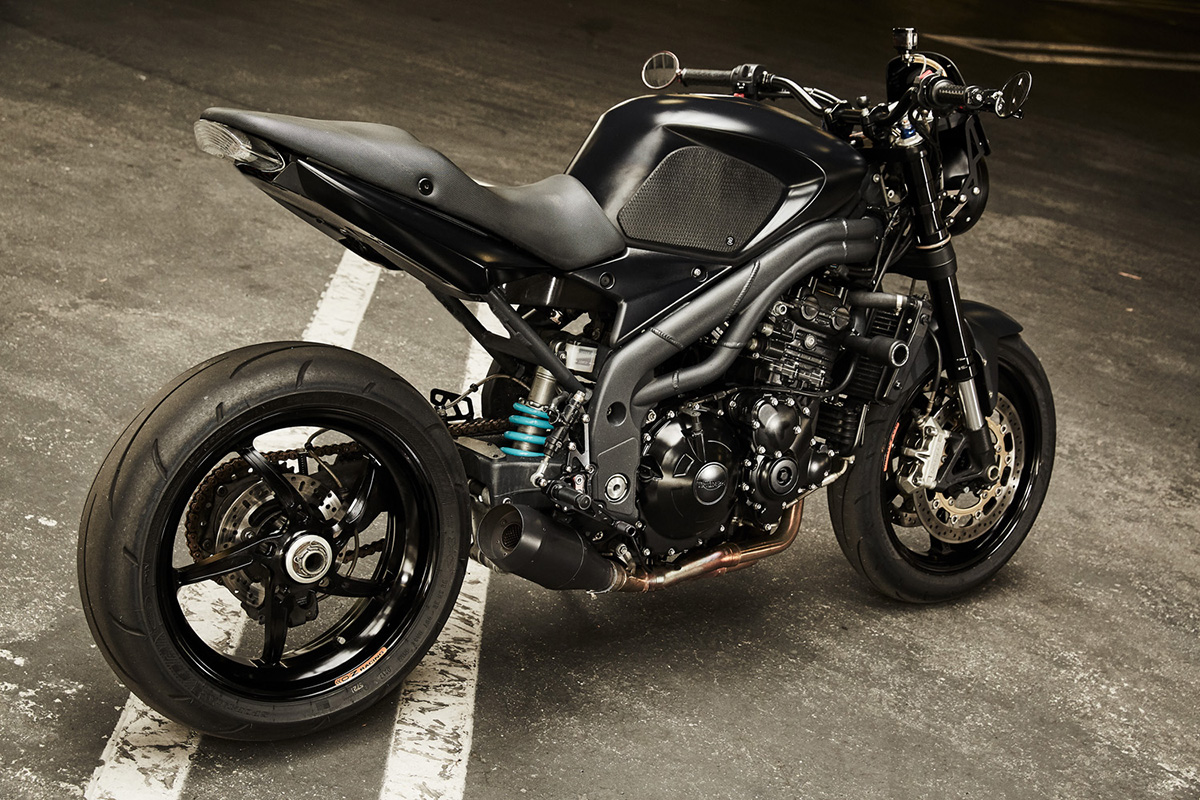 "The integration of post-punk, electronic and dance music made New Order one of the most critically acclaimed and influential bands of the 1980s, but that brilliance came out of tragedy. The members were originally part of the band Joy Division until the lead singer Ian Curtis tragically committed suicide. I was always more partial to the latter band so when I laid down my 2009
Triumph
Speed Triple the notion was to create something better out of the catastrophe than what came before." Says LA-based photographer, Stan Evans.