Take the most powerful engine in the Triumph modern classic range and shoehorn it into one of the most revered frames in the history of motorcycling. What do you get? A modern-day Triton cafe racer. An absolute masterpiece that could quite well be the ultimate cafe racer. Lo and behold this happens to be exactly what Neil at Made in Metal Motorcycles in Stafford UK has gone and done.
Producing custom motorcycles professionally for the last 7 years, Neil is a one-man band working from a small workshop beside his home. He is a metalworking master who likes to do things the old school way with sandbags, hammers and English wheels. And he clearly takes the same approach with his cafe racer builds.
A few years ago a customer came to Neil with the idea to build a Norton Dominator. After a conversation or two Neil, who was eager to undertake something a little more special, suggested a modern Triton cafe racer. Suffice to say the customer didn't need too much persuasion and the build was underway.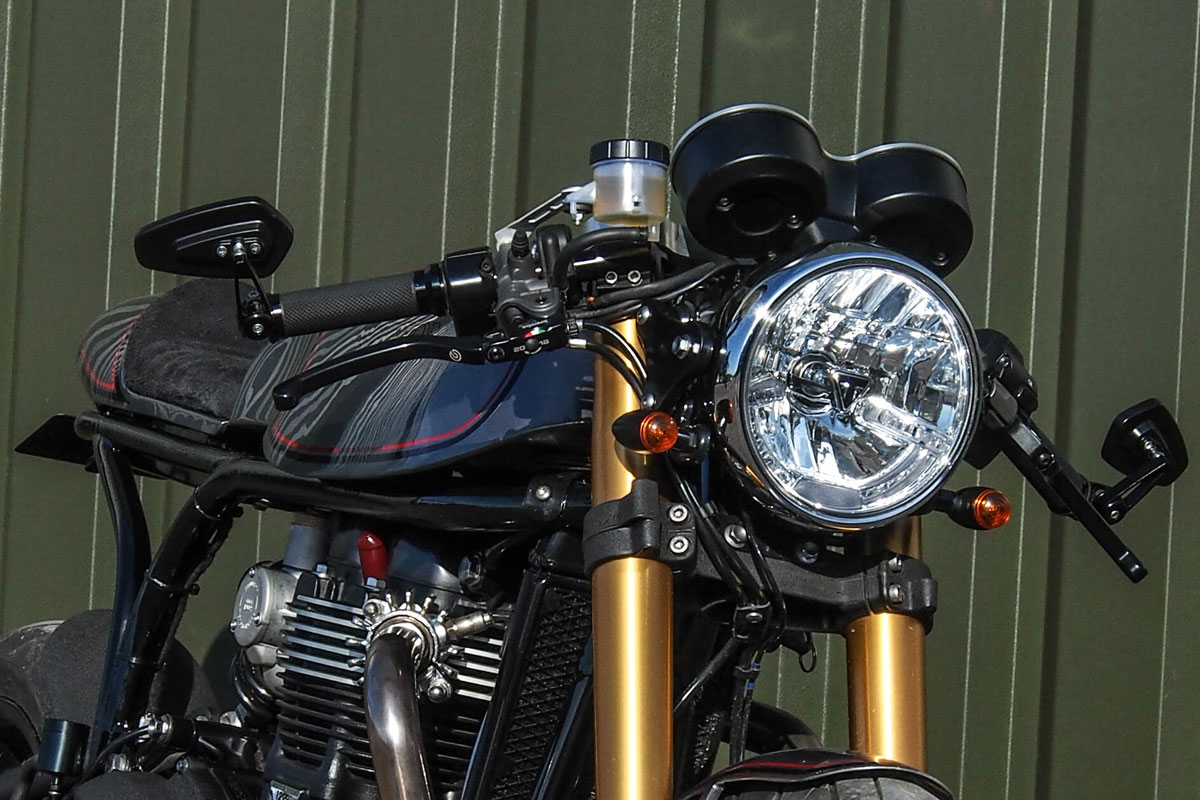 For those unfamiliar with the Triton name, it is an iconic cafe racer created by merging parts from a Triumph with a Norton. Hence the name, "Tri-" for Triumph, "-ton" for Norton. The story goes something like this – Back in the day (circa 1950), the best engine on the market was made by Triumph but the Coventry company couldn't produce the handling to match. Enter Norton's renowned "featherbed" frame, lauded by riders at the time for its prowess through the twisties. Young, performance-oriented Brits wanted the best of both worlds but Norton and Triumph weren't exactly going to get in bed together. Eventually, people started shoving Triumph engines into a Norton chassis and the legendary Triton cafe racer was born.
Neil essentially followed the cafe racer history books with his modern Triton build. First, he sourced a high-performance engine in the form of a 9-month old Triumph Thruxton 1200. Then he dusted off a 1958 Norton featherbed frame he already had stashed his workshop. It was a match made in heaven.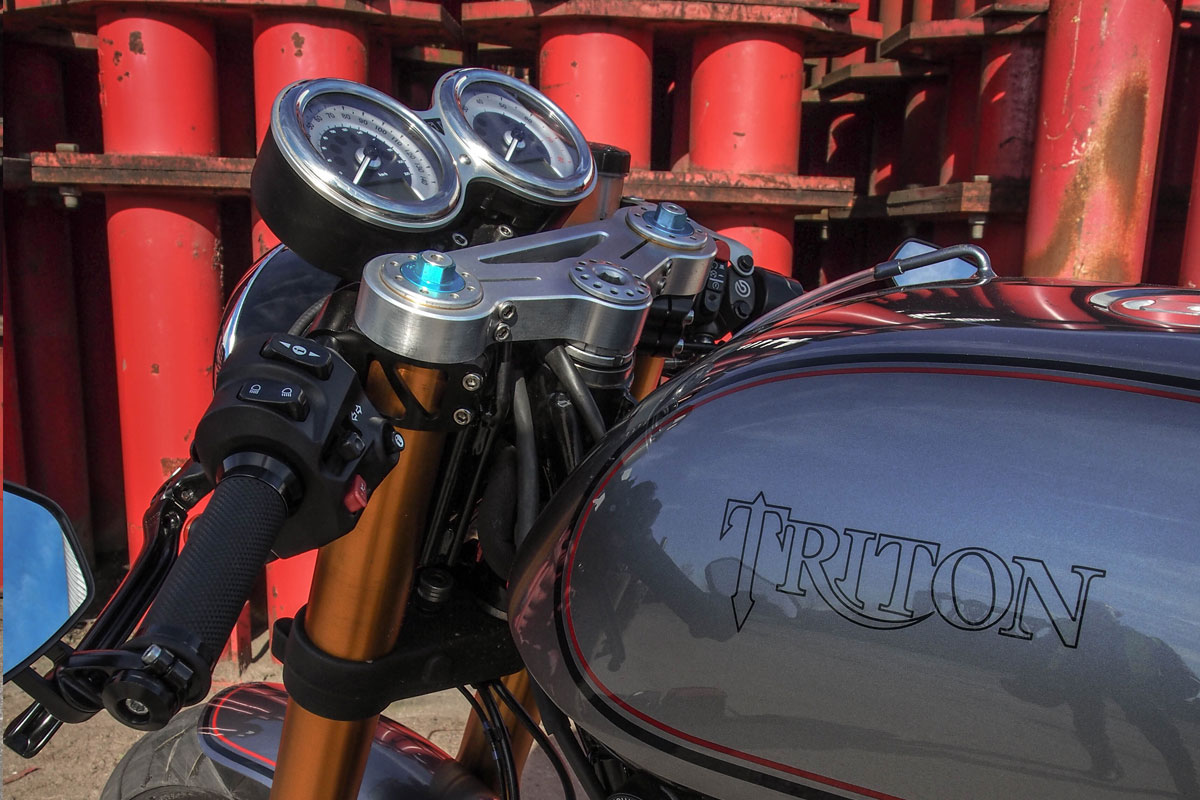 The two main components of the build had 60 years separating them. So to ensure the featherbed could withstand the forces from the upgraded power unit Neil made a few structural adjustments. Once that was done the engine was slotted into place using custom fabricated MIM engine mounts. With the engine in place, he set to work on getting 1200cc's of Hinckley power to vent via a custom stainless steel exhaust, capped off with reverse cone mufflers. In true cafe racer style, attention was then turned to upgrading the bikes suspension and braking capabilities. And upgrades they most certainly are. The Ohlins front forks and matching monoshock were transplanted from an Aprilia RSV thanks to a few more frame and swingarm tweaks.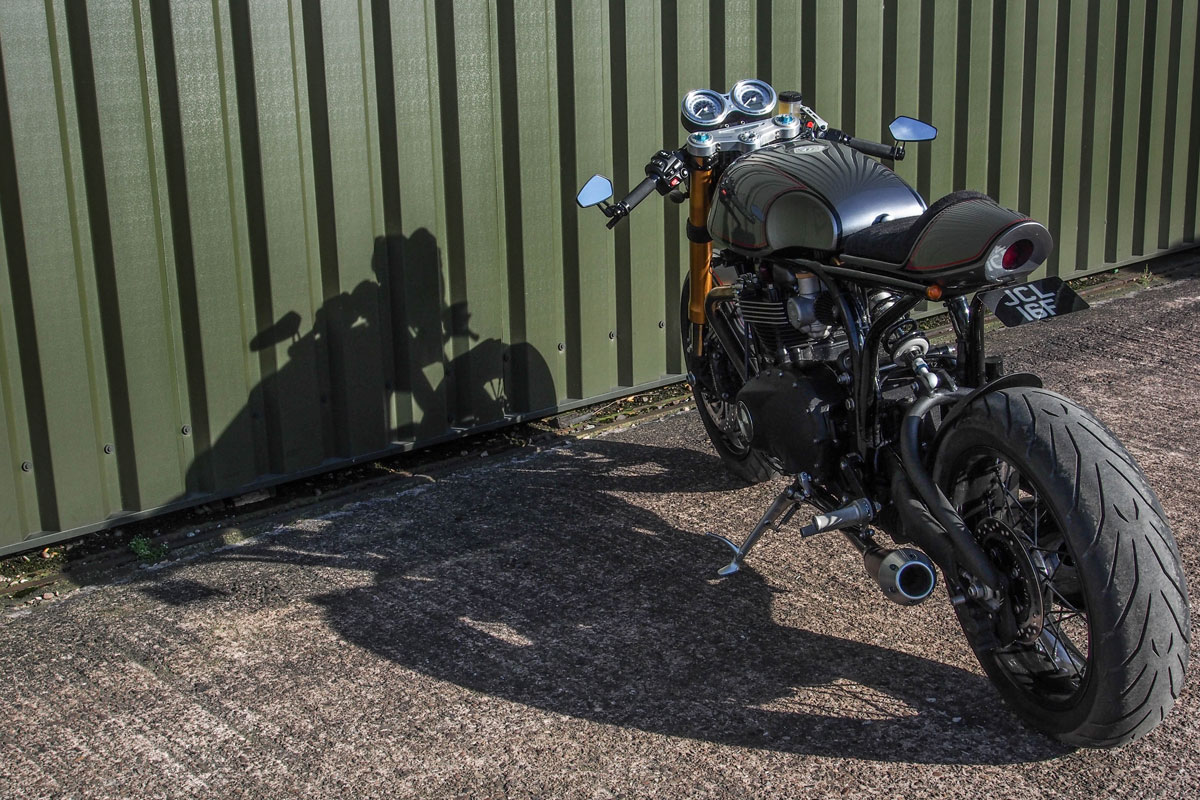 Neil then beat the tank, seat unit and front and rear guards out of alloy sheet to get the silhouette of the bike just right. He describes this stage as the hardest part of the build, but I think you'll agree that he absolutely nailed it. The front end comes together with aftermarket clip ons, switchgear, grips and mirrors.
The brake light was frenched into the seat unit for a slick finish and all lighting is LED powered, adding to the bikes modernity, reliability and performance. A lick of wrinkle coat black covers the swingarm, engine covers and sprocket cover to add texture to an otherwise glossy finish. Neil chose to paint the tank, tail and guards in a classic Norton silver/grey scheme with black and red pinstripes and his own interpretation of a hybrid Triton emblem.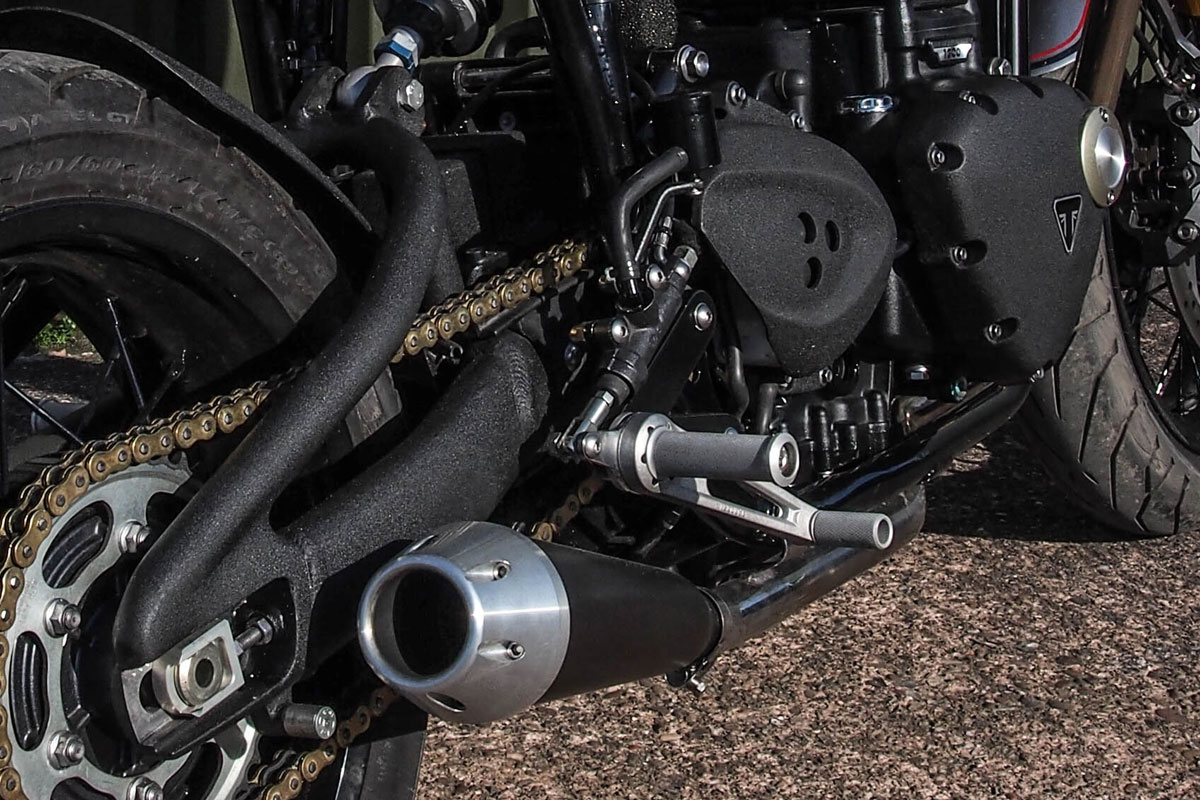 With all the things added to build there is also a long list of items that were thrown away. The catalytic converter was scrapped along with the airbox and the ABS system. This allowed the wiring loom to be drastically simplified. All this, coupled with the lightweight alloy bodywork means that this Triton has a whopping 61 kg weight advantage over a stock Thruxton 1200. This huge power to weight increase has no doubt painted a permanent grin on its owners face. To top it all of the Triton boasts  svelte proportions and stunning good looks. Our hats are off to Neil at Made in Metal Motorcycles for he has indeed created the ultimate modern cafe racer.
Story by Ben Pilatti