Customising a 125cc motorcycle isn't what a lot of Cafe Racer lovers would consider. With so many bigger bore motorcycles available and plenty of wide open roads, big bore bikes are the obvious choice for a Cafe Racer conversion. However in the heavily populated cities of Asia big bore bikes are a rarity. Their weight and power make them unusable in the "heavy traffic".Streets are filled with small bore, light weight motorcycles, buzzing and maneuvering like a swarm of angry bees. These bikes are in most cases the popular transport option for the masses so it's only natural that these bikes become the base for custom workshop projects.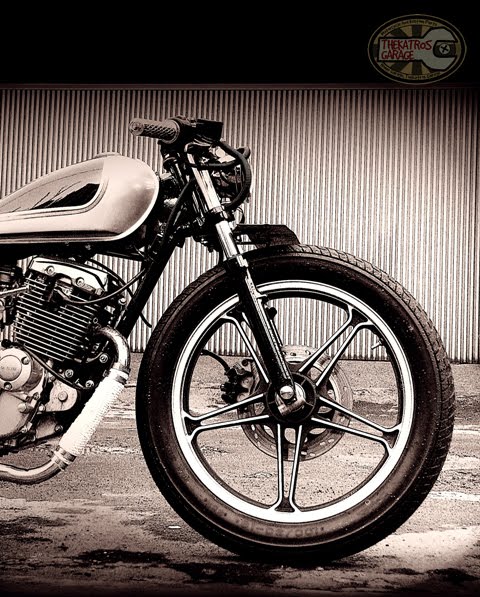 One example of a workshop doing this is Katros custom motorcycles. Katros took a somewhat sleepy looking Suzuki Thunder 125 and transformed it in to this very respectable Cafe Racer aptly named "Wake Up". The little Suzuki had laid sleeping for around a year before it was wheeled in to Katros workshop and it's extensive 7 month transformation began.
Every piece of the Thunder's original bodywork was removed and thankfully never reattached. A new tank and custom tail section were hand made by Katros and 5mm of foam was fitted to the seat pan to cushion the bumps coming through the now stiffened back end. A custom exhaust and silencer were also fabricated and fitted to make the most of the engines power and sound. To finish the look of the bike off a gold highlighted colour scheme was applied and complimented with brass grips from POSH, an airbrushed air cleaner cover and winged side panel motif (all painted in house at Katros).
This little Suzuki Thunder may only be 125cc but it packs plenty of visual punch.
Spec Sheet 
Front Tire : Cheng Shin 90/90-18
Rear tire : IRC 4.00-18
Gas tank : Yamaha RS custom Hornet
Seat : Hand made Katros
Side cover : Hand made Katros
Silencer : Hand made Katros
Carb filter : VW
Rear Shock : Steel pipe 3/4 mm
Front Shock : Stock-extended 150 mm
Head light : H3 with custom paint
Rear light : Oval
Hand grip : Posh
Engine CDI : BRT
Coil : Shindegen
Painting by Katros