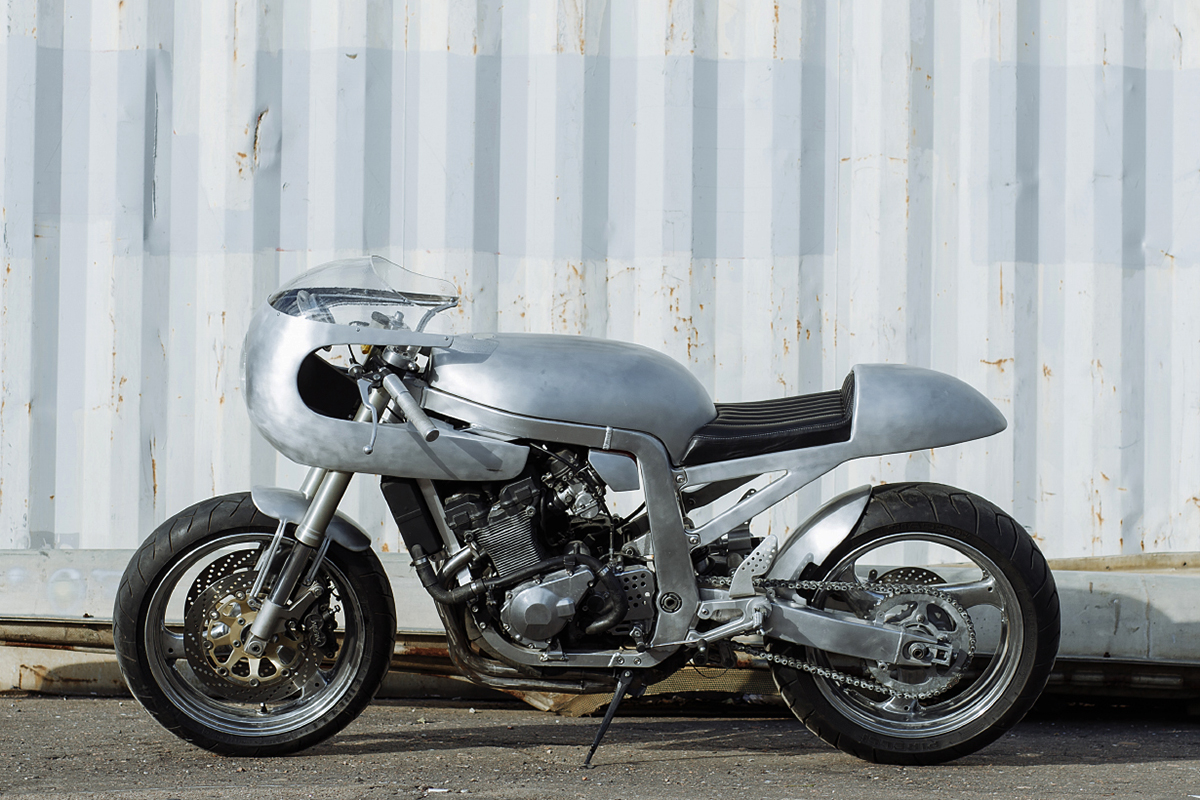 The smooth, clean lines of this remarkable machine are testament to the determination of the brothers, whose metal shaping skills are entirely self taught. Their first show bike – a Harley-Davidson Panhead bobber, shown at the St Petersburg IMIS show in 2013, was the testbed upon which their skills were honed. The brothers admit that a lot of good sheet metal went to scrap along the way while they were learning, but if this build is anything to go by it's certainly been worth every piece.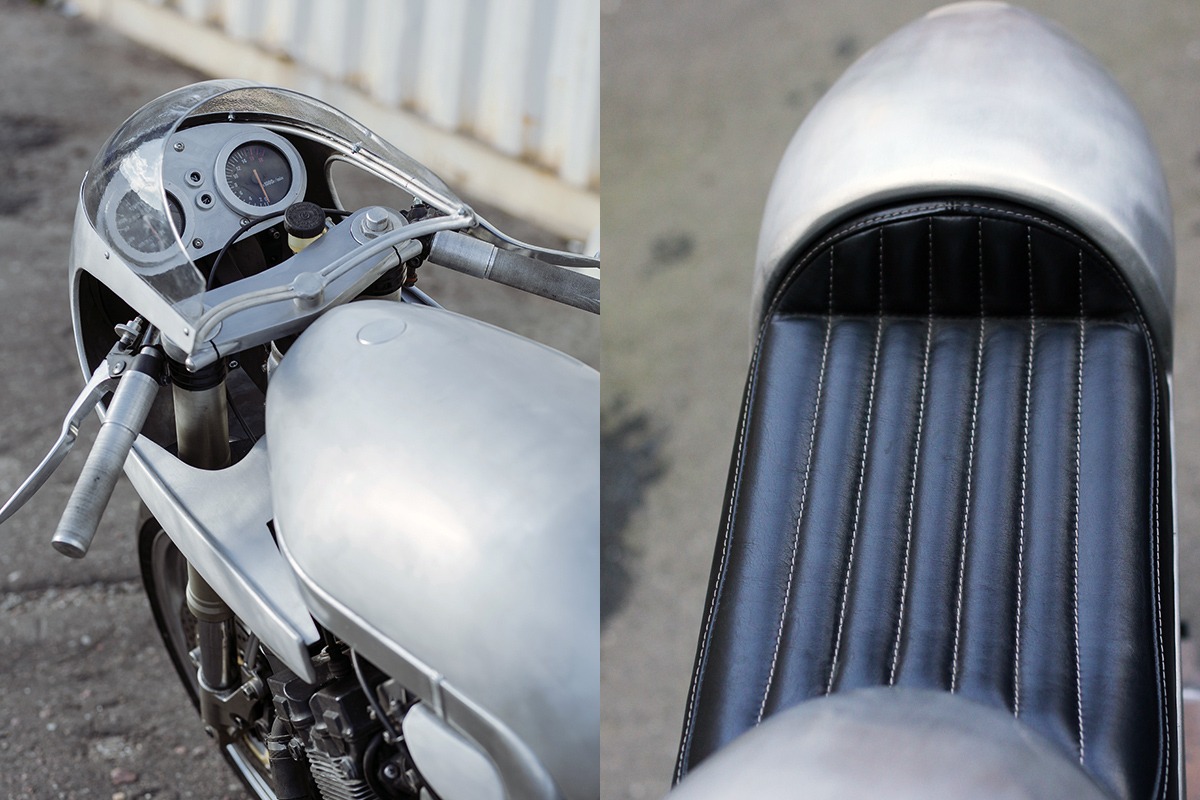 Old Japanese 400cc machines are commonplace in St Petersburg and popular among students for their affordability and reliability; though the dated plastic bodywork of the GSX-R's leaves a lot to be desired. When an outlandish friend suggested perhaps Maxim and Ivan could personalise his bike to suit his 'peculiarity' an idea was hatched.
A classic English cafe look was sketched out, with big front fairing and streamlined headlight. A small windshield to tuck behind and a tidy one piece aerodynamic tail/subframe would round out the clean, minimal design.
The brothers set to work. All the bodywork was hand shaped from aluminium – the fuel tank precisely beaten and formed from only, individual two pieces. The fairing required a few more individual parts, but such is the skill of Steel Art that not a single weld or seam is evident. The one piece tail section was built to be lightweight and visually ties the modern spar frame structure of the bike smoothly into the bodywork, as well as housing the Suzuki's electrical components.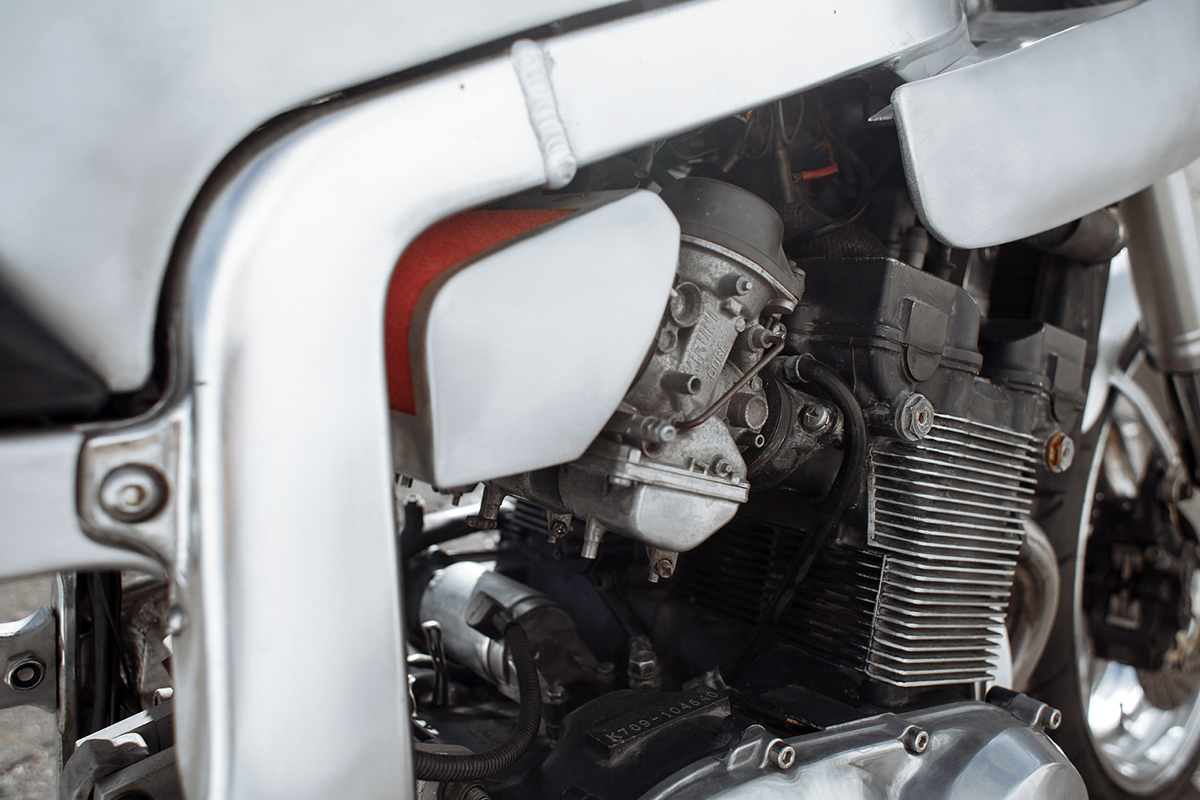 A polycarbonate windscreen was formed, and tied into the fairing along with a spartan dash. Steel Art recruited local CNC experts 'Box39' to machine their designs for rearsets and controls and the barely-there leather seat was outsourced to Alex Torgashev while attention was being paid to mechanicals. Much to their surprise the reliability of Suzuki's small 4 cylinder powerplant left little for Steel Art to do beyond an oil change and a freshen up. The boys decided the engine was a little asthmatic however, so they utilised their skills in CAD to design their own custom intakes, which they then had CNC milled by MAT custom. While waiting for the intakes they turned attention to the exhaust, fashioning lengths and curves of mandrel bent stainless steel into an elegant 4-into-1 system capped with a louvred grille.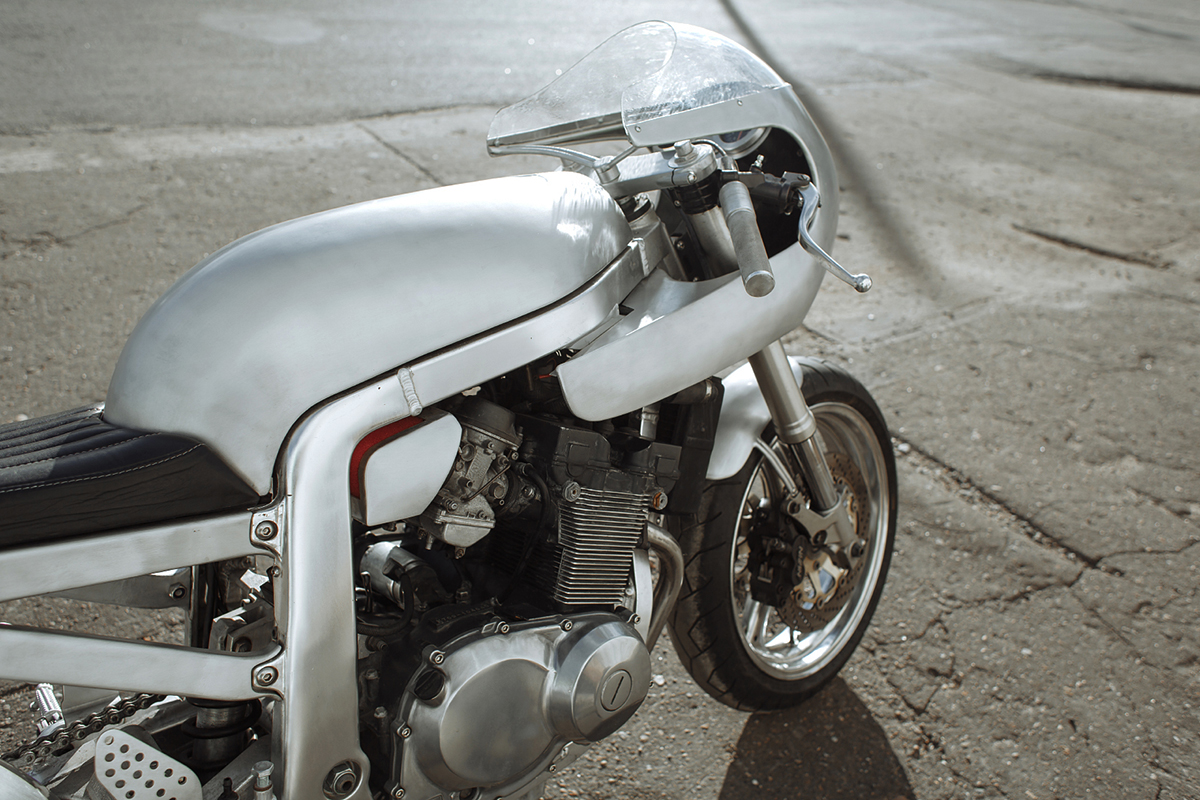 Given the sporting aspirations of the GSX-R400, the suspension was deemed up to the task at hand.  To ensure rider confidence the stock brake system was overhauled and equipped with fresh brake lines and more powerful Nissin and Brembo calipers.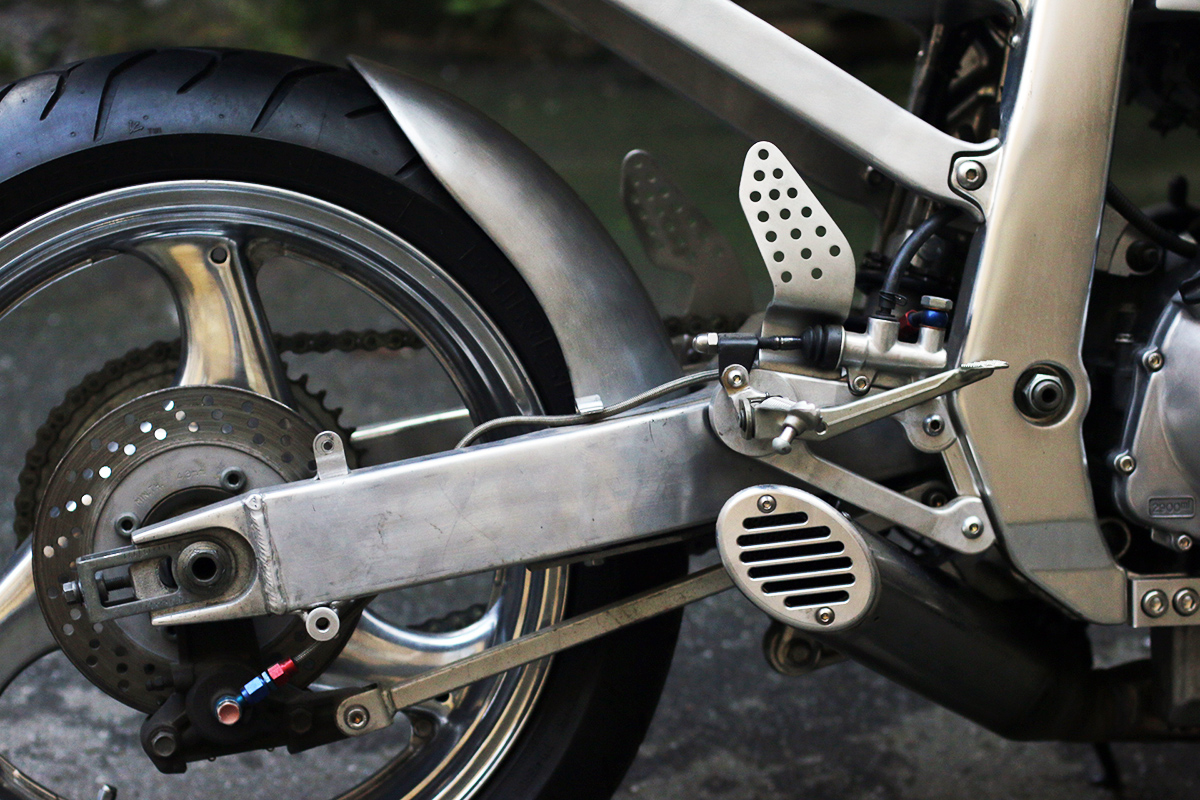 This bike was always intended to display Steel Art's abundant talents for metal shaping, and to that end the finish is entirely raw. No paint, no compromises, no excuses. It makes for an exceedingly beautiful machine. An elegantly simple finish that is testament to the brothers' skills with raw materials that's left us eager tosee what they come up with next!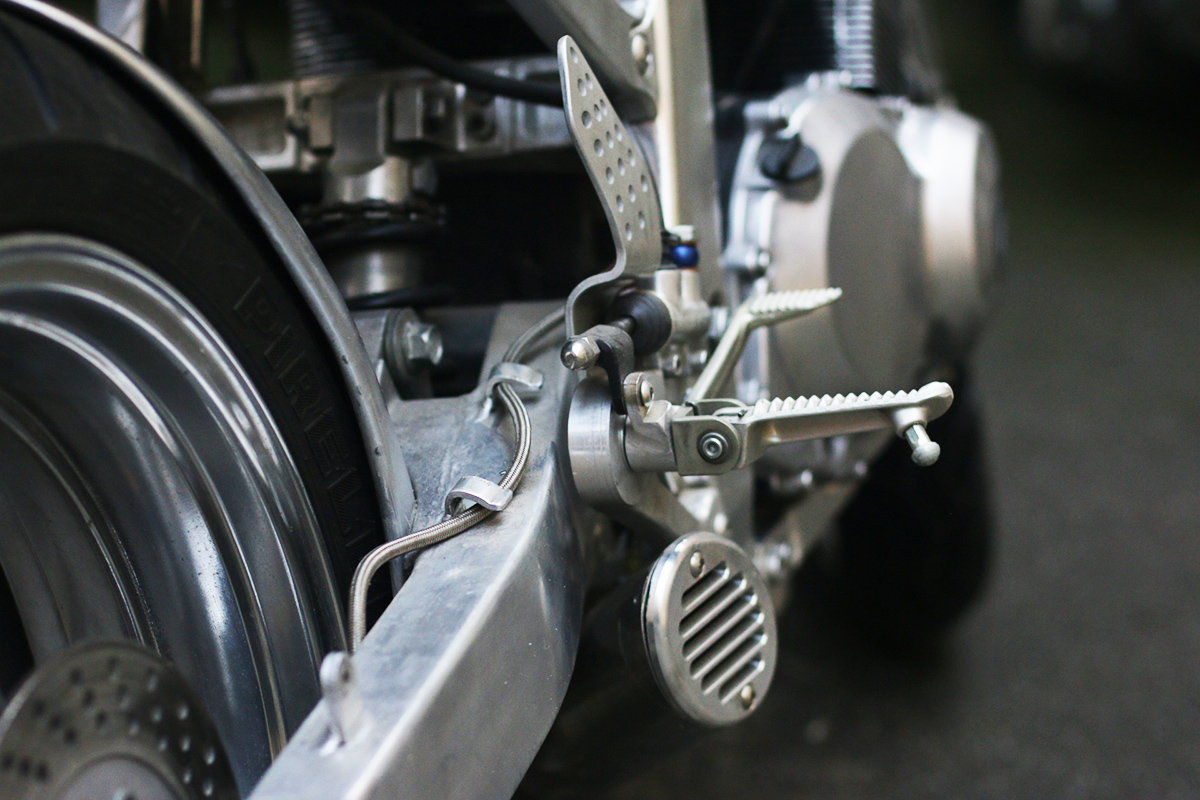 Words by Mik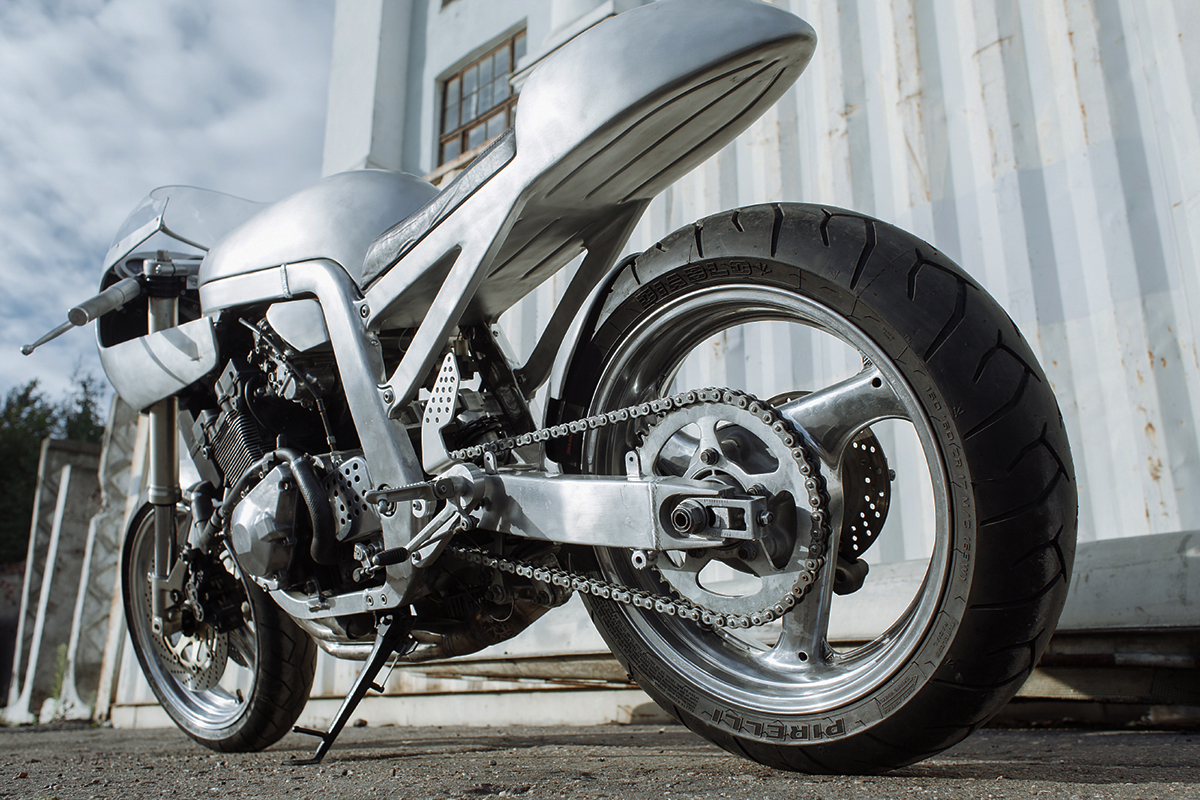 Today's bike is the masterful handiwork of brothers Maxim and Ivan Dozhdev of St. Petersburg's 'Steel Art' workshop. Dubbed the 'Zet73', this sleek alloy machine started life as a 1994 Suzuki GSX-R400 before the brothers poured countless hours into the project over nearly two years.