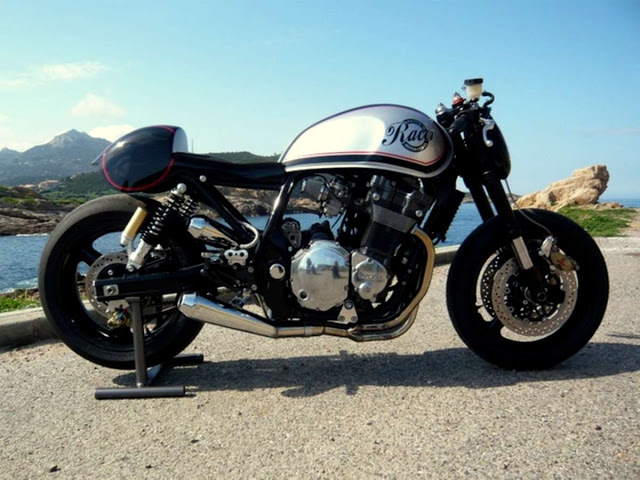 A friend sent me a link to this awesome Inazuma Cafe Racer a while back and I decided it was finally time to put it up on Return of the Cafe Racers.
This very tidy Cafe Racer is based on a Suzuki 1200 GSX Inazuma. You can see from the original pic below that the Inazuma was a pretty standard looking naked bike with plenty of grunt but lacking personality.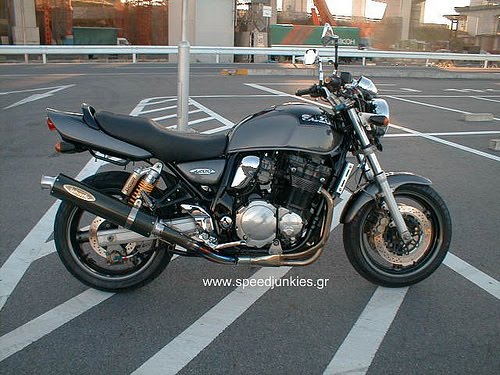 This Inazuma however is oozing style. The Inazuma has been totally transformed in to a kick arse track/race spec Cafe Racer. The original tank has been given a facelift with a new paint job, Cafe Racer and race style gas cap. The red pinstripe has been carried across to the bikes tail to frame the bikes race number when it's out on the track.
The tail may not be everyones cup of tea but it certainly improves the Suzukis looks overall. The short fat hump tightens the bike and gives it a bull dog like stance and the subtle flush mounted stop light keeps the Cafe Racers profile lines clean.
All uneccessary items like the airbox, front fender, headlight and standard gauge panel have been stripped off. The bars have been swapped for clip ons and a minimalist digital gauge cluster added.
The Inazuma Cafe Racer is a beautiful example of a modern Cafe Racer conversion. With a good set of oad tyres and a headlight this bike would look incredible on the street and leave many bikes in it's 1200cc wake. If you have any more info about this bike please post a comment with a link.