Tanadit Sarawek is somewhat of a grandmaster when it comes to building custom motorcycles. With more than 300 custom builds to his name there's no question that the owner of Thai workshop K-Speed knows his stuff. And that fact hasn't gone unnoticed. Tanadit was the first builder from Southeast Asia to be invited by BMW Motorrad to take part in Germany's Glemseck 101 festival. His work is frequently featured online and in print, and his workshop takes orders from fans all over the world.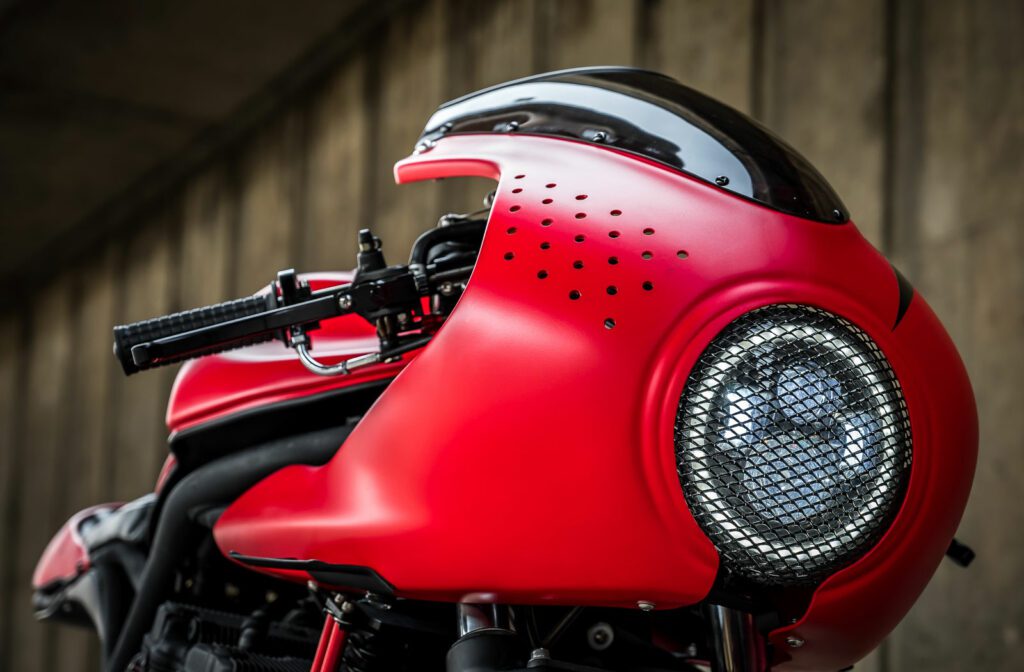 Tanadit's time at K-Speed is split between managing the business, which specialises in parts as well as custom builds, and as the lead designer. Maintaining his role as the lead designer has allowed him to develop a K-Speed style based on originality and his own unique aesthetic.
Occasionally, when he's not working on client projects, Tanadit finds the time to execute personal projects. One of his latest is based on Suzuki's late nineties hooligan bike, the Suzuki Bandit, and he's given it a retro cafe vibe we can't help but love.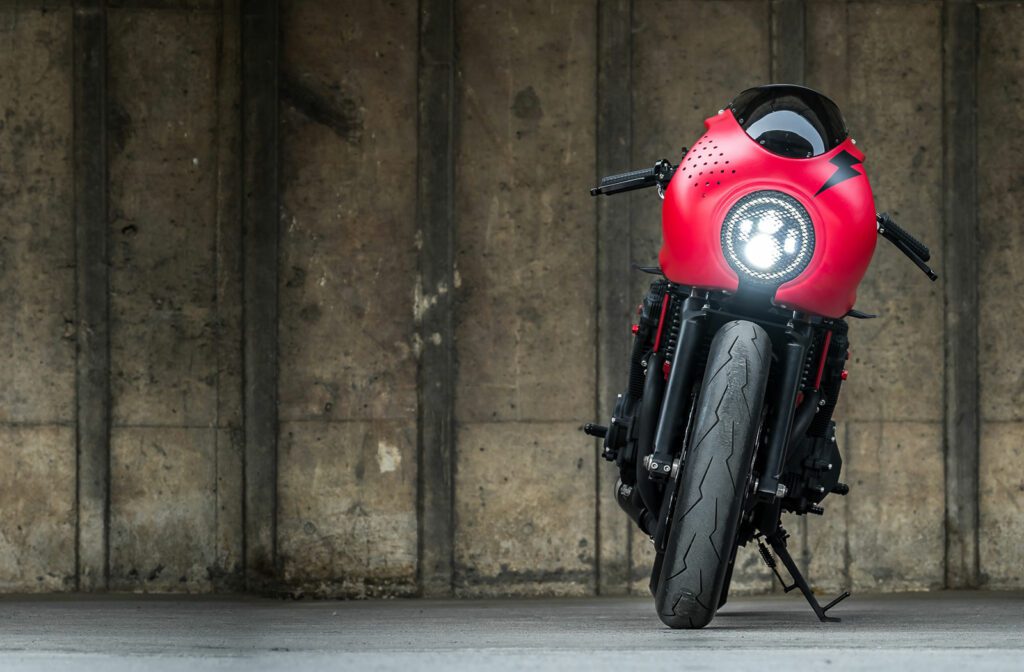 Tanadit's goal with this build was to rejuvenate a 1996 Bandit 600 and to renew interest in the once famed, budget middleweight roadster.
As with all K-Speed projects, things kicked off with a rough sketch by Tanadit which was pitched to his staff. Over the course of 45 days, the K-Speed team translated Tanadit's sketch into a working concept using a mix of bespoke and off-the-shelf parts from their own catalogue.
Opting to keep performance modifications to the basics, the K-Speed Bandit features only intake and exhaust upgrades. After deleting the airbox the throttle bodies received free-flowing conical filters and the exhaust wears a muffler from their own range of 'Diablo' parts.
The bulk of the time spent on the Bandit was devoted to transforming its look.
Starting at the pointy end, K-Speed has fit a half cowl wearing aerodynamic wings and a cross-drilled detail to match the brake discs. A modern LED headlamp sits mounted behind a mesh guard and the screen has been tinted black to suit the Bandit's sinister theme.
The fuel tank used here is the stock Suzuki Bandit affair, but K-Speed has lifted the rear to give the bike a more aggressive stance. Behind it sits a custom saddle in black leather and a wasps tail style cowl shaped to match the profile of the tank. To keep road debris at bay K-Speed has enclosed the tail section with a custom made underbelly, and the whole assembly sits on a bespoke subframe.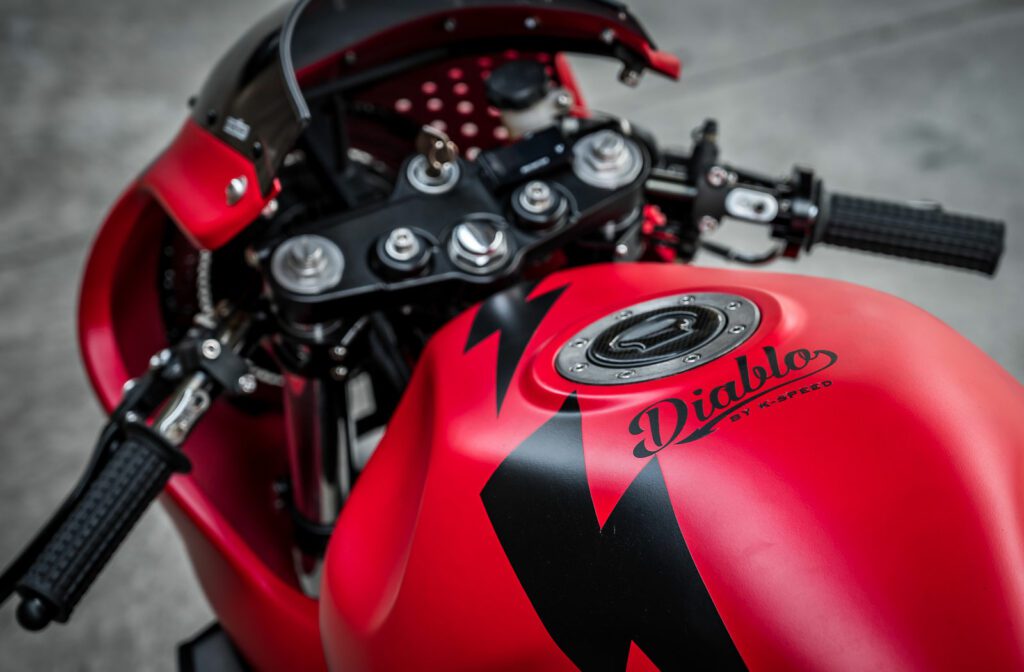 Nicknamed 'Diablo', which also happens to be the name of K-Speed's aftermarket brand, the Bandit wears devilish red and black livery. Lightning bolt motifs and dots that match the holes on the front cowl tie everything together as do the red details on the blacked-out engine and wheels.
Other components you'll find from the Diablo parts catalogue include rear-set footpegs, braided brake lines and a side-mounted LED 'shot glass' brake light. Well hidden LED turn signals keep things street legal and the original gauge cluster has been traded for a tiny digital alternative.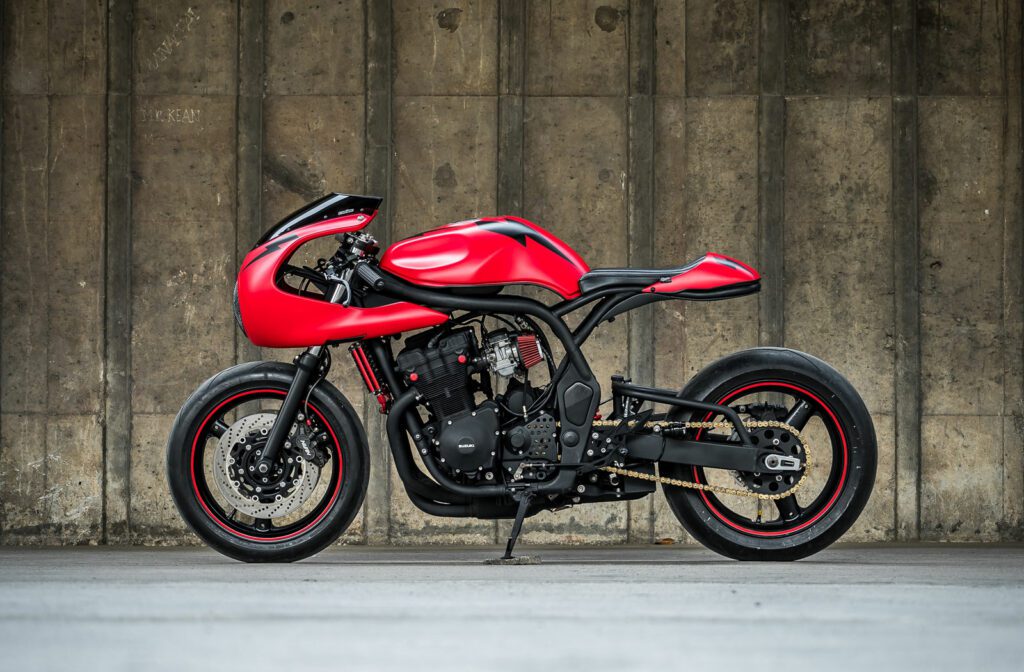 To complete the Bandit's sporty transformation K-Speed fit the bike with clip-on handlebars and a custom height YSS rear shock that balances out the bike's bone line.
Despite a lack of bells and whistles or big horsepower upgrades, Tanadit's Suzuki Bandit is a real head-turner. It's quick turnaround projects like this that show why K-Speed are the ones to watch in Southeast Asia and rest assured, you'll be seeing more of them here in the future.