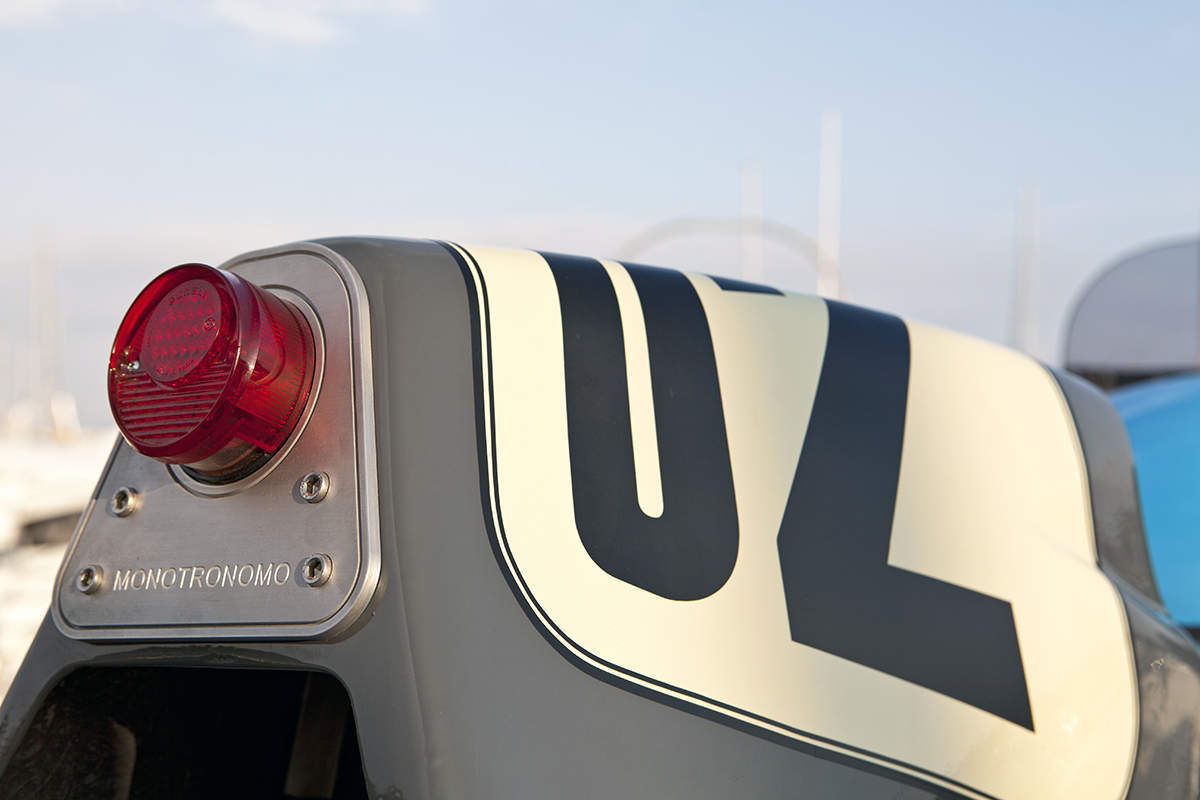 The build started with a full tear down so the frame could be trimmed in the rear, cleaned and repainted in satin black. While the engine was out of the frame 4 carbs from a GS1100 were rebuilt and fit, gaskets and serviceable parts were replaced. The airbox was replaced by pod filters to open up some negative space in the frame and a 4-into-1 exhaust system with a Leovinici GP stainless muffler added before the engine was tuned to match. The bikes original rear suspension was retired and a set of adjustable Showa piggyback shocks installed. Up front he fit a rebuilt GSX600F set of forks and swapped the 19 inch front wheel for a 17 to match the rear and level out the frame. Brembo brakes were also installed for a complete handling upgrade.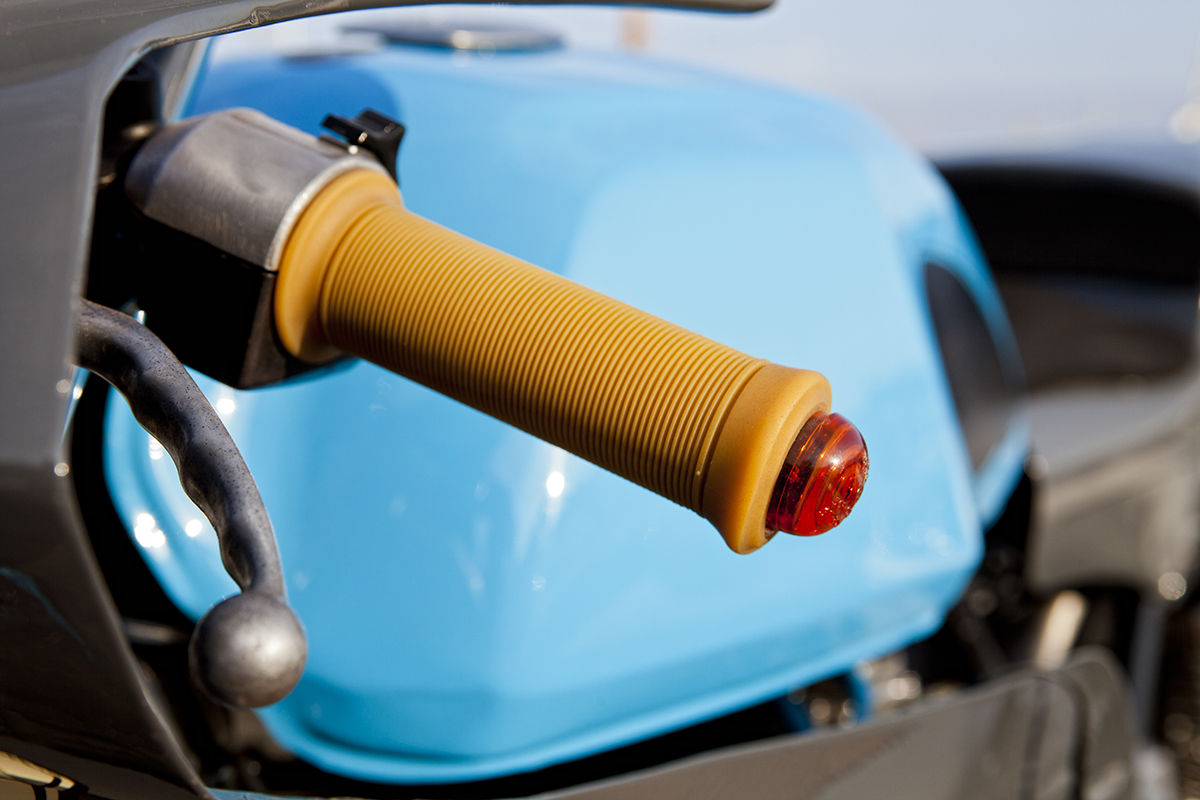 The Suzuki's unique look was achieved by retrofitting reproduction 1980's Suzuki racing bodywork to the GS850G frame. The front fairing is the top half of a Suzuki XR69 race cowl, trimmed down to a half fairing and fit with an externally mounted, off centre headlight. Tarozzi clip on handlebars with Biltwell grips and bar end indicators fit neatly behind it and the cockpit has been minimised to feature a single aftermarket speedometer. The tail section is also a reproduction XR69 unit that's been trimmed to accomodate the rear shocks and fit with a custom made rear alloy plate that features the Monotronomo logo and a Montesa style brake light. To further emphasise the bikes staunch stance the wheels were also fit with alloy covers.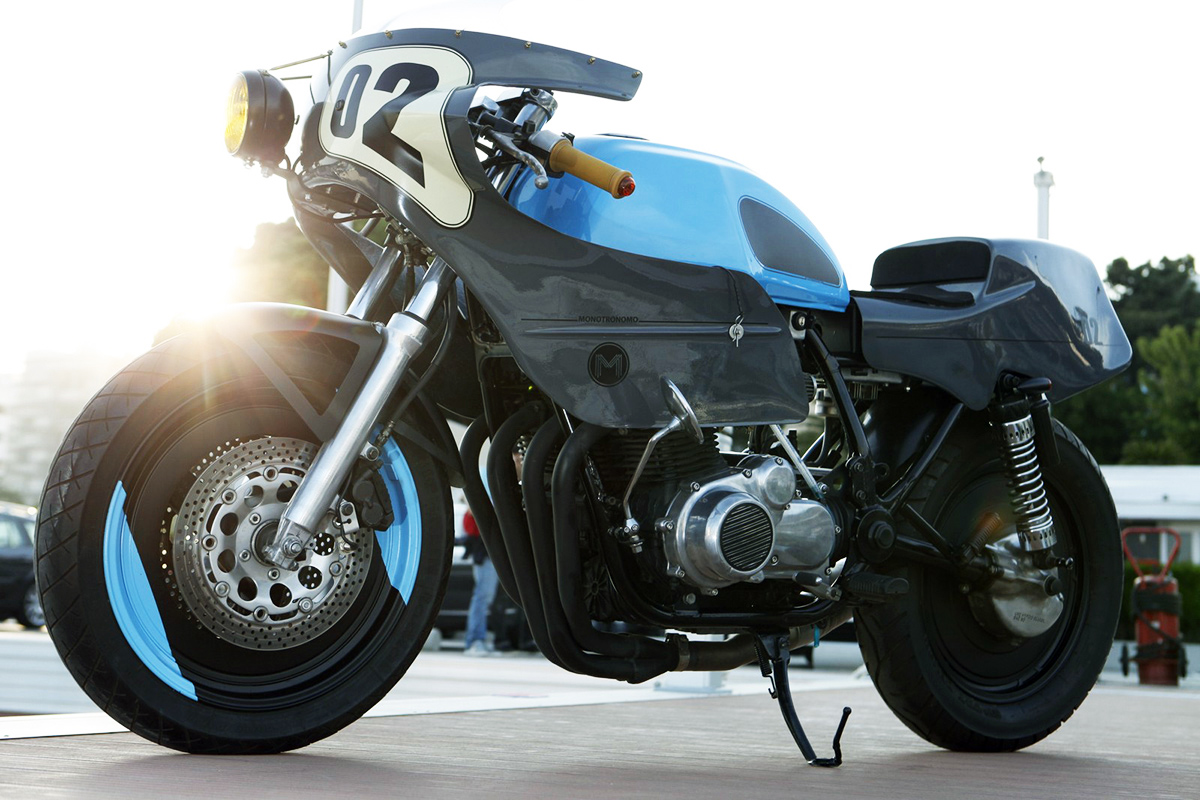 When it was time to paint the bike Mariano wanted to give it a race ready appearance. For this he chose a contrasting paint job of Porsche GT3 Riviera blue and Fiat 500 grey. He then applied vinyl racing numbers to the opposing front and rear corners of the bike for a unique asymmetrical scheme. Finally when it came time to name the bike he took inspiration from the 1962 James Bond film 'Dr. No' naming the bike 'Honey Rider' after the pictures Bond girl.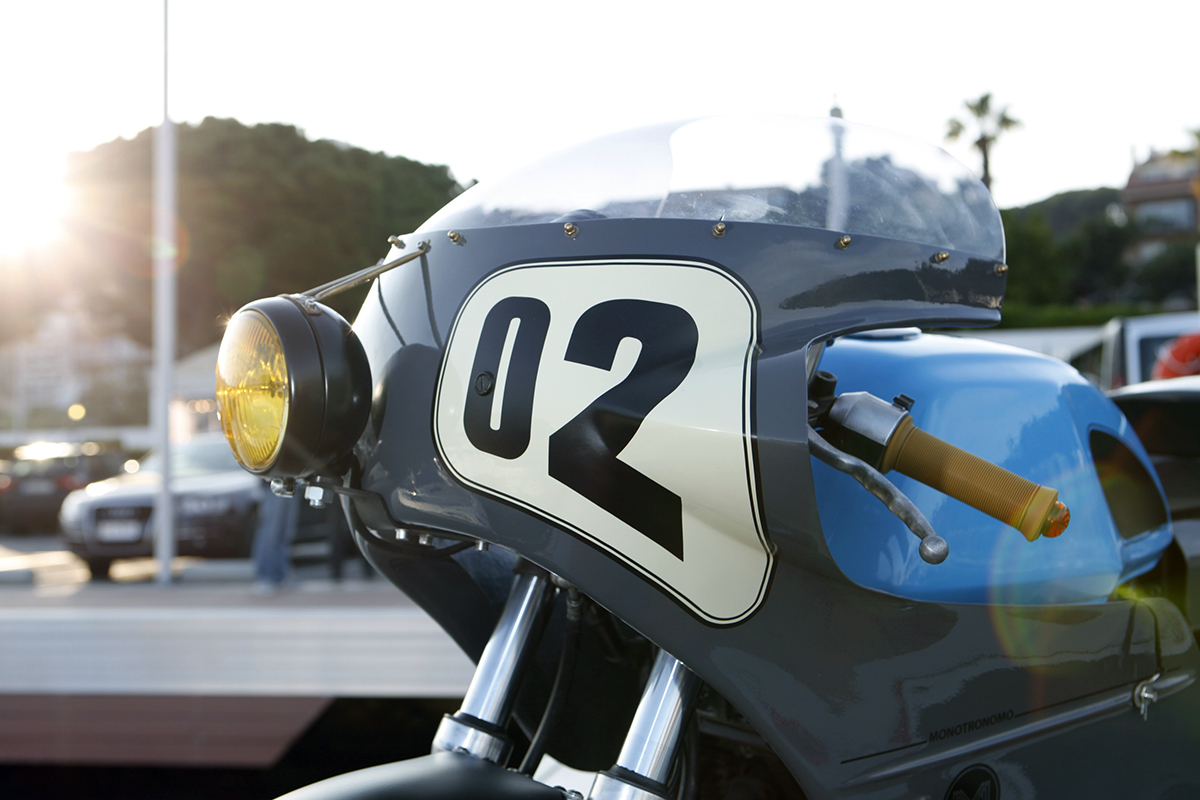 During our interview Mariano reported that his next build, based on a Ducati Pantah, will use a similar naming convention from the 1963 007 movie, from 'Russia with Love'. I'm hoping that means we'll be seeing 24 more sexy builds from Monotronomo in the future.
"I was looking for a Honda CB Bol D'or, Moto Guzzi or Kawasaki Z1000 after seeing many cool custom motorcycles based on these models." recalls Mariano Rodriguez, owner-operator of 'Monotronomo Cafe Racers'. "Then one day when I was picking up my kids from school I got talking with a friend on the subject. I explained to him that I hadn't been able to find a bike in my price range and he showed an advertisement for a
Suzuki
GS850G." Initially, he wasn't interested in the Suzuki since it wasn't a model on his bucket list, however, the price was right and the GS had a kick starter, adding to its retro appeal. Cash changed hands, the Suzuki was ridden back to Mariano's workshop in Spain and his retro racer project began.