Zbynek Turecek is the man behind the Czech Republic based Wildstyle workshop and completed the bulk of the Zt design and build himself. The Zt is powered by a 2013 126 cubic inch Ultima Vtwin with a 6 speed gearbox which has been mounted in a custom made Wildstyle frame. The 2-into-1 exhaust which resembles a wish bone is also Zbynek's own design and features a tiny lil' heat shield to provide some protection from nasty inner thigh pipe burns.
The organic forms of bodywork are also the custom work of Wildstyle. Aluminium details running the length of the bikes bodywork match the minimal fasteners visible on the bikes frame and provide access to the fuel tank and oil tank that's been integrated into the tail. The front end has been raked and stretched while at the rear a unique suspension system uses two shocks mounted in reverse below the seat to a Showa swingarm.
To balance the bikes stance both wheels are 18 inches with stopping power coming from twin Nissin discs at the front and a specially modified Wildstyle 320mm disc in the rear. The aluminium controls, switch housings and pegs are again custom one offs and even the final powder blue paintwork and chrome plating was done by none other than Zbynek Turecek himself.
Like I said it's not your average Return of the Cafe Racers feature bike but it's certainly worth a look. It's easy to see why the judges ranked the Wildstyle Zt so highly and quite frankly if you take a look at some of the bikes that beat it you'd probably agree it should have been ranked even higher.
If you're into wild rides like this one you can check out other AMD Championship bikes I've featured here.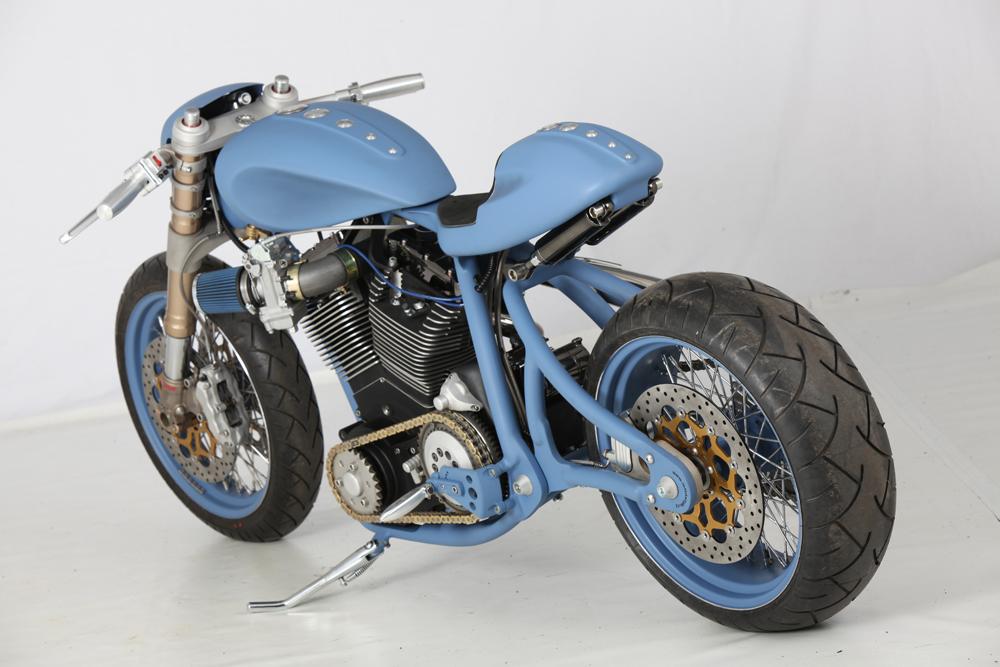 After my post about the award winning Cafe Racers at the 2013 AMD World Championship of Bike Building, the team at Wildstyle dropped me an email about their "Zt". The powder blue, Ultima powered Zt took out 6th place in the freestyle class and while it looks pretty crazy it actually appears to be one of the more functional builds in this year's lineup. Wildstyle sent through these shots which were taken at the AMD studio along with details of the build.