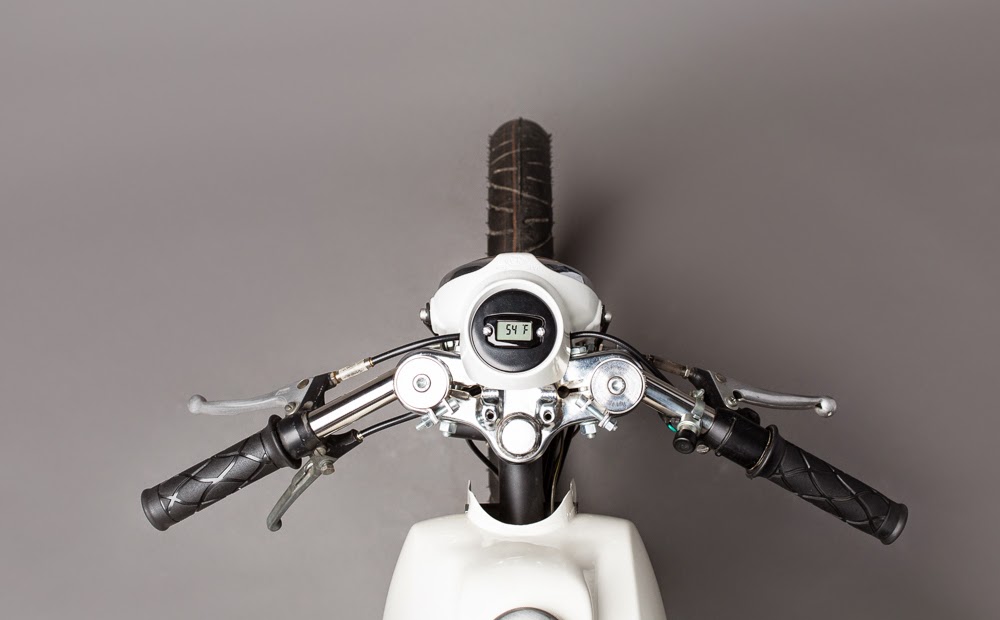 As I'm sure anyone who has built a custom motorcycle would concur, things don't always turn out as originally planned. Whether it's a part that wasn't compatible, a performance modification that did the opposite to what it was supposed to or a body piece that just wouldn't fit, these hurdles are intrinsic to every build. Now consider how much more often this happens when a customer is involved. Although it may sound frustrating and time consuming, which it is, it can produce great results. When Austin Tremellen of Rouge Builds began building 'The Automator' for his customer they never thought it would turn out this way, but they were both very happy that it did.

"The concept for my most recent completed commission, The Automator, began when a gentleman from NYC commissioned me to build a moped as a surprise gift for his brother. After chatting for a while and discussing some sketches we agreed upon a classic-turned-modern theme, including mag wheels and grinder forks. I suppose this is as good a time as any to confirm that what you read above, "build a moped" is just that – from scratch and an exercise in faith. I devote my building efforts strictly to these discarded 50cc artefacts of the past that no one has given any real thought to since the 70s. I don't expect everyone to already know the importance and potential value of the ideals behind these machines and what they might hold for the future of urban travel, but with every new build, I hope the true potential is made more clear. (Imagine Al Gore arguing to convey the latent benefits of the Internet to your parents in 1976..!). Rogue Builds supports the movement to strive for a balance among individual convenience, responsible use of resources, and appropriate human-scale for human needs, all within a thoughtfully crafted machine.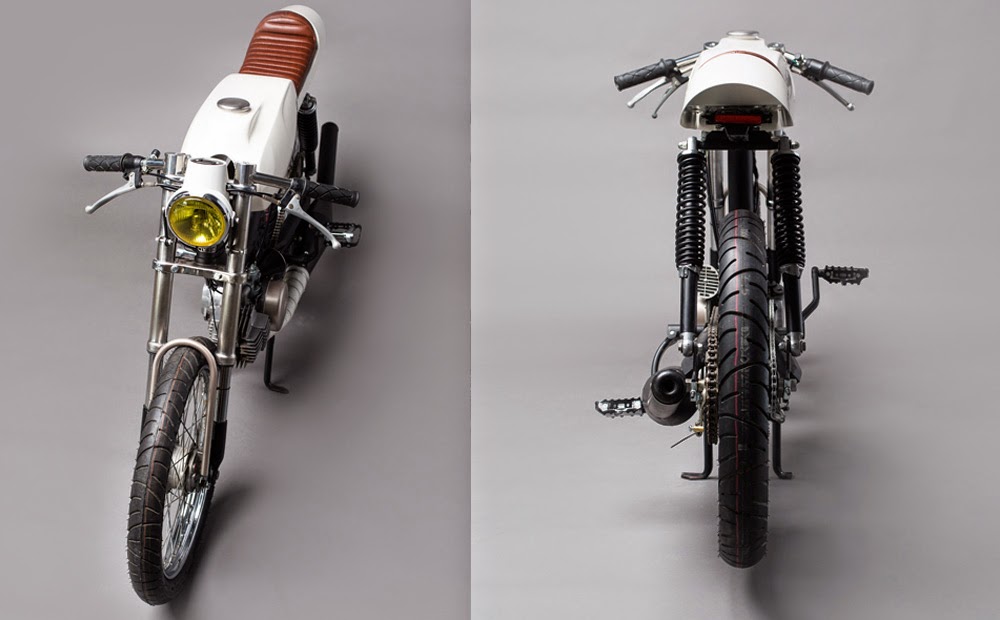 When this commission was first on the table, I had recently acquired a '78 MkII Puch Magnum from a friend who had decided that he no longer had the time or interest in maintaining a vintage bike. It had been stored in a parking garage for a few years before finding refuge in my shop, and although it was complete, it was in definite need of restoration, and I thought it would be perfect for this project.
I started by rebuilding the original heavy mag wheels, which luckily complemented the hard-lined modern vision of the build. I converted to sealed bearings and painted them satin black, and these 17" mags would roll for minutes after a good spin by hand. I contracted O'Malleys Speed 'n' Kustoms out of Richmond VA to build a set of grinder forks and scouted a tank froma small Batavus motorcycle out of the Netherlands. I then referred to my go to seat guy, Ian Halcott from Twinline, for the flawless execution of the seat pan and upholstery. Next, I set aside the original two speed auto mix ZA50 engine and completely rebuilt its pragmatic predecessor known as the single speed E50 engine.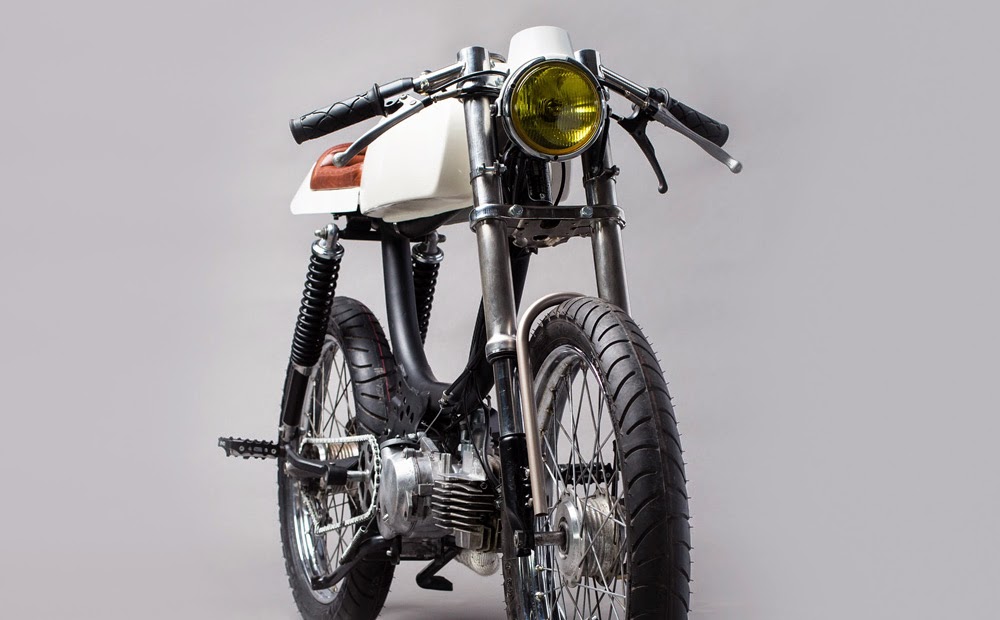 The cylinder was upgraded using an aftermarket kit with a more aggressive port map while retaining the same 50cc displacement. The automatic clutch was braced and tuned for later engagement —a must for that NYC hustle n bustle. The trusty 12mm Bing carburettor and intake were increased to 15mm and topped with a velocity stack. Original points were turned into Christmas tree ornaments, and in their place, an auto retarding CDI was installed…we all love a nice ignition curve at 9,500 RPMs! Finally, a nice expansion chamber was added to collectively double if not triple the horsepower. Do they even make dynos for under 5 hp?
As far as the aesthetics of the build, what started out as a classic-turned-modern concept switched over time to become a straight up classic. After studying the images of builds that my client provided as sources of inspiration, I concluded that what he responded consistently to is "the classic beauty factor". Classic builds have an essence like that found in both a James Bond DB5 Aston Martin and the captivating tight-lipped smile from Grace Kelly in a Hitchcock flick – that almost intangible factor that engages a visceral response, absent from most of today's manufactured products. Perhaps purposely lost in our past, and decidedly creeping into those few precious builds by some ominous manner, real beauty once was the goal. (Oh, how much could change if we refocused and recommitted to that essence today…) Yeah – that's what he wanted…and really – it's what we all want – it's what you hope to reveal out of every café racer inspired bike.
And so with this new knowledge I found myself redesigning many aspects of this commission. The unique custom grinder fork was swapped out for an inverted traditional suspension. My color scheme was turned upside down. Handmade handlebars were tossed in box and replaced with handmade chrome clip-ons. The rebuilt mag wheels were pushed to another project and swapped with rebuilt chrome spoke wheels wrapped in 2.5" and 2.75" German Heidenau tires. I will be the first to admit that I was quite concerned at first while witnessing the order of changes that were taking place. There was certainly no "classic beauty factor" presenting itself in this hot mess of mixed inspirations, but slowly with each piece removed or reworked the beauty of 'The Automator' began to take form.
In my final hours of building I began to realize how much I had learned from this project and felt thankful for the opportunity to get to know the many attributes of good old fashion making: do your best…keep patient… and remember a lesson is hiding in every problem."