It's hard to believe that it's been almost 2 years since we first laid eyes on the Lotus C-01. With so much hype surrounding the unveiling of the motorcycle and so little progress to report ever since it was starting to look like a thing of myth and legend. The 3D renders had lost their wow factor, the website was looking stagnant and a handful of
C-01 copycat motorcycles
 had even started appearing as custom workshops took liberties with what seemed to be a forgotten project. Then just as I myself was starting to think the C-01 would never materialise as a tangible motorcycle, they went and built a few of them!
These photographs show an example of a carbon-fibre bodied Lotus C-01, finished in nothing more than a clear coat and gold decals are very exciting to see. What excites me more than those luscious carbon curves though, is the fact that the shots include examples of the bike with a rider in its saddle. It's hard to put some things into perspective without a reference to add scale and motorcycles are one of those things. Exact proportions and dimensions reveal themselves when a rider enters the equation and I have to say in this case it's only served to further improve my opinion of the Lotus C-01.
To recap a bit on the creation of the C-01, it was designed by the same guy that brought the Tron Lightcycles to life in the latest iteration of the movie; and who also happened to play a part in the design of the Bugatti Veyron (Daniel Simon). While the bike wears the Lotus badge it's actually being put together by the German motorsports companies Kodewa and the Holzer Group who have licensed the Lotus name for use on their 200 horsepower superbike. With only 100 units planned for production, owners aren't likely to be spotting another C-01 out on the street, especially when most aren't likely to see much actual riding time thanks to the small fortune ($130,000+) they've paid for the privilege of owning one.
This bike is the company's official street-ready prototype. Beneath its carbon shell lies the water-cooled, 1200cc v-twin engine of a KTM RC8R. Boasting 200bhp it's capable of rocketing the bike from a standstill up to 60 mph in a measly 3.1 seconds and will chew up a 1/4 mile of tarmac in a smidge over 10. Despite its artsy exterior, handling characteristics were a priority during the design of the C-01. In the rear, you'll find a pair of  Ohlins piggyback shocks and beneath the aerodynamic, carbon fibre fork shrouds are a set of Sachs USD forks. With this combination, they claim the bike will provide sharp handling in the corners to match its blistering straight-line speed.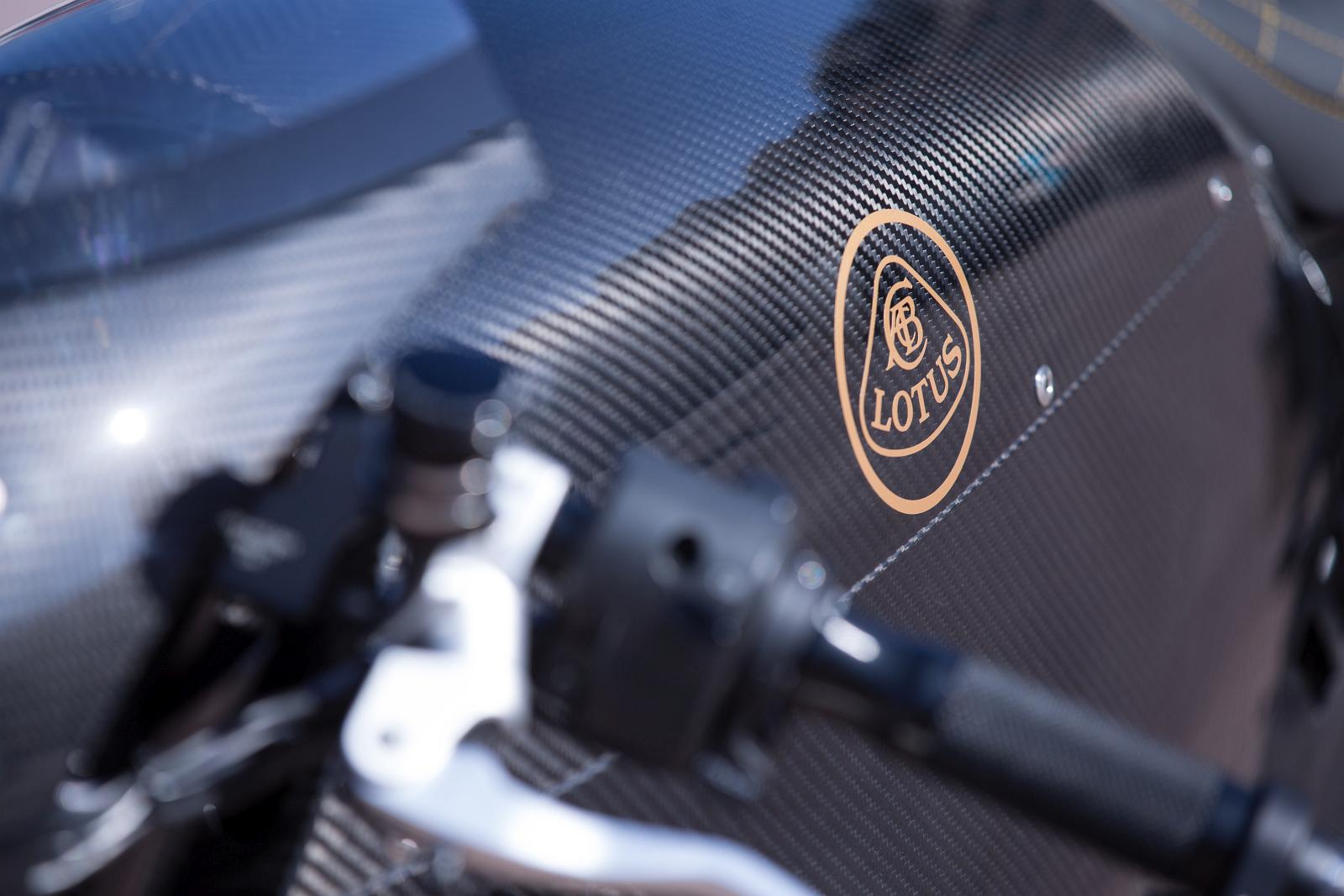 Despite the company's claims the C-01's bulky appearance might have you thinking otherwise about its handling, but they've another surprise up their sleeves. Along with the C-01's carbon fibre exterior, the rest of the bike is made up of lightweight aerospace-grade aluminium, steel and titanium that results in an overall weight of 180kg, which is less than the latest Yamaha R1. I'm not about to put my money on the Lotus if the 2 bikes were to battle it out on a track, but knowing this fact certainly changes the way I look at the bike.
This year as the bikes move into production the company will be producing them in batches of 20. With such a high price tag you can bet this means there will a few things the customer can specify and this image we found of another road going C-01 (courtesy of classicdriver.com) demonstrates exactly that.
Maybe it's time you traded in that yacht for something with a bit more grunt?