The frozen streets of Moscow are about as far from the sun-scorched salt of Bonneville as you can get. Despite that, the Russian workshop 'Fine Custom Motorcycles' is determined to make its mark at Bonneville's illustrious 'Speed Week'. Along with building award-winning custom motorcycles for esteemed competitions like the AMD World Championship of Custom Bike Building, FCM owner Sergey Maltsey and his head mechanic, Mikhail Antonov, have spent the last couple of years fine-tuning a Ural-based land speed racer which they hope will set a new record at this year's Bonneville Speed Week.
This bike, which they first put together back in 2015, is 'Bonny' a purpose built, 1955 750cc Soviet-made Ural. The choice of donor for the project came down to the category in which they wanted to compete, the vintage class, and what better machine to use than one that shared their roots. 2015 was to be Bonny's maiden run at the salt flats, but due to poor salt conditions, Speed Week was cancelled. Since many of the event's international competitors had already made the trip to the US a special 1-mile event was organized last minute at the Mojave airport. Because FCM had engineered Bonny for a 3-mile run they could only utilize 3 of the bike's 6 gears to record a top speed of 93mph.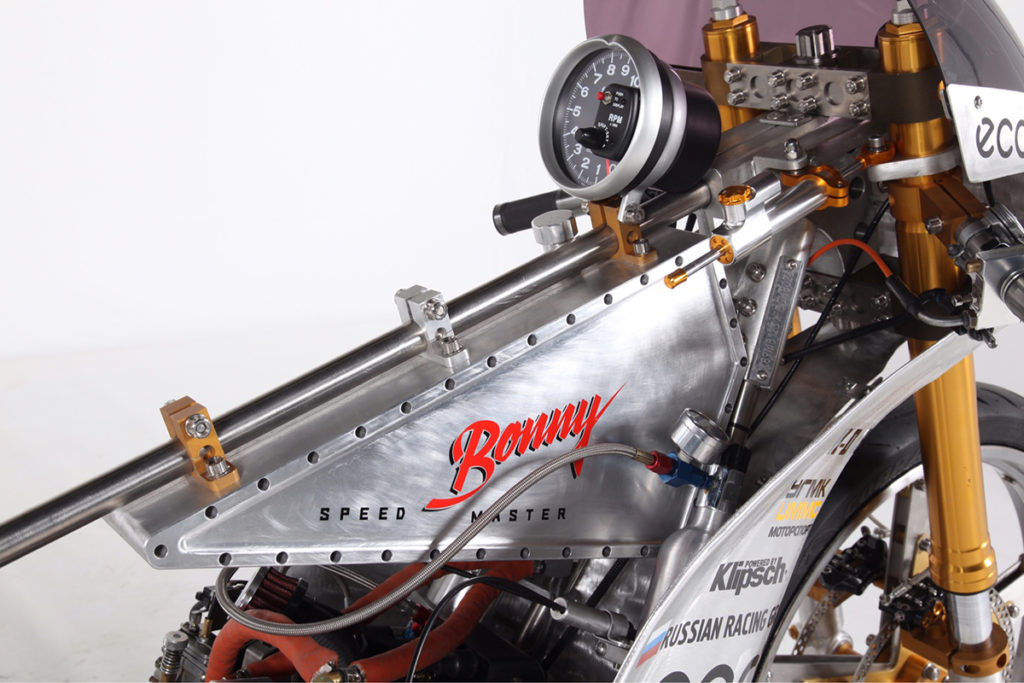 In August of 2016, the FCM team headed to Speed Week once again. With the salt in good condition they put Bonny through tech inspection and prepared to race, unfortunately, everything did not go to plan. "After some runs, we discovered that our nitrous bottles were too small for this distance," Sergey recalls. "but then when we mounted larger bottles one of the cylinders cracked!" Despite attempts to repair the cylinder, Bonny couldn't exceed 97mph, 19mph short of the world record.
When it came to building Bonny Sergey wanted to "preserve the retro look of the motorcycle to correspond with the spirit of the time when its engine was released." The engine in question is a 1955 Ural M-72, a 750cc flathead twin. The frame that surrounds it utilizes titanium tubes connected using milled alloy clamps and bolts rather than welds for strength and lightness.
The bikes 21-inch wheels were also custom made by FCM using more titanium for reduced weight and are wrapped in speed rated Avon rubber. Bonny's suspension consists of a Kawasaki set of USD forks up front and at the rear and the custom-made swingarm is held steady by a peculiar looking set of shocks from DB Racing suspension. To slow Bonny down FCM mounted Hope 6Ti disc brakes front and rear.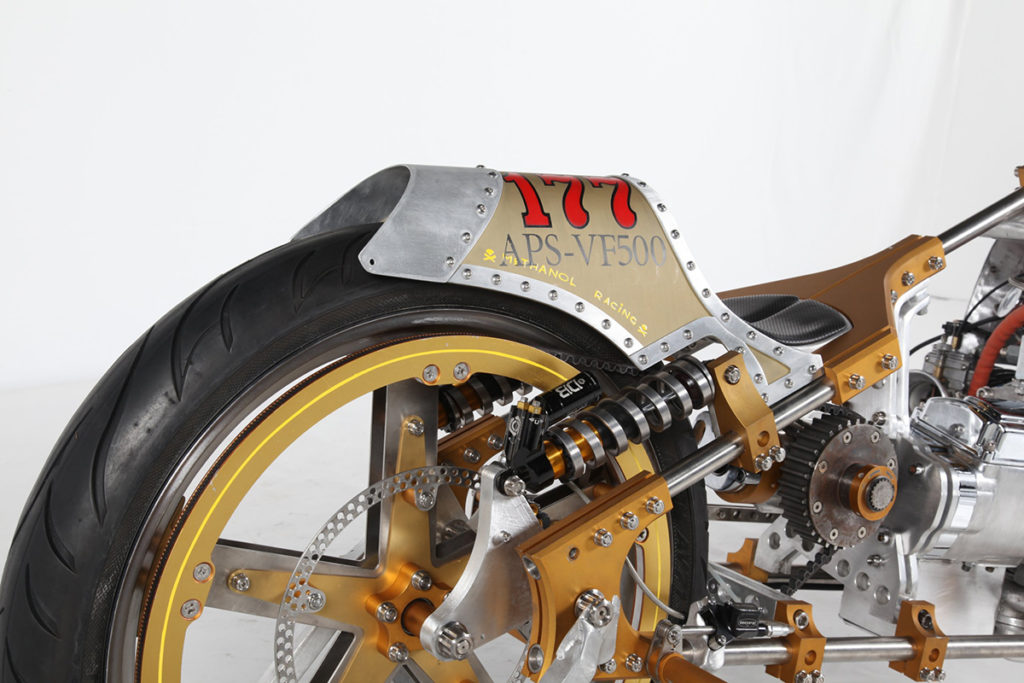 Power was, of course, paramount with this build and working with an engine over 60 years old was no easy task. FCM re-engineered the engine to make it a more capable machine adding a BMW gearbox running Ultima 6 speed internals and a belt drive. "We had to adhere to many parameters," says Sergey. "We were able to use methanol fuel to get the required compression ratio. Working with methanol is difficult though because it is very corrosive and it hurts your eyes." Along with the methanol, FCM used a nitrous injection system to boost power levels well beyond factory numbers. The M-72 produced a mere 22bhp when it left the Ural factory but Bonny's engine now produces 49bhp.
Bonny's bodywork is all handmade from lightweight aluminum. The front fairing provides just enough cover for their rider to tuck behind without falling into the streamlined category. The fuel tank holds just over what is needed to complete a 3 mile, flat out run and the seat has enough padding to bring a tear to your eye. The handmade parts of the alloy bodywork remain raw while machined components were anodized gold to match the bikes front end.
Despite its clearly well thought out design Bonny and her FCM crew raised some eyebrows at Bonneville Speed Week. As the first Russian team to compete in the history of the event no one quite knew what to expect, but, just as New Zealand's Burt Munroe had done decades before they proved themselves out on the salt.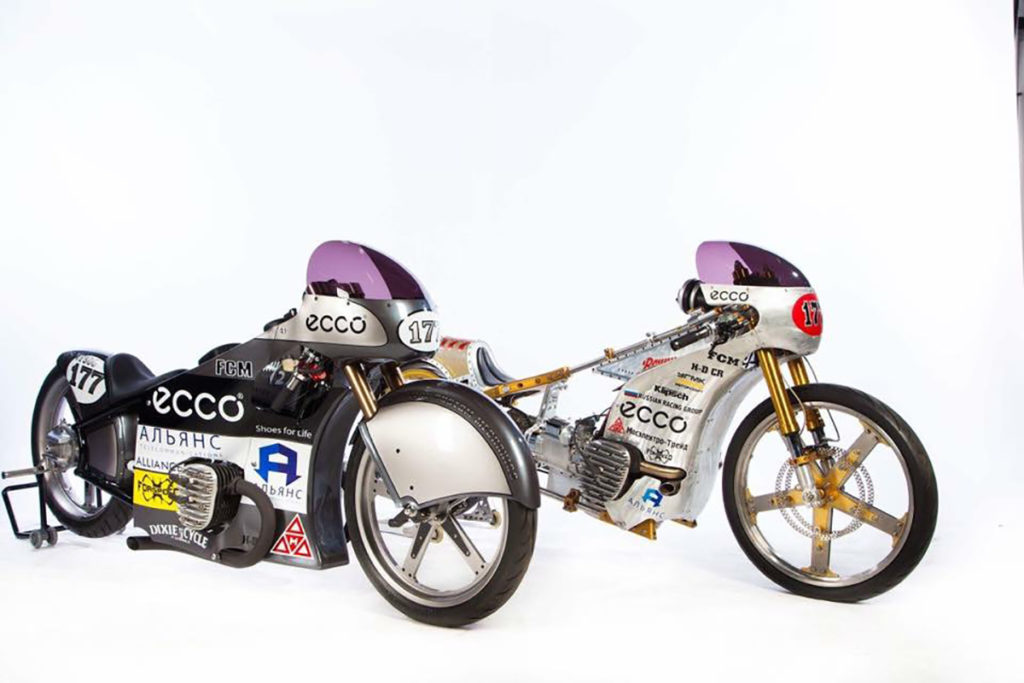 For 2017 Sergey and his team will be taking a new bike, the 'Bonny 2' to Speedweek. With power upped to 58bhp and a few aerodynamic improvements, they're confident a world record will be within reach. Due to their work with the engine FCM have also been invited by Ural to rework one of their current models for a possible special edition motorcycle. If Bonny is anything to go by I'd say it'll be a far cry from the machines we are used to seeing from Ural and perhaps one worth getting your hands on.