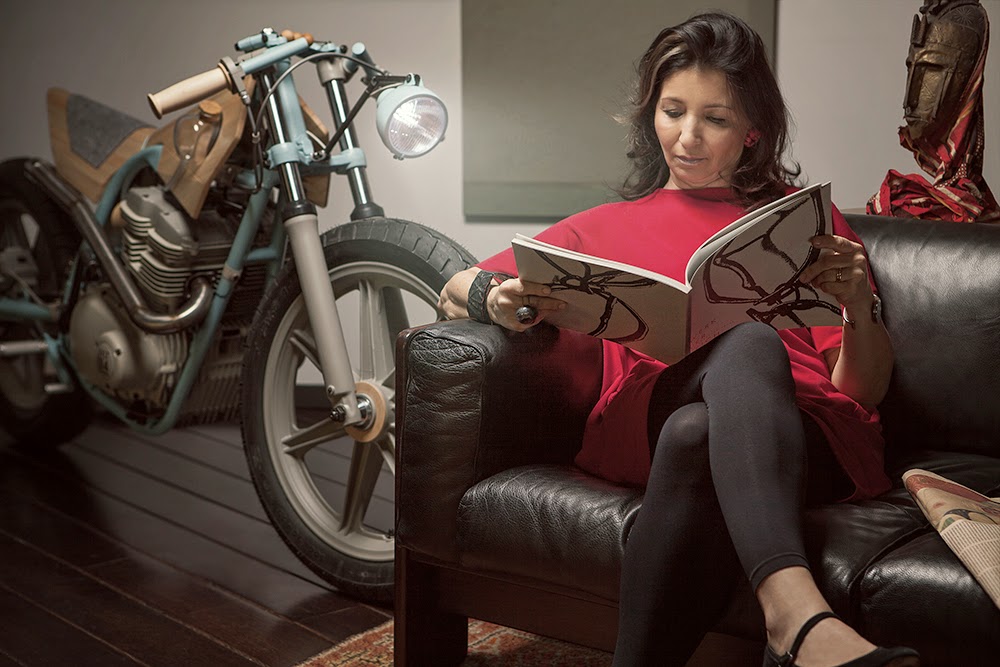 So what exactly is it that we're looking at? The JVLT is not a functioning motorcycle, so don't worry about whether or not that 5mm of felt on the seat would save you from a crotch full of splinters. The bike has been "deconstructed" and converted into a household item of furniture. The headlight now functions as a reading lamp, the fuel tank is a handy water storage device (?) and the speedo has been replaced by an abacus…handy for any mathematical calculations that total less than 4.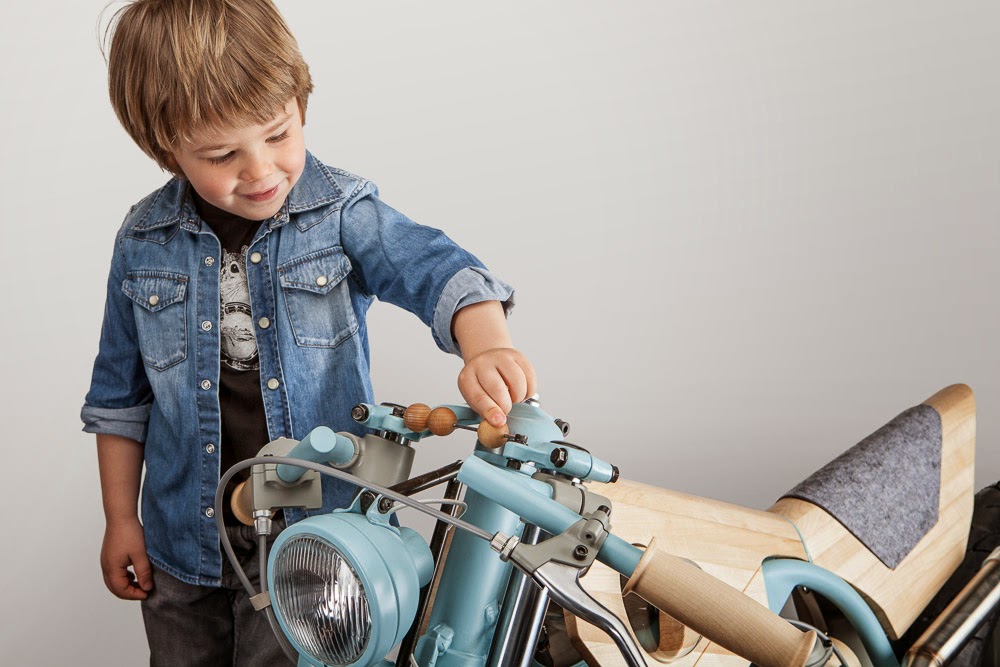 Even though the bike no longer runs, brothers Richard and Diego from North East Custom have made some interesting custom modifications to the non-functioning bike. The rear shocks have been replaced by a monoshock set up, custom pipes and a high stance give the bike an unmistakable Scrambler style and they've kept the rear brake, which I can only assume is so you don't lose control of it when you wheel it from your kitchen to the lounge room and plough it into your 70 inch plasma. Wood, glass, cork, felt and leather has replaced the bikes functional metal and plastic bodywork and the colour scheme was influenced by current trends in interior design and Noddy's sock draw.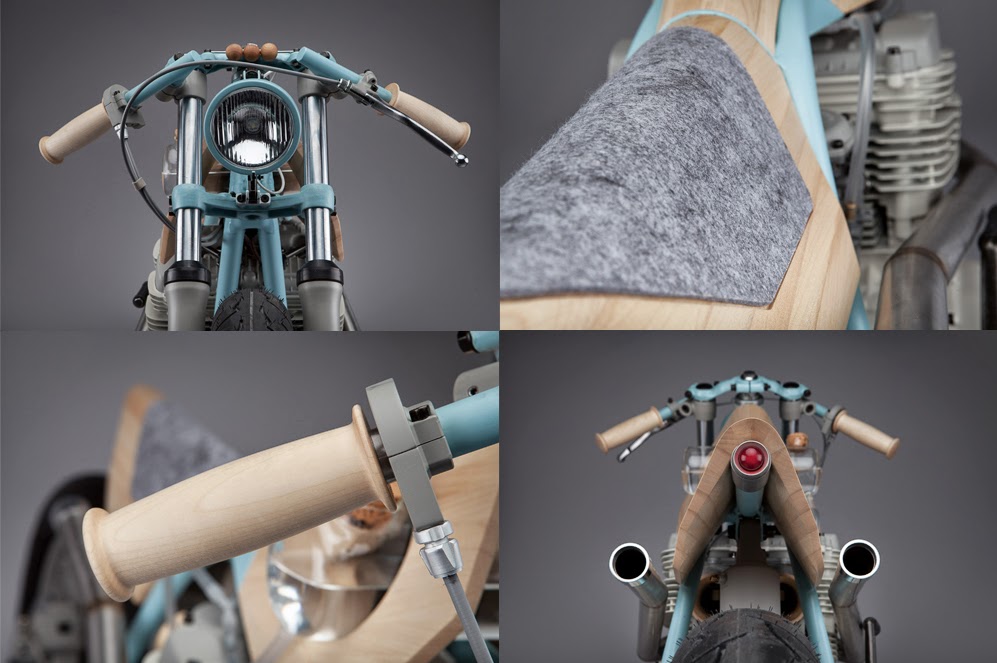 Many of you are sure to be disgusted by the decommissioning of a bike for use as a household ornament (and rightly so), but I have to say there's something I really admire about this bike. Projects like these help to get us all thinking outside the box. While I like my bikes to be 100% functional I also strive for beauty in all that I build and there's no denying that the JVLT 014 Motorbike has plenty of stunning design elements on it…now, where did I leave that Allen key?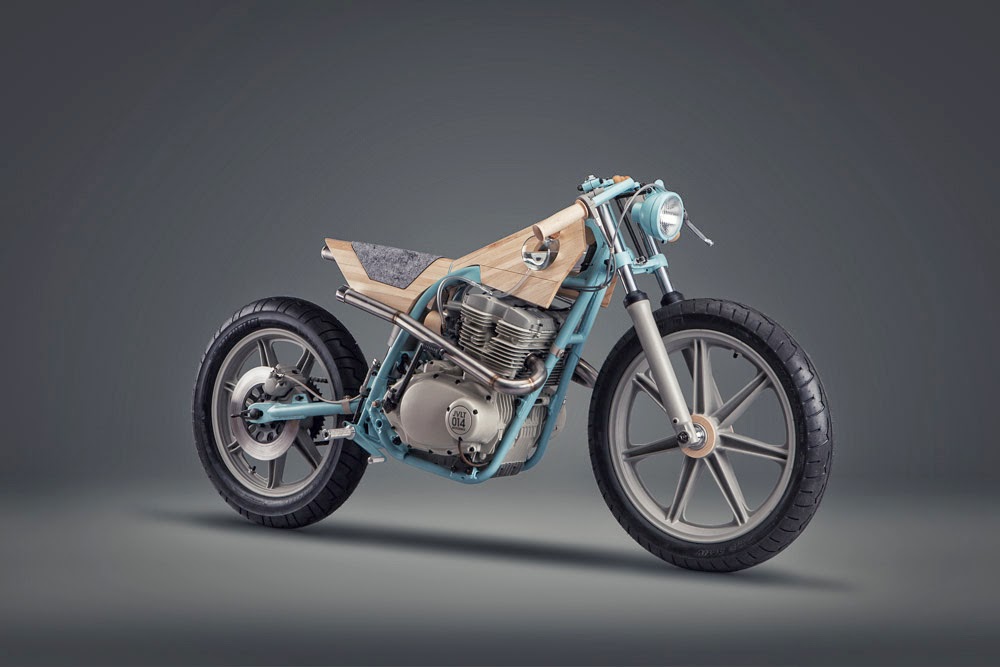 Ok, I'm going to get in there before anyone else… Check out the latest rage in custom motorcycle styling, they're calling it the… "Flat Packer"!
Cheesy jokes aside this is one beautifully designed, totally impractical motorcycle. But no one is trying to claim otherwise. The JVLT 014 Motorbike is a project put together for the Milan Design week by Italian design studio 'Joe Velluto' and the motorcycle workshop 'North East Custom'. Looking very much like the latest addition to Ikea's catalogue the aim of this build was to take a mass produced object, deconstruct it and create something custom using cues from the world of furniture design. It's another example of how popular the custom motorcycle scene has become and how it's being embraced by creative and commercial industries.