It's been less than a year since David from Ad Hoc Cafe Racers sent me pictures of his first workshop build, the incredible custom Moto Morini K2 that had everyone sitting up and taking notice. Since then he's managed to roll 2 more stunning custom builds out of his workshop in Spain with the latest being this 'Poptah' Alazzurra Cagiva 350.

The Alazzurra 350 was first released in the mid eighties and was designed as a touring version of Ducati's Pantah. The aircooled, 650cc, 90 degree twin was unmistakably Ducati as was the trellis style frame but the bike wore Cagiva branding. It's full fairing design was also an unmistakable off shoot of eighties era bikes, with sharp, angular panels and cast alloy rims.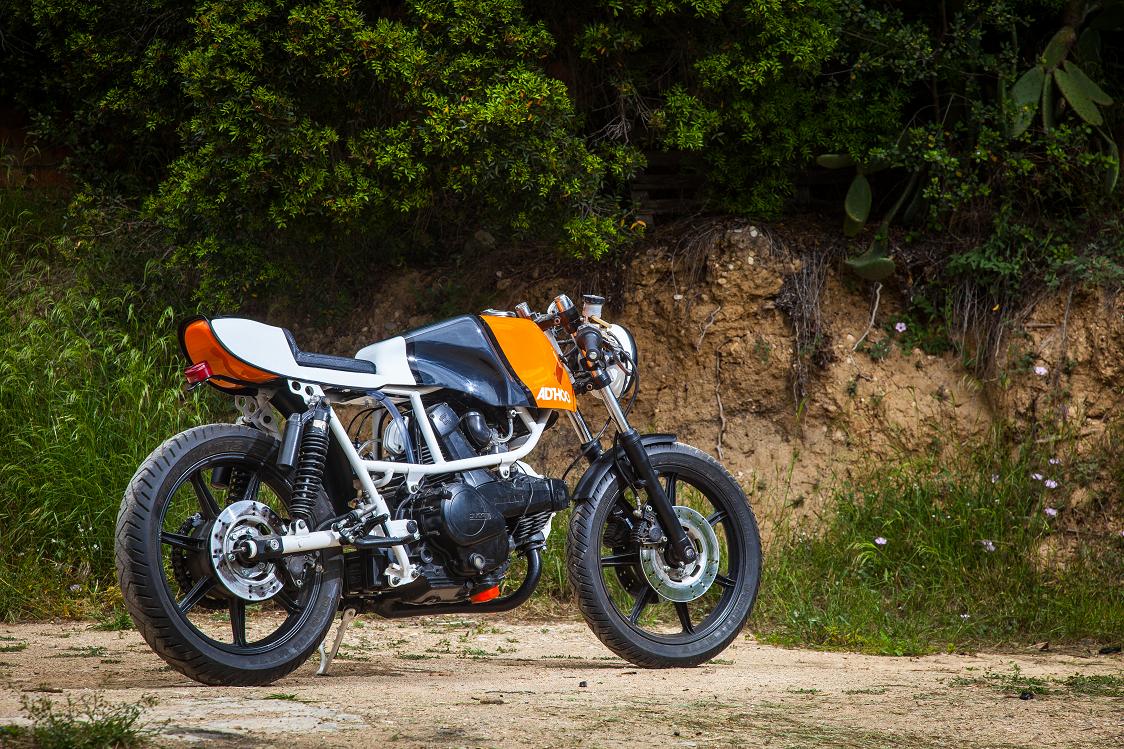 With the bodywork gone and the engine removed David set about detagging and cleaning the frame and modifying the rear loop in preparation for a new tail section. Meanwhile the engine underwent a basic overhaul and clean up with fresh parts and paint. The swingarm and frame were powder coated in white to create a striking, almost skeletal looking frame around motor. The wheels were replaced with Morini rims powdercoated black along with the forks and exhaust to compliment the fresh engine.
Unlike the muted tones of the Ad Hoc Moto Morini, David's gone for a much bolder colour scheme on this bike. Following the lines of the frame he's created a look reminiscent of the works of Piet Mondrian but with a colour palette influenced by Pop Art, hence the "Poptah" name. Believe it or not this build was a much cheaper project than his previous projects using many components sourced at local yards and events. The NCR style tank is a fiberglass unit from Italian workshop Europlast and the seat, muffler and single mirror were all lucky swap meet finds.
With builds of this quality rolling out the Ad Hoc workshop at a steady rate you can be sure you'll be seeing more of his bikes on these pages in the future.