After attending the 650 twin launch back in 2019 I was pleasantly surprised by how well Royal Enfield had done with their new parallel twin platform. Along with being great to ride the 650's straightforward construction and affordable price point meant it was begging to be modified. Since then there's been no shortage of heavily customized 650 twins by builders around the world. What I didn't expect though was how many riders have been taking the 650s to the track.
Royal Enfield first unveiled the 650 twin concept in 2017 but we had to wait 2 years before they were available to purchase. At the launch, they explained this was due to further development of the bike's handling. With the help of Aussie test rider Paul Young and Enfield's subsidiary company Harris Performance, they built a chassis that punches well above its weight. The 650 parallel twin engine has also surprised its fair share of builders. Often described as detuned, the engine can be easily modified to put out considerably more power without sacrificing reliability. Then of course when you consider that this is one of the best-priced motorcycles on the market, racing them seems obvious. I guess I was just too narrow-minded to see it.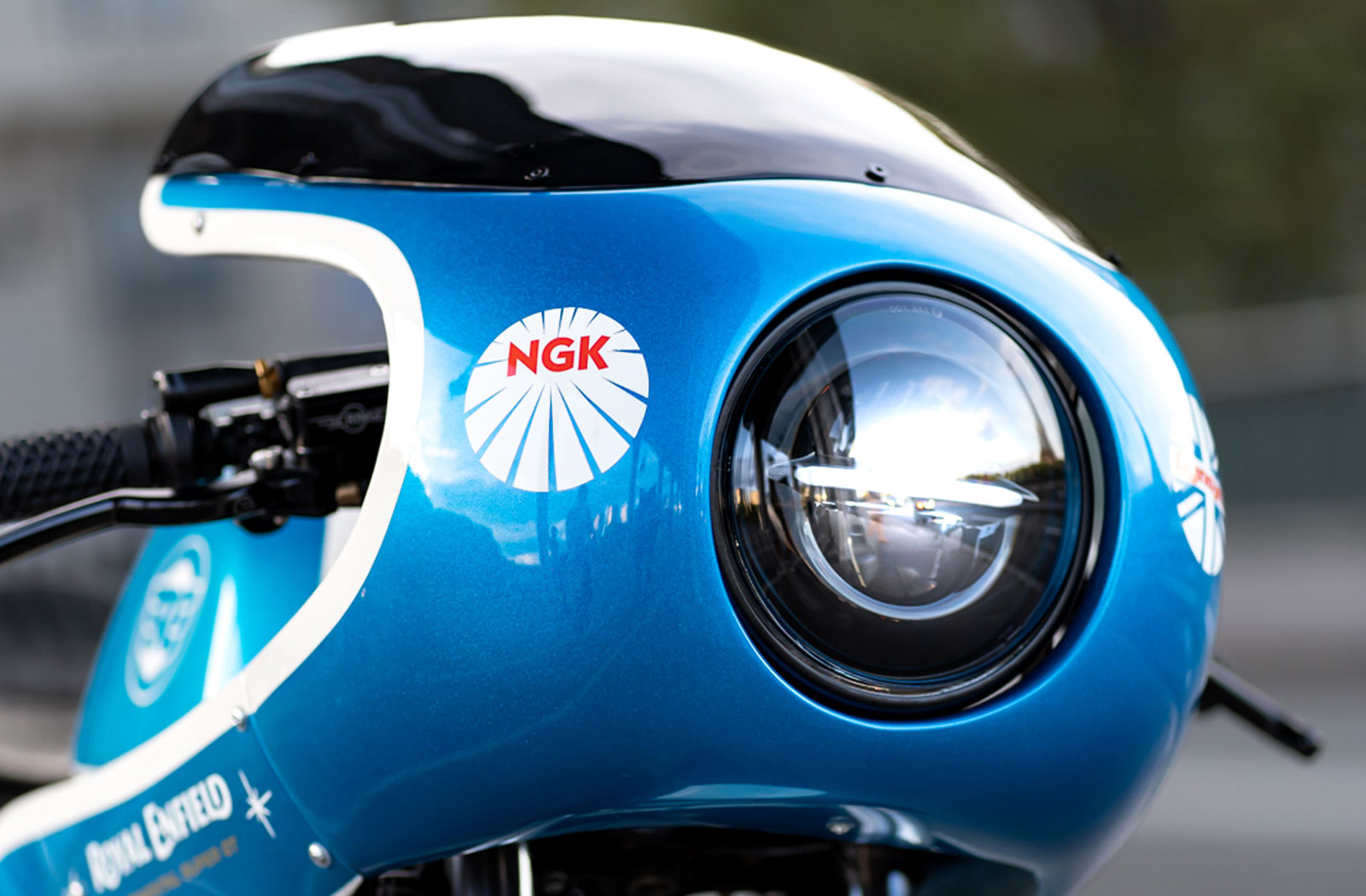 Royal Enfield themselves have helped to foster a 650 twin racing trend. They've done this by building their own track-ready factory custom, the Nought Tea GT 650, and by establishing the GT Cup race series. The one-model GT Cup race series is open to anyone with a 650 twin who wishes to participate and they've been held at locations all over the world.
To take part in a Royal Enfield GT Cup riders purchase a Continental GT racing package for their bike. It includes modified bodywork (front race cowl and single seat rear cowl), an engine skid plate, lower clip-on handlebars, tank pads, lever and engine crash guards, and pair of Remus performance mufflers. This means that all of the bikes participating are equally matched so winning a race comes down to rider skill.
Anyone that's been bitten by the racing bug knows this kind of event results in one thing – more racing!
One rider who has taken his Royal Enfield racing to the next level is the Paris-based builder Orion Porta who owns and operates Ormotors. Orion has 30 years of building custom motorcycle experience under his belt and Enfields make up a large portion of his portfolio. As a result, his business is now a certified dealer of the marque. It came as no surprise that Ormotors took part in the French GT Cup series using a GT racing package bike but this 2020 GT 650 is something altogether different.
"I bought this bike new in 2020 to customize it. Since then it has had several different custom transformations," says Orion.  "I love the GT 650. It's made to be transformed. The basic bike is very cool to ride, and to race!"
Orion's latest iteration of his GT 650 is an exploration of the bike's performance potential. Coined the Ormotors Racing Continental Super GT it has an unmistakable racer look about it, but beneath all that glitz and glamour are the underpinnings of a true racer.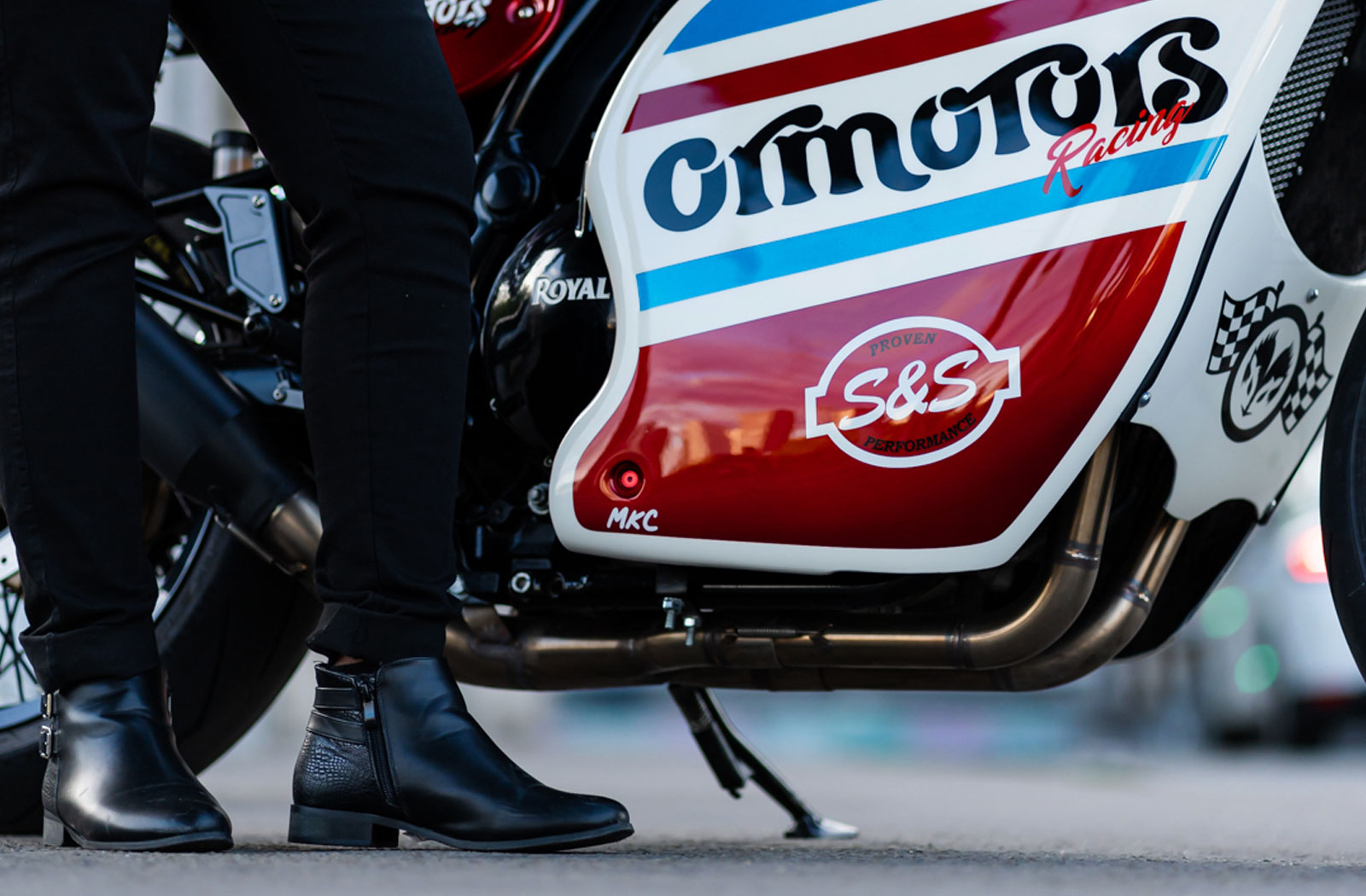 On the outside, the Super GT wears a collection of custom parts supplied by the project partners. The stand-out modification to the exterior is the full retro fairing on the front end. It's the work of Aekkarat Aittharit (aka Max Fairing), a Thai designer and fabricator who creates bodywork for modern Enfields and Triumphs. It has been designed specifically for the GT 650 and is held in place by the accompanying brackets Aekkarat supplies with the fairing.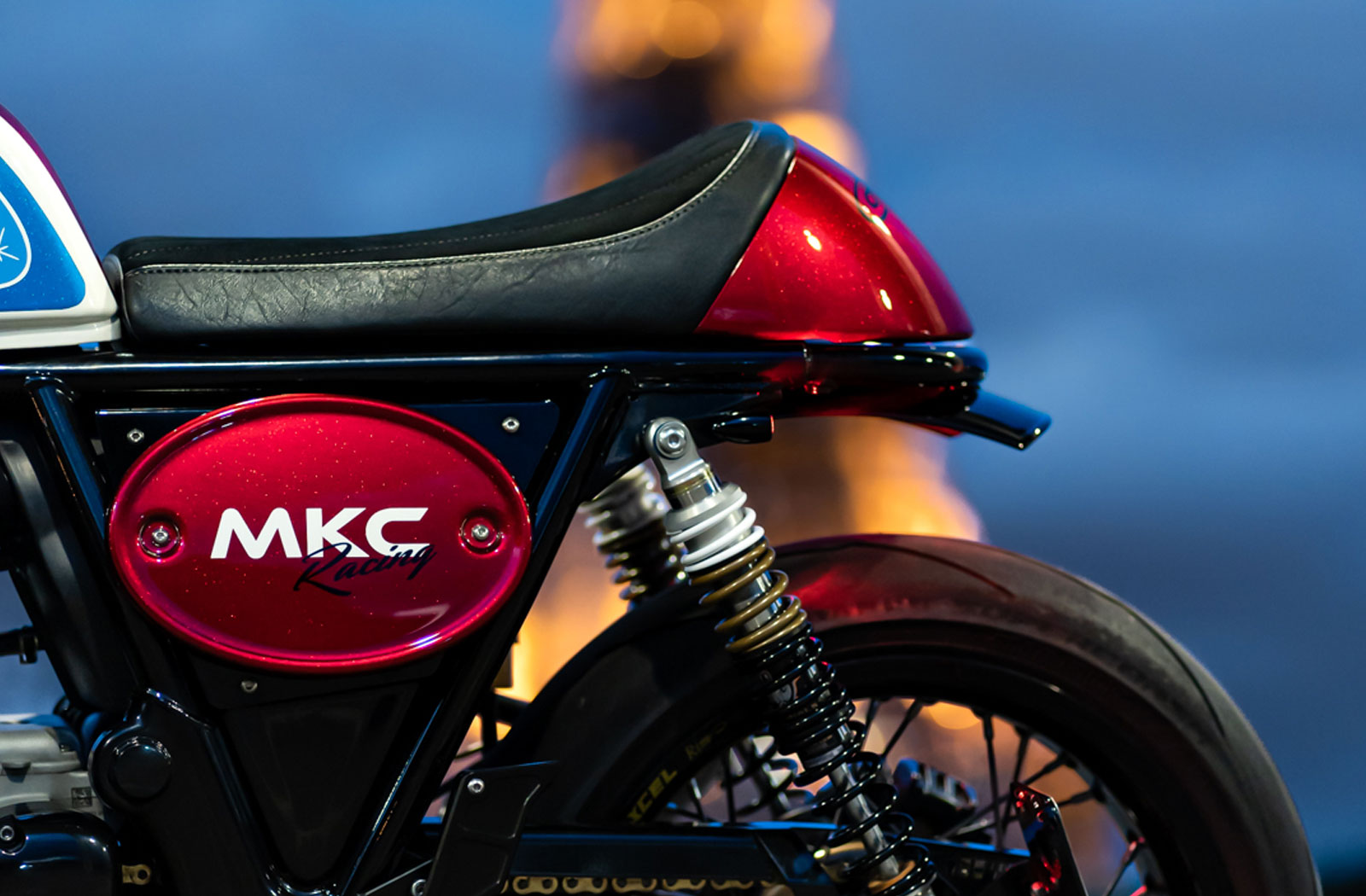 Filling the triangle of the frame are race number style side panels. These along with the trimmed-down fenders are the work of the French workshop BAAK. The seat and rear cowl are standard GT 650 equipment, but the saddle has been reupholstered in Alcantara to Orion's specification. Despite retaining the stock tail unit this GT 650's proportions are much tighter. This is the result of removing the superfluous subframe of the stock bike. To finish it off a new hoop has been welded in that matches the radius of the rear cowl and the license plate relocated to a custom-made side mounted bracket.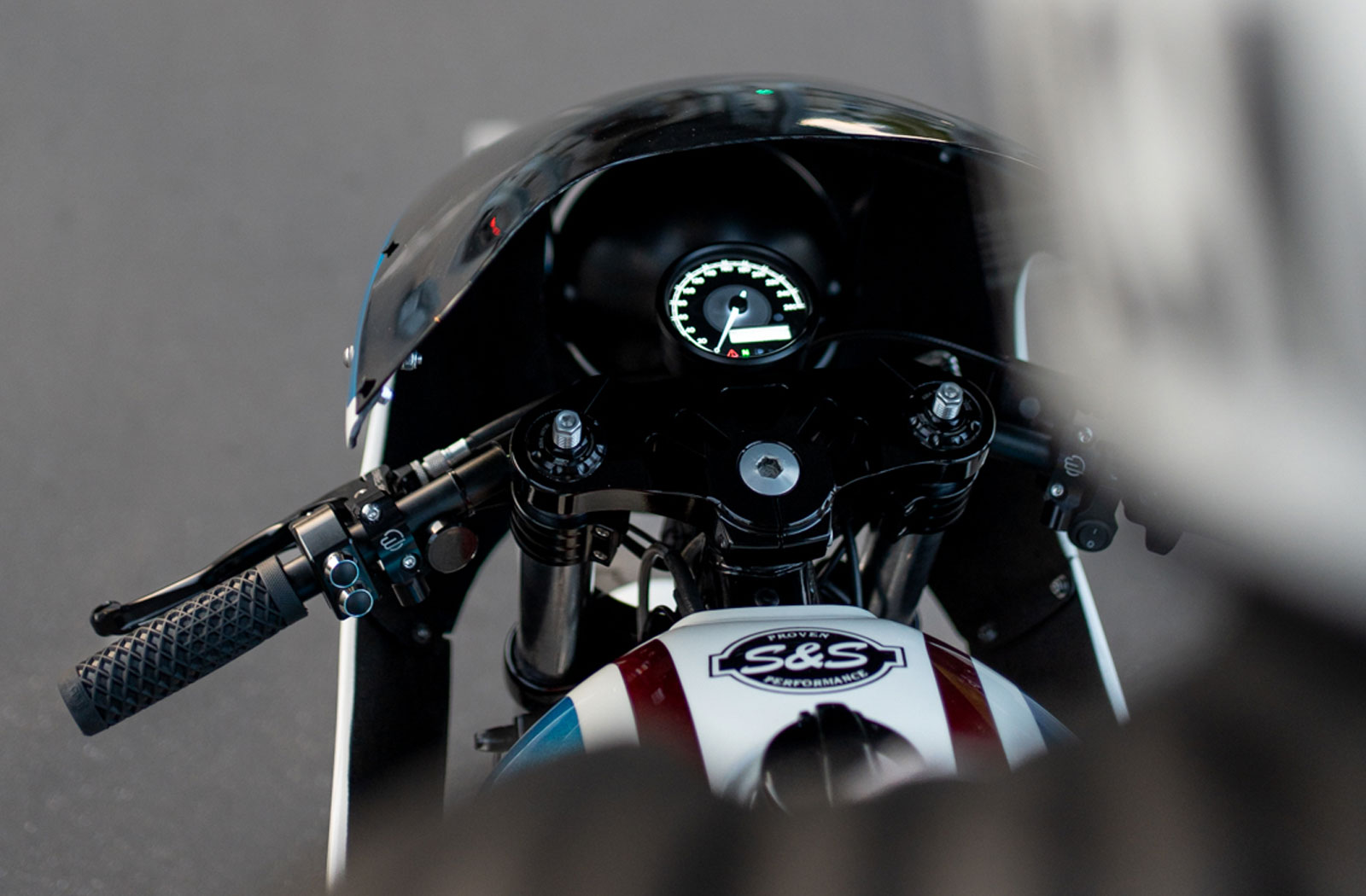 Orion has continued to keep things looking clean by completely revising the layout of the cockpit. Replacing the stock twin gauges is a stealthy-looking single dial by Daytona. The stock controls have been swapped for blacked-out clip-on handlebars and rear set footpegs by Diablo (K-Speed workshops aftermarket parts brand). These were essential mods for both form and function.
The new handlebars are dressed in Beringer levers, push button switchgear, and ODI V-Twin x Vans grips all finished in black. The standard barrel key ignition has been swapped for a discrete Motogadget key fob setup and since this bike will be for both street and track use there are small LED turn signals mounted discretely.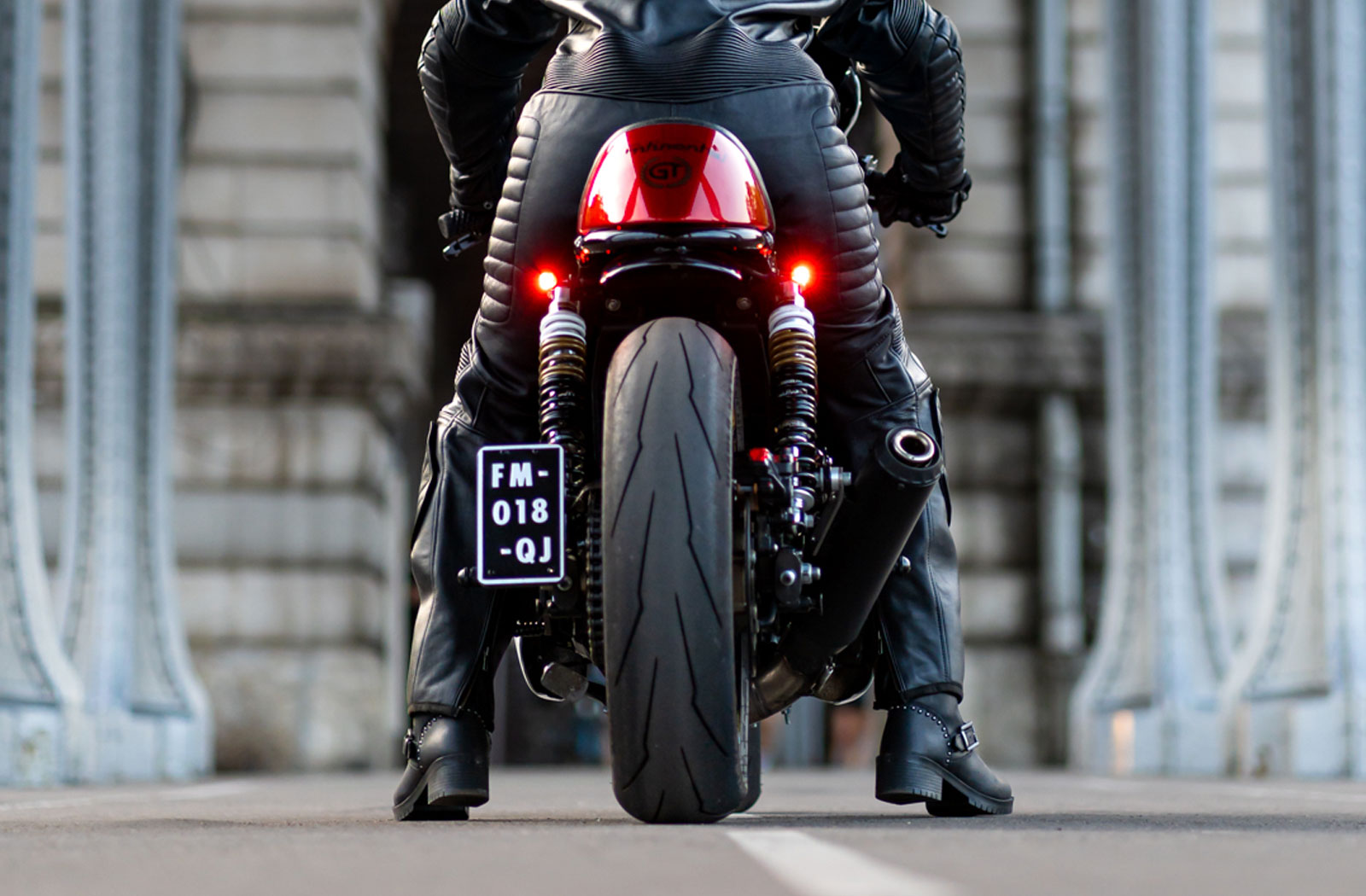 "For this Royal Enfield, I tried to make the best modifications for racing performance," says Orion and he's gone all out to achieve that goal.
Starting with the handling the bike now rolls on matching 17-inch black Excel rims laced with black spokes. For grip, Orion opted for Pirelli's street-legal supersport racing tire, the Diablo Supercorsa SC. Stopping power has seen a serious upgrade with the fitment of a complete Beringer brake system and leaving no stone unturned the suspension is all new too. The forks have been tuned using YSS components and they're held in place by a Hedgehog Motors machined triple clamp. In the rear, you'll find aftermarket performance shocks by The Magicals.
At 47hp a stock Royal Enfield GT 650 isn't going to set many pulses racing. Orion has remedied that issue by giving this parallel twin a thorough overhaul. Internally there's an S&S camshaft and clutch. The 650  top end has been replaced by an S&S big bore 865cc kit and a Dynojet Power Commander manages the fueling. Inside the airbox, you'll find a K&N performance filter and the 2-into-1 exhaust is bespoke; featuring headers fabricated by Kust Player and an S&S muffler. All up these changes equate to a whopping 53% increase in power which sets a new rear wheel figure of 72hp.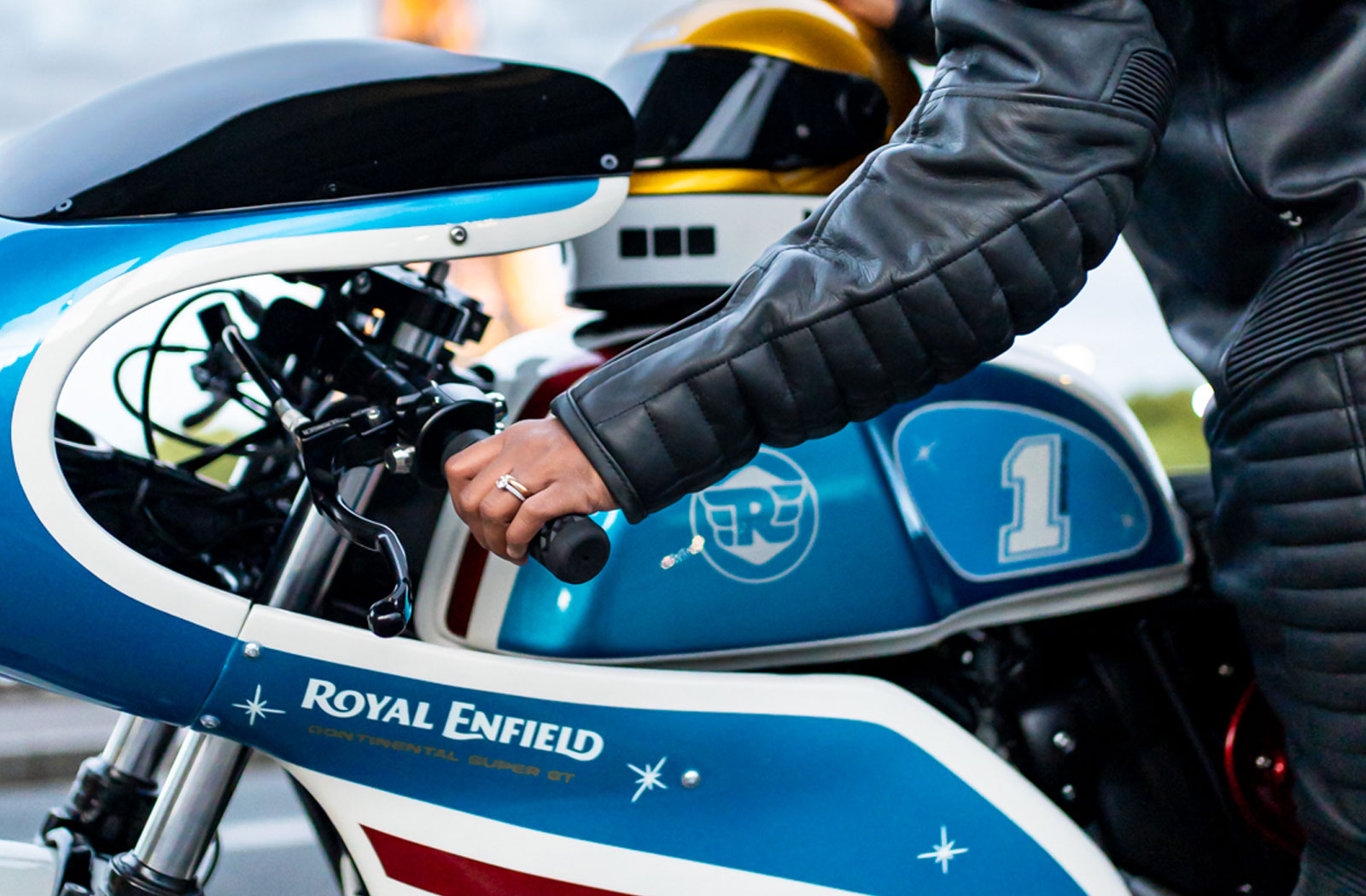 There's no way this story can end without mention of this bike's amazing paintwork. The red/white/blue scheme was rather unusually inspired by the paintwork of a scooter. The original design was laid by Brendan "Maca" McNally and it appeared on a Rosa Bianca Down Town Custom Lambretta in the '80s. Orion and some mates drew out a concept emblazoned with racing-style sponsor logos and decals and had it applied by Marc Kustom Colors. To ensure the paint gets all the attention it deserves the entire engine is finished in black.
Orion has covered all bases with this build and his work has clearly paid off. From the factory, the Royal Enfield GT 650 is a solid all-around performer, but he says his Super GT is something very different. "It's more powerful and the power is available immediately. The frame is very efficient when racing and the design sends people crazy out on the road!"
Photography by Ryan Alv