If you ride a classic motorcycle or a Cafe Racer and you want a leather jacket that matches the look of your bike options can be limited. With only a handful of companies producing jackets that fit this description it's always exciting to see a new range released. Last month I received an email about Roland Sands Design 2012 apparel range and was pleasantly surprised. In the product catalog (available here) Sands states: "We believe that riding gear doesn't have to be loud, obnoxious and over-branded" and it was this that made me decide to get my hands on one.
The new range is made up of 7 different styled motorcycling jackets for all types of riders. Of the 7 styles one was labeled as having Cafe Racer styling so my choice was an obvious one. The Roland Sands "Ronin" takes it's name from the masterless, wandering Samurai, the vagabond warrior and is part of the "limited set" series of jackets. Each jacket in the limited set features hand oiled and waxed, A grade cowhide leather that is designed to "age beautifully" and will only be produced in limited numbers. The Ronin comes in 3 colours, black, tobacco and smoke and once again I went for the obvious choice…black.
The jacket arrived in Melbourne in less than 2 weeks (thanks UPS) and came with it's own coat hanger, which was a nice surprise (I'm not sure if this is standard or not but I've broken plenty of hangers with my old jacket so this made me smile). Upon removing the jacket from the packaging the first thing I noticed was how supple the leather was, at 0.9 to 1.1mm it's not the thickest jacket I've ever owned but for the kind of street riding I do I'm happy with the level of protection it offers. The jacket went on like I'd been riding in it for years and my movement was not limited in any way.
The styling of the jacket isn't your typical 50's Rocker style. You won't find any thick silver zips, studs or even a large collar. Instead what you get is a modern interpretation of the Cafe Racer style, simple, clean and purpose built. A short buttoned collar secures comfortably mid way up your neck. A series of well placed zips give external access to 4 storage pockets. All zips have leather tags on the fasteners making each one easy to open and protecting your paintwork from scratches. The sleeves are rotated and pre-curved but don't have the bulging elbows you see on other motorcycle jackets. A zip on each sleeve helps secure them on the wrist and the inner section of each arm features perforated leather for increased ventilation. Zips on each side of the jacket allow for those with a larger mid section and the back of the jacket has a tag with an eyelet which I assume is for hanging.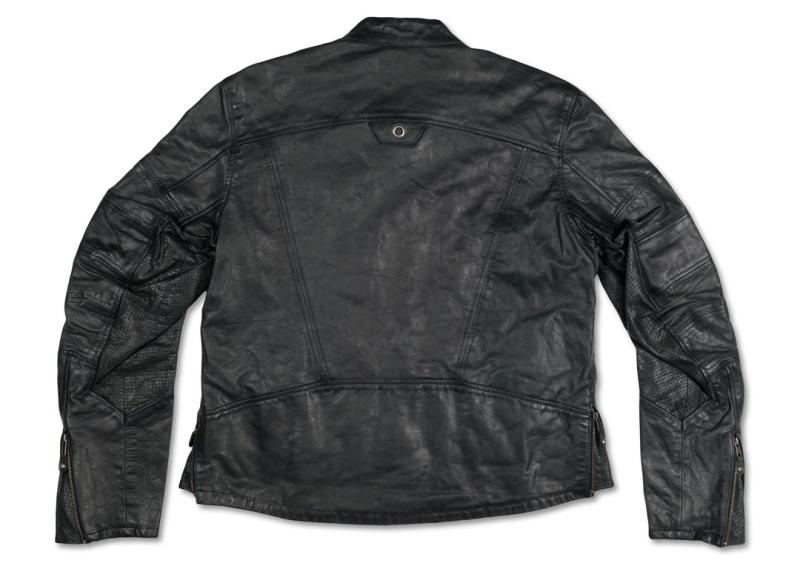 The finish on the inside of the jacket is just as impressive as the outside. The gold satin poly lining feels great and the finish is totally non-abrasive so you won't have any problem putting the jacket on if your wearing a long sleeved shirt. Inside you have more storage with 2 cargo net style pockets and one button up pocket for your phone. Shoulder, elbow and back pockets are built in allowing you to add your own armor and beef up the jackets protective capabilities.
The first long ride I have done wearing the jacket was last weekend. I rode out from Melbourne with 3 other bikes to complete a 100km round trip out to St Andrews and past King Lake. The weather was unpredictable (what else would you expect from Melbourne!) with temperatures varying dramatically and a few showers along the way. In the shade it dropped to around 12 degrees but when the sun broke through the clouds it got up to about 19. The first leg of our journey was a freeway stretch at 100km+ speeds, I had only a t-shirt on under the jacket and it did a good job of keeping me warm.The relaxed fit ensured I was comfortable and allowed me to sit however I wanted without forcing me in to the standard riding position. After a bit of rain during our coffee stop I put on a sweater under the jacket and didn't feel the cold at all for the rest of the ride. I didn't get rained on while riding so I'm not sure how the perforated arms would cope but I'm sure I will have an update on this for you in the future.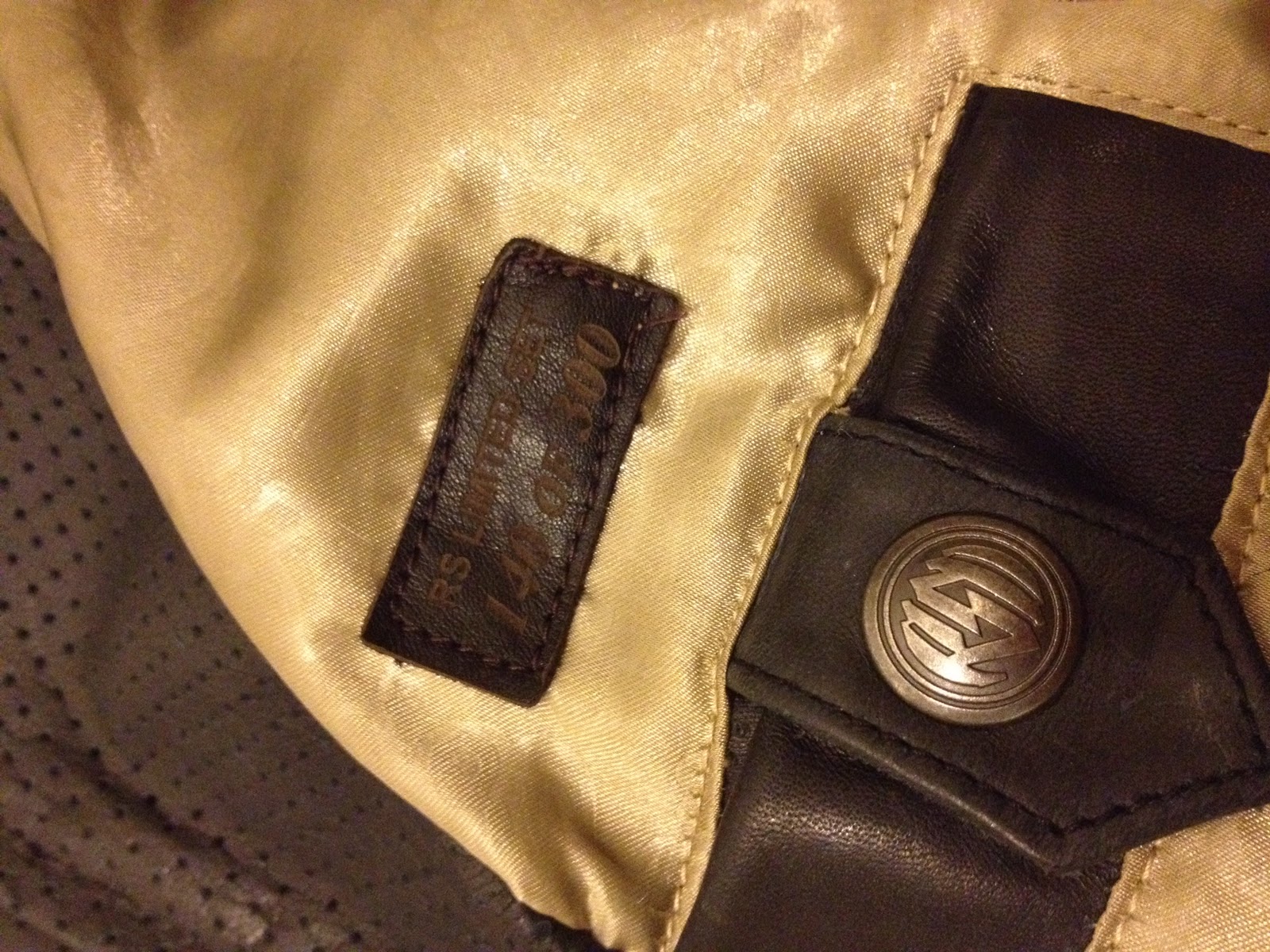 As with any review though I have a few gripes. The jacket didn't come with armor which makes it the first motorcycle jacket I have owned that didn't. However for the price of $590 it's about $400 cheaper than my last jacket. The zips on the sleeves have a tendency to pull up a bit on their own, but only about 1 or 2 cm. The satin lining sticks to the Velcro of the armor pockets which was a tad annoying when trying to get it in there. And lastly the medium I have feels a bit big on me which may be due to the fact my old jacket was pretty tight but I did wonder what a small would fit like (I usually take a medium).
All up I am very happy with the Ronin by Roland Sands Design. Visually it's a suitable match for my Cafe Racer which is exactly what I was looking for. It performs as a good motorcycle jacket should without making me move like a robot and I can happily walk in to a pub to meet my mates and not feel like a clown. Best of all the branding on the jacket is so subtle no one would have any idea who made it. In the leather of the left sleeve you will find "ROLAND SANDS" subtly embossed, each zip features a nondescript RS rivet and the two buttons on the collar feature the RSD logo…could they have been any more subtle?
The jackets are in short supply with my Ronin being number 140 of 300 so you will have to get in quick. You can also see the other jackets in the Roland Sands Limited Set series on their website and in the aforementioned catalog.  In my opinion it's a job well done.